ALTRINCHAM FC MONTHLY DRAW SCHEME
Altrincham Football Club
Monthly Draw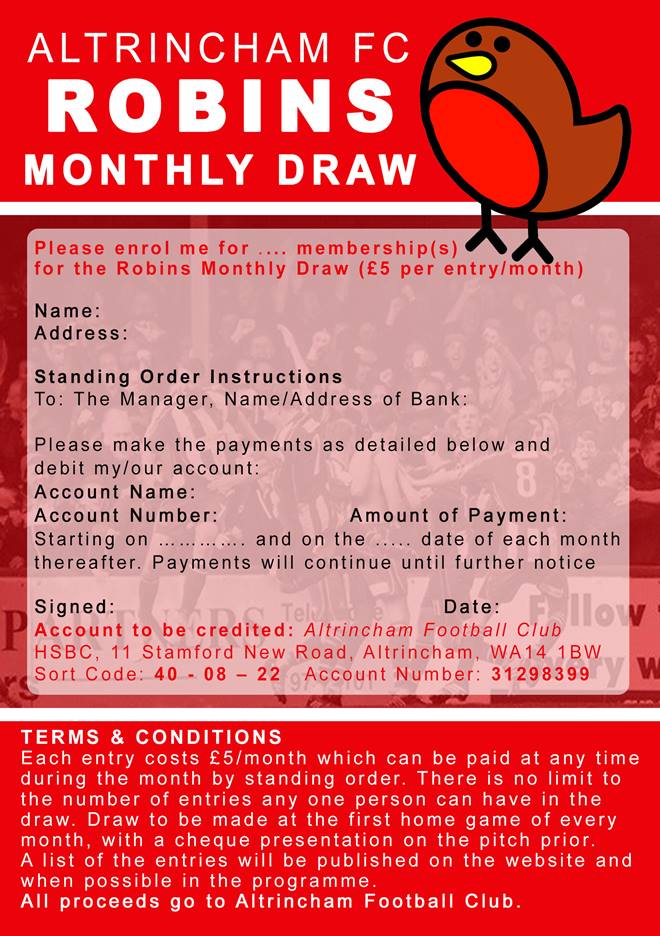 Please click on the image above for an enlarged version of the application form.
As of September 2016 the prizes are...
1st prize £500
2nd prize £75
3rd prize £25
4th Prize Two hospitality places in the Manchester Glass Sponsors' Lounge
5th Prize A home or away replica shirt
6th Prize Alty polo shirt
Each entry costs £5 per month which can be paid at any time during the month by standing order. There is no limit to the number of entries any one person can have in the draw.
All proceeds go to Altrincham Football Club.
Draw to be made every month with one entry for every £5 contribution that has been made in the previous month.
The draw will take place each month, live on Radio Robins, and results will also be announced on his website.
A list of the entries will be published on the website and when possible in the programme.
Please send an entry form to Altrincham Football Club, Moss Lane, Altrincham WA15 8AP.
For further details contact the Football Club on 0161 928-1045 or by e-mail.
The Altrincham FC Monthly Draw Numbers
Click HERE for the full list of members' numbers.
---