CURRENT NEWS
OPTIONAL DROPDOWN MENU - HERE
---
NEXT FIXTURES:
FIRST TEAM: Tue. 22 Aug. 2017: WHITBY TOWN (Home) 7.45pm
RESERVES: Wed. 23 Aug. 2017: WHALEY BRIDGE ATHLETIC (Away) 6.30pm
YOUTH TEAM: Sun. 20 Aug. 2017: Chester FC (Away) 2.30pm
LADIES' TEAM: Sun. 3 Sep. 2017: LIVERPOOL MARSHALLS FEDS RESERVES (Home) 2pm
ALTY HEADLINES
20 Aug 2017: MATLOCK TOWN 1 ALTRINCHAM 0..More
20 Aug 2017: PHIL ON NANTWICH DRAW...More
20 Aug 2017: RESERVES DRAW...More
OTHER HEADLINES
20 Aug 2017: EVO-STIK LEAGUE TRANSFERS...More
20 Aug 2017: SATURDAY GATES...More
20 Aug 2017: TUESDAY FIXTURES...More
---
20 August 2017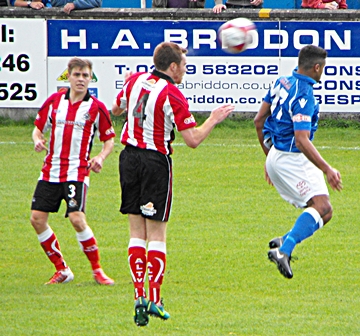 Alty's poor start to the season continued as they lost to a headed goal by Wiley, from a right-wing corner. The first half had seen some good play from Alty but with no real goal threat at the end of it. But Alty started the second half poorly and Matlock took the lead in the 49th minute. Second half substitutions did improve things but it was deep into added time before Sam Sheridan produced his side's best shot of the game which Barnes pushed over the bar.
Right: Tom Hannigan heads clear in the second half as Lewis Short looks on.
Match report here
Altrincham FC Reserves drew 1-1 at home to Rylands on Saturday. Next Saturday they play at Whaley Bridge Athletic (6.30pm).
Brian Flynn, Alty Press and Media Officer has provided the following comments on last Tuesday's game at Nantwich by manager Phil Parkinson, which have been submitted to Altrincham Today...
"One point from two games is obviously not the start that we were looking for in our opening matches of this EVO-STIK Premier Division campaign, but I was delighted with the way the players dug in on Tuesday night at Nantwich to get a result.
The 3-0 opening day home defeat to Stafford was pretty devastating in itself, so when we went a goal down and were reduced to ten men, inside forty minutes, with the dismissal of Tom Hannigan, I was wondering what the hell was going on, but I could see the determination on the players' faces in the dressing room at half time and we really took the game to Nantwich in the second half, despite having a one man disadvantage.
We had to take a chance tactically, by going one on one against them at the back, but this worked well and we gradually took control of the game and deserved the late equaliser through John Johnston's penalty, which we may have been a little fortunate to get as the tackle may have been just outside the area... if it was, then we deserved a bit of luck, we certainly deserved something out of the game.
We all appreciated the tremendous support at Nantwich, there must have been a couple of hundred Alty fans, who kept on singing and encouraging the team throughout the game, despite the difficult circumstances that we faced from the thirty-ninth minute onwards.
Today, we travel to Derbyshire to take on Matlock Town, who have started well with a draw at highly fancied Stourbridge and a 3-2 home win against Hednesford on Tuesday night. It will be a tough encounter but I know the players will be up for it.
We will be without Shaun Densmore for the next three games, he is best man at a wedding in the USA and Chris Lynch will not be travelling, as he has a back problem. Tom Hannigan will miss Tuesday night's game at home to Whitby as he will be serving a one match suspension, therefore we need strengthening in that central defensive area and I am hoping to bring someone in to do that, possibly today, but certainly for Tuesday.
We are still searching for that first win, but I am convinced that when it comes, these players and this team will start to fly and I am convinced that everyone is in for an exciting and successful season".
The
EvoStik League
confirms the following transfers involving Premier Division clubs...
Cameron Gilchrist from Inverness Caledonian Thistle (Scotland) to Barwell
Alpha Kaba from AS Caen (France) to Buxton
Bradley Masllan-Jones from Hull City to Coalville Town
Devarn Green from Blackburn Rovers to Hednesford Town
Scott Lycett from Witton Albion to Leek Town
Dominic Reid from Prescot Cables to Marine
Casper Hughes from AFC Fylde to Nantwich Town
Kaiman Anderson from Southport to Nantwich Town (loan)
Ben Stokes from Coalville Town to Romulus
Dave Moli from Welling United to Rushall Olympic
Kristian Scott from Nuneaton Town to Rushall Olympic
David Norris from Salford City to Shaw Lane
Henry Eze from Rushall Olympic to Stamford
Rory Coleman from Coalville Town to Stocksbridge Park Steels
Phillip Baker from The New Saints (Wales) to Warrington Town
Caleb Richards from Blackpool to Warrington Town (youth loan)
Benjamin Hedley from Morecambe to Witton Albion (loan)
Att. 187 Ashton United 2 Grantham Town 1 (ex-Alty men Liam Tomsett (loanee) and Mark Lees scored the goals)
Att. 128 Coalville Town 0 - 3 Warrington Town (Sean Williams scored a penalty for Warrington)
Att. 357 Halesowen Town 1 - 2 Farsley Celtic (James Walshaw scored one of Farsley's goals)
Att. 192 Lancaster City 1 - 1 Mickleover Sports
Att. 301 Marine 0 - 1 Barwell
Att. 457 Matlock Town 1 - 0 Altrincham
Att. 307 Nantwich Town 2 - 0 Workington
Att. 231 Rushall Olympic 1 - 0 Stalybridge Celtic
Att. 152 Shaw Lane 3 - 1 Hednesford Town
Att. 592 Stafford Rangers 1 - 4 Buxton
Att. 231 Whitby Town 1 - 3 Stourbridge
Att. 298 Witton Albion 1 - 0 Sutton Coldfield Town
Ex-Alty players who scored in The Emirates FA Cup Preliminary Round included...
Alex Frost netted a brace for Droylsden in front of 89 spectators: Ossett Albion 3 - 4 Droylsden
202 people saw Jerome Wright score but Ramsbottom United lost 2-3 at home to Liversedge
And in Vanarama North, Salford City beat Kidderminster Harriers 3-0 thanks to a Jack Redshaw hat-trick.
Tuesday 22 August 2017
Altrincham vs Whitby Town
Barwell vs Rushall Olympic
Buxton vs Shaw Lane
Farsley Celtic vs Lancaster City
Grantham Town vs Coalville Town
Hednesford Town vs Halesowen Town
Mickleover Sports vs Stafford Rangers
Stalybridge Celtic vs Marine
Sutton Coldfield Town vs Matlock Town
Warrington Town vs Ashton United
Workington vs Witton Albion
Saturday 26 August 2017
Altrincham vs Coalville Town
Barwell vs Witton Albion
Buxton vs Halesowen Town
Farsley Celtic vs Rushall Olympic
Grantham Town vs Whitby Town
Hednesford Town vs Lancaster City
Mickleover Sports vs Nantwich Town
Stalybridge Celtic vs Shaw Lane
Stourbridge vs Marine
Sutton Coldfield Town vs Ashton United
Warrington Town vs Matlock Town
Workington vs Stafford Rangers
---
19 August 2017
Ashton United 2-1 Grantham Town
Coalville Town 0-3 Warrington Town
Halesowen Town 1-2 Farsley Celtic
Lancaster City 1-1 Mickleover Sports
Marine 0-1 Barwell
Matlock Town 1-0 Altrincham
Nantwich Town 2-0 Workington
Rushall Olympic 1-0 Stalybridge Celtic
Shaw Lane 3-1 Hednesford Town
Stafford Rangers 1-4 Buxton
Whitby Town 1-3 Stourbridge
Witton Albion 1-0 Sutton Coldfield Town
TASC Travel Coordinator Mark Eckersall advises... "Thanks to all those who came with us to Nantwich on Tuesday night. Tomorrow's 16 seater to Matlock is now full but we'll be looking to move to 28/32 seaters again as people return from holiday. So please do book early to help us gauge numbers.
There won't be any coach travel to Witton on 28 August due to its close proximity (12 miles) and difficulties of pricing short trips with any value. We will be arranging transport to Barwell, though,on 9 September so look out for details of that soon"
You can follow this fixture via this website's minute by minute text updates by clicking on the icon below. Alternatively, Radio Robins' coverage of the game is outlined below as well.
Brian Flynn announces that "Radio Robins, sponsored by Ashley Mowers Garden Machinery, is providing full live commentary. The match commentary sponsor is St.Ann's Hospice. The commentators are Mark Simpson & Brian Flynn & the match summariser is Dave Stringer.
Coverage starts at 2.45pm with the game kicking off at 3pm".
Guidance for Listening to Radio Robins
There will be 4 ways to listen to Radio Robins via Mixlr
a) The Radio Robins website. Open the page in any web browser and the broadcast should start automatically. Please note that the 4 Player Options (Windows Player | Real Player | Quick Time | Winamp ) will not work now.
b) Download and install the Mixlr app on Android devices from the Google Play Store - start the app and search for 'Radio Robins'.
c) Download and install the Mixlr app on Apple devices from the Apple Store - start the app and search for 'Radio Robins'.
d) There is a temporary WIX website here.
The Chatroom software on
radiorobins.com
has been updated and should be accessible now for all users.
NL Yorkshire
reports that "Shaw Lane AFC have made the coup signing of former Leeds United midfielder David Norris. Norris was a Neil Warnock signing for Leeds in 2012 from Portsmouth. He left Elland Road in 2015 and he spent some of last season at Salford City... Norris made over 400 league appearances in his career.
His signing is a major boost to Shaw Lane who are hoping to get their first win of the season tomorrow when they face Hednesford Town."
At Ashton United the club is "delighted to announce the signing of Josh Granite on a one-year contract from Trafford for an undisclosed fee.
From the EvoStik League we learn that "Hot-shot Kaiman Anderson is back to spearhead Nantwich Town's attack. Signed on loan from Southport on Thursday night, the 20 year-old came through the ranks at Shrewsbury Town and last term was banging in the goals for Halesowen Town before being recalled to New Meadow from his loan spell in January after netting 17 times.
The marksman will be no stranger to the Dabbers' faithful having scored a wonder solo goal at the Weaver Stadium for the Yeltz at the start of the 2016-17 campaign before going on to become one of the most feared strikers in the EVO-STIK League's top flight. Anderson told Nantwich Town's fans that he was looking forward to returning to play for Dabbers' boss Dave Cook after joining Southport in the summer."
Witton Albion report that "The club have released Scott Lycett with a view of [sic] him joining Leek Town."
---
18 August 2017
Alty boss Phil Parkinson is being interviewed on tonight's sports programme on BBC Radio Manchester, which starts at 7pm.
The funeral of Altrincham FC volunteer Dave Johnson was held at the Club on Thursday and was attended by more than 100 people, who as well as his family included his many friends from the Football Club.
Altrincham FC chaplain, Rev. Andy Barclay-Watts paid moving tribute to Dave's many qualities. As well as providing a welcome face in his role as doorman at Alty, Dave was a Club vice-president and had been responsible both for starting the popular Pensioners' Christmas Lunches at the Football Club and for initiating the Young Player of the Season award for which he provided the annual trophy.
Following the tribute, the attendees gathered on Moss Lane to applaud as the funeral cortege left for nearby Hale Cemetery, where many of his friends joined the family for a brief service in the chapel, followed by the interment.
An indication of the respect held for Dave was the attendance of former players Nicky Clee and Greg Young and their fathers as well as Nicky's wife. Nicky had previously travelled from his Yorkshire home to visit Dave during his terminal illness.
Dave will be remembered for many years at the Football Club and on behalf of all present it extends its condolences to Dave's family.
TASC will be operating supporters' transport to Matlock Town on Saturday (19th). The fares and times are on the
Away Travel
page. Please book your places as soon as possible, by ringing the Club on (0161) 928-1045 during weekday office hours.
Mike Garnett reminds us of the historical record of matches between Alty and our next opponents, Matlock Town. Whilst Alty have been very successful at home, at Matlock it has been a different story...
Home: P14-W12-D1-L1-F31-A9
Away: P12-W4-D2-L6-F19-A25
All: P26-W16-D3-L7-F50-A34
Alty last met Matlock Town as recently last season on 15 October 2016 in an Emirates FA Cup 4QR match at Moss Lane, which Alty won 3-1. Only two players started that game for Alty and also began the most recent league game at Nantwich; they were Jake Moult and Simon Richman.
Matlock's squad in their recent win over Hednesford Town included a number of familiar names in non-League circle... 1 Phil Barnes 2 Nico Degirolamo 3 Jake Green 4 Joe Doyle-Charles 5 Adam Yates 6 Dwayne Wiley 7 Darnelle Bailey-King (14 Callum Lloyd 76) 8 Ryan Wilson (17 Tyler Blake 56) 9 Shaun Harrad (12 Marc Newsham 86) 10 Ted Cribley 11 Rhys Sharpe Other subs: 15 Luis Rose 16 Zeyn Hakeem
The
Sale & Altrincham Messenger
reports that "Phil Parkinson saluted Altrincham's battling qualities after they shrugged aside a red card for Tom Hannigan to snatch a late equaliser at Nantwich...
Trailing to a 35th-minute goal, Alty were up against it when experienced centre-back Hannigan was shown a second yellow card for an ill-advised challenge just three minutes later.
But they stunned the home side with a forceful second-half performance that deservedly brought them a draw after winger John Johnston was hauled down in the 86th minute and picked himself up to convert the resulting penalty...
Alty's former Nantwich boss said, 'It was an important result for us after having to play with 10 men for such a big chunk of the game. To stay in the game the way we did and actually control it, rather than fall to pieces, is a massive positive and will give us great confidence moving forward.
'We showed character, quality in possession, fight, determination and people going to the bitter end for Altrincham Football Club, and the fans can take great heart from that. It was just a bit of silly stupidity for the sending off. Tom has held his hands up to that and is devastated, because he knows if he had stayed on the pitch, we would have been more comfortable and would maybe have gone on to win it.
'It was touch-and-go whether the foul was inside the area for the penalty, but we deserved that bit of luck, even though we're not quite clicking yet. We are looking good, without quite clicking in the final third but, when you look at the players we've got, it's going to be frightening when we do click and start putting chances away, as well as creating.
'This is a very competitive league, and you have to earn the right to play, as we'll have to do at Matlock on Saturday, but I believe we're not far away'".
News of a Club which has played against Alty on numerous occasions comes from
Kidderminster Harriers
, where "Plans to create a new stadium on the outskirts of the town off the A451 close to its football academy have been unveiled. Harriers' chairman Colin Gordon said Aggborough's location near to homes in Kidderminster left the club adrift from the 'heart of the community'.
Proposals had been tabled to Wyre Forest District Council for the new stadium development in Zortech Avenue...
The stadium would be situated at the current Centre of Sporting Excellence, which is already home to its football academy and a training base to the first team... The new venue would encompass a new, purpose-built stadium and large training complex...
The site would also feature educational facilities for all age groups. Club officials said Aggborough would be made available for redevelopment...
Chairman Colin Gordon said... 'I fully understand and respect that there is a sentiment around Aggborough Stadium as a footballing venue... But the simple fact of the matter is that we cannot be at the heart of our community if we're sat in the middle of a housing estate... and we just aren't physically in the right position to offer what we believe a football club should offer its community...
'If we want to grow to become more than just a football team that relies on what the footballing product can generate then this is the only future for us'... Aggborough was opened in May 1890".
The
Evo-Stik League
's "top groundsmen have been honoured at the Football Association's 2017 Groundsmen of the Year Awards.
Belper Town's Phil Varney, Trafford's Graham Foxall and Marine AFC's John Peterson were congratulated by groundsmen across the Non-League game on Wednesday at the FA's National Football Centre at St George's Park as the top turf men in the EVO-STIK League's three divisions and in first, second and third place respectively...
Witton Albion's Peter Robinson, Nantwich Town's Peter Temmen and Whitby Town's Eric Wilson were all highly commended by judges after narrowly missing out on the top honours".
We learn from Warrington Worldwide that "There are signs that a positive season is ahead for Warrington Town. They should really be sitting with maximum points after two games, but for a disappointing injury time equaliser conceded at Lancaster City on Tuesday...
Twice the Yellows were in a winning position, and twice it was squandered...
Two new signings have particularly impressed in the first two games, young centre half Liam Goulding put in some crucial tackles and was also composed at bringing the ball out from the back at the Giant Axe. The fact that Goulding is only in the team due to the unavailability of Jack Higgins (injury) and Phil Baker (international clearance) is perhaps a sign of the quality at Paul Carden's disposal.
Another Liam, midfielder Hynes, has also impressed with his all action and energetic midfield play... In the central midfielder area, Carden has Hynes, regular starter [ex-Alty man] Sean Williams and the experienced Bradley Barnes available, and there will be some selection headaches there for sure.
It was good to see Ruben Jerome get off the mark on Tuesday night, a striker who needs goals to breed confidence... Strike partner Tony Gray put himself about on Saturday though seemed half a yard off the pace at Lancaster. With Josh Hine, currently playing wide right, an option through the middle as well as [is] the option to add a third central midfielder in, both strikers will be on their toes to perform.
The club struggled to find a left-back in the summer and so it was almost a welcome relief that Rory McKeown's move elsewhere failed to materialise, as he is a dependable number three at this level. Another left back, Caleb Richards, has been drafted in on loan from Blackpool, and the youngster put in a stellar performance playing at right back at Lancaster.
Long-term injured Gerard Kinsella is putting a shift in week-in week-out to return to full fitness, and looks as enthusiastic as ever... A target of 23 points from the first 10 games should ensure the Yellows are there or thereabouts at the top."
---
17 August 2017
The 2016-17 Patrons draw took place at 1.30pm on Wednesday, witnessed by Judy Henson and Noel Shields, and the results were
3rd place - hospitality for 3 - David Meadows
2nd place - hospitality for 5 - Jacqui McLay
1st place - hospitality for 10 - Geoff Swindells
The hospitality places can be taken at either the Whitby game on Tuesday, 22 August or the Coalville Town game on Saturday, 26 August.
Supporters are reminded that the funeral service for Alty volunteer, Dave Johnson, takes place in the Community Sports Hall at the J Davidson Stadium today (Thursday) at 1.30pm. It will be conducted by Club Chaplain, Rev. Andy Barclay-Watts.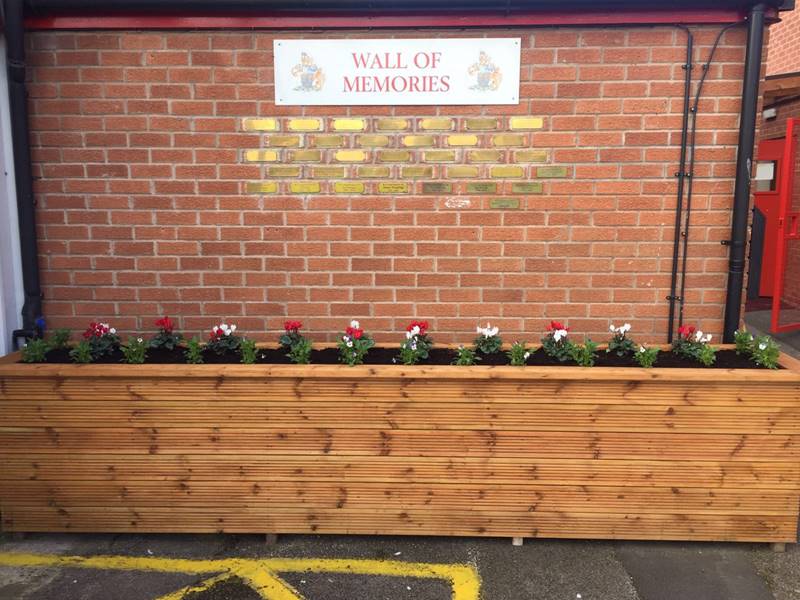 Meanwhile, Altrincham FC supporter Gary Stubbs has created an attractive floral feature to enhance the Wall of Memories at the J. Davidson Stadium (pictured above). The Wall, sited adjacent to the main stand, comprises plaques requested by the family or friends of departed Altrincham FC supporters and staff. If you would like to commemorate a loved one on the Wall of Memories, please contact the club on (0161) 928-1045 or by e-mail
The
EvoStik League
reports that "South Shields are getting ready to fly the flag for the EVO-STIK League in the Emirates FA Cup on Saturday after being chosen to showcase the BBC's new extended coverage of every round.
Millions of fans of the world's oldest cup competition around the globe are expected to watch the preliminary round clash between the 2017 FA Vase winners and Bridlington after the BBC confirmed their cameras were heading to Mariners Park on Tuesday...
Both clubs are set to receive a £1,000 TV fee after being chosen to front the preliminary round... which has been brought forward to kick off at 12.30pm."
Att. 175 Ashton United 1 - 1 Farsley Celtic
Att. 173 Coalville Town 0 - 1 Stourbridge
Att. 345 Halesowen Town 1 - 0 Barwell
Att. 260 Lancaster City 2 - 2 Warrington Town
Att. 264 Marine 2 - 0 Workington
Att. 347 Matlock Town 3 - 2 Hednesford Town
Att. 670 Nantwich Town 1 - 1 Altrincham
Att. 242 Rushall Olympic 0 - 2 Grantham Town
Att. 614 Stafford Rangers v 1 Sutton Coldfield Town
Att. 256 Whitby Town v Stalybridge Celtic
Att. 336 Witton Albion v Buxton
Ashton United v Grantham Town
Coalville Town v Warrington Town
Halesowen Town v Farsley Celtic
Lancaster City v Mickleover Sports
Marine v Barwell
Matlock Town v Altrincham
Nantwich Town v Workington
Rushall Olympic v Stalybridge Celtic
Shaw Lane v Hednesford Town
Stafford Rangers v Buxton
Whitby Town v Stourbridge
Witton Albion v Sutton Coldfield Town
On Saturday, Alty travel to
Matlock Town
where "Joint Matlock boss Glenn Kirkwood declared he was 'pleased' with Matlock's start to the season which has yielded four points from two testing fixtures and a current sixth spot...
The Gladiators brought back a point from last season's beaten play off finalists Stourbridge on Sunday before winning a five goal thriller at home to Hednesford Town on Tuesday night. This weekend's visit from Altrincham, newly relegated from the National League North and who ended Matlock's hopes of an FA Cup First Round Proper appearance with a 3-1 win at Moss Lane last October, completes a hat-trick of hard games.
'I'm delighted with the results, especially the Hednesford one when we played really well. It was the polar opposite to Stourbridge but there we were solid and didn't look like conceding against a very good side. Against Hednesford we could have been masters of our own downfall, giving away far too many daft free kicks which put us under pressure. We were excellent with the ball and unfortunate not to be comfortably ahead at half time. The effort and commitment though in both games was first class.'
Shaun Harrad opened his account in competitive games for Matlock with a fine brace in midweek after being starved of decent service at Stourbridge.
'Shaun and for that matter Marc Newsham (Matlock's scorer) were excellent with no service on Sunday and then on Tuesday Shaun showed just how important he'll be for us. We felt we needed some fresh legs on Tuesday and the changes we made were to make us more effective going forward. We were wasteful on Sunday but very good defensively, the Hednesford match saw us much better attacking wise'...
Alty will be disappointed with a 3-0 home defeat to Stafford Rangers on the opening day before they drew 1-1 at Nantwich on Tuesday.
'It will be another really tough game, they've taken some very good players from Nantwich and a very good manager', said Kirkwood. 'There's some really good sides in the league this year and Stourbridge, Hednesford and Altrincham will right up there. We said when we saw the fixtures that the first three would be mega mega tough and the three points we got against Hednesford turned Sunday's good point into a great point, On Saturday we'll be going for the jugular and be all out for three points.'
Matlock are on the road again on Tuesday to the artificial Coles Lane to take on Sutton Coldfield Town. Ryan Wilson will need a fitness check after jarring his knee in midweek while midfielder Michael (knee) and winger Jamie Yates , who has had a recent ankle operation, are still probably at least a couple of weeks from a return. Teenage 6'6" defender and Academy product Max Hunt has gone out on a month's loan to Belper Town...
'We've had to leave a couple of players out of the squad this week which makes it very hard... It's hard to keep everyone happy'. Meanwhile Matlock's top scorer from last term, on loan Burton marksman Marcus Dinanga, has this week joined AFC Telford United on a season's long loan."
At
Farsley Celtic
"Manager Adam Lakeland gave his reaction after the game at Hurst Cross. 'It's never easy away at Ashton and coming into it we anticipated a tough game and probably would have been pleased with a point. However, after the way in which we performed in the first 45 minutes there is a frustration there that we haven't come away with all three points. We created half a dozen clear cut chances and didn't capitalise on them...
'It was only natural that Ashton came out and performed better in the second half as they are a good outfit with a lot of experience at this level and credit to them for changing shape at half time as their performance was much improved after the break... We had a great chance where Wally (James Walshaw) headed wide and they went closer still...
Looking at the squad... the Celts boss reported, 'Danny Ellis pulled up with a calf problem, so he will need assessing on Thursday... The good news is that Ryan Watson and Jordan Deacey will be pushing to be involved on Saturday if they come through training on Thursday unscathed and Nathan Turner is edging closer to a return to full training".
Buxton have made a winless start to the season and they report that "A late Will Jones goal for Witton Albion meant the Bucks returned pointless from Cheshire last night. The next match is away at Stafford Rangers on Saturday with Liam Hardy returning from suspension. We are still waiting International Clearance for new French midfielder Alpha Kaba".
---
16 August 2017
Nantwich Town have posted interviews with both managers following the game last night at the Weaver Stadium.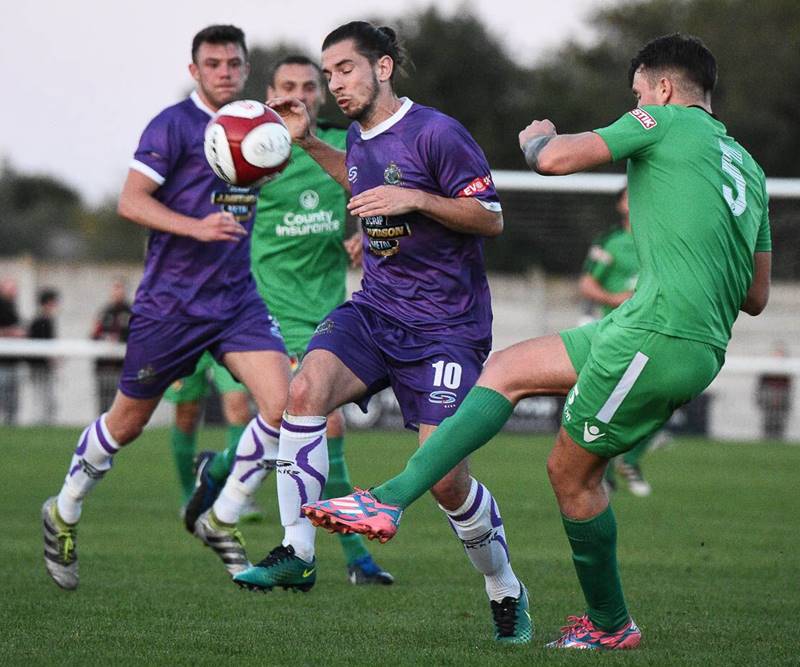 Above: James Poole played an important role in the draw at Nantwich. Here he is seen in Alty's new away kit (purple) during the game, by Mike Ripley's camera.
Despite playing for more than an hour with ten men after Hannigan had been dismissed in the 38th minute for a rash challenge which earned him a second yellow card, Altrincham battled to a deserved draw with a late penalty...
Match report here
Bill Waterson, on behalf of the Board of Altrincham FC writes...
"Dear Fans
The board of Altrincham FC regret the incidents that took place at Moss Lane on Saturday. We do not and will never tolerate such behaviour at Altrincham Football Club. We are now reconsidering our approach on a game by game basis to segregation.
In addition we are reviewing the relevant match day operations and procedures from Saturday's game so that we can act on our findings, once we have gathered all the relevant information. Thank you for your support.
AFC Board"
On Tuesday night, Alty Reserves lost 4-1 at Eagle Sports. On Saturday they are at home to Rylands at Egerton Sports Club.
Monday 14 August
Shaw Lane 1-2 Mickleover Sports
Tuesday 15 August
Ashton United 1-1 Farsley Celtic
Coalville Town 0-1 Stourbridge
Halesowen Town 1-0 Barwell
Lancaster City 2-2 Warrington Town
Marine 2-0 Workington
Matlock Town 3-2 Hednesford Town
Nantwich Town 1-1 Altrincham
Rushall Olympic 0-2 Grantham Town
Stafford Rangers 4-1 Sutton Coldfield Town
Whitby Town 4-1 Stalybridge Celtic
Witton Albion 1-0 Buxton
The draw for members of the Altrincham FC Patrons will take place at the Club today (Wednesday) with the results made available as soon as possible afterwards.
NL Pitchero
. reports that "Newly-promoted Shaw Lane AFC are finding the higher-level Evo-Stik League Premier tough and went down to a second successive defeat, this time a Monday night home defeat to Mickleover Sports.
It was the visitors, who opened up with a draw at the weekend, who grabbed the lead just past the half-hour mark through Evan Garnett. However, right on half-time, experienced striker Paul Clayton pulled the Ducks back on level terms. And the home side looked to be in the ascendancy when, on 66 minutes, former Duck Jake Scott was shown a straight red card for an alleged stamping incident off the ball.
But it was the ten-men who went on to win the game with a 77th minute Bradley Grayson effort."
The EvoStik League reports that Stourbridge "defenders Brandon Ball and Liam Slade have both left the Club... Both remain registered with us on NPL forms, and remain part of Gary's plans. Two players have linked up with other clubs on dual registration basis; keeper Reiss Jeavons (Tividale) and forward Josh Cooke (Sporting Khalsa)".
Witton Albion "have confirmed the loan-signing of teenage midfielder, Ben Hedley. He joins us from Morecambe for a month".
Stafford Rangers
report on Saturday's win at Altrincham. "Rangers' new campaign got off to a dream start with a thoroughly deserved 3 points against pre-season promotion favourites, Altrincham Town. The Alty had the greater share of possession and played some attractive flowing football, with much of the first half being played in the Rangers end of the pitch. But their efforts were frustrated by a solid and skilful Rangers' defence led by courageous club captain Matt Bailey, who had been felled by a short range pile driver to the face in the opening few minutesn a man of the match performance by Adam Whitehouse and some wayward finishing.
In stark contract Rangers' first attack produced a debut goal for Dan Westwood on 10 minutes. A fluent move saw the ball reach Louis Briscoe who held off several defenders before slipping the ball through to Westwood who steered it past the Alty keeper from about 12 yards. Rangers' second on 44 minutes was a sublime lob by Jo Thomas from the edge of the box.
The second half started more evenly and Rangers went further ahead from a diving header by Richard Batchelor on 52 minutes. Increasing Altrincham pressure brought some panicky moments to the Rangers defence with a succession of skied clearances but Alty squandered their best chance with about 10 minutes to go when Adam Whitehouse saved a penalty which he had conceded after bringing down an Altrincham forward inside the box. In a great all round team effort teenage debutant Kai Davis at left back gave a stand out performance."
---
---
---
---