CURRENT NEWS
OPTIONAL DROPDOWN MENU - HERE
---
NEXT FIXTURES:
Sat. 21 Oct. 2017: WARRINGTON TOWN (Away) 3pm
Sat. 21 Oct. 2017: CREWE FC (Cup) (Home) 2pm
Fri. 20 Oct. 2017: CHESTER FC (Home) 7.45pm
Sun. 22 Oct. 2017: PRESTON NORTH END (Home) 2pm
ALTY HEADLINES
20 Oct 2017: YOUTH CUP: LIVE COVERAGE... More
20 Oct 2017: SATURDAY'S OPPOSITION: WARRINGTON TOWN...More
20 Oct 2017: INTEGRO CUP DRAW...More
OTHER HEADLINES
20 Oct 2017: FA TROPHY BURSARY...More
20 Oct 2017: SHAW LANE HIT TV JACKPOT...More
20 Oct 2017: OLD FOES GO FULL-TIME...More
20 October 2017
Brian Flynn advises that "Radio Robins, sponsored by Ashley Mowers Garden Machinery, is providing full live commentary of Friday night's F.A. Youth Cup, 3rd Round Qualifying game at the J.Davidson Stadium. The commentators are Mark Simpson and Brian Flynn. Coverage starts at 7.40pm.
Guidance for Listening to Radio Robins
There will be 4 ways to listen to Radio Robins via Mixlr
a) The Radio Robins website. Open the page in any web browser and the broadcast should start automatically. Please note that the 4 Player Options (Windows Player | Real Player | Quick Time | Winamp ) will not work now.
b) Download and install the Mixlr app on Android devices from the Google Play Store - start the app and search for 'Radio Robins'.
c) Download and install the Mixlr app on Apple devices from the Apple Store - start the app and search for 'Radio Robins'.
d) There is a temporary WIX website here.
Chester FC
report that "Calum McIntyre's side travel to Moss Lane on Friday, just one win away from the First Round Proper for the third consecutive season. The Young Blues saw off AFC Fylde 3-1 in the previous round at Kellamergh Park with Lloyd Marsh-Hughes, Cain Noble and Iwan Murray on the scoresheet. Altrincham were 3-2 winners at Bootle FC in the previous round...
Academy Head Coach McIntyre had this to say, 'Away draws in this competition are always really tough but we'll take a lot of confidence from the way we went about our business in the last round. It's been a tough week for us in terms of preparation, we have seven unavailable for selection on Friday evening including both our centre-forwards from our game with Altrincham earlier in the season...
'The First Round Proper of the competition is our target every time we go into this competition. The chance of a big draw is a huge motivation... To have had to do it the hard way with two away ties at established clubs merely gives us the opportunity to rise to a challenge again and we will be giving everything to get to the First Round. We get magnificent support in this competition from Chester supporters and I hope Friday will be no different.
'Come and get behind us in a huge night for these players, they buzz off the support they get on these nights and it genuinely can be the difference for us'".

When youth team goalkeeper Cameron Terry was named in the Altrincham squad for last Tuesday's Integro Cup match against Ashton United, he became the first player born in the current millennium to figure in a Phil Parkinson first-team squad for the club. Cameron was born on 21 August 2000. He is seen, above, saving a penalty in the youth team's victory over Stockport County last Sunday.
Altrincham tavel to Warrington Town on Saturday for a clash between the league's top two teams, who are separated only by Alty's superior goal difference.
Admission prices at Warrington are £10 for adults, £5 for concessionaies, £2 for under-16s, or free, if with a paying adult.
Mike Garnett's records record some curious statistics about the previous encounters between the two clubs; all five previous encounters have occurred at Altrincham, making this our first journey to Cantilever Park.
Home: P5-W2-D2-L1-F12-A8
Away:P0
All: P5-W2-D2-L1-F12-A8
Last Tuesday, Warrington won 3-2 at Colwyn Bay in the Integro Cup. Colwyn Bay report that "On a night that looked more like a local curfew was in place rather than an Integro League Cup game, Colwyn Bay hosted Warrington Town in this first round encounter. And if the hundred and thirty-three supporters left the game feeling a little bemused, it wasn't surprising. To quote the old cliche, 'It was a game of two halves', was never more apparent with both sides playing some excellent football in the process...
In the fourth minute [ex-Alty man] Jamie Menagh let fly a blistering shot that the keeper could only parry and Jack Kelleher was there to volley the loose ball into the Warrington net... By now it was all Colwyn Bay and when the Bay full back Kyle Jacobs, let fly with a left foot drive that rattled Ascroft's far post, you would think that Colwyn would run away with it.
Town however, always looked dangerous going forward... Kris Leigh in the Bay goal was by far the busier of the two keepers but I would suggest that back passes contributed to it. After the half hour mark, Warrington were the busiest defensively with Colwyn Bay creating plenty of chances but unable to put them away.
Then, in the thirty fourth minute, Kelleher was up-ended just inside the Warrington area and the referee Daniel Bruce had no hesitation in pointing to the penalty spot. Ascroft saved from Rainford's spot kick...
In the forty seventh minute... Kyle Jacobs... brought down Town's captain Gerard Kinsella in the box. Penalty awarded and, from Aboubacar Sanogo's spot kick, Warrington drew level. The way that Warrington had moved the game up a gear put pressure on the Bay who seemed unable to come to terms with it until later in the game... In the fifty ninth minute James Brannigan hit a low shot that beat Bay keeper Kris Leigh and rebounded off his post only for Connor Hughes to guide the ball home.
Town's pace was unrelenting and in the sixty-fourth minute a Warrington free kick was taken by Liam Lambert but Kris Leigh could only palm the ball onto the head of Sanogo who made it 3-1... From the eighty minute mark, Bay seemed to come more into the game and, after the referee had given three added minutes of play, up came Jamie Rainford and squeezed the ball past Ben Ascroft at his near post from a tight angle in the 93rd minute".
The EvoStik League reports that "Subject to county cup commitments, the 16 second round ties are set to be played in the week commencing November 27. Clubs who make it through the early rounds will collect £250 for reaching the quarter-finals and £500 for making the semi-finals. Like 2017 winners Bamber Bridge, next April's winners will collect £2,000 with the losing finalists banking £1,000. If the scores are level in the upcoming ties after 90 minutes, penalties will decide the results.
Integro League Cup Second Round Draw
Atherton Colleries v Bamber Bridge
Buxton or Coalville Town v Stamford AFC
Cleethorpes Town v Ossett Albion or Tadcaster Albion
Droylsden or Nantwich Town v Witton Albion
Gresley FC v Basford United
Hednesford Town v Newcastle Town
Matlock Town v Grantham Town
Mickleover Sports v Bedworth United
Mossley v Altrincham
Ramsbottom United or Stalybridge Celtic v Hyde United
Romulus v Kidsgrove Athletic
Scarbrough Athletic v Goole AFC or Ossett Town
South Shields v Stocksbridge Park Steels
Stafford Rangers v Stourbridge or Alvechurch
Warrington Town v Lancaster City
Workington v Marine
Courtesy of Mike Garnett, we have the historical record in games between Altrincham and Mossley...
Home: p.64 w.34 d.17 l.13 f.141 a.98
Away p.55 w.12 d.17 l.26 f.80 a. 109
Neutral p.1 w.0 d.1 l.0 f.1 a.1
Overall p.120 w.46 d.35 l.39 f.222 a.208
Mike adds that our last meeting at Seel Park was on September 24, 1979, in the NPL Challenge Shield, which Altrincham won 4-2. The most recent meeting at Moss Lane was on September 30 2000 in the FA Cup 2nd Qualifying Round, which Altrincham lost 0-2.
Mossley are managed by former Altrincham captain, Peter Band.
The
EvoStik League
reports that "The commercial teams at Shaw Lane and Hyde United went into overdrive on Thursday after the Football Association confirmed their First Round ties in the Emirates FA Cup would be televised.
Both clubs will bank £67,500 in TV fees after being chosen by BT Sport and the BBC for live coverage in the First Round proper along with National League Chorley.
The EVO-STIK League North's Tigers will kick off a weekend of cup football on BBC 2 against League One MK Dons at Ewen Fields from 7.55pm on Friday 3 November with the Ducks hosting Mansfield Town at Sheerien Park in a 12.30pm kick-off on Saturday on BT Sport 1. The Magpies round off the coverage on BT Sport 1 on Monday 6 November when they host another former NPL club in Fleetwood Town in a 7.45pm kick-off.
The EVO-STIK League's final flag-bearer, Premier Division Nantwich Town, missed out on live coverage of their trip to Stevenage but could still bank a welcome TV bonus with details of the full TV schedule, including matches moved to the Sunday for extended highlights, single camera footage and overseas broadcast coverage, expected to be confirmed at lunchtime on Friday.
If the Dabbers are switched to Sunday to feature on the BBC's Final Score highlights programme they'll bank £12,500 while all three clubs will also hope to be in the spotlight on a special Football Focus 'On The Road' on BBC 1 on the Saturday at 12pm.
As well a chance to collect another £18,000 in FA prize money and progress in the world's oldest cup competition, the EVO-STIK League's final flag-bearers are expected to take full advantage of the commercial opportunities offered by the ties".
Earlier, The Chad reported that "Mansfield Town fully expect their FA Cup first round tie at Yorkshire minnows Shaw Lane to be a live television game the weekend after next. The Stags have heard nothing as yet, but Evans said, 'If it's not on TV, Shaw Lane will be shaking their head. It's got everything for a TV game, every hallmark the television likes. Everyone outside the town of Mansfield wants us beaten don't they? That's why it's most likely the TV cameras will be there.
'They only come for one reason. I've been very successful as an underdog in the past... If they are there the TV company believes Shaw Lane can beat Mansfield Town. I have been the underdog in the past, looking forward to bigger teams coming, and I have always fancied my chances, and they will...
'You have to prepare properly and we'll prepare exactly the same for Shaw Lane as we will for Newport. You have to do your homework. We didn't know much about Shaw Lane but, when the draw is made, you quickly do an analysis and they have got good players. They have a young man called David Norris, ex-Leeds United. I sold him to Bolton for a lot of money having found him as a parks player in Peterborough. He's gone on to have a great career. He's on the way down now but he's a great lad.
'They have young Nicky Walker, who I had at Rotherham, I think I gave him his first-team debut there. Then you look at the likes of Damian Reeves who everyone in non-League football used to wonder "Where's Reeves?" whenever you played Altrincham as he could score from anywhere. Once you are a goalscorer you are always a goalscorer. They also have the boy (Billy) Whitehouse who was at Doncaster and got a great move to Leeds.
'They have good investment up there for the level... It's going to be tough... Stags' fans will remember Liverpool's superstars coming here. Do we want more of that? Yes we do. But you have to earn the right and we will have to go to Shaw Lane and get a result'".
NL Pitchero reports that "Twelve months after announcing his retirement, Phil McLuckie is back at Workington AFC, after signing a deal until the end of the season.
Joint-managers David Hewson and Lee Andrews have moved quickly to plug the gaps in their squad, announcing that McLuckie will be returning to the club with immediate effect. It is the second signing in a week after promising youngster Tommy Whitehead linked up with the first-team squad, making a successful debut at Colne in the Integro Cup.
It follows last week's departure of Jake Simpson and the injury to Jack Egan.
McLuckie has made 279 starts (plus 66 substitute appearances) for the Reds since his arrival during the 2007/08 campaign, scoring 30 goals in the process... McLuckie could fill the vacancy at right back caused by Simpson's switch to a non-playing, full-time role at Chesterfield. He last played for Reds in October 2016... and cited a catalogue of injuries and shift work as the reasons for his decision.
Hewson was delighted with the recruitment of a naturally fit, versatile player... 'A fit and focussed Phil McLuckie would be an asset to any squad in this league and it won't take him too long before he is up and running and ready for action. His working week has changed recently which will allow him to train on a regular basis'".
From
NL Daily
we learn that "Football teams in The Buildbase FA Trophy and Vase competitions have another chance to transform their club facilities in the second year of the £100,000 Buildbase renovation initiative.
The Buildbase Club Renovation Programme... will help renovate two non-league clubs in England and Wales. Clubs can start making their applications to the programme today, with a deadline to be announced in December and shortlisting in January next year. The product bursary will provide £50,000 each in building, electrical products and hire equipment to two clubs by the end of the 2017-18 season.
In the first year of the programme, non-league clubs Hanwell Town FC and Cleethorpes Town FC were selected as winners from 40 applications and six finalists. Refurbishment work and product specification is already underway at both clubs, with building materials and advice provided by their local Buildbase branches.
Teams taking part in the two non-league competitions, The Buildbase FA Trophy and The Buildbase FA Vase, can start the application process by registering here.
Clubs participating in the competition can call on local fans to support their application through the Buildbase website and social media until the application deadline in December. Fans who register a vote for their team will also get 10% discount on online orders from Buildbase.
In February 2018 six shortlisted finalists, including three Buildbase FA Trophy and three Buildbase FA Vase clubs, will be invited to pitch their renovation project to a panel of judges from The FA and Buildbase at a 'Dragon's Den'-style event at Wembley. Two winners will be announced at The Buildbase FA Trophy and Vase semi-finals in March 2018 and will receive an award presentation for their building products on finals day in May 2018, ready to start renovations over the summer...
Buildbase is in the second year of its two-year title sponsorship of The FA Trophy and FA Vase".
Just days after Chester FC announced "full-time" training, the
Yorkshire Post
informs us that "Paul Cox has confirmed that Guiseley have brought forward their decision to go full-time in order to give themselves the best chance of achieving their goals this season. Plans for the club to start operating on a full-time basis had been under consideration for several months, with it being a case of when, and not if, Guiseley would end their status as a part-time club.
Following discussions, that decision has now been made, with several players having already assumed full-time status, with the club starting full-time training on Monday.
Cox, whose side are in the bottom four of the National League and have won just once in the league this term, told the YEP, 'We started (full-time) on Monday. Obviously, we have not got the full quota who have gone full-time at the minute. We have done it so we give everyone the best possible chance to want to go forward with the club, which is key. In employment law, I could probably have given them four weeks' notice and told everyone we were going to be changing working hours.
'But I believe in being fair with everybody and giving everyone the best possible chance to help themselves and us to get to where we want to. Our training schedules are Monday morning, Tuesday night, Thursday night and Friday morning, with Wednesdays off. That will allow the boys who have got jobs, who I don't want to handicap in any way as we have got some good players who are part-time at the minute, to give them the understanding that they know we are going to be full-time.
'I want everyone to have the best possible chance to make a positive decision about going forward. In any sort of environment, change can initially have a shock. But, to be fair, the players I have spoken to, and even the players who have stayed part-time, have all agreed that going full-time is the best way forward for the football club. It is key when your players are stating that'...
The Guiseley manager added, 'The board have said we can move forward and going full-time is a help. It is a bit of a transitional period. We could have done it at the end of the season or Christmas time. But I spoke to the chairman and the board and didn't want to leave it to a position and look back and think that we didn't achieve our goals because we should have made a big decision at an earlier stage and it has been a big decision'". to benefit from the £100,000 prize in 2018. Just as our business is rooted in towns and cities across the country, non-league clubs are a vital part of the local community and the renovation programme is our commitment to helping them flourish."
---
19 October 2017
On Friday (20th) Altrincham take on Chester FC in the FA Youth Cup 3rd Round Qualifying match at the J Davidson Stadium, Moss Lane, Altrincham WA15 8AP. Kick off is at 7.45pm. All spectators are very welcome. Admission is just £3 for adults and £1 for all concessionaries.
Following this Friday's match, the scheduled match on Sunday (22nd) at home to Chorley FC has been postponed. Subject to confirmation, on 29 October, Altrincham are away to Stockport County in a league match.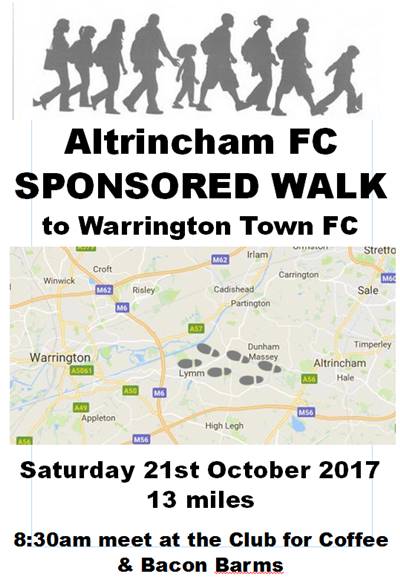 As previously announced TASC is holding a meeting, on Thursday, October 19th, in the boardroom at Altrincham F.C. from 7.00 to 8.30pm. Chairman, Brian Flynn writes, "All Altrincham F.C. supporters are welcome to attend.
TASC Meeting Agenda: Thursday October 19th 2017
Set Up of New Supporters' Club
Supporters' Liaison Officers
Membership
Over 50s' Christmas Lunch
Away Travel
Goal Rush
End of Season Event
Social Media Update
Any Other Business
Ashton United
"exited their second cup competition of the season, on penalties, as the hosts won the shootout after an entertaining 90 minutes of normal time. The visitors handed a debut at left back to Josh Greenhalgh and got off to a flying start after just 3 minutes as Nic Evangelinos and Liam Tomsett combined to work the ball out to Matty Chadwick who cut inside before providing a typical low finish...
[After 23] minutes, the ball came off the referee for ex-Ashton man Harrop to fire home the equaliser from 20 yards and almost immediately Sheridan's pass saw Peers beat the offside trap to rifle home the second...
But on the interval Chadwick made his way past Densmore and saw his pull back swept home by Tomsett...
Substitute Palma curled a left foot effort past the far post for Alty before Ashton took the lead again with the best move of the evening as Eckersley intercepted and saw Simon Woodford play Evangelinos down to the right by line from where his cross was helped over the line by Eckersley who had continued his run forward.
Unfortunately the Ashton Robins couldn't hold on and 3 minutes later a volley from the edge of the area saw Miller's effort come back off Ollerenshaw for Walsh to level matters again and force a penalty shootout which saw the home side progress to the second round."
Wednesday, 18 October.
Carlton Town 1-1 Matlock Town (Matlock Town won 4-1 on penalties)
Kidsgrove Athletic 2-1 Leek Town
NL Pitchero
confirm that "Stalybridge Celtic have signed striker Lamin Colley. Colley joined Boston United during the summer of 2016 having opted against signing for Scarborough Athletic following a successful loan spell.
Having sandwiched a spell with Stockport County between two stints with Bradford Park Avenue, the Gambia-born frontman switched to The Jakemans Stadium alongside former Avenue team-mate Jason St Juste. He will now provide competition to start in Celtic's forward line alongside Liam Dickinson, Jake Charles and John Cofie".
NL Daily
reports that "Worcester City will not appeal the red card issued to defender Wayne Thomas during Saturday's 1-1 draw with South Normanton Athletic.
The 38-year-old made his return to City following a spell as manager of Rushall Olympic but was dismissed for raising his hands to an opponent in the 44th minute.
Following a review of the footage, joint-boss John Snape confirmed there would be no attempt to overturn referee James Lunn's decision."
---
18 October 2017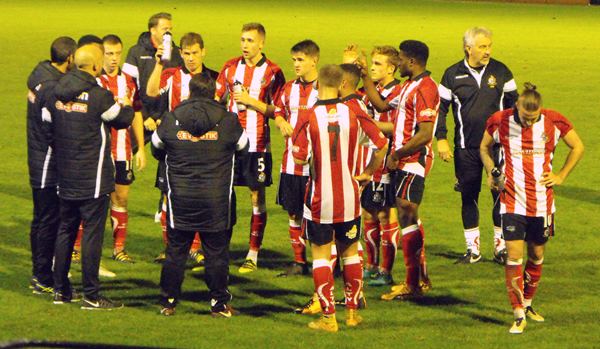 Above: Alty players raise their hands to take a penalty in the shoot-out.
For this Integro Cup First Round match, Altrincham made ten changes from Saturday's league game, with Joel Bembo-Leta the only player to start both matches - and even he played this match at centre-back rather than his usual right-back position.
In an entertaining match, Alty fell behind in only the third minute...
Match report here.
"This note is based on discussions over several weeks between Mike Reeves, Supporters' Liaison Officer and myself, Bill Waterson, Director, after feedback from the fan base on the home fixtures against Stafford Rangers and Coalville Town. The issues raised in this note were discussed at length by the board at our last board meeting on 20th September.
The fans had suggested that all games start with complete segregation of the ground, with the Community Sports Hall partitioned to allow access from the road only for away fans. The lifting of segregation would be lifted dependent on number of away fans and conditional on their behaviour.
The board in considering this question have decided not to follow this path as part of a regular game management strategy. We think it would be overkill for the vast majority of clubs visiting Moss Lane this season. However, we will adopt this strategy for those games which we believe may require segregation, and we know there will be some such games this season. We will work with the SLO to communicate to the fans which games we believe require us to start with segregation. We think this is a reasonable approach given our experience now of clubs such as Rushall Olympic and Whitby Town visiting the J Davidson Stadium. We also agree that partitioning the Community Sports Hall is a good idea should a situation similar to the visiting Leicester City fans at the Coalville game arise again.
The fans also asked for continuity and stability in stewarding, and the board completely agree that fan safety is our primary concern and this is non-negotiable. After the Stafford game, we have reviewed our existing Match Day Planning processes, which have been in place for quite some time and we acknowledge that we made a mistake on the opening day of the season. We intend to ensure that all parties, whether stewards, bar staff, turnstile operators or others are aware of any specific circumstances on any given match day. As part of this process we are overhauling to role of the Match Day Organiser to embed the lessons we have learnt.
In summary, we would like to thank the fans for the feedback, acknowledge we got it wrong for the Stafford game and recognise the value of a number of your suggestions. However, we do feel it would be inappropriate to segregate every game as a matter of course. I would like to apologise for the length of time it has taken to produce this response and take full responsibility for the delay.
Bill Waterson".
"The Board's statement regarding Louise Bowyer standing down as Safety Officer has been removed from this website at the request of Louise. The Club apologises if this statement caused her any upset".
From Tuesday's
Robins' Review
Mike Garnett's article on "League Cup Meetings" is reproduced below...
We have met our friends from Tameside on three previous occasions in League Cup competitions. On September 1st 1962 we travelled to Hurst Cross for a 1st Round tie in the Inter-League Cup (a competition involving clubs in the Cheshire League and the Lancashire Combination) which the Ashton Robins won by the only goal of the game.
On January 9th 2001 we played host for a Unibond League Cup group game (at that time the first stage of the competition was a series of mini-leagues) which ended in a 1-1 draw, and on October 4th 2004 we went over to Ashton for a Carthium Cup Preliminary Round fixture. Stuart Coburn was injured and Ian Senior had to take the field in the no. 1 jersey as Richard Acton had moved to Bangor City and Kurt Edginton couldn't get to the ground from work in time to play.
The rest of the side looked strong enough even if the formation was a little experimental and an 8th minute goal from Colin Little seemed to settle Alty down. Peter Carty's header levelled matters after 34 minutes but, within a minute, Steve Aspinall converted a penalty after Niell Hardy was fouled and Alty went in 2-1 up at half-time.
Ashton equalised just after the hour, Colin Alcide reacting quickest when Senior parried a goal-bound free-kick, and proceeded to add four more in the final quarter. Defensive confusion presented Paul Garvey with the chance to make it 3-2 after 67 minutes; Aspinall's desperate attempt to clear a goal-bound shot only succeeded in finding the roof of the net (76 minutes); substitute Nicky Clee laid one on a plate for Josh Mitten (82 minutes) and rounded things off himself in the final seconds of normal time, rounding Senior to tap the ball into the empty net.
Let's hope there isn't such a debacle this evening, and that the attendance exceeds the 177 present on that occasion!
A Bit of History
This is our first venture into a League Cup competition since November 4th 2008 when we lost a Setanta Shield 3rd Round to Wrexham on this ground by the odd goal in three. It is fair to say that what are perhaps now seen as Cinderella fixtures were for a long time an accepted and valued part of a league's season. Alty have, over the years, won League Cups on six occasions – the Cheshire County League Cup in 1932-3, 1950-1 and 1963-4, the Northern Premier League Cup in 1969-70 (when the attendance for the second leg of the final, at the Moss Rose, Macclesfield, numbered 6,833) and 1997-8 and the Alliance Premier League Cup in 1980-1".
Tue 17 Oct
Altrincham 3-3 Ashton United
Bedworth United 2-0 Barwell
Buxton P-P Coalville Town
Colne 1-2 Workington
Colwyn Bay 2-3 Warrington Town
Frickley Athletic 3-3 Stocksbridge Park Steels (SPS win 7-6 on pens)
Glossop North End 1-1 Mossley (Mossley win 4-3 on pens)
Grantham Town 3-2 Lincoln United
Halesowen Town 1-1 Romulus (Romulus win 4-3 on pens)
Hednesford Town 2-0 Rushall Olympic
Hyde United 0-0 Trafford (Hyde win 5-4 on pens)
Kendal Town 0-2 Lancaster City
Marine 4-1 Brighouse Town
Mickleover Sports 3-1 Loughborough Dynamo
Nantwich Town P-P Droylsden
Newcastle Town 3-1 Market Drayton Town
Ossett Town P-P Goole AFC
Prescot Cables 1-4 Bamber Bridge
Ramsbottom United A-A Stalybridge Celtic (floodlgiht failure)
Shaw LAne 3-5 Cleethorpes Town
Skelmersdale United 0-3 Atherton Collieries
South Shields 2-2 Farsley Celtic (South Shields win 5-3 on pens)
Spalding United 1-1 Gresley FC (Gresley win 4-3 on pens)
Stamford 1-0 Peterborough Sports
Sutton Coldfield Town 1-1 Stafford Rangers (Stafford win 6-5 on pens)
Whitby Town 1-2 Scarborough Athletic
Witton Albion 3-0 Radcliffe Borough
Kettering Town 0-1 Nantwich Town
In advance of Tuesday's match at the J. Davidson Stadium,
Ashton United
"completed the signing of Josh Greenhalgh. Josh is a left sided defender and is joining us from Northern Counties East League, Liversedge FC".
NL Pitchero confirms that "Rushall Olympic have appointment Liam McDonald as manager. He recently left Solihull Moors and, before, turned Redditch United into promotion candidates in the Evo-Stik Southern Premier League and took charge of Hednesford Town.
'It's nice to get straight back in and I can't wait to get started,' McDonald said. 'This is a good, well-run football club and I'll be working with an exciting group of young players that I will be looking to develop. It's a challenge that I face with relish and I feel that I can get the club moving up the table. I have a lot of respect for the Chairman; he's been in the game a long time. I am looking to forward to working with him for the first time.
'I was preparing to take a break from football, to be honest. But I had a really positive conversation with the Chairman and watched the recent game against Barwell. As I was travelling home I knew straight away that this was the place that I wanted to be and somewhere I can make an impact'...
His first game at the helm will come on Saturday as we play host to Marine."
---
17 October 2017
You can follow this fixture via this website's minute by minute text updates by clicking on the icon below. Alternatively, Radio Robins' coverage of the game is outlined below as well.
Brian Flynn announces that "Radio Robins, sponsored by Ashley Mowers Garden Machinery, is providing full live commentary of Tuesday night's game.
The commentators are Paul Salt and Alex Sarwar and the match summariser is Dave Stringer.
Coverage starts at 7.25pm with the game kicking off at 7.45pm.
Guidance for Listening to Radio Robins
There will be 4 ways to listen to Radio Robins via Mixlr
a) The Radio Robins website. Open the page in any web browser and the broadcast should start automatically. Please note that the 4 Player Options (Windows Player | Real Player | Quick Time | Winamp ) will not work now.
b) Download and install the Mixlr app on Android devices from the Google Play Store - start the app and search for 'Radio Robins'.
c) Download and install the Mixlr app on Apple devices from the Apple Store - start the app and search for 'Radio Robins'.
d) There is a temporary WIX website here.
There are numerous familiar faces in the squad of Ashton United, who visit Altrincham for an Integro Doodson Cup tie tonight (Tuesday). They include Ashton player-manager Jody Banim and player-coach Simon Woodford. Others include including former trialist Aaron Chalmers, ex-players Cavell Coo, Ryan Crowther (out injured), Josh Ollerenshaw, Mark Lees and former loanee Liam Tomsett
Altrincham fans will be hoping for a better outcome than the 6-2 drubbling handed out by Ashton in a previous league-cup encounter between the clubs, on Monday, 4 October, 2004. In the much-lamented Nationwide Conference Carthium Cup on a cold night at Hurst Park, Alty turned a 2-1 lead, which they held after more than sixty minutes of play, into a 6-2 reverse by the final whistle.
The final nail in the coffin, the sixth goal, was netted by... Ashton's Nicky Clee!
However that season ended happily, with Alty's promotion back to the national level of the Conference, via the play-offs.
Monday 16 October 2017
Integro Cup 1st Round
Mon 16 Oct
The EvoStik League reports that "Monday night's Integro League Cup clash between EVO-STIK League Stourbridge and Alvechurch [was] postponed after a major floodlight failure minutes before kick-off. Match officials were forced to send the teams back to their dressing rooms after 75 per cent of the lights on all four pylons at the War Memorial Ground went out five minutes before the 7.45pm kick-off.
A broken circuit breaker running into the club's mains was blamed by the Glassboys for the postponement after club officials called in an emergency electrician in a failed bid to ensure the First Round tie could go ahead. The decision to postpone the fixture was taken by match officials at approximately 8.20pm after it became clear the major fault couldn't be fixed in time for game to go ahead."
Stourbridge P-P Alvechurch
Belper Town 5-5 Basford United - Basford won 5-4 on penalties
Shaw Lane P-P Cleethorpes Town

"To mark the launch of Altrincham Football Club's Inclusion strategy we would like to get the children of Altrincham and Sale involved. We have joined forces with Art with a Heart charity who are based on Stamford New Road and North West based storage company Smart Storage (Altrincham) on Craven Road to run an art competition. We want children to be as creative as they want to "Design a football shirt to celebrate the differences in our community". The purpose is to showcase the importance of inclusion and diversity.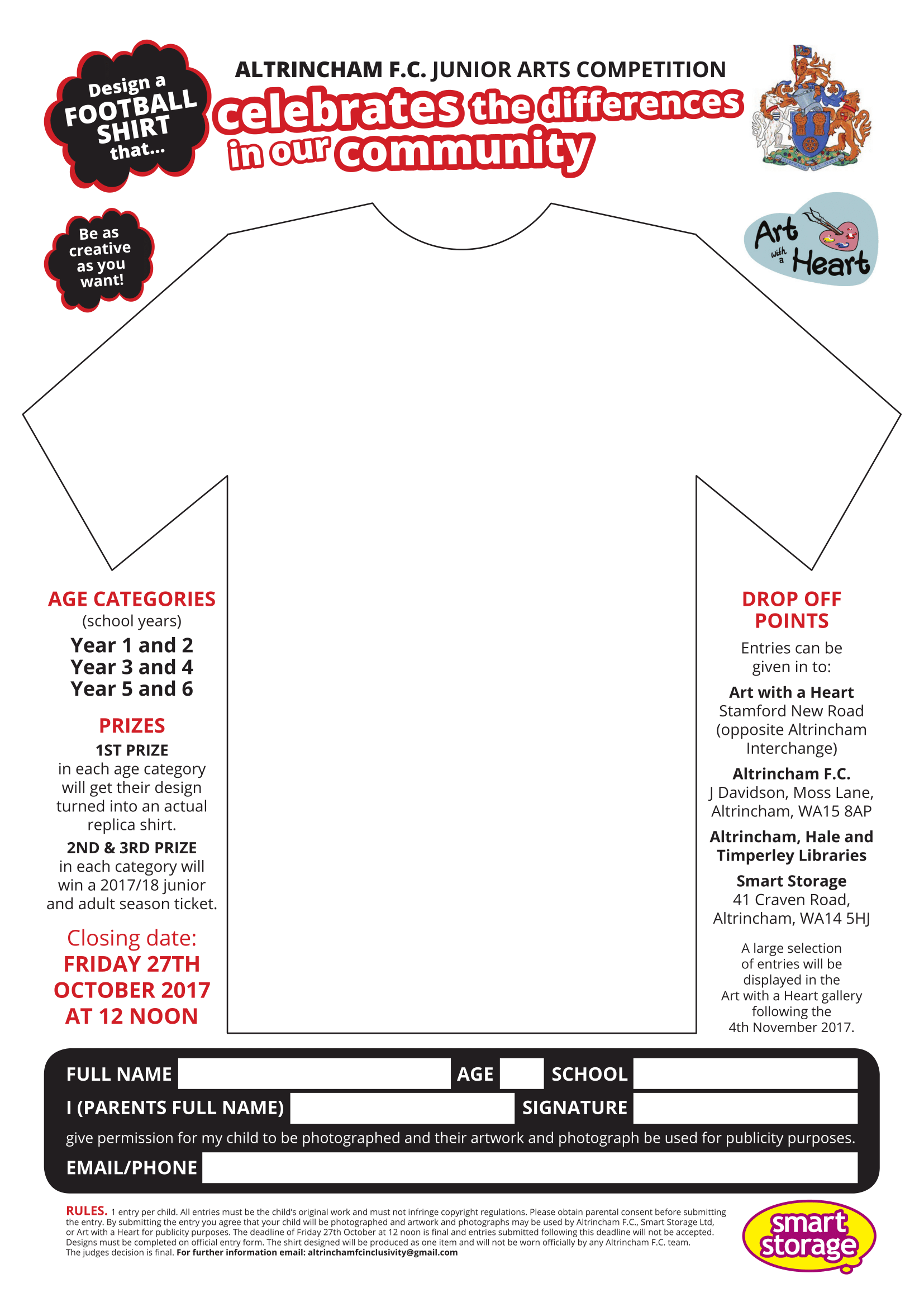 We would like as many children to enter as possible – and have asked all local schools to get on board and help distribute entry forms. or by ask children to complete at home over the half-term holiday. We have also distributed entry forms in Altrincham, Hale and Timperley Libraries. There will also be workshops during the holiday at Art with a Heart where children can get ideas for their designs. The competition has been split into three age categories school years 1 & 2, 3 & 4 and 5 & 6 and the winner of each category will have their design turned into a replica Altrincham FC shirt and unveiled on Saturday 4th November when Altrincham FC play Buxton Town, they will also receive a season ticket for themselves and 1 adult whilst 2nd and 3rd prize winners will also receive a season ticket for themselves and 1 adult to watch Altrincham FC for the rest of this season.
The closing date for entries is Friday 27th October at 12 noon and forms can be submitted either to the J Davidson Stadium, Art with a Heart on Stamford New Road, at Smart Storage (Altrincham) on Craven Road or in school prior to the half-term holiday and we can collect them. [Click on the image, right, for the enlarged colouring sheet and entry form].
If you would like to get involved or require further information please email: inclusion@altrinchamfootballclub.co.uk
Paul Whittaker from Smart Storage said, "We are delighted to be able to support the design a shirt competition, as a company we love to get involved in community projects and have been impressed Altrincham FC's inclusion plans".
Jordan Tyms, Altrincham FC Inclusion Co-ordinator, said "I'd like to thank both Smart Storage and Art with a Heart for their support with this project and look forward to seeing the creative designs that the young people of Altrincham come up with."
Jordan Tyms, Inclusion and Diversity Co-ordinator, Altrincham FC.
You can also find the Altrincham FC Inclusion Strategy here.
Alty travel to Warrington Town on Saturday. After their match last Saturday,
Barwell
's manager "said Saturday's game against Warrington Town was a 'very poor game of football'. Speaking after the match, Jimmy Ginnelly said, 'Very poor, very poor game of football. I'm sorry to any of the supporters who paid to watch it. Both teams looked very tired and washed out, the season is certainly catching up with Barwell now.
'We've had this bug in the camp for four of five weeks now and we just can't seem to shake it off. I'm trying to give my team talk and everyone's just coughing and spluttering. We're washed out at the moment. There's nothing we can do about it other than sign a couple of lads'".
The Warrington Guardian reports on the game, which ended Barwell 0 Warrington Town 1, saying "substitute Abou Sanogo was Warrington's hero as they bounced back from their midweek defeat in fine fashion. Sanogo's 75th-minute winner proved the difference in Leicestershire as Yellows moved up to second in the Evo-Stik Premier Division.
Paul Carden's men had the best chance of the first half but striker Jamie McDonald, returning from a hamstring injury, was denied by the woodwork. McDonald smashed a shot across goal which beat the goalkeeper, but crashed off the base of the post...
Early in the second half, it was Barwell's turn to rattle the woodwork when Stenson's volley struck the crossbar. However, the winner came in slightly fortuitous circumstances when Sanogo's looping cross found its way over the goalkeeper and into the net.
Warrington Town: McMillan, Goulding, McKeown, Gumbs, McCarten, Higgins, Hine (Sanogo), Richards, McDonald, Williams, Bakkor (Kinsella). Subs: Adam Carden, Hughes, Davis."
Brian Flynn advises that "The Radio Robins broadcast of Saturday's 3-0 win over Halesowen Town is available on the Mixlr App by searching for 'Radio Robins' & selecting 'Showreel'".
Brian also points out that there is good coverage of Non-League Day at the J. Davidson Stadium on the Football Supporters' Federation website.
Keith Edleston, manager of the Altrincham FC Ladies reports how "The first team got back to winning ways on Sunday with a 9-0 win against City of Liverpool at Mersey Valley in a game that was played in a spirit of good sportsmanship between the two teams.
It was unfortunately let down by some 'questionable decisions throughout the 90 minutes for both teams and this took the shine off a good team performance.
A first-half hat-trick from Kye Brown coupled with a brace from Megan Wright, with one each for Sophie Carolan, Sadie Powell, Laura Kelly and Megan Rowley sealed the game.
All the players got valuable game time today, with a debut start for Melissa Williams in centre-midfield along with a call-up for forward Courtney Williams from the Development Team.
We move onto the next game, which is sure to be a cracker, when we welcome Preston North End to Mersey Valley in the First Round of the Argyle Cup. Kick off for this game, on Sunday, is 2pm and we would love to see you there".
News of a player who may be joining the Premier Division comes from
Leek Town
where "Manager Neil Baker continues to wrestle with his squad as two further players appear destined for the exit door. Both Chasetown and Nantwich Town have put in 7-days' notice for defender Alex Morris with Newcastle Town issuing a similar notice for Mike Conlon...
Meanwhile, long-term injury victims [ex-Alty defender] Sam Grimshaw and Dan Shelley continue to make progress... Grimshaw is back in training".
The EvoStik League reports that "The race to crown the first winners of the inaugural EVO-STIK League Digital Challenge is expected to be red hot within weeks with five thousand pounds in prize money up for grabs at the end of the historic fiftieth anniversary season!
With the online stats of the league and clubs already soaring this season, the Northern Premier League's title sponsors are handing out £1,500 to the most digitally minded clubs in each division to celebrate the milestone 2017-18 campaign and inspire fans, players and officials to carry on embracing an online future over the next five decades.
To create a level playing field for clubs of all sizes and transparency for the competition, the stats of all 68 on key platforms Facebook, Twitter and Instagram were benchmarked in September so the winners come from those demonstrating the biggest rise in web traffic and quality of social media engagement by next May.
And, as added incentive to stoke up the competition to make a shortlist of finalists to be judged by a panel from the NPL and Bostik UK, the parent company of EVO-STIK, an additional £500 is also on offer to the club attracting the highest number of views or downloads for a unique piece of video content featuring EVO-STIK branding."
In Monday's Emirates FA Cup draw, Shaw Lane received a home tie against Steve Evans's Mansfield Town. As First Round matches are to be played over a four-day period (3 to 6 November), Alty's league match at Shaw Lane, scheduled for Monday 6 November, could be affected if the Ducks' game is televised and moved to Sunday or Monday.
The Premier Division's other team in the FA Cup draw, Nantwich Town, face a trip to Stevenage if they win their Fourth Qulaifying Round replay against Kettering.
Other non-League teams in the Cup draw included:
Hyde United v MK Dons
Solihull Moors or Ossett Town v Wycombe Wanderers
Gainsborough Trinity v Slough Town
Chorley or Boston United v Fleetwood Town
Hereford v AFC Telford United
According to
NL Daily
, "Marcus Bignot has told his Chester FC players they will be going full-time from Monday after their humiliating FA Cup exit at the hands of lower-league Kidderminster Harriers.
The Blues went down to a miserable 2-0 defeat to their National League North opponents that sparked an angry response from the short-changed travelling supporters. And, while Bignot did his best to keep a lid on his anger, he made it clear that his part-time squad will now have to commit to an extra day's training in the week, whether they like it or not.
He said, 'I can agree with them (the fans) and their calls, and their shouts, and their views. Judging on today, you've got to agree with them.... I've inherited this group... Kidderminster are full-time, they've been full-time for how many years now. We're not and, if we continue not to be full-time, that's the kind of performance and results you can get. We need to go full-time and I've told the boys it's going to be a full-time programme starting from Monday. It has to be. You can't expect to compete at National (League) level, never mind in the North, where there's six or seven professional teams'".
---
16 October 2017

Above: Alty line-up against Stockport County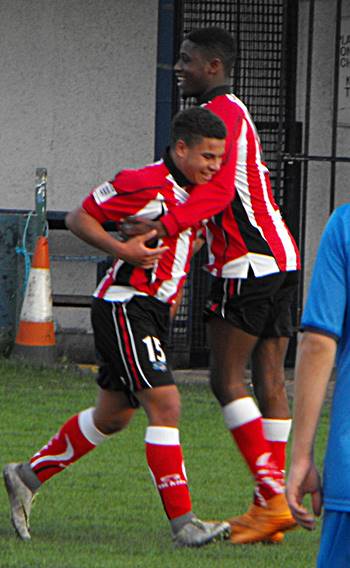 Right: Ollie Okunowu celebrates his goal.
Altrincham Youth gained their first league win of the season with a 2-0 win over Stockport County at Flixton on Sunday afternoon. Alty took the lead with a 27th minute penalty awarded for hands against the visitors' left-back. Bailey Richardson converted the spot-kick.
Nine minutes into the second half Cameron Terry conceded a penalty when he fouled County's no.15 after he had been put clean through on goal and the Alty keeper was fortunate to escape without even a caution. Terry then went on to save the spot-kick.
After County had spurned several other chances to equalize, Altrincham confirmed their win when centre-back Ollie Okunowu volleyed home a Miller corner ten minutes from time.
Match report here.
The NWYA and FA confirm that Dylan Scanlan has received a two-match suspension for his red card last week (15/10/17 to 22/10/17) for alleged "use of offensive, insulting or abusive language".
Following this Friday's FA Youth Cup 3rd Round Qualifying match at the J Davidson Stadium against Chester FC, Alty are scheduled to play next Sunday (22nd) at home to Chorley FC at Valley Road, Flixton, M41 8RQ in the North West Youth Alliance Neil Thomason Cup Round One. On 29 October, they are away to Stockport County in a league match.
Ian Senior confirms that the special team shirts, worn on Non-League Day at the J Davidson Stadium, raised the magnificent sum of £850 for the Prostate Cancer charity, after he collected all the monies pledged in the shirt auction following last week's game against Rushall Olympic. Ian thanks everyone concerned and says "A great effort from all concerned. Thanks, Ian".
On Sunday, Altrincham FC Ladies beat City of Liverpool 9-0 with a hat-trick from Kye Brown. And the Ladies' Development team drew 3-3 with Sale United.
These results complete a great weekend for Alty with the first-team, reserves, youth and ladies' teams all winning their games.
The Ladies' next game on Sunday (22nd) is in the Argyle Cup at home to Preston North End Ladies.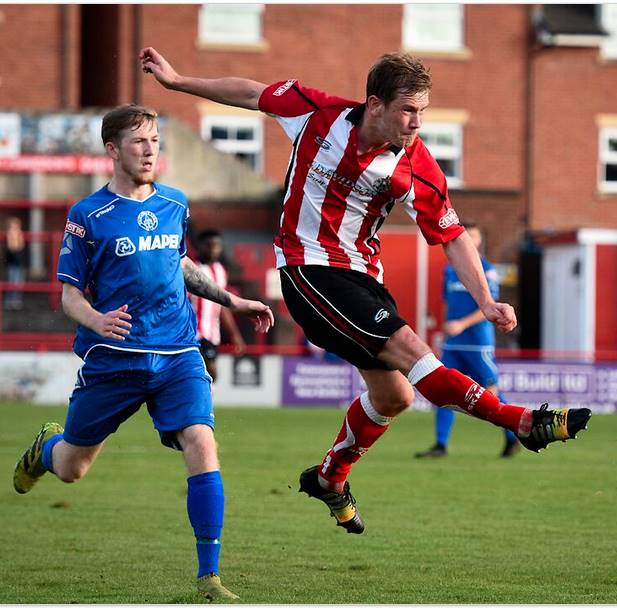 Right: Shaun Densmore marauds up the Alty right-wing in the second half against Halesowen Town. Image courtesy of Michael Ripley
Courtesy of Mark Bennett, Alty TV has two more excellent offerings..
TASC chairman, Brian Flynn, advises that "The next meeting of TASC (The Altrincham Supporters' Club) will take place on Thursday, October 19th from 7.00-8.30pm in the Boardrooom at the J.Davidson Stadium".
On Saturday, Altrincham FC Reserves beat Denton Town 2-1.
Next Saturday, they are at home to Crewe FC (at Egerton Youth Club) in the CCFA Amateur Cup, Second Round. Kick-off is at 2pm.
Following that, the Reserves are away to Ashton Town on 4 November (2pm).
On Tuesday, Altrincham entertain Ashton United in the Integro Cup.
Ashton
's lats match was versus Stafford Rangers. "A scrappy encounter at the Marston Road ground was settled by a single strike for the hosts with 9 minutes remaining. With Josh Granite injured Tom Eckersley replaced him in the centre of defence with the Robins otherwise unchanged and it was the visitors who threatened first as
Liam Tomsett
stole the ball in midfield and played in Matty Chadwick who forced a save out of Whitehouse at his near post...
The home's side pressure eventually told as Thomas's cross saw Gregory finish from close range after his initial header had been saved and Tomsett was then denied by a decent save from Whitehouse and Gregory cut inside well but sliced his shot well wide.
Team: Carnell, Smalley, Beesley (Slinn 46), Eckersley, Chalmers, Platt, Lees, Tomsett, Chadwick, Dyche, Evangelinos (Johnson 60) Subs unused: Ollerenshaw, Roberts, Woodford".
NL Pitchero
reports that "There was only one Sunday tie in the Emirates FA Cup Fourth Qualifying Round, but it produced the upset many had predicted. Shaw Lane AFC, who have made a rapid rise through the non-League Pyramid and are now amongst the favourites to make it back-to-back promotions, ousted Vanarama National League visitors Barrow AFC from the competition, running out 2-1 winners at Sheerien Park.
The Ducks started well in front of a record crowd of 864... After just 9 minutes, Shaw Lane [had] the lead when Alex Byrne's corner was headed home at the near post by Spencer Harris... It was the Ducks' half as they went into the break a goal to the good.
However, just 2 minutes into the second half, the Bluebirds were back on level terms when a foul on Chris Clements earned them a penalty which Harrison duly converted. The home fans expected Barrow to take control now, but they never really took the game by the scruff of the neck
And with 14 minutes remaining, Shaw Lane took the lead for the second time and again it was courtesy of one of their experienced forwards, this time ex-Altrincham favourite Damian Reeves, who controlled a long throw and hammered a shot past Dixon... And the visitors' misery was complete when they had Jimmy Dunne sent-off for a rash challenge on Godwin Abadaki."
Stourbridge
"are delighted to announce the signing of Luke Shearer from local rivals Halesowen Town. The 23-year-old can play up front or on the wing and joins the club having recently left the Yeltz.
Despite his young age, Shearer has a wealth of experience in the local Non-League scene but started his career as a trainee at Torquay United. He returned to the Midlands in 2010 to join Tamworth and spent a spell on loan at Barwell before making a permanent switch to Hednesford Town in August 2012. Shearer moved to Romulus for the 2013-14 season and impressed with the Coles Lane based outfit.
Spells with Bromsgrove Sporting and Alvechurch followed and the highly-rated forward was then snapped up by Redditch United in December 2014. After a year-and-a-half with Redditch, helping them to challenge at the top of the Southern League Premier, Shearer signed for Sporting Khalsa in the summer of 2016... earning a move up the Non-League Pyramid to our Evo-Stik Premier rivals Hednesford in November 2016.
A return to Khalsa followed before he linked up with Halesowen in June, scoring three times in pre-season. Shearer also scored in the Yeltz's Evo-Stik Premier victories over Barwell and Grantham Town but recently left The Grove and impressed Stour boss Gary Hackett in training...
The club can also confirm that striker Justin Richards has signed registration forms but is still on the road back to full fitness. Experienced forward Richards ruptured the patella tendon in both of his knees in last season's FA Cup Fourth Qualifying Round victory at Nantwich Town".
Marine have signed "experienced goalkeeper Martin Fearon", brother of former Alty youth player Matt Fearon. "Blackburn born Martin, 28, joins the Mariners from Ramsbottom United. A former professional with Accrington Stanley, he has also had spells at Burnley, Chester, Lancaster City, Salford City and Skelmersdale United where he was an ever present during 2015-16 under Tommy Lawson".
---
15 October 2017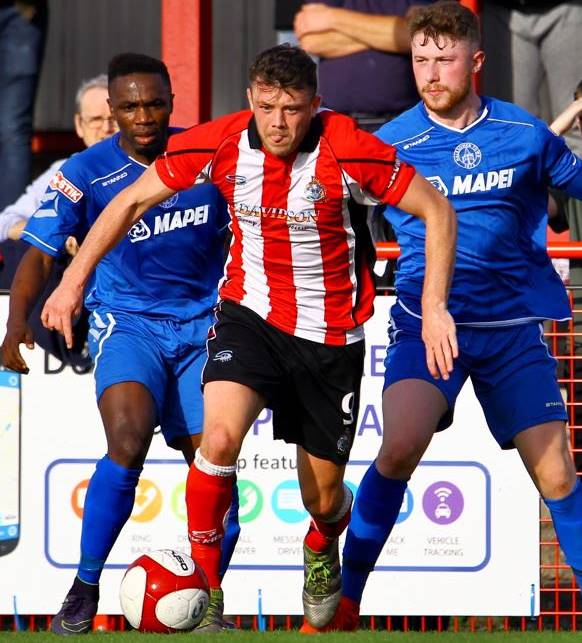 Above: Gavin Rathbone's image shows Jordan Hulme in typically battling mode against Halesowen Town.
Match report here
TASC Travel Coordinator, Mark Eckersall, provides us with a supporters' away travel update...
"Thanks to all who joined us on the Whitby trip. As most will be aware it isn't financial viable to put transport on to Warrington Town on Saturday 21st October. With a distance of 12 miles and just a 20 minute drive, plus the town being well served by buses and trains, we know that we will have good support there.
Our next coach travel will be to Shaw Lane on Monday 6th November. We're hoping for another good turnout for that one and that you'll help us to keep the coaches running by coming with us for that trip. More details nearer the time, thanks for your support so far."
Brian Flynn's post-match interview with Simon Richman (right) after Tuesday night's 1-1 draw at Whitby is
here
.
Brian adds, "Apologies for the background noise; perhaps the kitchen at the Turnbull Ground wasn't the best place to conduct an interview!"
Brian Flynn submitted the following comments from Phil Parkinson to
Altrincham Today
before Saturday's match with Halesowen Town...
"Four points from two contrasting games this week continues the excellent run that we have been on.
Last Saturday, it was so good to see almost a thousand people at the J.Davidson Stadium for a league fixture on Non-League Day. There was so much going on around the ground and in the Community Sports Hall, including an artist who spent four hours painting the matchday scene at the ground from the terrace opposite the main stand. On the pitch, we wore a special 'Fans for Diversity' kit, provided by SKkits and the fifteen shirts that were auctioned raised over £800 for Prostate Cancer UK, which is the chosen sponsor of the Evo-Stik League... a great effort!
The players performed really well in difficult conditions, scoring four goals and keeping another clean sheet and I'd like to think that the neutrals who came along were impressed with the quality of football on display and that some of them will return to watch us for some future home matches.
Tuesday night at Whitby Town was always going to be a bit of a challenge. A six-hour round trip of over two hundred and fifty miles really takes it out of players and whilst we were never anywhere near our best, we showed the resilience required in games like this, to come away with a result in a 1-1 draw against a Whitby side that played very well on the night. They have some good players, including a couple who are in the Jamie Vardy academy, and are a difficult side to play on their own pitch.
The support that we received on Tuesday night on the East Coast of Yorkshire was absolutely superb. I have never known anything quite like it. They turned up in good numbers and the vocal encouragement was brilliant. Like the players and staff, the fans have to show great commitment to organise themselves to travel across the country for a midweek game. We all appreciated their efforts on Tuesday.
It's good to get the really long journeys out of the way before the end of October and the only two-hundred mile plus round trip that we now have to complete is at Grantham, which is scheduled to be our last away fixture of the season and is on a Saturday, which is easier to manage.
Today, we are back at home for a 3pm kick-off against Halesowen Town. This is a more difficult fixture than it may seem. The Yeltz are towards the wrong end of the table but arrive on the back of two straight league wins, with a particularly eye-catching victory at local rivals Stourbridge last Saturday, in front of a crowd of 2306, the biggest in the league anywhere this season.
They have a young striker on loan from Crewe Alexandra, Danny Udoh, who has scored three of their four goals that gained them that six-point haul and we will need to be back to somewhere near our best to make it seven consecutive home league wins".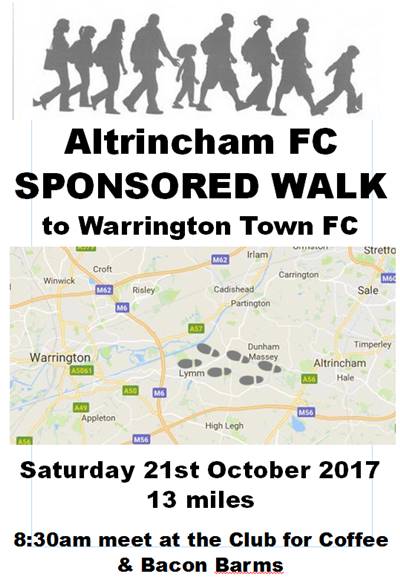 In Saturday's "Robins' Review", Altrincham Director Bill Waterson writes that "We are deliberately spending beyond our means this season, using our cash reserves to build and maintain a squad capable of taking us forward. Given this planned deficit, we are always looking at ways of boosting the revenue stream.
One way of doing this is the sponsored walk to our neighbours Warringon Town for the vital top-of-the-table clash next weekend.
Why not take part in the 13-mile jaunt and be reinforced by the planned stops at 'watering holes' on the way?
Call the club on 0161 928-1045 to take part and follow the link to the sponsorship form".
Sunday 15 October 2017
The Emirates FA Cup 17-18 - Fourth Round Qualifying
Shaw Lane 2-1 Barrow (Damian Reeves netted the winner).
Att. 808 Altrincham 3 - 0 Halesowen Town
Att. 183 Barwell 0 - 1 Warrington Town
Att. 272 Grantham Town 0 - 0 Stalybridge Celtic
Att. 403 Hednesford Town 1 - 1 Workington
Att. 271 Lancaster City 1 - 1 Farsley Celtic
Att. 372 Marine 1 - 2 Matlock Town
Att. 211 Mickleover Sports 1 - 1 Rushall Olympic
Att. 514 Stafford Rangers 1 - 0 Ashton United
Att. 186 Sutton Coldfield Town 1 - 1 Whitby Town
Att. 259 Witton Albion 5 - 2 Coalville Town
The Emirates FA Cup 17-18 - Fourth Round Qualifying
Att. 653 Buxton 1 - 2 Gateshead
Att. 760 Nantwich Town 1 - 1 Kettering Town
Att. 2003 Scarborough Athletic 0 - 2 Hyde United
Att. 415 Solihull Moors 1 - 1 Ossett Town
Att. 2887 South Shields 1 - 2 Hartlepool United
Att. 1152 Stourbridge 0 - 5 Macclesfield Town
Trafford won 4-1 at Ossett Albion with goals that included an Aaron Burns penalty. As Skelmersdale United won 3-2 over Ramsbottom United, Andy Owens netted a penalty for Skem and Sam Heathcote scored for the visitors. In Market Drayton Town's 1-1 draw with Belper Town, George Bowerman netted for Drayton.
Alty play Ashton United on Tuesday in the Integro Cup. On Saturday, Alty's former Blackpool loanee, Liam Tomsett, was booked "for slamming the ball into the ground".
Former Alty youth and reserve, Boris Melingui, played for Leek Town against Basford United on Saturday.
Saturday 21 October
The EVO-STIK Premier Division
Ashton United v Shaw Lane
Coalville Town v Buxton
Farsley Celtic v Mickleover Sports
Halesowen Town v Lancaster City
Matlock Town v Stafford Rangers
Nantwich Town v Witton Albion
Rushall Olympic v Marine
Stalybridge Celtic v Barwell
Stourbridge v Grantham Town
Warrington Town v Altrincham
Whitby Town v Hednesford Town
Workington v Sutton Coldfield Town
Altrincham are away at Warrington Town next Saturday and
Warrington Worldwide
tells us that, this Saturday, "Aboubacar Sanogo came off the bench to score the winner as Warrington Town returned to winning ways with a 1-0 victory at Barwell. Sanogo's cross from the right looped over 'keeper Max Smith-Varnam, 12 minutes after he had replaced Josh Hine...
Barwell has proved a tricky place to go this season, with league leaders Shaw Lane succumbing to a 1-0 defeat there last weekend. The return of Jamie McDonald up front brought a notable improvement for the Yellows...
It took until the 75th minute for them to break the deadlock, through Sanogo, though Smith-Varnam walking away with the man of the match reward perhaps reflects his contribution...
Warrington Town: McMillan, Goulding, McKeown, Gumbs, McCarten, Higgins, Hine, Richards, McDonald, Williams, Bakkor. Subs: Kinsella, Carden, Sanogo, Hughes, Davis."
Elsewhere, Stourbridge "boss Gary Hackett confirms the club have received a seven-day approach for striker Jordan Archer but nothing has been finalised".
---
14 October 2017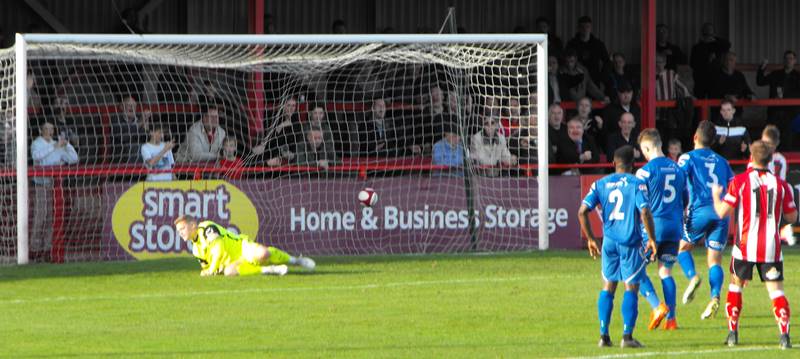 Above: John Johnston, far right, nets his penalty.
After a goalless first half in which Altrincham played plenty of attractive football but lacked the tempo and incisiveness to unlock the Halesowen defence, they turned up the temperature after the break to ensure they went to the top of the table. It took them fewer than 45 seconds of the second half to make the breakthrough. Hancock netted the goal after good work on the right by Bembo and Richman.
Nine minutes later, when Jordan Hulme chased a 50-50 ball inside the box, he was tripped and John Johnston netted the resulting spot kick.
Josh Hancock played in James Poole to make it 3-0, in the 82nd minute. Halesowen could have scored twice in the second half but Thompson made two fine stops to keep a clean sheet.
It is the first time since September 2013 that Alty have been top of a league table.
Match report here..
Saturday 14 October 2017
Altrincham 3-0 Halesowen Town
Barwell 0-1 Warrington Town
Grantham Town 0-0 Stalybridge Celtic
Hednesford Town 1-1 Workington
Lancaster City 1-1 Farsley Celtic
Marine 1-2 Matlock Town
Mickleover Sports 1-1 Rushall Olympic
Stafford Rangers 1-0 Ashton United
Sutton Coldfield Town 1-1 Whitby Town
Witton Albion 5-2 Coalville Town
The Emirates FA Cup 17-18 - Fourth Round Qualifying
Buxton 1-2 Gateshead
Nantwich Town 1-1 Kettering Town
Shaw Lane v Barrow -playing on Sunday
Stourbridge 0-5 Macclesfield Town
You can follow this fixture via this website's minute by minute text updates by clicking on the icon below. Alternatively, Radio Robins' coverage of the game is outlined below as well.
Brian Flynn announces that "Radio Robins, sponsored by Ashley Mowers Garden Machinery, is providing full live commentary of Saturday's game at The J.Davidson Stadium.
The commentators are Mark Simpson and Brian Flynn and the match summariser is John Edwards. Coverage starts at 2.40pm.
Guidance for Listening to Radio Robins
There will be 4 ways to listen to Radio Robins via Mixlr
a) The Radio Robins website. Open the page in any web browser and the broadcast should start automatically. Please note that the 4 Player Options (Windows Player | Real Player | Quick Time | Winamp ) will not work now.
b) Download and install the Mixlr app on Android devices from the Google Play Store - start the app and search for 'Radio Robins'.
c) Download and install the Mixlr app on Apple devices from the Apple Store - start the app and search for 'Radio Robins'.
d) There is a temporary WIX website here.
Altrincham FC's official caterer, Richie Bentley, announces that "We have an early gate from 12.30pm on Saturday (gate 5 or 6), next to Main Stand, which will allow fans to enter the ground early for pre-match drinks or to watch sport on TV before the game. This will be running for every home game from now on".
According to the
Whitby Gazette
's article by "Whitby boss Chris Hardy... 'When our recent signing John Campbell went down in a heap, I feared we'd lose him for the long-term. He's reacted really well to the programme we put him on and we had him back a lot sooner than we'd originally hoped when he came on for a 10-minute run-out against Altrincham on Tuesday night.
'He came through assessment in training last week and hasn't pulled up since Tuesday night, so he will be in contention for a starting place for our trip to Sutton Coldfield this weekend. John has been a breath of fresh air since he came to the club, he's what we've needed for a while now in that he's a natural goalscorer, and we need to do everything we can now to get him out on the pitch so he can do what he does best and score goals for Whitby Town.
'Another player who impressed me from the bench on Tuesday was Louis Maloney. Louis really does have an eye for a pass and looked very able on Tuesday night.
'Looking at Tuesday as a whole, it was a positive performance and result and we need to build on that now... We need to start getting the points we'd like, and often deserve.
'Saturday's defeat at Warrington was incredibly frustrating. There wasn't a lot in the game at all and there was a clear foul on Shane Bland one of their goals, everyone stopped and expected a free-kick to be awarded but the ref waved them on and they scored. It was nip-and-tuck, there wasn't a lot in it, but we've come up on the wrong side of the result'".
Excellent photographs of the Whitby v Altrincham game are to be found here.
The
EvoStik League
reports that "Workington defender Jake Simpson has left to join the touchline team at League Two Chesterfield. The 26-year-old full-back made the last of his 220 appearances in six seasons for the club in Tuesday night's 1-0 reverse for the Reds at Witton Albion following his appointment as the Strength and Conditioning Coach at the Proact Stadium.
Simpson made his Borough Park debut during the 2011-12 campaign and had been seeking employment in the pro game after graduating in Sports Rehabilitation and going on to achieve a Master's degree in Strength and Conditioning.
The Oxford-born player had already been working with Carlisle United for almost two years obtaining invaluable experience behind the scenes at Brunton Park and left Workington with joint-manager David Hewson hailing him as a model of consistency since returning for a second spell three years ago!
In statement paying tribute to Simpson, he said, 'We knew Jake was going to leave at some point and his status at the club was changed to non-contract in the summer in preparation. It's a fantastic opportunity for him and he goes with our good wishes... We now have to find a replacement and it might present an opportunity to someone already in the squad'".
We also learn from the EvoStik League that "Many of the EVO-STIK League's chairmen and secretaries met up on Thursday night for the first of three regional meetings to update clubs on the latest plans and initiatives for the historic 2017-18 season. As the Northern Premier League celebrates it's 50th anniversary season, representatives from more than 30 clubs got together with league officials and representatives from the Football Association for the first of the gatherings on consecutive Thursdays at Nottingham's Sandiacre Holiday Inn.
As well as a presentation on the reorganisation of the National League System next season from EVO-STIK League chairman Mark Harris and vice-chairman Keith Brown and a commercial update on the Club Builder initiative from director Steve Hobson, delegates were also brought up to speed on the latest disciplinary procedures by the FA's Mark Ives before a Q&A session with directors and officers.
The rest of the EVO-STIK League's 68 member clubs will meet up at the West Riding County FA's headquarters in Woodlesford near Leeds next Thursday night (October 19) before the final meeting at Witton Albion's Wincham Park on Thursday 26 October."
Coventry City confirm that their "defender Jak Hickman and forward Bilal Sayoud have joined Mickleover Sports on loan. The pair join the Northern Premier League side on youth loans until 12th November 2017. Hickman has been a regular for the Under 23s this season, while Sayoud made his competitive debut for the Sky Blues first-team against Walsall in the Checkatrade Trophy earlier this month".
---
---
---
---