CURRENT NEWS IN FULL
---
ALTY HEADLINES
OTHER HEADLINES
29 Jun 2017: MATLOCK CONFIDENT...More
29 Jun 2017: FULL-BACK COMMITS TO MICKLEOVER... More
29 Jun 2017: ALL CHANGE AT TELFORD... More
---
29 June 2017
Brian Flynn, chairman of TASC, informs us that "The Altrincham FC Monthly Draw for June was made at the 'Meet The Manager' event on June 22nd. This month's winners are:-
6th place - Number 97: Alison Pennycook- Club Polo Shirt
5th place -Number 254: David Hulme - Replica Shirt
4th place - Number 28: Jackie McLay- Hospitality for two in the Manchester Glass Sponsors' Lounge
3rd place - Number 481: K.Handford - £25
2nd place - Number 245: Anthony Ainsworth- £75 and ...
1st place - Number 267: D.Brookes - £500
Congratulations to each of the winners and especially to D. Brookes, who wins the top prize of £500".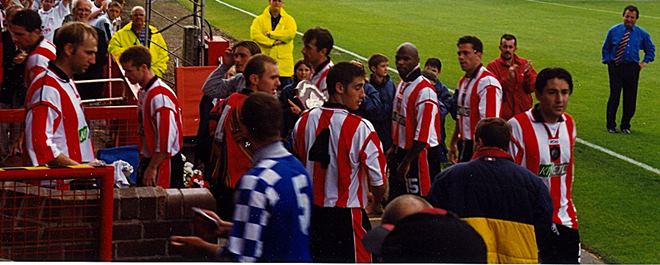 Above: Chris Timons (no.4) with the Altrincham team after winning the UniBond Shield against Stalybridge Celtic in August 1999. To Chris's right is Paul Ellender with ballboy/girl coordinator Ray Armstrong and manager Bernard Taylor in the background. Following Chris to receive their medals are Stuart Coburn, Danny Adams, Brendan Burke, Ged Kielty, Keith Russell, Dickie Landon, Tony Hemmings and Jason Gallagher.
NL Pitchero reports that "Toolstation Northern Counties East League Premier Division club AFC Mansfield have announced the departure of two of their longest-serving players. Danny Naylor and [former Alty captain] Chris Timons have been with the club since its formation and have taken the team through two promotions, four trophies, five runners-up spots, the last sixteen and last thirty-two of the FA Vase and Third Qualifying Round of the FA Cup. All this in just five seasons...
Although Timons played in AFC Mansfield`s first ever game, a friendly against Rainworth Miners Welfare, he didn't officially join the club until February 2013. He went on to captain the side through two promotions and in the club`s NCEL promotion year he played forty-eight games and eventually made 169 appearances for The Bulls. He has left to join his home-town club Shirebrook Town where he has been installed as club captain."
"Winger Ted Cribley has given Matlock Town a big signing a one-year extension to his contract" confirms that
Derbyshire Times
. "Cribley's silky skills thrilled management and supporters alike last season and the contract extension is one of numerous encouraging signs ahead of Matlock's 2017/18 campaign...
'We're delighted Ted has signed the one-year contract extension', said joint boss Glenn Kirkwood. 'He was outstanding last year, a real, dangerous creative player for us. Me and Hoppo love him, the rest of the lads love him and I'm sure the fans will be really pleased with this news. What he can do with a football can only benefit us'...
Kirkwood said, 'All our attention is focused on that opening league game on August 12 and making sure we're fit and ready for then. Our aim when we start the season is to be better than we were at the end of last season. Pre-season is all about fitness, people getting game time and to get used to playing again. We've had two really good training sessions, the lads have done really well, they've come back in excellent shape, better than we expected. They've come through these sessions with flying colours and we couldn't have asked any more of them and hopefully it'll lead to a really good season'.
Matlock expect to announce more player news in the next one or two weeks... Fans will also see the new floodlights and goalposts for the first time at the [pre-season] Chesterfield match. Although the new lights have been budgeted for, Chairman Tom Wright has appealed to fans and local businesses for donations to help cover the cost...
Meanwhile Kirkwood also praised the work behind the scenes in preparation for the new campaign. He said, 'We believe we're at a club that want to go places, the work that goes on behind the scenes on the pitch, on the ground and in general is tremendous and it's something we can use in selling the club to potential new players'".
At Mickleover Sports "First-team player-manager John McGrath has announced that a deal has been agreed to keep full-back Ben Turner at Mickleover. McGrath said, 'I am delighted to keep hold of one of our most consistent performers from last year's campaign. 'Turns' had an excellent season and I am looking forward to working closely with him again in 2017/18. He is an attacking full-back who offers the team loads of quality down our left side and he plays a vital and essential role with in our changing room.'
Ben Turner had the following to say, 'I'm delighted to re sign for club that is going in the right direction and has great potential with everyone behind it pushing it forward. Looking forward to this year on the field and hopefully surprising a few along the way and playing for a manager I trust and plays the way football should be played in my eyes'".
From Farsley Celtic's latest review of its opposition clubs, it is the turn of Marine. Celtic remind us that "Marine is notable for having the longest serving manager in post-war English football. Roly Howard occupied the post from 1972 to 2005 and a total of 1,975 games. His final match, in May 2005, was a 1–0 defeat against Everton in the Liverpool Senior Cup final.
The Club was formed in 1894 by a group of local businessmen and former college students, taking its name from the hotel on the River Mersey sea front at Waterloo, seven miles to the north of Liverpool, where the founders met".
From
NL Daily
We learn that "AFC Telford United manager Rob Smith and assistant manager Larry Chambers have left the club on a day of major change at the New Buck's Head Stadium. Chairman Ian Dosser has also confirmed his decision to depart after thirteen years with the club.
Smith and Chambers were in their second spell with the Bucks, after taking charge between 2006 and 2010. They returned to the club in August 2015 after leaving Hednesford Town...
The club also confirmed the departure of chairman Dosser and revealed that he will hand over control of the club to their major shareholders...
A club statement said... 'Ian feels this is the right time to hand over the reins to the majority shareholding family. Therefore, Andy Pryce has been appointed as interim Chairman'"
The Shropshire Star explains that "Reports claim that the Bucks are set to receive a substantial investment that will secure its future, which was the catalyst for the change in management...
The former Hednesford Town boss was in the process of rebuilding his squad, recently securing a number of signings including the likes of [ex-Alty loanee] Elliot Newby, Ross White, Jordan Gough and Jasbir Singh. In April, he confirmed his commitment to staying with Telford despite financial struggles last season. 'I love the club. I want to stay and try to make it better, I don't want to quit on them. I think they need us as much as we need them', he said".
But arriving at Telford is someone who has resigned from another club that we played against last season as the Worcester News tells us that "Worcester City Football Secretary and director Joe Murphy has resigned to join AFC Telford United.
Murphy will be replaced as football secretary by Kevin Preece who will combine the role with Safety Officer on matchdays and working on gaining sponsorship for the club.
A City statement said... 'Joe will be sorely missed and we are naturally extremely grateful for the exceptional work he has carried out on behalf of the club with what is an onerous, detailed and technical role within any organisation. Joe will be joining Telford...
Murphy said, 'I am delighted to be joining Telford and I look forward to working with the management team and club officials. Leaving Worcester after eight memorable years was a really tough decision but I feel the time is right for a new challenge'".
---
28 June 2017
Altrincham kick off their pre-season at Shropshire club
Whitchurch Alport
on Saturday, 8 July, 3pm.
The club announces that "Whitchurch Alport will certainly look the part next season with three sponsorship deals recently announced. The brand new Macron home kit, which will be revealed next month, is again sponsored by Highgate Garage, but there are two brand new sponsors on board who are getting involved with the club for the first time.
Buildbase, sponsors of the FA Vases will provide Macron branded training kit, and TT Commercial Services are taking care of the club's official travel wear.
Joint manager Carl Everall was delighted to secure the sponsorship from three separate businesses, 'The club would like to thank both Buildbase and TT Commercial Services for their sponsorship and this will help make sure that our first team are thoroughly looked after. Without the support of such sponsorship deals, Whitchurch Alport would not be able to run as effectively and attractively as it does on a day to day business. Gary at Highgate has once again put his hand in his pocket to put his company on the front of the new red and white jerseys so our thanks go out to him also.
'Buildbase are a huge company and the key partner to the FA Vase competition. To have them on board is fantastic. After speaking with John at Buildbase, we are excited to see how this partnership can evolve and ensure the staff and connections at their Market Drayton store always have a venue where they feel welcome, and hopefully enjoy football on a Saturday afternoon.
'Tim Talbot who runs TT Commercial Services is a good friend of Luke's (Luke Goddard - co-Manager). To support us with a generous amount of money is overwhelming and the club, management and players would like to express their sincere gratitude. Like Buildbase, I am sure the sponsorship deal is a two-way thing and we look forward to Tim becoming a regular and a friend of the club at Yockings Park."
Directions to the club, whose address is Yockings Park, Black Park Road, Whitchurch, Shropshire SY13 1PG are here. The ground is just over half a mile from Whitchurch railway station.
As previously announced, for the purchase of Altrincham FC season tickets for 2017-18 season, "A flat rate will now apply, with season tickets costing £180 for adults, a reduction of 28 per cent on the 2016-17 standing price and 38 per cent on seating, and £125 for students and concessions, a drop of 14 per cent and 19 per cent respectively.
There is a 17 per cent cut to £50 for 12-16 year olds, while the cost for under-11s has been halved at just £15. In keeping with most Evo-Stik League Premier teams, matchday entry for adults has been set at £10, a 28.5 per cent reduction, with concessionaries and students paying £7 (22 per cent less), 12-16 year olds £4 (20 per cent less) and under-11s £1 (50 per cent less).
Furthermore, at just £1 for under-11s, it is also hoped parents with young children will be encouraged to come along to sample the matchday experience at The J.Davidson Stadium and turn it into a family day out".
You can order your season ticket by visiting the Club offices during weekday working hours, by e-mail, by post (AFC, J Davidson Stadium, Moss Lane, Altrincham WA15 8AP), or by telephone (0161 928-1045).
The Altrincham FC Patrons scheme for 2017-18 has passed the hundred mark and the Football Club would like to thank everyone who has signed up so far.
Under the Patrons' Scheme, for the cost of £50 your name will appear throughout the coming season in the matchday programme as a Patron of Altrincham Football Club.
At the beginning of the season, every member will be entered into a prize draw, with the winner being match sponsor for an appointed game along with 9 guests. Second prize will be hospitality for 5 people and third prize hospitality for 3 people in the Manchester Glass Sponsors' Lounge.
If you are interested in becoming a Patron for next season, please forward a cheque, payable to Altrincham Football Club, for £50. Alternatively, you can pay by card by phoning the office. If you require any further information please do not hesitate to enquire by e-mail.
An updated list of Patrons is here.
In its continuing series on opposition clubs,
Farsley Celtic
report on Lancaster City. They remind us that "Lancaster's ground, Giant Axe was given its name as it was the centre-piece of a sports club, the exterior wall of which was, when viewed from above, the same shape as an axe head.
At the end of the 2012/13 season, City appointed former Newcastle United, Blackburn Rovers and Queens Park Rangers defender Darren Peacock as their new manager. He along with ex-Blackpool, Queen's Park Rangers, West Ham United, Manchester City and England winger Trevor Sinclair, who was assistant manager, left the club in September 2015."
---
27 June 2017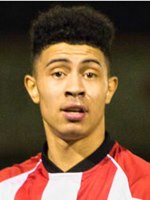 According to the
Burnley Express
, "Clarets' winger [and former Alty loanee] Josh Ginnelly (left) has rejoined League Two new-boys Lincoln City on a season-long loan.
The midfielder initially linked up with the Imps in January, following previous loan spells with Altrincham and Walsall. Ginnelly went on to make 13 league appearances as Lincoln, conquerors of Burnley in last season's FA Cup fifth round, went on to land the National League title and return to the Football League. Ginnelly joined the Clarets' Development Squad from Shrewsbury Town in August, 2015, agreeing a three-year deal for an undisclosed fee."
From the Hallmark Security (NW Counties) League second division comes news of two players with Alty connections as "Prestwich Heys began training on Saturday in readiness for the new season which begins on August 12th. They will do so with a new face on the Management team, after Jon Lyons appointed Ryan Hutchinson [pictured right in his Alty days 2004] to his team following the departure of [ex-Alty trialist] Chris Baguley last weekend.
The Heys boss moved quickly to secure the services of Hutchinson who will work alongside Ian Hutchinson in an Assistant Manager's role. Ryan joins the club from Irlam FC having last season led their Under 21's side to a Cheshire FA Under 21's League treble of Premier Division title, League Cup and Premier Division Cup. He started his football career at Manchester United as a schoolboy, spending three years there before moving onto Stoke City where he spent three years doing a scholarship and two years as a professional.
After that he had spells at Altrincham, Chorley and Salford City before finishing his playing career at Irlam FC. After hanging up his boots he then became Manager at Irlam Steel playing in the Cheshire League, winning the League in his 1st season whilst going undefeated all year. The following season he moved back to Irlam FC as coach of the 1st team for a couple of seasons before becoming U21s' manager and achieving last season's treble.
Speaking of his move to Heys, Ryan said, 'When I received the call from the Manager Joffy (Jon Lyons), a very good friend of mine who I've known for at least 15 years, I didn't have to think twice about joining Heys'...
Baguley has left Heys for Glossop. After joining Heys shortly after Christmas, the midfielder was set to join Heys' management team for the forthcoming season as Assistant to Lyons. However, after receiving an offer from Glossop North End, the 30 year-old, after much soul searching and several chats with Lyons, has decided he wishes to prolong his playing career at the highest level possible whilst he can".
A player moving from the Evo-Stik to the Vanarama National League is the subject of a report by
NL Pitchero
which tells us that "Blyth Spartans have signalled a real statement of intent for next season after splashing the cash to sign prolific Whitby Town midfielder Dale Hopson. The 24-year-old, who was third in the Evo-Stik League Premier top scorer standings for last season, just behind second-placed Spartans striker Daniel Maguire, had a number of clubs chasing his signature after an impressive season for the Seasiders, but has opted to make the step up into the National League North by signing for Blyth for an undisclosed fee".
Meanwhile a player moving up to our league next season is Hinckley AFC captain Ryan Seal who, according to NL Daily "has agreed a deal to step up and join Leicestershire rivals Barwell for the 2017-18 season. Having broken both the club's leading appearance and goalscorer records in 2016-17, the captain netted a remarkable 56 times in all competitions in AFC's record breaking season.
That understandably led to great interest in his signature from higher level clubs, but it is the Northern Premier League Canaries who have tempted Ryan into a move away from St John's Park. Speaking after the move, Seal said the opportunity to play three levels higher was one that he simply couldn't turn down. He said, 'I feel that I need to try and play and test myself at as high a level as possible, so this is an opportunity I can't miss... The fans have been fantastic ever since I walked in and that's why it's been the hardest decision of my footballing life to leave'...
Hinckley boss Carl Abbott said... 'Ryan has been a brilliant captain and ambassador, and will be sorely missed, but it is a short playing career which players must not look back on with regret. When faced with the task of talking him out of it, I could not come up with a single plausible reason other than his affinity with the club, but quite simply he has to take this chance'... In total, Seal made 89 appearances for Hinckley, netting 93 goals over his season and a half at the club".
In its review of opposition in the coming season, Farsley Celtic reminds us that at Hednesford Town, "back in January 2017, Arsenal paid £40,000 for Town left-back Cohen Bramall".
---
26 June 2017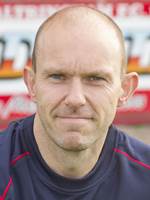 In Sunday's
Non-League Paper
, Stuart Coburn (right) is asked about Altrincham's current plight. He said, "Where they are now, they are under their level. But you are where you are. I don't know [the new manager] Phil Parkinson but what I'm hearing is positive.
"Altrincham is a massive name and it's a big job but they should win the league. However, there are 46 games in the Evo-Stik and every time they step onto the pitch, it's going to be a cup final.
"When teams come to Alty they are going to come thinking it's a nice pitch and a good place to play. The club are making the right noises and they are going to have one of the best budgets. They've said, 'We need to get back up straightaway'. If not, anything could happen".
Referring to last season, Stuart added that "You could see their heads dropped when they went a goal down. Losing is a habit that's difficult to break. When Neil Young and Jim Harvey came in, you thought 'What an appointment' but even he couldn't turn it around. It was going from bad to worse.
"I played with Matt Doughty and Robbie Lawton [who succededed Jim Harvey] and the club is in their hearts. They tried to change things but it was just really difficult. They did their best but the problems had set in too deeply".
Stuart continued, "The chairman has got the club at heart and he just wants what's best for Altrincham. Some of the abuse last season became personal and nasty and non-League shouldn't be like that".
Stuart, who had to retire from football after an injury suffered at Dover in 2015-16 season, said of playing "I miss it so much. I did it for 22 years and I wasn't wanting to retire. It was forced due to my Achilles injury. When you turn up at five to three and the players are in the tunnel you think, 'I would love to have one more game'".
According to
NL Pitchero
, "Stalybridge Celtic have added two more players to their squad. Midfielder
Greg Wilkinson
and defender Lee Neville have signed ahead of the 2017/18 season as manager Steve Burr adds more depth to his squad.
Twenty-seven-year-old Wilkinson re-joins Celtic after being with FC United of Manchester towards the end of last season. Wilkinson originally signed for Stalybridge from local club East Manchester in February 2008. He spent some time at Chorley during the 2010/11 season on loan, before returning a vastly improved player, who went on to become a regular, making 165 appearances and scoring 17 times for the club.
But, after six seasons, he decided his future lay elsewhere and joined Altrincham in October 2013. He had a spell on loan with Stockport County during 2014/15 and then moved to AFC Telford United in August 2015. He re-joined Altrincham in September 2016 before joining FC United in February.
Left-back Lee Neville, striker [ex-Alty striker] Aaron Burns and midfielder Andrew Langford [are] joining from...Trafford. Neville, 29, signed for Trafford in January 2016 from Hyde United. His other clubs include Salford City and FC United of Manchester."
And from Stalybridge Celtic themselves comes news that "Defender Alex Honeyball became Celtic's fifth signing in the space of a week as he completed his moved to Bower Fold. The 19 year-old, who was previously on work experience at Celtic from Bolton Wanderers last year, will look to continue his development under the guidance of manager Steve Burr.
Burr... said, 'we're delighted that we have signed Alex here on a one-year contract. Everything that has gone on has ticked the right boxes for both us and the player. I feel that this lad is the type of lad who can go on again and build on the potential which is there to help himself and the club... I am hoping we can tie up another signing by the end of the weekend... As things have gone so far, I am delighted with the lads we have brought in as the recruitment is crucial. But I would say so far so good.'".
Barwell have announced their squad, to date, for 2017-18. It composes Liam Castle, Max Smith-Varnham, Owen Story, Michael Townsend, Liam Kay, Declan Towers, Craig Stanley, Eddie Nisevic, Nigel Julian, Lee Hildreth, Alex Tomlinson, Ryan Baldwin, Luke Barlone, Courtney Meade, Ryan Seal and Ethan Delaney.
Sutton Coldfield Town "The Royals are delighted to announce the signing of Gurjit 'Gaz' Singh for the new season. Gaz is a striker of rich pedigree and lists Smethwick, Tipton, Kidderminster, Redditch, Hednesford and Rushall as former clubs. His goal record at Smethwick of 21 in 25 and at Tipton of 13 in 14 soon attracted interest of Kidderminster. Gaz has continued to score regularly and Royal supporters will remember him being instrumental in our thumping at Keys Park last season...

As well as all the new faces in the squad, Richard Sneekes has now added Gary Moore to his management team. Richard Sneekes said, 'He has enjoyed success with Mere Green and brings great levels of energy and enthusiasm to our bench as well as very good knowledge of the exceptional young prospects in the area'".

Closer to home, Ashton United "are delighted to announce that the club has signed striker Yaw Gyimah for the upcoming 2017/18 season...

Gyimah, who has previously represented rivals Curzon Ashton, has natural finishing instincts in front of goal...

'I'm really excited to be in a great club like Ashton United. It's a dream come true for me and I'm going to give 100% support to my team mates so we can move the club forward,' commented the forward. The ex-Northwich Victoria forward will add firepower up front for the Robins... The energetic forward has a habit of creating a chance from nothing. He has the ability to turn a game around within moments and is hoping to fire the Robins to a high finish in the league.

'I am going to go all out to help the club go up. I can't do that alone but, with the help of my team mates, hopefully we can go up,' he concluded."
---
25 June 2017 On Friday evening Altrincham FC hosted a Volunteers' Evening for those who had given their services to the Club over the previous year. Before the guests were treated to an excellent meal, prepared by club caterer Richie Bentley, the evening began with chairman Grahame Rowley expresssing his gratitude to all those who did voluntary work for the Football Club.

This was followed by an announcement that a Volunteer Coordinator had now been appointed at Altrincham FC. He is Roger Goodwin, who fittingly approached the Club to volunteer his services. After working for the FA in Herefordshire and Gloucestershire area, as well as for Hereford FC, Roger has relocated to Eccles. Indeed, Roger has football in his blood as, for the last 15 years or more, his father has run the legendary Bulls' News website, which is an invaluable source of news across the non-League spectrum.

Roger gave a brief presentation about his role at Altrincham which should result in more efficient utlisation of volunteers' efforts. Attendees each completed a brief form outlining their volunteering roles at the club and together with further information, this will lead, amongst other things, to job descriptions. These will not only clarify who does what and what needs doing, but will also ensure that, when more volunteers are needed, (which is pretty well always!), the appropriate roles can be advertised and prospective volunteers will have a clear idea of what is required.

Another of Roger's priorities is to produce a Volunteers' Handbook which will be available to all concerned.

The Club is very grateful to Roger for coming forward and wishes him every success in this vital role at the J. Davidson Stadium.

The evening was wrapped up with a light-hearted quiz conducted by Richie Bentley. The question which stumped everyone was "Which players, named after a fruit, have played for Altrincham in recent years?" The answer, according to Alty's kitchen maestro was that "Plenty of lemons turned out for us last season".

The MS Powerpoint slides from the Club's introductory thank-you to its volunteers are here. As one of the slides says, "Volunteers are not paid - not because they are worthless, but because they are priceless"

It is hoped to have fuller details of Roger Goodwin's presentation in the near future.

Manager of Altrincham FC Ladies, Keith Edleston, reports that "New signing Aimee Hopkinson put pen to paper yesterday and will join up with her new teamates for the coming preseason. Aimee, who is a two-footed versatile defender can play anywhere across the back four, joins us from Northwich Vixens where she was an ever present in the side. Her playing career has previously been at Macclesfield Town LFC  and Stockport County LFC.  I'm sure she will be a great aquisition to the squad. Welcome to the club, Aimee!" The EvoStik League reports that "Stourbridge have thanked their volunteers and fans for playing a key role in winning the 2017 EVO-STIK League Community Club of the Year accolade.

After a season that saw them go on a record-breaking run to the third round of the Emirates FA Cup, the Glassboys had more silverware than most to take home from the EVO-STIK League's annual awards after Gary Hackett's side collected the top flight's fair play award and golden boot in successive seasons, Luke Benbow's 32 goals also earning the striker a share of the overall golden boot with Farsley Celtic's James Walshaw.

EVO-STIK League treasurer and director Paul Leary, on stage at the Blackpool Hilton Hotel on Saturday night, presented the Glassboys secretary Clive Eades with the Peter Swales Trophy, named in honour of the former Northern Premier League president and [Altrincham and] Manchester City chairman.

Officials at the EVO-STIK League Premier Division club, who won international acclaim on their cup run to put the War Memorial Ground firmly on football's map, sent their thanks after being back in the spotlight at the awards which pulled in more than half a million views and shares on social media and also saw £1,100 raised for the victims of the Grenfell Tower tragedy.

After hailing the performance of Benbow in following in the footsteps of 2015-16 golden boot winner Karl Hawley, a club statement read, 'The award is recognition for the hard work that goes on throughout the club, not just on first team matchdays but with our youth team, ladies, juniors and girls' teams, and we are honoured to accept it on behalf of every one of the volunteers who help to keep the club functioning every season. We could not do it without your help and we thank each and every one of you!'"

Over at Buxton, the EvoStik League confirms that "A host of Manchester United legends are kicking off the EVO-STIK League's preseason programme at Buxton's Silverlands on Sunday.

Clayton Blackmore, Frank Stapleton, Peter Barnes, Peter Davenport, Sammy McIlroy and European Cup winner David May are among the former Reds' stars taking on a Buxton Legends XI in a 2pm kick-off at the Tarmac Silverlands Stadium.

The Buxton side will feature all-time leading appearance and goals scored record holders David Bainbridge and Mark Reed plus manager Martin McIntosh, his staff and the management teams of the club's development sides.

In total, the Reds squad includes players who've made more than 1200 appearances for the Premier League giants. The visitors will be managed by Scottish defender Arthur Albiston who went on to play for Witton Albion and Droylsden and also managed the latter.

The Bucks will be guided at the by Mike Davis and Robin Hughes, two of the club's 1973 Cheshire League winners. Davis made nearly 600 appearances in goal during a 16 year career that included a two-year stint as manager from 1982 to 1984".

From Crosby, the EvoStik League tells us that "Marine have unveiled a new club badge to mark their upcoming 125th anniversary...

Designed by Neil McAdam for the club's 2017-18 top flight campaign and beyond, the new crest incorporates the main features from the old badge including the two seahorses, the old Crosby Council badge and 1894, the year the Mariners were founded.

Although the new design also continues to display the club's motto 'Vis Unita Fortior', 'United In Strength' when translated, the colours have changed to black and white to reflect Marine's home kit and be more distinctive, clear and sharper for modern printing processes.

Marine chairman Paul Leary told supporters that officials at the Marine Travel Arena were delighted with the work of freelance graphic designer McAdam after he was commissioned to give the club's branding a major makeover to mark their milestone season.

Leary said... 'Whilst retaining the main characteristics of the old crest the new badge is a much sharper and modern image that also meets today's printing technology and processes... The new crest forms the basis of the design for our 125th anniversary celebrations in two years-time in which we shall modify slightly this crest for the 2019-20 season to incorporate in some way that very special anniversary'".
---
24 June 2017 Altrincham FC held a well-attended Meet the Management and Players event in the Community Sports Hall on Thursday evening.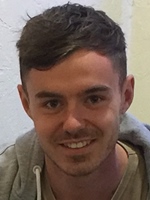 Left: John Johnston.
The evening was compered by Altrincham FC Press & Media Officer, Brian Flynn. Phil Parkinson stated that his move to manage Altrincham from Nantwich Town was "A huge step for me and a brave decision by the Board to appoint someone of my age". He explained that, at Nantwich, he had an almost "bullet-proof job" as he was local, had played for the club and the team had done well under his management. But he saw Altrincham as an opportunity to make his mark on a club which had a great tradition.
Phil introduced his back-room team, starting with his assistant Neil Sorvel, who formerly played for Macclesfield Town as many Alty fans will recall. In a previously unannounced appointment, Phil also introduced his new Head Coach, Chris Parkes who, like Neil, had worked with Phil at Nantwich.
The new medical team of Tommy Uda and Ryan Murray was also introduced and Tommy explained that one of his major objectives was "to improve the baseline" so far as injuries were concerned. He alluded to the club having suffered a large number of injuries in recent seasons and he and Ryan aimed to improve player availabilty for the management.
Tommy also explained that there would be pre-season testing to identify any "weaknesses in the players". One of the measures to address such problems would be to use the internet to make available videos and other material to assist players in their rehabilitation.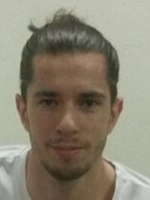 Right: James Poole.
Phil now went on to outline his approach to the job. "I will make decisions and not procrastinate" he said. He added that good recruitment was vital to success and he was pleased to have got together an excellent squad at an early stage of pre-season. As regards playing style, he went on to say that his team would "play from the back and get the ball down on the deck" and would aim to play "attractive, free-flowing football".
He indicated that nearly all of the new players had "dropped down from a higher level" to join Alty and he assured supporters that his players "will give you everything".
Phil went on to confirm that his objective for 2017-18 was to win promotion. To that end he confirmed that he had twelve players currently on contract. Asked about goalkeeping back-up for Tim Deasy, Phil indicated that he was talking with a second keeper, who was present at this meeting.
All but five of the current squad were present at the meeting, the five exceptions being on holiday (Sean Miller, Shaun Densmore, Chris Lynch, Josh Hancock and Tom Hannigan - the last named actually being on honeymoon). Those present were Kyle Brownhill, Tim Deasy, John Disney, Sefton Gonzales, Ben Harrison, Sam Heathcote, John Johnston, Clayton McDonald, Jake Moult, Tomoli Omotola, Tom Peers, James Poole, Simon Richman, Sam Sheridan, Lewis Short, Laurence Taylor, Jerome Wright and a potential goalkeeper signing).
Phil explained that winger Joe Mwasile, who had been announced as rejoining Altrincham, was now not going to be doing so.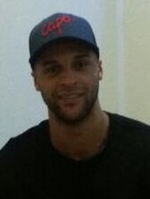 Left: Sefton Gonzales.

In response to a question about his approach to playing in a league cup competition, Phil said that in all competitions that his teams entered he aimed to win. However, he had learned at Nantwich that he needed to rotate players when playing on multiple fronts and with the squad that he had now assembled he was confident of competing on more than one front.

Nevertheless, he expected the league to be a difficult one in 2017-18, especially as Altrincham will be viewed by many opponents as a big scalp. Although he had a "healthy budget" at Altrincham he believed that "five or six other clubs have at least as much" in terms of their playing budget.

Phil reiterated that he was a very "demanding manager" towards his players. He carried on to explain that Neil and Chris would do the bulk of the coaching and that this would include "very technical drills". He would also aim to make the J Davidson Stadium a "cauldron" and he viewed supporters to be integral to that goal and to the general success of the Club. He wanted to created a "we" culture embracing everyone at the club.

The manager next stated that player recruitment was basically complete and that players who had contacted the club recently were being told that "The shop is closed now". However, he did not rule out having one or two trialists in pre-season. But, he added, "I don't believe in a revolving door" as regards players coming and going".

Asked about statistics, Phil explained that Rob Ester's player-analysis work for the Club would be very important in his planning.

As for players moving up to the first-team from the Reserves, Phil said that they would have to be "very, very good" to do so. He explained that "I've gone for more experience than I usually do in my recruitment" this summer because his objective was promotion.

Next, the players were invited in groups of three or four to join the tables of the spectators in the audience. Then, after five minutes or so of chatting between players and spectators, the players moved on to another table. This proved a welcome innovation and certainly those players with whom your correspondent spoke all came across as committed to the manager and the club as well as very personable young men.

Alty director Neil Faulkner writes that "As supporters will realise, there are always maintenance jobs that are required at the ground. Sometimes these have to be done professionally. However, whenever possible, we try to do the jobs ourselves as it reduces expenditure, and increases the playing budget.

We have earmarked three Saturdays for volunteer work at the J. Davidson Stadium, Saturdays, June 17th, 24th and July 1st.

In addition to these dates, for anybody who is available during the week, we regularly have volunteers at the ground on a Tuesday or Thursday. I would suggest that you either email or ring the club (0161 928-1045) to let us know if you would like to come down.

We are hoping to complete remedial work including: rubbish removal, woodworking, concrete repairs, oiling, painting, welding, cleaning, weeding/strimming etc. If you have any time over these days, and/or if you have equipment, or a vehicle that is suitable for moving rubbish to the tip, please email or ring the club (0161 928-1045) and leave your name, and we will get back to you.

In addition to these jobs, there will be plenty of internal painting and decoration required to public and changing areas throughout the summer, and help with this work will be gratefully received at any time."

The National League confirms that "AFC Telford United have completed the... signing of... Elliot Newby... Former Barrow AFC winger Elliot Newby played junior football locally at a young age before he joined the aecademy at Bolton Wanderers. He was released by the Trotters in the summer of 2015 and joined Barrow after impressing in pre-season games.

The young winger experienced loan spells at Burscough and Altrincham and joins the Bucks as their seventeenth signing of the summer. Discussing the new signings, manager Rob Smith said... 'Elliot is a player I have been keen on for a while. He is an exciting winger with pace and is a player who can get us a few goals throughout the season as well. Elliot is really excited over the move to the club and can't wait to get started... [He has] the ability to go higher'".

By way of background, the NW Evening Mail reported that "Winger Elliot Newby has rejected the offer of a new contract with Barrow AFC, and has joined National League North side AFC Telford United. Newby found himself unable to break into the first team at Barrow last season, and instead spent loan spells with Workington and Altrincham.

However, AFC boss Paul Cox was impressed with what he saw from the youngster and offered him the chance to remain at Holker Street. Newby has chosen to turn down that opportunity and will be part of the set-up at the Bucks next season".

The Warrington Guardian reports that manager "Paul Carden says Warrington Town's signing of striker Josh Hine is 'a massive statement of intent.' The 26-year-old frontman became Yellows' second summer signing when he joined from Salford City. Hine, who enjoyed a brief loan spell at Cantilever Park in the 2012-13 season, has been prolific in spells at Skelmersdale United, Clitheroe and Chorley earlier in his career.

Carden says the striker was offered the chance to turn professional with Salford, but circumstances have worked in Yellows' favour. 'It is a great signing for us and it's a massive statement of intent. It shows where we want to take the club,' he said. 'We sold the club to him and told him our ambitions of where we want to be and he's really keen to be a part of it. Josh was offered the chance to turn professional with Salford, but he's just set up his own business and he has invested a lot of time into that. Even with that, he still could have gone to clubs in the league above ours, such is his goalscoring record.

'I think Josh felt it was important that he played for a team that was challenging at the top end of the league, which is what we want to do, rather than just floating around in mid-table. He still has ambitions to play professionally, but coming to us suits him at this time and we're delighted to have him with us.'

Hine is the second striker to have signed for Warrington during the off-season after Tony Gray arrived from Airbus UK last week. Carden has not ruled out adding another attacking option to his squad but says he is happy with the way his side is shaping up going forward...

'With Josh, Tony Gray and Ruben Jerome in place, and the likes of Dylan Vassallo in there as well, I think we will have plenty of goals and creativity,' he said. 'We could add another striker, but it is all about quality for me... I neeed players who will improve upon what we already have. We've missed out on a couple already, but that's what happens when you go for players from higher leagues. That is the kind of player we want to bring in. If that means we have to wait to get the right people in, so be it.'

The arrivals of Hine and Gray offset the departure of [ex-Altrincham] striker Dan Hattersley, who looks set to take up an offer to play in Australia. 'Dan has had a great offer and good luck to him,' Carden said. 'He's found work and a good level of football in Australia so it's a great opportunity for him.' Midfielder Michael Monaghan has also decided to leave Cantilever Park to join Trafford."

Across the Pennines, Farsley Celtic tell us that "In what has been a busy few days in terms of players coming and going at Throstle Nest, the Club is delighted to announce that centre-half Jimmy Pollard has joined the Celts. He links up with Kurt Harris and Luke Parkin as the third player to come to the Club with recent league experience at Brighouse Town, to sign this week.

As a youngster Jimmy joined the Huddersfield Town Academy and represented the Club up until the age of 16. He then made the move to Bradford City until 2014, when Jimmy joined Brighouse Town. Celts boss Adam Lakeland said... 'Jimmy has been one of Brighouse Town's standout performers for the past couple of seasons following his departure from Bradford City. He is a centre-back who likes to attack the ball, but is equally comfortable in possession and distributing from the back, which fits in with our philosophy. He adds additional competition for places with Adam Clayton and Danny Ellis giving us cover at centre-back, plus the option to play with a third centre back. I feel that with these three we have excellent options, good quality and a nice blend of experience and youth.

'Jimmy will continue to develop here and will certainly learn off Danny and Adam which will help improve him further. He again adds additional physical presence to the squad and is another ambitious young player with an excellent attitude'...

On putting pen to paper, Jimmy said, 'Amongst the factors in coming to the Club, was firstly the management staff, in terms of the style of play and the ambitions they have for the Club, and secondly, I feel I am ready to step up into a higher league'".

Altrincham will meet quite a few clubs for the first time during 2017-18 season, one of these new opponents Sutton Coldfield Town.

"The football club associated with Sutton Coldfield was formed in 1879... The club moved to its present ground in Coles Lane in 1920. From just after the Second World War until the early 1980s, the club played its football in regional leagues in the area...

In 1982-83 we joined the Southern League following the introduction of the revised football pyramid. We secured promotion to the Premier League after finishing runners up to Cheltenham Town. [We were] relegated the following season and then remained in the Southern League at step 4 until 2010-11... In season 2010-11 we were moved by the FA into the Evostik Northern Premier League Div 1 South...

2011 saw the installation of the 3g artificial pitch at Coles Lane. In September 2012, Chris Keogh stepped down as manager after 12 years and joined the Board, his assistant Neil Tooth taking over as manager. In 2014-5, the Club took the big step of changing the status of the club from a Members' Club to a Company Limited by Guarantee. In the same season... Sutton... [got] promoted to the Northern Premier League Premier Division. The last time we had played at level 3 was some 30 odd years ago in the Southern League...

Many people were saying we would immediately get relegated but the team proved them all wrong... Following a number of injuries, we slipped down the league to finish a creditable 12th...

After a poor start to season 2016-17, Sutton struggled to pick up points and were knocked out of the FA Cup and Trophy in the early rounds. A difficult decision was made and the club parted company with manager Neil Tooth and Richard Sneekes was appointed in his place... We remained in the bottom four, almost entirely throughout the season and went into the last game needing to better Corby's result. With Corby losing at Coalville, one point from the trip to Workington was enough and we avoided the drop".

Meanwhile at Mickleover Sports, "First-team player manager John McGrath has fought off a number of other clubs to keep midfielder Jake Scott at Mickleover Sports Football Club. Scott was signed by McGrath during the 2016/17 season and made 23 league appearances for the club, mostly in midfield.

McGrath said, 'He is a vital part of my team and someone who had a big impact on the squad and how we played when he signed last season. A combative midfielder but very good with the ball at his feet, Jake adds quality to our ever growing squad. We fought off a lot of competition to keep hold of him'".
---
23 June 2017
Former Altrincham goalkeeper Adam Reid (right in 2012) has been named Hallmark Security NW Counties Football League Premier Division goalkeeper of the season. Adam now plays for Premier Division champions Atherton Collieries.

Back in February he was "awarded the Goalkeeper of the Month Award for February by the Hallmark Security League. The following is taken from the Hallmark Security League website...

'In a month which Colls played four games, winning all four without conceding a goal, young shot stopper Adam Reid was integral to this fine run of form. Reidy has grown in stature as the campaign has progressed, as he marshalls his defence with increasing confidence. When he has to come for a ball he commits himself fully and his is not afraid to clear everything out including his own defenders'".

Adam was Altrincham Youth's goalkeeper, from 2010 to 2012, and signed Conference forms in August 2011. Merseyside-based, Adam made his first-team Altrincham debut in the Cheshire Senior Cup in November, 2011 and his first league start, in the BSBN, came against Harrogate Town on 21 January 2012.

At Nantwich Town "Having spoken to Manager Dave Cooke, the club would like to confirm...

The re-signing of goalkeeper Krystian Burzynski, who made 16 appearances last season, and defender Joel Stair, who was part of, in my opinion, 'the best defensive unit in the league'. Both strong players and the club are pleased to be keeping them both at the Weaver stadium.

Alongside new striker Harry Clayton from Kidsgrove Athletic is fellow ex Crewe Alex player Toby Mullarkey from Leek Town. Toby is a central defender who has played on loan for Witton Albion in the past, having impressed for Leek Town last season as they reached the Play-Off final.

Dave Cooke [said] 'Toby is another one I'm pleased with. I watched him during his time at Crewe, and I know Nantwich thought about him last season. But this is the right time for him to come in, he's still only 21 so he's got bags of time'.

Another new signing the club are pleased to confirm is former Notts County keeper Fabian Spiess, who has joined the Dabbers from Alfreton Town. Fabian made 13 appearances for Notts County and has also played for Bristol Rovers, Torquay United and Boston United. Dave Cooke [added that] 'Fabian has got experience in the Football League so I'm pleased to have got him, and we've also got Krystian Burzynski coming back so we've got good competition for the keeper's shirt'".

Over at Matlock Town the club is "inviting donations to help cover the cost of the club's new floodlights. The lights and pylons are in the process of being erected, ahead of the new campaign, and are expected to be fully operational for the opening pre-season friendly against Chesterfield on July 6. And, while the full cost of the lights has been budgeted for, chairman Tom Wright says any donations towards it would be welcomed.

He said, 'We need to raise around £50,000 to fund the floodlights. We hope to get a grant of 50 per cent of the cost and donations, up to date, amount to £10,000 which leaves us with a shortfall of £20,000 [sic]. We can cover this amount but it could impact on the playing budget so any contribution will be gratefully received no matter how small".

In their series on opposition clubs, Farsley Celtic remind us that Buxton's ground is "situated 1000 feet above sea level. The Silverlands is the highest ground within the football pyramid, and substantially higher than the highest Football League ground, The Hawthorns, home of WBA." (Buxton is officially recorded as 304 metres or 997ft above sea level.)

On this topic, other elevated non-League grounds in the locality include
Seal Park, Mossley, 682ft
Bower Fold, Stalybridge Celtic, 558ft, which is claimed to be the highest ground to have hosted a Football League club, past or present.
Midfield Dynamo reminds us of the highest and lowest venues in the Football League, many of which Altrincham have played at...

"The 10 Highest Grounds in England and Wales (in 2008)
The Hawthorns, West Bromwich Albion 552 ft
Boundary Park, Oldham Athletic 526
Vale Park, Port Vale 520
The Crown Ground, Accrington Stanley 516
Moss Rose, Macclesfield Town 513
Spotland, Rochdale 498
Molineux, Wolverhampton Wanderers 483
St Andrews, Birmingham City 432
The Britannia Stadium Stoke City 431
Adams Park, Wycombe Wanderers 413
The 10 Lowest Grounds in England and Wales (2008)
Blundell Park, Grimsby Town 2 ft
St Mary's, Southampton 3
KC Stadium, Hull City 6
The Deva Stadium, Chester City 16
Portman Road, Ipswich Town 17
Carrow Road, Norwich City 17
York Street, Boston United 18
The New Den, Millwall 19
Fratton Park, Portsmouth 20
Glanford Park,Scunthorpe United 20
According to the Lancaster Guardian, "Billy Akrigg insists Lancaster City won't just make up the numbers in the Evo-Stik Premier Division. The First Division North title winners already have six new faces in their ranks...
For many players the higher tier will represent a step up but midfielder Akrigg believes it is a challenge Phil Brown's young squad will relish when the season kicks off on August 12. 'In the FA Cup we've played teams from even higher and done well,' said the 24-year-old. 'It's going to be difficult but we want to be fighting for something. We won't be happy to go along in mid-table, the play-offs has got to be the aim. We've got a good enough side to do that. After winning the league last year Phil won't let us let up at all either. He'll be at us from day one'...
Like many of the title-winners, Akrigg committed to the cause just weeks after the end of the season meaning, with the new recruits signed up, the core of the squad is already in place well in advance of pre-season training getting underway on July 1. The Lancaster-born Bailey brothers Sam and Charlie have arrived from Kendal Town with Colne striker Oliver Wood, Warrington winger Scott Harries, Glossop North End defender Paul Dugdale and Southport goalkeeper Chris Cheetham also snapped up by Brown.
'It was an easy decision to make,' said Akrigg, who has established himself as a key man in his four seasons at Giant Axe. 'Phil came to us really early and said he wanted to keep everyone together and then add a few. The signings he's made have been really good as well. There's a few local lads too. We haven't got the biggest budget and have got to make the most of what we've got. A lot of the lads in our group haven't gone up to this level before but we're ready for it'".
---
---