CURRENT NEWS
OPTIONAL DROPDOWN MENU - HERE
---
NEXT FIXTURES:
Tue. 27 Mar. 2018: SHAW LANE (Home) 7.45pm
Sat. 31 Mar. 2018: WYTHENSHAWE TOWN
Sun. 25 Mar. 2018: SOUTHPORT (Home) 2.30pm
Sun. 25 Mar. 2018: LIVERPOOL MARSHALLS FEDS (Home) 2pm
---
ALTY HEADLINES
OTHER HEADLINES
25 Mar 2018: SHAW LANE SACK MANAGER...More
25 Mar 2018: OLD BOYS...More
25 Mar 2018: LAST SATURDAY'S GATES...More
---
25 March 2018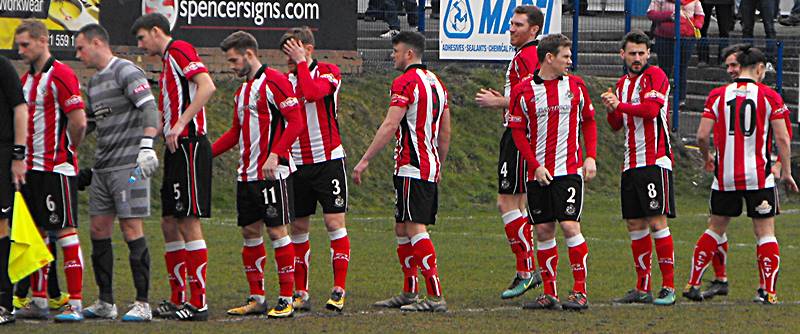 Alty line up at Halesowen. Left to right: Moult, Deasy, Harrison, Hancock, White, Hulme, Hannigan, Densmore, Richman, Johnston and no.10 Poole.
Match report here
TASC is running supporters' transport to Rushall Olympic (March 31st), details of which are on the
Away Travel
page. You can book your seats either at Tuesday's home match against Shaw Lane or by ringing the club on 0161 928-1045 during normal weekday working hours. Why not come along and help the team in its quest for promotion?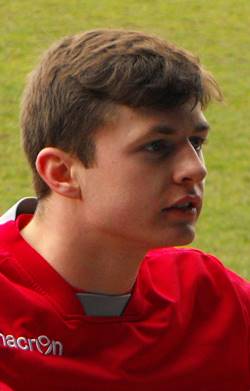 Right: Wigan Athletic loanee Chris Merrie made his Alty debut in the Cheshire Senior Cup on Wednesday and was included in his first league squad on Saturday at Halesowen Town, where he was pictured (right) .
Att. 244 Ashton United 2 - 1 Witton Albion
Att. 366 Buxton 2 - 2 Hednesford Town
Att. 132 Coalville Town 0 - 1 Whitby Town
Att. 262 Farsley Celtic 1 - 4 Stourbridge
Att. 319 Grantham Town 4 - 1 Barwell
Att. 565 Halesowen Town 0 - 2 Altrincham
Att. 299 Lancaster City 1 - 1 Stafford Rangers
Att. 402 Marine 5 - 0 Sutton Coldfield Town
Att. 252 Mickleover Sports 1 - 0 Workington
Att. 221 Rushall Olympic 1 - 0 Matlock Town
Att. 172 Shaw Lane 0 - 2 Nantwich Town
Att. 615 Stalybridge Celtic 2 - 0 Warrington Town
Monday 26 March
Stourbridge v Sutton Coldfield Town
Tuesday 27 March
Altrincham v Shaw Lane
Barwell v Stafford Rangers
Marine v Nantwich Town
Rushall Olympic v Ashton United
Stalybridge Celtic v Grantham Town
Warrington Town v Workington
Whitby Town v Mickleover Sports
Witton Albion v Halesowen Town
The Integro League Cup 17-18 - Quarter Final
Hednesford Town v Basford United
Wednesday 28 March
Matlock Town v Stourbridge
Thursday 29 March
Shaw Lane v Sutton Coldfield Town
The Integro League Cup 17-18 - Quarter Final
Workington v South Shields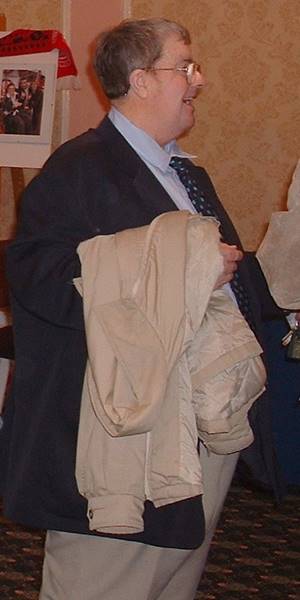 Paul Raftery writes that "Following the recent sad passing of Altrincham legend Kenny Palin (right), his family have asked for anyone with any photos of him kindly to submit them for inclusion at his funeral. These can be shared via social media or sent by
e-mail
".
The funeral service will take place on Friday 6 April at Altrincham Methodist Church, Barrington Rd, Altrincham WA14 1HF at 2pm. This will be followed by a reception, which will be open to all of Kenny's friends, at Altrincham Football Club's Community Sports Hall, Moss Lane, WA15 8AP from 3pm.
Saturday 31 March 2018
Ashton United v Mickleover Sports
Coalville Town v Workington
Halesowen Town v Stourbridge
Lancaster City v Sutton Coldfield Town
Marine v Buxton
Matlock Town v Stalybridge Celtic
Nantwich Town v Farsley Celtic
Rushall Olympic v Altrincham
Shaw Lane v Barwell
Stafford Rangers v Grantham Town
Whitby Town v Warrington Town
Witton Albion v Hednesford Town
Altrincham's next opponents, on Tuesday, are Shaw Lane. The
EvoStik League
has reported that "Promotion-chasers Shaw Lane are looking for a new management team after parting company with manager Paul Quinn and his backroom team on Saturday night.
Quinn, along with assistant manager Rob Wilson and coach Dave Thompson, were relieved of their duties within hours of the Ducks losing 2-0 at home to Nantwich Town.
Appointed in November as the successor to Craig Elliott, former Brighouse Town boss Quinn and his staff left with the Ducks in sixth spot and three points off the play-offs spots but with games in hand on everybody above them in the top flight table.
Quinn, who took Brighouse Town up into the EVO-STIK League during six successful years at the helm, was thanked by the Shaw Lane chairman Craig Wood in a statement explaining the club's reasons.
Elliott said, 'Unfortunately after suffering a fourth straight defeat and without scoring a single goal we felt a fresh impetus was required. Having dropped out of the play-off positions it is imperative that we look to appoint a new management team that can work with the existing squad of players. I believe, and have believed all season, that they are capable of challenging for promotion this season. I would like to thank Paul and his team for the work they have put in during their short tenure. It was a very difficult decision for me to make personally as they have been very professional during their time at the club'".
NL Pitchero reviews Saturday's results, sayong "It's advantage Altrincham in the Evo-Stik League Premier on Saturday after the Robins won at second-bottom Halesowen Town and second-placed Warrington Town were beaten at in-form Stalybridge Celtic...
Defeat leaves the Yeltz just three points above bottom side Sutton Coldfield Town, who also lost, whilst the win lifts Altrincham four points above Warrington after they lost by the same scoreline at Bower Fold to a Stalybridge side for whom this was a fourth straight win. In front of a crowd of 615, Liam Dickinson gave Celtic the lead from the penalty spot 3 minutes before half-time.
And then in first half injury-time, Greg Wilkinson doubled the home side's advantage, and one they maintained.
The battle for a play-off place is just as tight, although Ashton United look firm favourites for one of the spots after a 2-1 Hurst Cross win over another of the contenders, Witton Albion, leaves them seven points clear of the sixth-placed team. Ashton had to come back from behind too as Steven Tames broke the deadlock to put Albion ahead on the hour-mark. Five minutes later, Dean Smalley equalised and then on-loan Scunthorpe striker Jack Dyche won it for the home side 9 minutes from time.
Grantham Town and Farsley Celtic occupy the other two top five spots but they had very differing fortunes on Saturday! The Gingerbreads eased to a 4-1 win at The Meres against Barwell... But Farsley were beaten by the same scoreline at Throstle Nest by a Stourbridge side who had only won one in eleven going into the game!...
A disappointed Farsley manager Adam Lakeland told his club's Pitchero website, 'It's a different game at home, when you're at home there's more onus on you to take the game to the opposition. Away from home we can get set up deeper and not get exposed but, at the end of the day, it's a bad day and a bad result. We deserved to get beat, they were the better side, no doubt about it'...
The good news for Farsley was that sixth-placed Shaw Lane AFC were also surprised at their own Sheerien Park by Nantwich Town, who triumphed 2-0 to leave the Ducks three points behind Celtic but with four games in hand. Sean Cooke after 12 minutes and Joe Mwasile on 65 minutes won it for the Dabbers [who also had a man sent off].
And Hednesford Town`s hopes also took a knock as they were held to a 2-2 draw at Silverlands against Buxton to leave the Pitmen six points behind the play-off places but having played 38 games...
The relegation place is looking like a straight battle between Sutton Coldfield and Halesowen, although Matlock Town are trying hard to get involved! Only one win in six has seen them drop to third-bottom, their latest loss being 1-0 at Dales Lane against Rushall Olympic, for whom Richard Brodie's early 5th minute goal proved decisive. The Gladiators should have enough points to avoid getting sucked in though.
The Royals remain bottom after a 5-0 defeat at the Marine Travel Arena against a Mariners side who were third-bottom at start of play. But a Danny Mitchley hat-trick in the 13th, 45th and 65th minutes – the third from the spot – sandwiched by a Josh Amis brace on 31 and 40 minutes, completed a bad day for Sutton Coldfield.
Elsewhere, Tom Burgin's 51st minute effort sealed Mickleover Sports` home win over Workington AFC, while Junior Mondal did likewise for Whitby Town at Owen Street against Coalville Town, but not until the 86th minute. Craig Carney`s 52nd minute goal looked as though it was going to be enough for Lancaster City at the Giant Axe against Stafford Rangers, until Rob Thompson-Brown popped up with an 89th minute equaliser."
Bradford PA
report that "Two dubious red card decisions paved the way for FC United of Manchester to comprehensively defeat Bradford Park Avenue at Broadhurst Park. Mark Bower shuffled the pack once again, making three changes to the side that were held by Alfreton Town a fortnight ago.
Nicky Clee
dropped out of the squad altogether, whilst
Gianluca Havern
and
Danny Boshell
settled for a place on the bench".
---
24 March 2018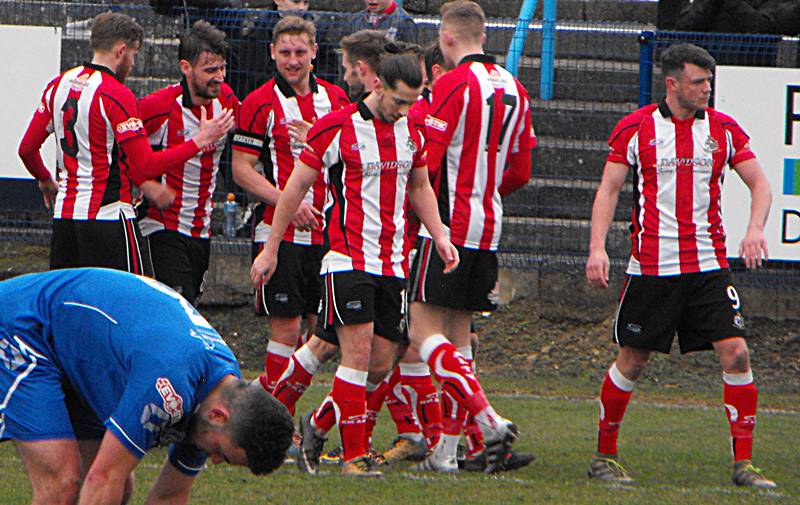 Above: Simon Richman is congratulated on his goal
After their recent run of poor home results, Altrincham were back to much better form at Halesowen in what was only their second away match in ten weeks, thanks to postponements and a run of home fixtures assigned by the league. But for wayward shooting, especially in the second half, Altrincham would have won by a wider margin against a Halesowen side which kept going to the end.
Alty took the lead in the eleventh minutes after attacking relentlessly from kick off. Jordan Hulme netted the goal after a superb jinking run into the box by John Johnston.
Despite losing Tom Hannigan to injury after 32 minutes, Alty doubled their lead seven minutes later when Simon Richman scored from close range, following a pass from Hulme.
Alty kept their first clean sheet for ten weeks but failed to add to their own score in the second half.
Results elsewhere helped Alty to extend their lead at the top of the table to four points.
Match report here.
Saturday 24 March
The EVO-STIK Premier Division
Ashton United 2-1 Witton Albion
Buxton 2-2 Hednesford Town
Coalville Town 0-1 Whitby Town
Farsley Celtic 1-4 Stourbridge
Grantham Town 4-1 Barwell
Halesowen Town 0-2 Altrincham
Lancaster City 1-1 Stafford Rangers
Marine 5-0 Sutton Coldfield Town (Alty loanee Josh Amis got two and former Alty striker Danny Mitchley netted a hat-trick)
Mickleover Sports 1-0 Workington
Rushall Olympic 1-0 Matlock Town+
Shaw Lane 0-2 Nantwich Town (Joe Mwasile scored the second)
Stalybridge Celtic 2-0 Warrington Town (Greg Wilkinson scored the second goal).
You can follow this fixture via this website's minute by minute text updates by clicking on the icon below. Alternatively, Radio Robins' coverage of the game is outlined below as well.
Brian Flynn announces that "Radio Robins, sponsored by Ashley Mowers Garden Machinery, is providing full live commentary of Saturday's game. The commentators are Ian Watmore and Laurence Howarth and the match summariser is John Edwards. Coverage starts at 2.40pm.
Guidance for Listening to Radio Robins
There will be 4 ways to listen to Radio Robins via Mixlr
a) The Radio Robins website. Open the page in any web browser and the broadcast should start automatically. Please note that the 4 Player Options (Windows Player | Real Player | Quick Time | Winamp ) will not work now.
b) Download and install the Mixlr app on Android devices from the Google Play Store - start the app and search for 'Radio Robins'.
c) Download and install the Mixlr app on Apple devices from the Apple Store - start the app and search for 'Radio Robins'.
d) There is a temporary WIX website here.
The
Barnsley Chronicle
reports that "Pete Goodlad says this is the worst season he has known for weather in his 40 years of running Athersley Rec and is unsure whether they and their tenants Shaw Lane AFC will be able to complete their crammed fixture lists.
Both sides have eight league matches and a cup tie still to be played at Sheerien Park before their seasons are due to end on April 28. That is 18 matches in 35 days. Rec's home games on Saturday and Monday were called off this week after the pitch was covered in snow last weekend following being blighted by rain and frost for most of the season.
Athersley have played just three home league games since the first week of 2018 while Shaw Lane had played only one home league game since January until a fixture against Grantham Town which was scheduled for last night.
General manager Goodlad, who is back at the club full-time after a fight with cancer earlier in the season, said, 'I've never known anything like it. In 2011 we had snow in March but this time it has just been bad weather non-stop since November which has never happened before. It's the worst I have ever known, no doubt about it. Since I've come back from my operation we have had constant problems with the weather. It's a total wash-out'...
While the drainage system is working well, part of the Sheerien Park pitch is subsiding into a slight slope. Goodlad said, 'There's a bit of subsidence and the pitch does drop down a little bit. We've had a professional firm out to look at it and we're going to see what can be done to make it right. The weather has obviously not helped with that.
'We're going to have games Saturday, Monday, Wednesday and Thursday on some weeks. I honestly don't know if the pitch will hold up. We haven't been able to get onto the pitch to work on it because of the snow and rain. There is more rain forecast throughout March then, if we get April showers, God knows what we are going to do. Hopefully we can make it through but I can't be sure of it and I don't know what will happen at the moment if we just can't fit the games in.'
Shaw Lane have been groundsharing with Rec all season after leaving Barnsley Rugby Union Club, and their fixtures take priority over Athersley's. Goodlad said, 'Shaw Lane are having a bit of hassle from their league about not playing games. But, if you look at the games that have been called off, Yorkshire and the North East has been hit really badly and places like Nottinghamshire and Liverpool haven't been as bad. It's not our fault if we keep getting the bad weather. It's not just us having games called off. The Evo-Stik League has said they are not extending the season and they haven't let Shaw Lane use the reserve pitch, which is like a bowling green, because it doesn't meet their requirements'".
According to the Warrington Guardian reports that "Paul Carden says coming to Warrington Town may be 'a culture shock' for Scotland international Jay McEveley but he is confident of the impact he will have.
The Yellows' boss moved to bring the 33-year-old defender in on loan from former club Tranmere before yesterday's player registration deadline. Carden said the move came about through being 'a bit snookered' defensively due to news of skipper Jay McCarten's ankle injury being worse than first feared. McCarten has not played since January 27 [against Altrincham] and Carden now expects him to miss the rest of the season.
McEveley may not feature until the Easter weekend, but Carden says his experience will play a big role on and off the field. 'We thought we were getting a young centre half from Accrington, but that didn't happen,' the Town boss said. 'It left us a bit snookered because we got news that Jay McCarten's injury is worse than first feared. He's going to be out for the season. We needed to act and obviously, I have a good relationship with Tranmere'".
'I spoke to Steve Jennings and he told me Jay hadn't been in the team at Tranmere and it didn't look like he was going to get back in... I gave Jay a call. He asked to think about it but he phoned me back five minutes later and said he needed to come and enjoy football again. He knows a few of the players and said he had heard nothing but good things... He'll be of great help to the young lads, people like Liam Goulding in particular'...
Another player to join Yellows on loan for the remainder of the campaign is winger Mekhi Leacock-McLeod, who arrives from Accrington Stanley. Carden believes the 21-year-old's 'electric pace' will see him complement fellow winger Devarn Green. 'We're starting to see the best of Devarn now. He's over his injury and he's raring to go every game,' he said. 'We've got some quick players, but Mekhi is electric quick in the way that he goes past players. He's been in and around Accrington's squad this season, but he's seen that we're challenging and he wants to come and have an impact'".
Meanwhile, Workington report that "Lee Andrews added two players to the squad just prior to Thursday's registration deadline. Carlisle United's Max Brown has joined the club on loan for the rest of the season... The eighteen years old striker scored against Wigan Athletic and Preston North End in United's two most recent Youth Alliance fixtures.
Jamie Pattinson has also been added to the squad having already played for the Reserves this term."
The
EvoStik League
reports on moves involving clubs in the Premier division...
Guilherme Baltazar from Darlington to Whitby Town
Adriano Basso from Radcliffe Borough to Ashton United
Dale Belford from Barwell to Romulus
Bradley Birch from Worcester City to Stourbridge
Benjamin Bradshaw from Kettering Town to Coalville Town (loan)
James Coates [ex-Alty] from Stalybridge Celtic to Ossett Albion
Oliver Crowley from Stalybridge Celtic to Brighouse Town
Adam Dugdale from Southport to Warrington Town
Anthony Dwyer from AFC Telford United to Hednesford Town
Oliver Dyson from Huddersfield Town to Shaw Lane (work experience)
Kegan Everington from Grantham Town to Brighouse Town
Dan Gathercole from Nunawading City (Australia) to Whitby Town
Amos Kabeya from Ossett Albion to Matlock Town
Mekhi Leacock McLeod from Accrington Stanley to Warrington Town (loan)
Simeon Maye from Solihull Moors to Rushall Olympic
James McEveley from Tranmere Rovers to Warrington Town (loan)
Michael Monaghan from Marine to Prescot Cables
Adam Murray from Mansfield Town to Sutton Coldfield Town
Paul Phillips from Glossop North End to Buxton
Daniel Pilkington from Ashton United to Glossop North End
Max Povey from Ashton United to Mossley
Thomas Rose from Sutton Coldfield Town to Market Drayton Town
Jassem Sukar from York City to Whitby Town
Thomas Westall from Ramsbottom United to Altrincham
---
23 March 2018
On Saturday, Altrincham make their first ever visit to Halesowen Town, whose nickname of The Yeltz prompts various claims as to its origin. Admission to their stadium, The Grove, is £10 for adults, £7 for concessionaries, £3 for under-16s and free for under-12s. However, Halesowen Town have made the following announcement... "Altrincham FC season ticket holders, bring your season ticket to our game on Saturday to get admission for just £5".
Halesowen currently lie 23rd on the table and in eleven matches in 2018 they have won four and lost seven. However, Halesowen have seen a marked upturn in form recently with three wins from their last five league fixtures which is a better record than Altrincham who have won just once in their last five league outings. Most recently the Yeltz enjoyed a fine 3-1 away win at Nantwich Town in which new signing, former Premiership striker Lee Hughes scored a brace. Hughes has scored against Alty previously when playing for Worcester City.
Manager John Hill told the Bromsgrove News about Hughes's arrival, saying "Matt Clarke (assistant manager) knows him well and, when we heard he may be available, we jumped on it. We are all fighting to keep this club in this league and his goals and experience could be key to that". Other recent signings by the Yeltz include Ahmed Ali from Bromsgrove Sporting and Danny Byrnes from Clitheroe.
In the reverse fixture with Halesowen, on 14 October, Altrincham won 3-0 (goals from Hancock, Johnston [pen] and Poole), which was the result that first took Alty to the top of the league table this season. Ironically, anything less than a win for Alty on Saturday could mean that they are knocked off the top of the table by Halesowen should Warrington Town win at Stalybridge!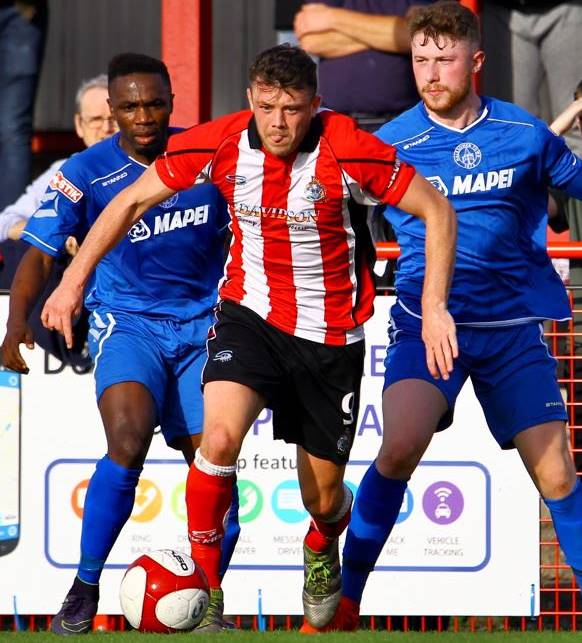 Above: Gavin Rathbone's image shows Jordan Hulme in action against Halesowen in October.
Alty's line-up in the October match was...
ALTRINCHAM: 1. Tony THOMPSON, 2. Joel BEMBO-LETA, 3. Lewis SHORT, 4. Tom HANNIGAN, 5. Ben HARRISON, 6. Jake MOULT (c), 7. John JOHNSTON, 8. Simon RICHMAN, 9. Jordan HULME, 10. James POOLE, 11. Josh HANCOCK. Subs 12. Sam SHERIDAN, 14. Tom PEERS, 15. Sean MILLER 16. Shaun DENSMORE, 17. James JONES.
Since then Joel Bembo-Leta, Lewis Short, Sam Sheridan have left the club and Sean Miller is currently out on loan. As for Halesowen, there has been much more player turnover, as only Platt, Charlton, Kelly and Morrison from their October line-up started at Nantwich last week.
The Halesowen News reported this week that "Halesowen Town's battle to beat the drop has only just begun, says assistant manager Matt Clarke.
The Yeltz gave their survival chances a big boost last Saturday thanks to a fine 3-1 success over Nantwich Town. Former West Brom forward Lee Hughes fired home a double on his second start for the club after midfielder Ivor Lawton had opened the scoring...
Clarke said, 'It was a massive win for us, especially because Nantwich is not an easy place to go. We fully deserved to win and could have been two or three goals up even before we got the first... It was great for Lee Hughes to get on the scoresheet too. His record shows you that wherever he goes he scores goals. That is why we brought him in. There is still a long way to go this season and that battle to stay up is only just starting to heat up now. There will be a lot of twists and turns along the way. We want to try and drag a few others into it as well if possible'...
Despite Hughes quickly showing his finishing prowess, it was the impact of right-back Enock Ekongo that won the praise of Clarke. The consistent defender set up both of Hughes' goals to continue an impressive campaign. The assistant boss added, 'He came to the club and watched a game and asked us for a trial. He was very persistent and has since gone from strength-to-strength for us'...
The Yeltz now face a tough test at league leaders Altrincham this Saturday. Clarke said, 'We've watched them and think there are a few areas we can exploit. We'll have to be at our very best. It's going to be difficult but we are confident at the moment'. The Yeltz management team are working to add a few new face before Thursday's transfer deadline but nothing is close at the moment.
They are hopeful, however, that Jack Kelly (hamstring) and Ahmed Ali (heel) will be available for the weekend".
Thursday 22 March
Buxton 1-0 Ashton United
Shaw Lane 0-2 Grantham Town
The Integro League Cup 17-18 - Third Round
Atherton Collieries 2-0 Scarborough Athletic
Coalville Town 3-0 Mickleover Sports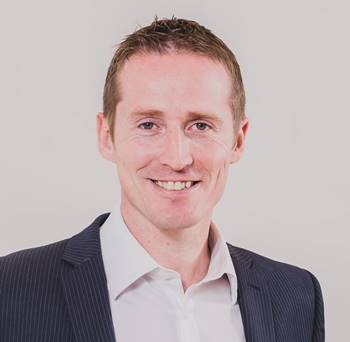 "The board at Altrincham FC is delighted to announce the appointment of Lawrence Looney (right) as a Director, with effect from Wednesday, 21 March.
Lawrence, 39, joins the club after a hugely successful spell as Chief Executive of Lancaster City, where he transformed their commercial and strategic operations. Lancaster achieved promotion last season and have secured many new and innovative revenue streams during his time at the club.
An Isle of Man resident, Lawrence works in the financial sector and is keen to help Altrincham move up the divisions. 'I am delighted to join the board of Altrincham Football Club. This club is going places. The ambition and drive expressed by the board, the quality of football being played under Phil Parkinson, and the passion shown by the fans have all been key reasons why I have joined the board.
'I am sure I can make a major contribution to the club with my experience and my ambition and I look forward to playing a full role in Alty's continued transformation. I personally think for a club to really be successful, it has to built on a sound commercial structure which will help us get to the level we want to get to. To be successful, we have to get all the fans pulling in the same direction.'
Grahame Rowley, Altrincham chairman said, 'Over the last 12 months we have taken steps to strengthen the board to give us the capacity and capability to execute the Strategic Review and this has brought fresh new thinking to the team. Lawrence is a superb further addition to the board and will accelerate our progress in delivering an off-the-field set up that matches the improvements we have made on the field.'
Lawrence, a father of four, has had a lifelong passion for football and is currently working with the Isle of Man FA to develop routes into senior football for young talent on the island. This is another key area he feels could benefit Altrincham in the long run.
'There's a lot of talent on the Isle of Man, but if a young footballer doesn't get picked up by the likes of a Manchester United, then they can get lost to the game. There is so much scope for good players to progress at the level of an Altrincham, so hopefully my links can help there.'
Please join us in welcoming Lawrence to the board at a 'Meet the Manager and Board' event in the Community Sports Hall on Thursday, 29 March".
Contact: info@thesportbusiness.co.uk.
A second-half goal by Perry Bircumshaw settled this Cheshire Senior Cup encounter. Altrincham fielded a mixture of first-team squad members, new signings, reserves and youth-team players. The team was 1. Tim Deasy, (c) 2. Callum Jones, 3 Dontai Gabidon, 4. James Jones, 5. Sam Heathcote, 6. Chris Merrie, 7. Theo Bailey-Jones, 8. Max Harrop, 9.Tom Peers, 10. Rhain Davis, 11. Darius Palma. Subs: 12. Harry Sheridan, 14. Tom Westall, 15 Dylan Scanlan, 16 Scott Smith, 20 Cameron Terry.
Match report here.
Alty travel to Rushall Olympic on Saturday, 31 March. The club reports that "On-loan midfielder, Jordon Sangha, has been recalled from his loan spell at Dales Lane by Walsall".
Elsewhere, Southport confirm that "Striker Kaiman Anderson has joined Stourbridge on a free transfer. Kaiman made a total of 10 appearances for the club in all competitions and impressed for Stourbridge on loan in December
Meanwhile at Shaw Lane AFC the Ducks report that "Huddersfield Town youngster Olly Dyson has joined on work experience. Oliver Dyson, a Huddersfield Town U23 player, was recently gaining match practice with Liversedge.
Paul Quinn says,'we've been developing our relationship with Huddersfield over recent weeks and I'd like to thank Leigh Bromby for making this signing possible. Olly is an impressive young player who has a very bright future and hopefully we can play a positive role in his progress'".
Thursday night's Buxton v Ashton United match was declared a "free match" for spectators.Ashton United report that "On the road the Robins have done well this season only suffering three league defeats on the road in 17 games. Ahead of the fixture manager Jody Banim had the following to say... 'it's got that bit of added spice with my old teammates and managers at the club and I'm under no illusion how difficult the game will be but we're more than capable of going there and getting a result'".
---
22 March 2018
Alty TV has
highlights
of the draw with Mickleover Sports on Tuesday night. The video clearly shows the foul on Tom Hannigan which led to the Sports' goal.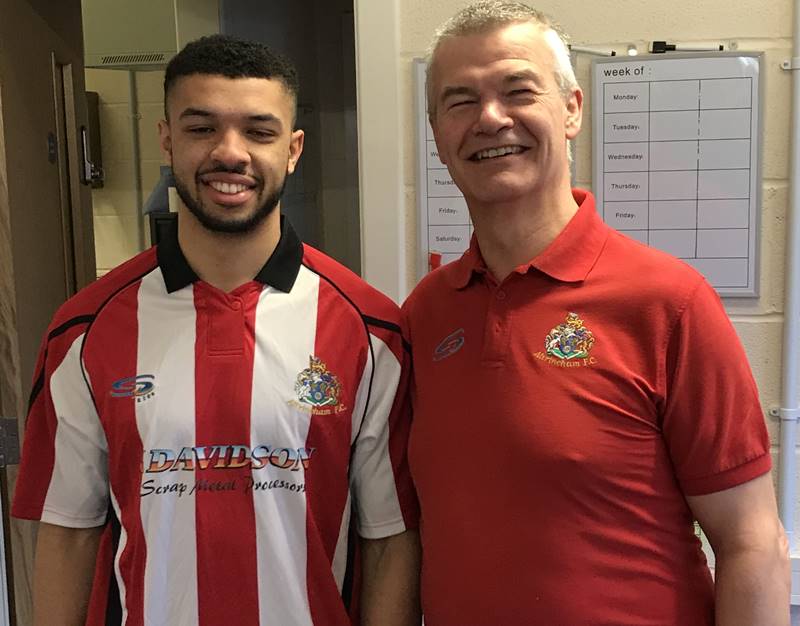 Pictured, above, is Theo Bailey-Jones who, as reported yesterday, has signed for Altrincham from Stalybridge. He is seen above, with chairman Grahame Rowley, after signing on Tuesday.
131 supporters watched the Altrincham v Winsford United CSC tie on Tuesday. Courtesy of Mike Garnett, we have a list of the low attendances at Moss Lane over recent years...
29.1.2014 v Stockport Sports (CSC) 106
11.12.2001 v Vauxhall GM (ULCC group) 114
Other sub-200 CSC home gates of which Mike has a record are...
128 v Vauxhall Motors 2008-9
140 v Chester 2006-7
161 v Cammell Laird 2004-5
169 v Cheadle Town 1999-2000
172 v Congleton Town 2012-3
186 v Stalybridge 2013-4
Following Tuesday's game at Altrincham, Mickleover Sports "can also confirm that Jimmy Phillips was taken to hospital straight after he was substituted from a nasty clash of heads. He was released after there was no further sign of injury following a thorough assessment".
At Sutton Coldfield Town, "With registration deadline day looming, manager Neil Tooth has been busy looking to strengthen his squad for the final weeks of the season.
The Royals are very pleased to announce that Adam Murray has joined the club for the remainder of the season. Toothy said 'I am delighted to get a player of Adam's quality in with us for the run in. He brings a wealth of experience both on and off the pitch and we will need every bit of he can offer over the six weeks'. Adam, 36, has enjoyed a professional football career with Mansfield Town, Carlisle, Torquay, Oxford United and others, having started his career with Derby County.
Toothy has also reached agreement with both Birmingham City and AFC Telford United for Matt Timms and Louis McGrory to remain with the club until the end of the season."
Workington report that "'I don't like Saturdays' could be adopted as Reds' new theme tune. All their weekend fixtures this year have failed to produce a win, whereas Tuesday encounters under the lights has been a different story. Shaw Lane were the latest to suffer against Jekyll and Hyde Workington with a vibrant display from the hosts in sharp contrast to previous outing v. Buxton.
'That's the frustrating thing for us because we know what we are capable of against the better sides,' said Lee Andrews, as unsure as the rest of us which team is going to turn up....
Despite the amount of possession they enjoyed, and the six second-half corners forced, the Barnsley side rarely troubled Aaran Taylor. His one moment of concern saw him push the ball onto the post after being 'pinned' at a corner but the ball, fortunately, rebounded into his welcome arms...
The match winning goals were credited to Matty Douglas although there was a hint of an own-goal with each...
Shaw Lane Wilczynski, Picton (Chilaka, 84), Gordon, Lugsden, Skelton, Norris (Rothery, 73), Byrne, Brown-Hill, Clayton, Reeves, Williams (Knight, 71). Substitutes – Quinn, Abadaki (not used)... Attendance 269".
According to the Derbyshire Times "Matlock Town have suffered another blow, in what has been a difficult campaign, with top scorer Shaun Harrad being ruled out for the rest of the season. The Gladiators pulled off a coup by signing the 33 year old former Notts County, Burton Albion and Cheltenham Town striker in the summer and he has repaid joint bosses Glenn Kirkwood and Craig Hopkins' faith in him by netting 22 league and cup goals.
But a troublesome ankle injury finally caught up with him after playing through the pain barrier and Harrad had an operation on Monday. Even with 10 games left to play, he seems likely to remain as the Gladiators top scorer unless someone else hits an extremely rich vein of scoring form in the remaining six weeks of the campaign.
'The operation went well but that's him done for the season,' said Hopkins. 'He's been absolutely superb for us and now it's up to someone else to step up to the mark. Shaun's been playing in pain for a while now and very few people were aware of that, so all credit to him for his performances and the way he's gone about his business. He's been a true professional'.
Harrad signed off for the season with a well taken goal that put Matlock into a first half lead against Farsley Celtic last Saturday, but following a couple of snowstorms, Matlock lost their way and lost by the odd goal in three to the play off contenders... 'It was a matter of Farsley coping better with the conditions than we did,' said Hopkins. 'It was like an ice rink out there and definitely the worst conditions I've known while I've been in football. It made it a bit of a false game and in the last 20 odd minutes the snow was blowing straight into our lads' faces. We found it difficult to get out of our own half'...
Stalybridge Celtic have now moved above Matlock after three successive splendid away wins at Workington, Altrincham and Nantwich Town. The Gladiators are now down in 20th spot. They are two points behind their opponents on Saturday, Rushall Olympic, ahead of the clash at Dales Lane, having played one game more.
'It's a six pointer,' Hopkins admitted. 'It'll be a tough game for [us] since Alvin McDonald [actually it is Liam McDonald] has taken over as manager, they've probably been one of the top six or seven sides in the league. They've got a good, strong squad who play it hard but can also play some good football'".
According to the
Hull Daily Mail
, "The writing has been on the wall for a year or more but the North Ferriby United fairytale is finally at an end. Relegation from National League North was confirmed in spite of an excellent 1-1 draw with big-spending Salford City, but the hardy supporters in attendance at the Eon Visual Stadium have long since been braced for the moment...
The Villagers are now on a rapid retreat back down the league ladder. The good times are officially over and the strong suspicion is that they will not be coming back... A second relegation inside 12 months has sent them back to the Northern Premier League for 2018-19... There are too many doubts over the long-term future for this second relegation to genuinely sting.
The arrival of Jamie Waltham as owner in November, succeeding Steve and Eman Forster, has raised significant question marks over the direction Ferriby take from here. Waltham has made it clear the Villagers are currently 'unsustainable' as a club and has raised the unpalatable prospect of transferring the Ferriby's league standing to another Hull-based club. Where that leaves Ferriby remains unclear but the only thing certain is that the fifth, or even sixth, tier of English football will not be seen again any time soon.
The enduring spirit of players has never been in question but this season has been tantamount to a surrender off the field. Although Ferriby put up a fight during their one season in National League, eventually winning 12 of their 46 games against opponents such as Lincoln City and Tranmere Rovers, the current campaign has been a thankless slog.
The draw with Salford... leaves Ferriby with just two wins to their name from 35 games in National League North... This has been a train rolling down the tracks ever since the financial backing of the Forster family was reined in shortly after promotion to the National League was won in 2016. Budgets were slashed and the heroes departed en masse. Billy Heath, the mastermind behind the FA Trophy win, preferred to take charge of Halifax in a lower division and popular successor Steve Housham was powerless to keep Ferriby up...
The Mail understands the annual budget was set at £76,000, down from £160,000 the previous season, and has since been cut again. In a division that sees Harrogate Town, Salford and York operating as full-time clubs, Ferriby have barely stood a prayer... The Villagers went 28 league and cup fixtures without a win. Only when beating Bradford Park Avenue last month did the miserable run end...
Ferriby have taken on the honour of becoming the first club in English football's top eight tiers to be relegated this season".
---
21 March 2018
Altrincham have signed winger Theo Bailey-Jones from Stalybridge Celtic. He was a used substitute against Altrincham last Saturday when Celtic beat Alty 2-1. Theo (dob 22 May 1994) joined Wrexham in November 2012, having started out at Manchester City, before moving to Crewe Alexandra. He then played for Northwich Victoria and Irlam Town before his move to Wrexham. In summer 2015, he joined Macclesfield Town after a loan spell at the Moss Rose from Wrexham. When his contract expired at the Welsh club, he signed for the Silkmen.
It was deja vu for Altrincham as for the third home match in succession they started the better side, only to fall behind through an individual error. This time it was Andy White's cross-field pass which allowed Jack Walsh to nip past an exposed Harrison to score in the 38th minute. But how the officials failed to see the most blatant arm-pull by Barnes-Homer that upended Hannigan in the build-up, is one of life's mysteries.
Altrincham laid seige to the visitors' goal in the second half and finally equalised in the 71st minute when Jake Moult headed home from close range. With Sports employing spoiling tactics which the referee failed to clamp down on, the game ended in acrimony after the final whistle.
Match report here.
Tuesday 20 March
The EVO-STIK Premier Division
Altrincham 1-1 Mickleover Sports
Buxton P-P Ashton United (snow)
Nantwich Town 2-3 Stalybridge Celtic
Warrington Town 4-1 Hednesford Town
Witton Albion 1-0 Stourbridge
Workington 2-0 Shaw Lane
Beyond the Big Two
reports that "Altrincham manager Phil Parkinson hopes Saturday's surprise defeat by Stalybridge Celtic will give the Evo-Stik Premier leaders a 'kick up the backside'.
The Robins' 7-match unbeaten run was halted by Workington last Tuesday and lowly Bridge won 2-1 at the J. Davidson Stadium to make it back-to-back home defeats. The Robins have hit some bad form in a vital part of the season...
Warrington, meanwhile, won 2-1 at home to Grantham to cut the gap to just 3 points before Alty welcome Mickleover Sports this Tuesday night, while Warrington host Hednesford.
'I thought we played well in the opening 15 minutes but after that we were lacklustre,' said Parkinson. 'We didn't deserve to win and we didn't do enough to get anything from the game. It was probably not a good time to play Stalybridge because they've recently beaten Warrington, they've beaten Workington and now they've beaten us. But for us, it might be a good time to get a kick up the backside. Maybe one or two of them think they've already won the league, but we've certainly given them no information to tell them that is the case'.
Bridge fielded an 18-year-old debutant in goal after on-loan keeper Jack Walton was recalled by his parent club Barnsley... Bridge took a surprise lead against the run of play on 17 minutes as Johnston hit a poor pass to Jake Moult and former FC United midfielder Wolfenden slotted comfortably past Tony Thompson.
The visitors continued to press Alty, forcing the Robins to make mistakes and constantly give away the ball... Shaun Densmore's cross was met by Poole, whose shot cannoned off the post. Alty sub Simon Richman also fired against a post on 78 minutes but the Robins were picked off on the break with 3 minutes left, as Dickinson tapped into the roof of the net at the back post from a Connor Hughes cross.
Johnston prodded in on 90 minutes from a Sam Heathcote flick...
'It is their Cup final when they come here and there were a lot of below-par performances from us,' Parkinson added. 'At the end we had a real go but I think we have to look at our performances and our decision making, and we have to rectify it. The good thing is the games are coming quick and fast.'"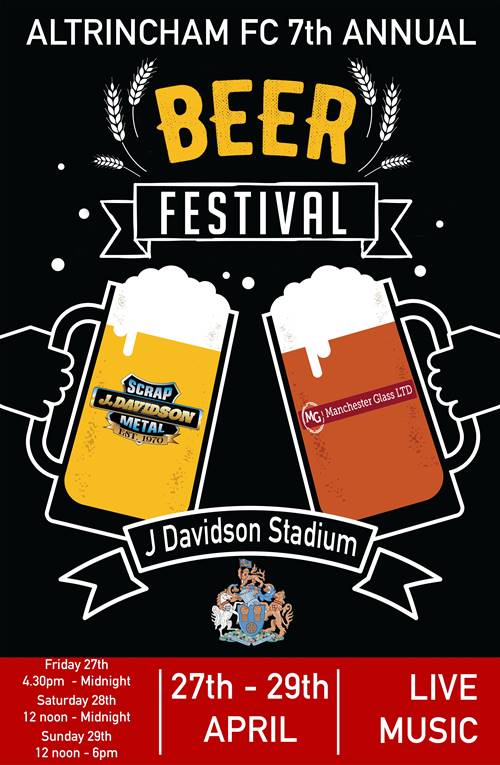 Stourbridge
"are delighted to confirm the return of midfielder Brad Birch, who has signed for us on dual registration forms. Brad spent the whole of last season with the Glassboys, making 33 appearances in all competitions, and re-joins us from Worcester City.
He was extremely popular with Stour supporters last term for his energetic, hard-working displays in midfield before departing at the end of the season. Brad signed for Worcester City and he has been an integral part of the side that is fighting to win the Midland League Premier title. The former Littleton man was also made captain by City and has made 27 appearances this season, scoring seven times.
Gary Hackett has moved to bring him back to Amblecote on a dual-registration deal and Brad goes straight into the squad for tonight's game at Witton Albion."
At Coalville Town, Ben Bradshaw has signed from Kettering.
Hednesford Town "have completed the signing of Anthony Dwyer from AFC Telford United... The 21-year-old Jamaican born forward joined the Bucks in the summer, going on to score six times for them but, of late, he has struggled to get match time in the team."
---
20 March 2018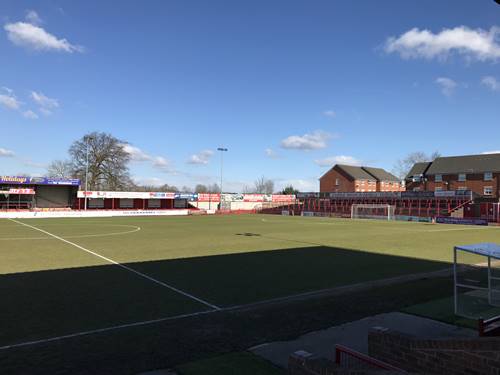 As the image, above, taken on Monday shows, the pitch at the J. Davidson Stadium is ready for two matches in 24 hours. Tuesday sees Alty entertain Mickleover Sports in a league match and on Wednesday evening, Winsford United are our opponents in the Cheshire Senior Cup.
Altrincham will be without Left-back Connor Hampson, who was clattered by Liam Dickinson's challenge on Saturday. He is expected to be out for at least a fortnight, with Andy White the most likely replacement.
Tuesday will be Mickleover Sports' first visit to Altrincham. In the reverse fixture, in September, Alty won 2-1.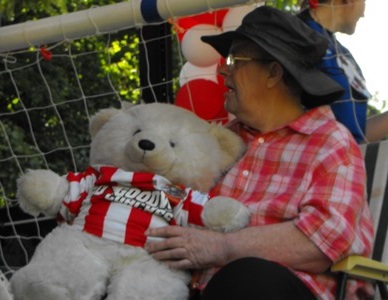 Press and Media Officer John Edwards has submitted the following article for inclusion on the news pages of this week's Sale and Altrincham Messenger.
"Altrincham players past and present have paid heartfelt tributes to legendary support Kenny Palin after he died in hospital on Sunday, following an illness. Renowned for initiating the zigger-zagger chant that reverberated round the ground and bellowing 'get your subs on' at a succession of Alty managers, Kenny was a larger-than-life character known to everyone at The J.Davidson Stadium and also Timperley Cricket Club.
Right, pictured by the website, Kenny on the Altrincham FC float at the Altrincham Festival in summer 2013.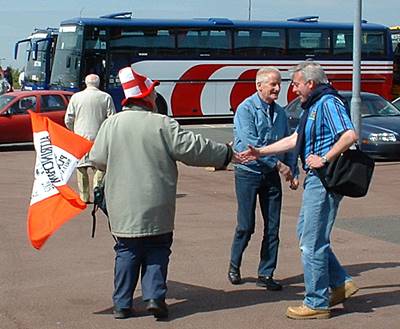 Left: Kenny, with his Alty hat and flag, greets one of his many acquaintances as he walks back to one of the supporters' coaches after Alty's play-off win against Eastbourne Borough at the Britannia Stadium, Stoke in 2005.
News of his death sent social media into meltdown, with Alty players, officials and supporters taking to Twitter to share memories and express their sadness.
'Such a lovely guy,' wrote Stuart Coburn, who made a record number of appearances for Alty. 'Never had a bad word for anyone, but had me on toast after many a game, telling me how many goals I'd let in. Proper Alty legend.'
Former Alty centre-back Scott Leather recounted a similar experience, saying 'Always the first to tell me "you were rubbish today" – what a guy', while long-serving defender Shaun Densmore tweeted 'Rest in Peace, Kenny. Loved moaning at Stuart Coburn as much as I did!'
Ex-Alty striker Rod Thornley reacted to the news that broke on Monday morning by writing, 'Sad, sad day. I was only speaking to him in Partington last week. RIP Kenny, huge part of my time at Alty, even invited himself to my wedding ceremony. Brilliant. Moss Lane will sorely miss you.'
Alty chairman Grahame Rowley described Kenny's affinity with the club by saying, 'He would phone the office five or six times a day without fail, often just for a chat but also to tell us all the latest results, who had scored for which team and what fixtures were coming up. He was so friendly and informative about local matters, and it's an endearing memory of him, the way we'd hear from him every single day.'"
Keith Edleston, manager of Altrincham FC Ladies, under the above heading, writes...
"What can we say about today? Well, from the moment we got there we thought 'Is it going to be one of those days?' It was absolutely bitterly cold with a very strong wind howling around the ground and then, when the keys didnt fit the clubhouse...!!!! Finally we got some some keys and eventually got to warm up around 1-45.
Things were going well with the football but City of Liverpool dug in resolutely and played a high line which kept catching us offside time and time again. On 35 minutes, one of our many corners from Laura Dodds found the head of Gail Simpson who fairly bulleted it past the keeper to open the scoring.
Further goals from Jess Hartopp, Laura Dodds, Laura Kelly, Jade Hesketh, Kye Brown and a first for the club from Beth Hayes sealed a 7-0 win. All credit to City of Liverpool players, staff and supporters (AND our own supporters) who braved the freezing cold weather; you are a credit to grassroots football, thank you.
On to next week, when we welcome Liverpool Marshall Feds Reserves to Mersey Valley Sports Club, (2pm ko), and hope to continue our good run and climb the league table. See you there!"
Starting eleven: Paula Alarcon Conde, Aimee Hopkinson, Bliss Molyneaux (capt) Louise Edleston, Jess Hartopp, Gail Simpson, Laura Dodds, Kye Brown, Beth Hayes, Laura Kelly, Jade Hesketh. Subs: Megan Rowley, Georgia Ashton
Goals: Gail Simpson, Beth Hayes, Laura Dodds, Laura Kelly, Kye Brown, Jess Hartopp, Jade Hesketh.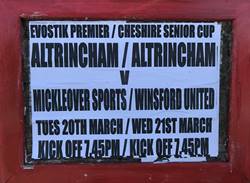 When Altrincham entertain Winsford in the Cheshire Senior Cup on Wednesday, 21 March (7.45pm), the admission prices will be as follows:-
Adults £5
Concessionaries £2
Under-16s £1
Our opponents on Wednesday, Winsford United report that "As the new board of Winsford United Football Club. We would like to announce the following...
We have added two new directors to the already existing board, they are Kevin Livemore and Keith Badrock. Both Kevin and Keith are well known in the community for being involved in the Winsford youth set-up. They join with some great ideas, and we look forward to seeing them implement them...
We can now make public...
The role of
Club Secretary: Robert Astles.
Club Treasurer: Tony Duckworth.
Vice-chairman: Stephen Pardoe
New Chairman :Ray Duckworth.
As the new chairman, Ray has given the following statement: "I have been fortunate enough to be elected the club's new chairman, in the recent restructuring of the board. Many of you already know me. I have been at the vast majority of Winsford United games, home and away, for the past twenty years. I've seen this great club in moments of elation and triumph, but also during times of struggle. My input into this club is someone who will work, tirelessly and enthusiastically, for the good of the club to secure a prosperous future.
It's the belief of the new board and I, that this club should be the focal point of the community. We will be undertaking to ensure that this happens as efficiently as possible, whilst seeking to restore the positive times to this great club. I believe in actions rather than words, so with this in mind I'd welcome as many of you as are willing to get involved to help take OUR club forward. It's only through working as one, that we will achieve what is best for the club"
The Winsford Guardian recently reported that "Winsford United eased aside 1874 Northwich to reach the Macron Cup last eight on Tuesday. Blues took control of the contest from the moment Michael Koral's speculative strike from distance squirmed from goalkeeper Callum Spencer's grasp on 11 minutes...
1874 management duo Paul Bowyer and Wayne Goodison selected a side with one eye on an FA Vase semi-final encounter with Thatcham Town on Saturday, and made nine changes to a side that started the previous game.
Winsford started the second-half at the same tempo they had the first, and Jamie McLellan's header from a corner flashed narrowly wide. Scott Taylor was next to go close, his shot hitting the woodwork. He was not to be denied, and applied an emphatic finish to Callam Gardner's cross to double Blues' lead on 50 minutes.
[Ex-Alty youth and reserve] Will Foster ought to have done better with a header, while at the other end Ben Woods blazed over when well-placed.
The contest was over on 73 minutes when Gardner punished a defensive error, side-stepping an opponent before waltzing past Spencer to score.
Riley at least registered a goal against his old team when he dispatched a penalty three minutes later.
Winsford | Green (GK), Fowles (Clarke 83), Skolorzynski, Hopper, Foster, McLellan, Scott Taylor, Michael Taylor, Koral (Hatton 77), Bircumshaw, Gardner. Subs not used Kerr, Osborne (GK). Goals Koral 11, Scott Taylor 50, Gardner 73".
---
19 March 2018
On Sunday, Altrincham FC Ladies won 7-0, away to City of Liverpool Ladies. They now lie seventh in the league with games in hand. Their next match, next Sunday, is at home to Liverpool Marshalls Feds Reserves, who lie second.
On Sunday, in the NWYA Open Cup Round 3, Altrincham FC Youth won 2-1 at St Helens Town. Their next cup opponents are either Heswall or Witton Albion who play next Sunday. Alty are scheduled to host Southport in a league match this Sunday.
The
Chester Chronicle
reports that "'If Neil Young wouldn't have come in I would probably have walked away', says Chester FC boss Marcus Bignot... Marcus Bignot has admitted he considered his future as Chester FC manager but believes the arrival of [ex-Alty boss] Neil Young has given them a fighting chance.
Marooned near the foot of the National League table, forced to lose his support staff and a number of senior first team players and relying on volunteers to patch up his match day squad, this has been the most testing of seasons for the Chester manager.
Mismanagement at the top has left the Blues in crisis. Over £95,000 was raised by fans after the revelations of the financial crisis at the end of January, and that figure will help Chester get to the end of the season at least.
But what happens next?
Liabilities well in excess of the £100,000 quoted at last week's City Fans United members meeting mean that it will be a season of real struggle again next year, one that will likely be played out in the National League North given Chester's perilous league position".
Until recently Neil was helping out at FC Halifax Town.
Shaw Lane
report that "Manager Paul Quinn looks back at the disappointing result at Witton Albion. Shaw Lane lost their first game since New Year's Day away at Witton Albion yesterday. It was three nil to the Wincham Park side by half time with goals by Matt Devine, Owen Dale and Steve Tames.
A fourth goal just after half time by captain Rob Hopley finished the scoring.
Manager Paul Quinn looked back at the last few weeks. 'We've had a very testing few weeks and ultimately that's played a large part in today's disappointing performance. The players haven't played for 3 weeks and we've had training facilities disrupted due to the weather.
'That match sharpness, understandably, wasn't there. As a group we set ourselves high standards and we fell below those standards today. We talked about the threats Witton would pose today prior to the game and full credit to our opponents they fully deserved the win. The message to the players after the game was that we have to pick ourselves up and go again.
'We have 48 points left to play for, our season was never going to be won or lost today. We learn and move on.'
Shaw Lane are on their travels again with a long trip to Workington on Tuesday night, before hosting Grantham Town on Thursday."
---
---
---
---