CURRENT NEWS IN FULL

---
ALTY HEADLINES
30 March 2017: ALTRINCHAM RESERVES' DRAW... More
30 March 2017: SIGN UP FOR THE SPONSORED WALK!... More
30 March 2017: LADIES' CHANGE OF VENUE... More
OTHER HEADLINES
30 March 2017: CELTIC RESIGNED TO RELEGATION... More
30 March 2017: CELTIC SIGN UP STRIKER.. More
30 March 2017: ARMY GAMES... More
---
30 March 2017
Keith Edleston, manager of the Altrincham FC Ladies team writes that "Due to the Manchester Marathon going past our home ground at Mersey Valley Sports Club we have had to find an alternative venue for this coming Sunday's game against league leaders, Merseyrail Bootle.
We are grateful to Jane Morley, Stockport County LFC and Stockport Sports Village for accommodating us at such short notice. The game is a 2pm kick off on Pitch 1 (astro) and the clubhouse will be open from 12.30pm for refreshments. Why not come down and cheer the girls on towards three points?"
There is a match report on Tuesday night's Reserves' match draw,
here
.
The
National League
reports that "There was only one game in the Vanarama National League North on Tuesday night, but it was a relegation `six-pointer` at Bower Fold between second-bottom Stalybridge Celtic and an out-of-form AFC Telford United outfit who started the game just three points above the drop zone.
Celtic had just one win in their last nine games, while the Bucks had suffered five defeats from their last six. Celtic`s pitch had suffered more than most with all the wet weather and they were forced to play their last `home` game at Altrincham. But they were back on their own patch on Tuesday but the state of the pitch made decent football difficult for both sides.
However, the deadlock was broken 7 minutes into the second half when the visitors took the lead when Ben Bailey headed home a Joel Dielna cross. Then, in the 77th, recent loan signing from Stockport County, John Marsden profited from good work from Connor McCarthy to double their lead...
Telford`s Shrewsbury-loanee keeper Callum Burton, crucially saved a penalty late on after he had brought down a Celtic forward, but managed to tip Danny Pilkington's spot-kick onto the post and it was cleared away".
And STalyrbdige Celtic admitted that "Telford ran out winner by two goals, against a Celtic side that looks to have little fight left in them. There were brief spells of brightness for the home side, but in general, they appear resigned to the drop.
Both keepers were warmed up early on with tame shots from Danny Wilkins and Lee Hughes at either end, with Celtic seemingly content to try and contain the visitors. Telford were unable to break down the Celtic defence through open play, but had a range of set pieces in their locker, including the dangerous long throws from Ben Bailey reaching well into the six yard box with accuracy....
[1-0 down,] Celtic had nothing to lose... the lack of a cutting edge up front once again told... but Telford took advantage of the stretched Celtic side, McCarthy reaching the by-line keeping the ball in amid the sand and pulling the ball back to the unmarked and in space John Marsden at the edge of the box. Marsden had all the time in the world to pick his spot and fire into the bottom corner. It could have been three moments later when Danny Westwood turned on the spot inside the six yard spot and fired home, but again, the offside flag was up.
With ten minutes to go, Celtic started creating chances, but could not find the back of the net... Gianluca Havern clumsily bundled Pilkington over at the near post as Burton was about to scoop the ball gifting Celtic a penalty. Pilkington took the penalty himself, but Burton guessed correctly and pulled off a good save.
From just a week ago, when a great escape looked within reach, Celtic are now five wins off safety, the same number we have had in the previous thirty-three games and with nine games to go relegation is rapidly becoming a certainty."
At the other end of the table, Kidderminster Harriers tell us that "Harriers are pleased to announce that goalscoring midfielder Liam Truslove is the latest player to commit to the club for the 2017/18 season. The former Birmingham City youngster joined Harriers this past summer having been released by Blues, and has had a big impact on the squad.
While the tall, powerful 21-year-old has made just five starts this term, he still boasts nine goals to his name as he consistently makes a contribution stepping off the bench... Liam has signed a new contract with Harriers that keeps him here until the summer of 2018".
As previously announced, Altrincham FC has organised a sponsored walk to our match against Salford City on 1 April.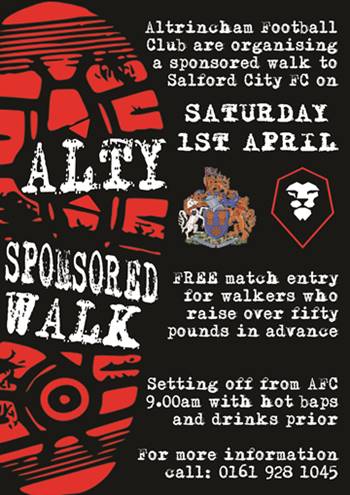 "In short, what is involved is...
A sponsored walk of 11 miles from AFC to Salford City on Saturday, 1st April.
The duration should be approx 3.5 hours, so we will be setting off around 9.30am for a 1.30pm arrival.
Hot baps and refreshments will be available at AFC from 9.00am (in the Vice-Presidents' Lounge).
Each walker who raises £50 prior to the walk gets free entry to the match".
Please join up during this week by e-mail or, if you need a copy of the sponsorship form to be printed for you, please ring the Club on 0161 928-1045.
So far the following walkers have signed up...
Mark Simpson, David Lewis, Helen Randle, Grahame Rowley, Anthony Dawson, Michael Ford, Dan Jones, Richard Impey.
Wed 29 March
Darlington 1883 1-0 Bradford Park Avenue
The trio of matches arranged between National League represenbtative teams and Bris=tish Army teams all ended in heavy defeats for the military.
At Harrogate: National League 9 British Army 0
At Tamworth: National League 7 British Army 2
At Whitehawk: National League 12 British Army 0
Sat 1 April
AFC Fylde v Darlington 1883
AFC Telford Utd v Worcester City
Alfreton Town v Bradford Park Avenue
Brackley Town v Boston United
Chorley v Gainsborough Trinity
Curzon Ashton v Gloucester City
FC United Of Manchester v Stalybridge Celtic
Kidderminster Harriers v FC Halifax Town
Salford City v Altrincham
Stockport County v Nuneaton Town
Tamworth v Harrogate Town
---
29 March 2017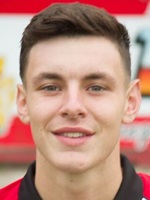 Sam Heathcote (right) has been named in the final squad for a representative match tonight (Wednesday) against an Army team. As previously announced by the
National League
, "In a unique series of representative matches, The National League will play The British Army at three differing locations on the same evening. These will take place on Wednesday 29th March 7.45pm at Eastbourne Borough, Harrogate Town and Tamworth, each match being supported in partnership with Vanarama and S & C Slatter.
Entry is £5 for Adults (including a programme) with Seniors & Juniors FREE. Extra programmes are £2.
The squad to play at Harrogate has been announced as shown below...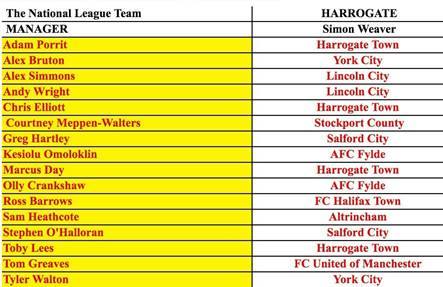 An Altrincham Reserves side, which started with seven players with first-team experience, (albeit totalling only 42 league appearances this season), was held to a 1-1 draw by second-place Wythenshawe Town at the J Davidson Stadium on Tuesday night. The night started well for the Robins as Micah Evans scored a well-taken goal in just the third minute. But former Alty youth and reserve player, Ashley Leather, equalised for Town in the 32nd minute.
Match report to follow...
ALTRINCHAM: 1. A. Jones, 2. C. Jones, 3. Westall, 4. Taylor, 5. McDonald, 6. Hannigan, 7. Evans, 8. Milne, 9. Owens, 10. Swift (c), 11. Cain. Subs: 12. Palma, 14. Graham, 15. Kennerley, 16. Sheridan, 17. Rowley (gk)
Altrincham FC director Bill Waterson writes, "I would like to clarify the situation over the removal of access to the Altrincham FC twitter account for Jack Jolly and Andrew Flynn during the Stalybridge Celtic game on 18th March. Jack Jolly was one of the protesters who left the ground, and the club felt that, as a precautionary measure, we should revoke his Twitter access. This decision was the correct one in the circumstances.
However, we got it wrong with Andrew - he was at work at the time, and therefore the same imperatives did not apply to him as they did for Jack. Regrettably, Andrew resigned his position in the social media team in the days after the match. As I am responsible for Comms, I contacted him on behalf of the club to acknowledge his mail and to thank him for all his efforts. I contacted him again earlier today (Tuesday) to apologise for our mistake.
Social Media is a relatively new phenomenon and best practice around management of its use is still developing. It is relatively easy therefore to make mistakes. The important thing for us is to learn from them and make sure we can maximise the benefits that these new communication channels can bring us.
Finally, I would like to thank Jack and Andrew for their sterling efforts in building a strong Social Media presence for the club and wish them both well for the future".
Tue 28 March
Stalybridge Celtic 0-2 AFC Telford Utd 2
From the
Boston Standard
we learn that "Boston United have extended their lease at the Jakemans Stadium. The Pilgrims were supposed to end their tenure at the York Street ground in January 2018 but, as the Pilgrims continue to finalise funding for their new Quadrant community stadium, they have been allowed to extend their stay at the ground they have called home since 1933.
However, the club are yet to announce just how long the lease has been extended for... Chairman David Newton said, 'As many are aware, the lease on the current Jakemans Stadium at York Street was due to expire in January 2018. I am pleased to say that a new lease has been put in place which will give us a little more time to deliver the new stadium and meet League and FA requirements...
'We remain on track to leave the club in a new stadium, and at the heart of the community in accordance with our promise that we gave the fans almost 10 years ago. However we will need your help and will let everyone know the extent of that 'help' as soon as we can'.
The Quadrant developments plans to deliver a football stadium, community sports facilities, 500 houses and retail units. Mr Newton explained... 'f keen interest to Boston United fans is the construction of the new Community Stadium. We are still in the process of finalising costs. Unfortunately, we have hit a period where both costs of labour and materials have risen significantly over the past two years. We still wish to build the stadium in its entirety, but worse case it will have to be phased.
'Once costs have been bottomed out, we will seek help from fans and local businesses in trying to close any shortfall in costs and we will continue to look for additional funding from external sources... The bulk of money is coming from The Quadrant development and those funds will only be generated as houses are built and land is sold. I am pleased to say that we have had considerable interest in the retail/leisure sites and a number are now going through the legal process.
'We are close to securing finance for the construction of the Community Stadium, which will allow construction to press ahead, with the finance being repaid as The Quadrant development progresses. It was always going to be a challenge to deliver a new stadium for a club that has no assets and, until relatively recently, was insolvent but we are making good progress and I am still happy that construction will start this year...
'The roundabout on the A16 is complete, as is the first section of distributor road, the stadium access road and the road leading to the first three commercial sites. Construction is planned to start on the housing in April'".
The
EvoStik League
reports that "The fans, players and officials of Northern Premier League Skelmersdale United are facing the real threat of extinction following the club's relegation from the top flight on Saturday.
The 135-year-old football club and Amateur Cup finalists were fearing for their existence on Monday after the owner of their home at the URETEK Stadium refused to grant a new lease or extension to their current deal.
The blow to their hopes of bouncing back next season comes two days after Saturday's 6-0 mauling at home to Buxton... saw Skem relegated...
In a statement on Monday night, officials said there was no threat to the club's immediate future while Skelmersdale United chairman Paul Griffiths vowed to fight tooth and nail for their future... A spokesman said, 'The lease does not affect the club this season and we shall carry on until the season is out. The club and the social club will continue to function normally. We have been trying for almost two years to reach an agreement to remain in business at our stadium but the owners of the site, Chequer Properties, have refused to grant an official new lease or extension.
'Without this we will be thrown out of the league and the history of this great community club may be lost forever. We would appreciate support and help from anyone to resolve this matter and keep Amateur Cup winners Skelmersdale United alive and well for the West Lancashire community. It is unthinkable that one business should decide to close the club down by their unfair actions and unwillingness to grant this lease. This closure would be tragedy for Skelmersdale United, its fans and the wider community'".
---
28 March 2017
Tonight (Tuesday), Altrincham FC Reserves entertain Wythenshawe Town, k.o. 7.45pm.
This match will be played at the J. Davidson Stadium, Moss Lane, and entry is free of charge.
The bar will be open from half-time so you can enjoy a pint and refreshments whilst watching the second half!
John Edwards, Altrincham FC press & media Officer, writes...
"The job of Altrincham manager is up for grabs after the club invited applications to take charge of the team from the end of this season.
The decision followed a board meeting at the J.Davidson Stadium to consider the claims of current manager Matt Doughty and his assistant Robbie Lawton, who replaced the sacked Jim Harvey on a caretaker basis in December and were appointed for the rest of the season on New Year's Day.
Despite a discernible improvement in performances that led to two wins and two draws in the last five weeks, Alty remain bottom of the Vanarama National League North and on the verge of relegation to the Evo-Stik League. It was felt prudent, therefore, to test the market for a manager capable of instigating a significant and lasting revival in the club's fortunes, though Doughty and Lawton have not been discounted and will be interviewed along with other candidates in the next few weeks.
Explaining their stance and underlining their eagerness to make an early and positive start to preparations for next season, Alty's board issued a statement, saying: 'The position of Altrincham manager beyond this season was discussed by the board of directors at their monthly meeting. The matter was given careful thought and consideration, and it was noted there has been an upturn in performances and, more recently, results since Matt Doughty and Robbie Lawton took charge.
'Compared to the first half of the season, there have been welcome signs of greater organisation, spirit and endeavour on the pitch. However, it was felt by the board that this in itself did not justify the automatic re-appointment of Matt and Robbie for next season and that to give us the optimum opportunity of recruiting the best possible candidate to take the club forward, the position should be advertised.
'Applications are therefore invited for the post of manager of Altrincham Football Club. We are looking for driven and ambitious candidates with a proven track record of building and sustaining a team that delivers success. This is an exciting opportunity to restore the fortunes of one of non-League football's best-known names, and the successful applicant will be given a more than competitive budget, commensurate with our objectives for next season.
'It is hoped a shortlist will be drawn up from those who apply in time for interviews to be held early next month. That shortlist will include the current incumbents. Applications, with full cv, must be received by Monday, April 3rd and can either be posted to Altrincham Football Club, Moss Lane, Altrincham, Cheshire, WA15 8AP or emailed here'".
Altrincham travel to Salford City on Saturday. City play at Moor Lane,
M7 3PZ
. As previously announced it is not economic for TASC to run supporters' transport to a match so close to Altrincham.
The Ammies advise that the game is not segregated but, owing to building works at the ground, there is no on site car parking. Supporters should enter the stadium via the Nevile Road turnstiles.
Admission prices are:
Adults £10
Concessionaries (over 60s, students with ID and under-16s) £3
Bradford Park Avenue have posted a video of the three goals in last Saturday's match at the Horsfall Stadium. These highlights can be viewed
here
.
Mon 27 March
Curzon Ashton 1-2 FC United of Manchester
---
27 March 2017
On Sunday, Altrincham FC Ladies played a goalless draw at home to Chorltonians and they now lie sixth in the table
Next Sunday (2/04/17) they host league leaders Merseyrail Bootle at Mersey Valley.
Altrincham FC Youth lost 1-2 in a home match against AFC Fylde, which was played at Flixton FC on Sunday.
Their next fixtures are...
5/4/17 away to Curzon Ashton who are top of the league
9/4/17 away to Chorley who are bottom of the league
Mark Bennett's Alty TV has match highlights from the match with Nuneaton Town last Tuesday,
here
.
Curzon Ashton
"can regretfully confirm that Ryan Hall and Matty Warburton have been pulled out of the Vanarama representative squad to face an Army XI this week.
Ryan and Matty were selected to represent the National League North in a fixture at Harrogate Town on Wednesday evening.
Following the rescheduling of the game against FC United, which now takes place on Monday night, manager John Flanagan has made the decision to pull them out of the team.
Ahead of the final run-in before the end of the season, Flanagan does not want the pair playing Saturday-Monday-Wednesday-Saturday...
We also thank Simon Weaver, the manager of the team, for his understanding with the decision that we have made".
Alty travel to Moor Lane on Saturday.
NL Pitchero
reports on Salford's game at Boston last Saturday.
"The imposing tower of St.Botolph's church has been inspiring visitors to Boston for centuries but it didn't do the trick for Salford City today as they slumped to a disappointing defeat. Against a side who hadn't won a Saturday home league game all season. The Ammies underperformed during a scrappy first half and Brad Barnes was dismissed for a 2nd bookable offence just before the interval...
Despite dominating the second half they just couldn't find a way past home keeper Ross Durrant. There were changes from the side that rescued a late point on Tuesday evening with injured Jordan Hulme and unavailable George Green replaced by David Norris and Richie Allen. Nick Haughton dropped down to the bench as Josh Hine was restored to the starting line-up...
For another healthy turnout of away support the breakthrough went the way of the Pilgrims.. [It was] the 3rd time in 8 days that Salford had conceded a game's first goal...
With a touch more than 25 minutes left The Ammies sent on Barrow loanee Harry Panayiotou and Craig King, with Hine and Norris giving way...
Salford were going for it, committing men forward... It seemed like Salford just needed a spot of luck to grab the equaliser they now deserved, but a body blow came along in the 73rd minute. It was simple stuff, from a set piece as Chapman dropped in a corner from the right and Brown got up beyond the penalty spot to power in a downwards header...
[It was] a poor reward for a determined second half performance...
There's no other way of saying it – this was a very disappointing afternoon for Salford City...
Bright spots? Debutant Panayiotou looked useful and his mobility certainly offers attacking options... Scott Burton put in an immense performance... patrolling a midfield where Salford were outnumbered...
On paper the visit of Altrincham to Moor Lane next Saturday seems like a very decent opportunity to get a win on the board but the Robins will be determined to cause an upset. Focus and unity will be the key…
SALFORD CITY: 1) Jay Lynch 2) Michael Nottingham 3) Patrick Brough 4) Scott Burton 5) Simon Grand (c) 6) Billy Priestley 7) Josh Hine 8) Brad Barnes 9) Mike Phenix 10) David Norris 11) Richie Allen 12) Steve Howson 14) Sam Walker 15) Craig King (for NORRIS, 64th min) 16) Nick Haughton (for ALLEN, 56th min) 17) Harry PANAYITOU (for HINE, 64th min)...
Attendance: 1,248 (67 Salford City)
The
Telegraph & Argus
reports how Saturday's "Crucial win gives Bradford Park Avenue a bit of breathing space in survival battle
Park Avenue fell over the line against ten-man basement outfit Altrincham as they toiled to their latest win... They needed a tap-in from experienced defender Matt Hill ten minutes from time to snatch all three points, but the only detail that counts is that it was Avenue's 11th league win of the season.
Mark Bower's men now have a six-point cushion over the clubs in the drop zone with just seven games remaining.
Bower said, 'That was a big win, a massive three points... We made it more difficult for ourselves than we needed to but we got the win. They went down to ten men early in the second half but it's always hard to play against ten.
'It's always tough playing a side bottom of the league because they are battling for anything they get, but I thought that we played well and created chances but not enough to make it a comfortable win.
'We took the lead with a wonderful goal started by Jake Hibbs. It was a great break by him and a superb through ball into Oli Johnson's path'...
It was Hibbs's last game of his loan spell before returning to FC Halifax Town...
With just a little over quarter of an hour on the clock, Avenue looked set to romp to a big win as the Robins' main weapon appeared to be the long ball.
The only player causing Avenue any problems at all was Elliot Newby, another player making his final appearance on loan.
He produced a sublime piece of skill just before the half-hour as he chest trapped a raking long ball from Sam Patterson and stepped inside before sending a low drive into the corner of Jon Worsnop's net from the edge of the area.
Unfortunately it was Newby who saw red just two minutes into the second half for an alleged elbow on Avenue winger Wayne Brooksby. Alti [sic] began to run the clock down from that minute on.
Their time-wasting tactics frustrated the home side and almost paid off, but ten minutes from time Johnson sent in a header that saw Robins' former Avenue keeper Tim Deasy clatter into his post as he tried to claw it out.
The ball came back off the woodwork and Hill side-footed in on the half-volley from three yards".
---
26 March 2017
In a rearranged game, Altrincham FC Youth are playing AFC Fylde at Flixton FC today (Sunday) at noon.
TASC announces... "Congratulations to the following winners, whose names were drawn in the TASC Goal Rush Draw held before Tuesday night's home match v Nuneaton Town.
10 Goals - No 36 Theo Langeveld
20 Goals - No 72 John Laidlar
30 Goals - No 7 Paul Salt
40 Goals - No 47 Dan Jones
50 Goals - No 82 Stan Riley
Each prize winner can choose one of three prizes and have been contacted direct".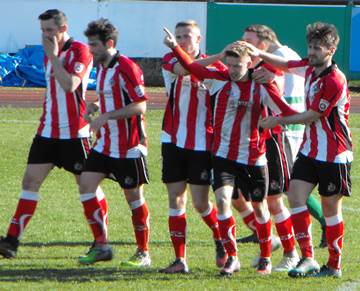 The outcome of this match was decided by one of the assistant referees who, barely two minutes into the second half, prevailed on referee Khatib to show Alty loanee Elliot Newby a red card for an alleged elbowing offence which few, if any, people in the ground had seen.
Newby, who had equalised for the visitors with a finely taken goal, was distraught at his dismissal. In his fifteen previous games for the Club he had not previously even seen a yellow card. And Alty, who started the game with nine players unavailable through injury, then lost Kyle Brownhill to an injury picked up in the first half.
Right: Elliot Newby is congratulated on his goal.
Alty had fallen behind, after 16 minutes, and, once more, it was a goal conceded to a counter-attack. Heathcote had just launched an excellent long, diagonal freekick to Newby, deep in the opposition half, only for BPA to gain possession and advance unhindered through the central midfield. Johnson was then put clear and he beat the exposed Deasy with a low shot.
The equalizer came in the 28th minute when another fine Heathcote freekick from his own half was excellently controlled by Newby. The Barrow loanee brought the ball under control before firing a low shot past Worsnop.
BPA got the winner ten minutes from time when a long-range header by Sharp beat Deasy and came back off the top of the upright and fell for Hill to put into the net.
Match report here.
It has been confirmed that Elliot Newby is returning to Barrow as his loan period at Alrincham expires.
Altrincham FC would like to thank Elliot for his excellent performances on behalf of the Club and to wish him well in his future career. He netted five goals in 14(+2) appearances during his loan spell.
Bradford Park Avenue
"made it two wins in a row with a 2-1 victory over 10-man Altrincham...
Just after the restart, Newby was shown a straight red card for an off the ball incident, and eventually Matt Hill scored the winner with 10 minutes to play, knocking the ball home after a Tim Deasy save fell into his path... Bradford [took] the lead on 16 minutes, after some excellent play by Hibbs. The on-loan full back won the ball back on the edge of his own box and went on a great run through the heart of the pitch, before slotting a great pass through to Johnson who finished into the bottom corner when one-on-one...
The visitors drew level thanks to a well-taken goal from Newby. Ex-Avenue player Sam Patterson fired a long ball across the pitch which was superbly controlled by Newby, cutting inside before he curled a brilliant finish into the bottom corner from 18 yards. Bradford were shook [sic], but should have gone back in front when Johnson nicked past Andy McWilliams to get into the area, but with time and space he fired wildly over the bar..
Just after half time came the huge talking point of the match as goalscorer Newby was shown a straight red card. He and Brooksby were chasing a ball in the corner and the Newby appeared to swing an elbow into the face of the Bradford winger, the incident was missed by referee Billy Khatib but, after a conversation with the linesman, a straight red card was produced...
The hosts retook the lead though with 10 minutes to play, as substitute Chris Sharp sent a brilliant looping header towards the top corner, Deasy managed to tip the ball onto the post, but left back Hill followed in and knocked the ball into the unguarded goal. There was almost late drama as Altrincham were allowed time to take a corner six minutes in to the [minimum of] four minutes of added time, James Knowles having to head off the line from Sam Patterson's looping effort. But ultimately a dominant performance earned Mark Bower's side an important three points".
Att: 1242 Boston United 2 v 0 Salford City
Att: 367 Brackley Town 2 v 1 AFC Telford Utd
Att: 516 Bradford Park Avenue 2 v 1
Att: 1146 Chorley 0 v 3 Curzon Ashton
Att: 3149 FC United Of Manchester 0 v 3 FC Halifax Town
Att: 744 Gainsborough Trinity 3 v 3 Darlington 1883
Att: 435 Gloucester City 4 v 0 Alfreton Town
Att: 2012 Kidderminster Harriers 1 v 0 Harrogate Town
Att: 480 Nuneaton Town 4 v 1 AFC Fylde
Att: 268 at Altrincham FC, Stalybridge Celtic 0 v 1 Worcester City
Att: 3349 Stockport County 2 v 1 Tamworth
Alty travel to Salford City next Saturday.
Boston United
report that the Pilgrims "ended their long wait for a Saturday home victory after claiming a 2-0 win over promotion-chasing Salford City... Their cause was aided by Brad Barnes's red card a minute before half-time, but the vibrant hosts turned in an excellent performance regardless to deny their high-flying visitors."
And the Boston Standard adds that "It was April 23 last year when the Pilgrims last managed [a home league win] but 11 months and 13 matches later those home supporters could finally pour out of the Jakemans Stadium knowing three points were finally in the bag... The win moved Boston 11 points clear of the drop zone...
There were no punches pulled in the opening stages, Ross Durrant called upon to make vital saves to deny former Pilgrim David Norris and Mike Phenix as the promotion-chasers looked for an early breakthrough... Boston were in front at home on a Saturday for the first time since April 9 last year, when they recorded a 3-0 win against a Bradford Park Avenue side forced to field keeper Liam Dickinson in goal.
The goal took took the sting out of the game, but Salford went close to equalising... A minute before the interval, Salford's hopes of victory took another setback as Brad Barnes was sent off for his second booking in as many minutes. After picking up a first yellow card his second arrived for an outstretched arm which sent Vince to the floor.
The second half began with the Ammies on the front foot... Boston finally got that cushion of a second goal in the 73rd minute as Brown met yet another inviting corner from Adam Chapman, powering his header into the back of the net... Salford threw caution to the wind and created a flurry of late chances as they looked for a way back...
SALFORD: Lynch, Nottingham, Brough, Burton, Grand, Priestley, Hine (Panayiotou 64), Barnes, Phenix, Norris (King 64), Allen (Haughton 56); Subs (not used): Howson, Walker".
The
Vanarama National League North
reports that "leaders AFC Fylde suffered a first defeat in seven games on Saturday, an although second-placed Kidderminster Harriers won, the Coasters still hold a very healthy six-point lead at the top of the table.
The leaders found inconsistent Nuneaton Town in their best form as Tommy Wright`s side ran out unexpectedly comfortable 4-1 winners at Liberty Way. The game was all-but won in the opening half as Boro led through goals from Billy Daniels after 27 minutes, Kelvin Langmead on 40 minutes and Ashley Chambers a minute before the whistle. The Coasters could only manage a Bohan Dixon response on 66 minutes, with Coventry City loanee Devon Kelly-Evans adding the hosts` fourth in stoppage time.
Andre Brown's 88th minute winner saw Kidderminster to all three points at Aggborough against Harrogate Town. Harrogate looked to be on their way to a seventh away game unbeaten, only for Brown to loop a finish over Peter Crook and in with just 2 minutes left to play.
The race for the play-off places is still extremely tight. FC Halifax Town are now third, level on points with Salford City, who suffered a 2-0 defeat at Boston United. The Shaymen won 3-0 at Broadhurst Park in front of a crowd of 3,149 against FC United of Manchester. New signing Dion Charles gave the visitors a 10th minute lead that Jordan Sinnott doubled after 42 minutes. And a third from Liam King a minute before half-time gave FC United a mountain they were unable to climb in the second half.
Amazingly, Boston United won their first Saturday game at the Jakemans' Stadium since April last year when beating Salford 2-0!...
Stockport County leapt into fifth spot after a defeat for Chorley and a draw for Darlington 1883. Stockport came from behind to beat another top five hopeful Tamworth by the odd goal in three at Edgeley Park in front of a crowd of 3,349...
Darlington had to make a late comeback to earn a point at the Northolme against relegation-threatened Gainsborough Trinity. It was the Quakers who took a 12th minute lead through Mark Beck. But the hosts led 3-1 with goals from Matt Wilson after 33 minutes, Ashley Worsfold a minute later and then Chib Chilaka 6 minutes into the second half. David Syers reduced the deficit to just one in the 76th minute, but it took a second from the same player 7 minutes into stoppage time to rescue a point for north east outfit.
Chorley are suffering a dip in form at just the wrong time as a disappointing 3-0 Victory Park defeat to mid-table Curzon Ashton was the Magpies third game without a win. In front of 1,146, Jamie Stott gave the Tamesiders an early 9th minute lead that Niall Cummins doubled 5 minutes later. And The Nash found themselves three-up with only 33 minutes gone on the clock with a second for Cummins. The Magpies tried hard to get back into the game without managing to trouble the scorers.
Brackley Town`s outside chances of making the top five were boosted by results above them and their 2-1 win over relegation-threatened AFC Telford United at St James`s Park. The Bucks, who have now lost their last four league games, were caught out by a two-goal burst just before the interval...
Gloucester City are also still just about in with an outside shout after a comfortable 4-0 win against Alfreton Town at Whaddon Road. It was a game to remember for Zack Kotwica as he struck a hat-trick for City...
Bradford Park Avenue moved six points clear of the drop zone after virtually sealing Altrincham`s fate in a 2-1 win at the Horsfall Stadium. Defeat means the Robins are sixteen points behind current fourth-bottom side Worcester City with only eighteen points left to fight for...
Worcester's eighteen-match winless streak came to an end as they claimed a valuable 1-0 win against Stalybridge Celtic in a game played at Altrincham's Moss Lane due to problems with Celtic's Bower Fold pitch. Jordan Murphy scored the crucial goal 3 minutes into the second half".
---
25 March 2017
Sat 25 March
Boston United 2-0 Salford City
Brackley Town 2-1 AFC Telford Utd
Bradford Park Avenue 2-1 Altrincham
Chorley 0-3 Curzon Ashton
FC United of Manchester 0-3 FC Halifax Town
Gainsborough Trinity 3-3 Darlington 1883
Gloucester City 4-0 Alfreton Town
Kidderminster Harriers 1-0 Harrogate Town
Nuneaton Town 4-1 AFC Fylde
Stalybridge Celtic 0-1 Worcester City (at Altrincham FC)
Stockport County 0-3 Tamworth
You can follow this fixture via this website's minute by minute text updates by clicking on the icon below. Alternatively, Radio Robins' coverage of the game is outlined below as well.
Brian Flynn announces that "Radio Robins, sponsored by Ashley Mowers Garden Machinery, is providing full live commentary of Saturday's game.
Coverage starts at 2.55pm and you can listen to Radio Robins here.
"We promised at the strategic review that we would make sure supporters are better informed of major developments. Therefore, the board of Altrincham Football Club have issued the following news release:
'The position of Altrincham manager beyond this season was discussed by the board of directors at their monthly meeting, held earlier this week. The matter was given careful thought and consideration, and it was noted there has been an upturn in performances and, more recently, results since Matt Doughty and Robbie Lawton took charge in December.
Compared to the first half of the season, there have been welcome signs of greater organisation, spirit and endeavour on the pitch. However, it was felt by the board that this in itself did not justify the automatic re-appointment of Matt and Robbie for next season and that, to give us the optimum opportunity of recruiting the best possible candidate to take the club forward, the position should be advertised.
We will, therefore, be seeking external candidates to apply for the job, and we hope to draw up a shortlist from those who apply in time for interviews to be held early next month. That shortlist will include the current incumbents. Further details of this process will be released, once they have been finalised".
Today's opponents,
Bradford Park Avenue
"have signed versatile Jamie Spencer on loan from Huddersfield Town.
The central midfielder, who is equally comfortable in defence, joins Mark Bower's Avenue until the end of the season.
The loan deal for the 19-year-old was completed yesterday, on deadline day for player registrations this season.
Spencer was captain of Huddersfield's under-18 side last season, earning his first professional contract, lining up for the under-23s this term.
He joins Avenue not in unfamiliar surroundings, with his mother Jayne the club's Community Development Manager.
The tough tackler is available to make his debut in Bradford's home match with Altrincham on Saturday (March 25).
Meanwhile, Tom Davie has made his switch to Gainsborough Trinity permanent.
Davie had been on loan at Trinity until the penultimate game of the season, but he now joins them permanently".
As previously announced the Stalybridge Celtic v Worcester City match will be played at the J Davidson Stadium today (Saturday) at 3pm.
NL Pitchero
explained that "Stalybridge Celtic have moved tomorrow's fixture against Worcester City to Moss Lane. This is due to the pitch at their own stadium, Bower Fold being unavailable ahead of the relegation six-pointer.
Moss Lane, home of Altrincham FC, will play host to tomorrow's fixture with supporters paying normal Stalybridge Celtic admission fees of £12 for Adults and £7 for Concessions.
Fans wanting to attend the match can get a coach from Bower Fold to the game tomorrow which the club are putting on for free thanks to funding from the Golden Goal. It will depart from the ground at 1:30 pm...
The club's General manager Michael Beech explains the reason behind the move. He said, 'We've moved the game to Altrincham because the whole club firmly believes we have a chance of staying in the National League North.
'To have any chance of achieving that, we have to play on a Saturday instead of calling another game off at Bower Fold and rearranging it for a Thursday night in April, due to playing on all available Tuesdays now.
'We've had some shocking weather since November. It's felt like every time I look out of the window at Bower Fold it's raining. That's played a big part in calling our games off.'
While the club have seen some games being called off, Oldham Rugby League Football Club side has played its matches at Bower Fold. Beech believes their matches are important to Stalybridge Celtic.
He said, 'Of course rugby has an effect on the pitch. Any activity does. We're not a rich club, though. We cannot afford to turn away valuable income, which would be remiss of the club to do so'.
Beech went onto say that over the close season the club will be carrying out extensive remedial work on the playing surface."
Next Saturday, Altrincham travel to Moor Lane and the
NW Evening Mail
reports from Barrow that "Fringe forward Harry Panayiotou has joined Salford City on loan for the remainder of the season.
The 22-year-old St Kitts and Nevis international has been unable to break into the Barrow AFC first team since joining on a two-year deal in September.
Panayiotou has played just 17 minutes in the National League... Added to that are two appearances from the bench in the FA Trophy against Harrogate Town and Matlock Town and a single start, in the 3-1 Lancashire Senior Cup defeat to Rochdale last month.
The former Leicester City youngster joins a Salford side... with former AFC defender Simon Grand also part of the squad."
The Vanarama National League tells us that "Boston United have completed the signing of highly-rated utility player Jack Broadhead from Mickleover Sports on a contract until the summer of 2018. Meanwhile, midfielder Joe Fitzpatrick has left Boston by mutual consent after terminating his non-contract registration with the Pilgrims".
And "Harrogate Town manager Simon Weaver added Adam Porritt to his squad ahead of the deadline to go with his earlier signing, James King on loan from Bradford City"
In the North-East, Darlington Football Club "have allowed keeper Pete Jameson to go out on loan for the rest of the season to Northern League club South Shields... who have reached the finals of the FA Vase, Northern League Cup and Durham Challenge Cup, and are second in the league."
---
24 March 2017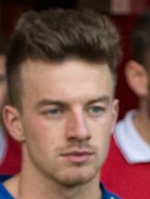 Altrincham FC Press & Media Officer, John Edwards, writes in the Sale & Altrincham Messenger that "Matt Doughty has launched a bold bid to hang on to Elliot Newby (right) and turn his highly-successful loan spell into a permanent transfer.
Newby is due back at Barrow next Friday after scoring four goals in his last six Altrincham appearances and impressing with his pace and direct approach in a three-month stay.
But, after being encouraged by his response in talks over his future, Doughty is seeking permission from Barrow boss Paul Cox to make the livewire winger a fully-fledged Alty player.
'I'll hopefully find out one way or the other in the next 24 hours, but I want to keep Elliot 100 per cent, and I'm doing everything I can to make it happen,' said the Alty manager. 'I have already spoken to Elliot about it, and he won't take any persuading. He has loved it here. I've given him the freedom to do what he wants in the final third, and he has been scoring goals and playing well.
'It won't be a further loan, if I have my way. We'll take his contract over, and he will become an Altrincham player but I need their manager to pick up his phone first! He's been blanking me, not picking up or answering my texts but I will get through to him, because I need to know what his plans are for Elliot.
'If he's not going to play him, I hope he'll let us keep him, because he has been a positive influence from day one and would be a real asset for us.'
Alty's injury problems continued to mount in Tuesday night's 3-1 home defeat to Nuneaton Town, with Sam Heathcote stretchered off, though keeper Stuart Tomlinson (groin) and striker Micah Evans (tonsillitis) should be available again at Bradford Park Avenue on Saturday.
'Sam took a whack on the leg and can't feel his calf,' said Doughty. 'As things stand, he doesn't seem to have much chance for Saturday. That's not how we've been the last seven or eight games, the way we defended tonight, but it's a blip we'll get over.'"
From Tuesday's
Robins' Review
, the recent "Edlines" column by chairman Grahame Rowley is reproduced below...
"In welcoming Nuneaton Town to The J.Davidson Stadium for tonight's Vanarama National League North fixture, I would like to send a message to the 29 supporters who left the ground after 15 minutes against Stalybridge Celtic on Saturday in protest against my chairmanship of this football club.
Firstly, I would like to reiterate, as stated last week, that I fully respect your right to take this course of action, but more importantly I want to take a positive step towards restoring harmony between us and ending the discord that so clearly exists.
Let me make it clear I fully intend continuing as chairman, with the full support of my fellow-directors, but let me also stress I want to do something about this sense of disenchantment that has taken root. I know grievances have been aired in various guises, but I want to hear them in person to see if we can find some common ground, settle any differences and move forward in unison.
As a supporter of this club, first and foremost, that is my dearest wish, so I am issuing an invitation here and now to members of the protest group to sit round a table with myself and perhaps some other board members, so we can listen to the issues you have, discuss them openly and honestly and do our utmost to resolve them.
Conflict can never be good for any business, football clubs included, and the last thing I want, as a fellow-Altrincham supporter, is for it to continue here any longer. Let's get together and sort things out. Someone get in touch, and we'll arrange it.
As a board, we are working extremely hard to turn around the predicament that we have found ourselves in, and there are signs at last that a recovery may finally be starting to take shape, given the way the players have responded to the promptings of Matt and Robbie in recent weeks.
Mistakes have been made - I'll hold my hands up to that and apologise for them - but the most important thing is to look to the future, and, with this in mind, we need the backing of every supporter if we are to attain our aims. I implore the disenchanted fans to put aside their grievances, continue to support the team which you do so fantastically well and let us achieve harmony throughout the club - it'll be a lot better place for everyone concerned. With that in mind, I look forward to hearing from you".
The
Telegraph & Argus
tells us that "Bradford Park Avenue's National League North survival bid was stalled in midweek following the late call off of their clash with promotion-chasing Darlington 1883 due to a waterlogged pitch.
Now Mark Bower's men face a totally different test as they host bottom team Altrincham. Avenue had endured three league defeats on the spin before last weekend's 3-1 away win at fellow strugglers AFC Telford United, where Wayne Brooksby netted a hat-trick.
Saturday's match kicks off a run of important games which sees them tackling Alfreton Town and FC United of Manchester, two teams who are both within reach in the table... Following last Saturday's return to winning ways... Avenue boss Bower said... 'It's vital for the club to stay in the National League set up and then look towards next season'.
Bower has transformed Avenue's prospects of achieving that short term goal since his arrival and his side have double the points total of their visitors who have played one game more at this stage. Altrincham are 13 points below the current safety line but have beaten both Boston United and Worcester City, clubs either side of Avenue in the table, in their last six games.
The visitors have two former Avenue men in their ranks, keeper Tim Deasy and striker Damian Reeves".
The
Vanarama National League
confirms that the postponed league match, Stalybridge Celtic v Worcester City, has been rescheduled for 25th March, kick-off 3pm and "is now taking place at Altrincham FC."
The National League has announced that there will be a one-minute silence at all matches played on Saturday to honour those killed and injured in this week's terrorist attack at Westminster.
The National League tells us that "FC Halifax Town have signed midfielder Joel Logan on loan from Guiseley AFC until the end of the season. Logan came through the youth ranks at Rochdale and has had loan spells at Stalybridge Celtic, Southport and Wrexham...
Meanwhile, Town youngster Isaac Baldwin has joined Spennymoor Town on loan until the end of the season."
At AFC Telford United, "It has been a busy Transfer Deadline for AFC Telford United with the Bucks making four additions to the squad. The club have completed the signing of Daniel Westwood from Wolverhampton Sporting CFC. The 25-year-old plays in the West Midlands Regional League Premier Division for Wolverhampton Sporting but has an impressive goal scoring record having scored over 100 goals during his 18-month stint with the club...
The Bucks have also completed the loan signing of 24-year-old forward John Marsden from Stockport County until the end of the season. John started his career with Wrexham before joining Scottish giants Celtic at the age of 16, but he was unlucky with injuries in Glasgow, which hampered his progress at that time. Marsden enjoyed spells at Stoke City, Shrewsbury Town, and Southport before joining Macclesfield in 2015. During the 2015/16 season, John scored 11 goals in just 22 appearances, despite only arriving at Stockport County midway through the campaign from Colwyn Bay.
Joe Fitpatrick has rejoined the club following his release from Boston United.
The club have also agreed the loan extension of Callum Burton from Shrewsbury Town till the end of the season. Marsden, Westwood, Fitpatrick and Burton will all join the squad for training this evening".
More on this comes from Stockport County which confirms that "Striker John Marsden has today joined AFC Telford on loan for one month" and adds that "Also leaving on loan for a month is Ryan Ellison who is taking the opportunity to get game time at Trafford FC".
According to Kidderminster Harriers, "Boss John Eustace has added two new versatile faces to his squad on what has been a busy day of activity at Aggborough Stadium. A deadline on all new registrations for clubs outside the standard transfer window passed at 5pm toda...
Coming into Aggborough is Emmanuel Sonupe, a 21-year-old winger who joins us on loan for the rest of the season from Northampton Town. He's joined at the club by another new face in versatile defender, Josh Webb. Josh is also 21 and joins us having parted company with Kilmarnock...
Meanwhile, leaving Harriers on loan are Tom Palmer and [ex-Alty loanee] Wayne Thomas.
Teenage goalkeeper Tom joins Stourport Swifts on loan until the end of the season as he looks to pick up some first-team experience, while Thomas is linking up with Stratford Town for some game time. Thomas will continue working with our U19s side and Academy set-up while adding some more experience to the Town side, where other Harriers players George Forsyth and James Hancocks are also on loan. Additionally, midfielder Ben Clarke is to remain at Halesowen Town until the end of the season".
---
23 March 2017
With the tagline "A Fiver Off" Bradford Park Avenue is running a promotional offer for this Saturday's game against Altrincham. So, admission prices will be just £6 for adults, £3 for over-60s and £1 for under-18s and for students (on production of ID).
Timings and fares for TASC supporters' travel to Bradford trip are on the Away Travel page. Please book by ringing the club on (0161) 928-1045 during normal office hours.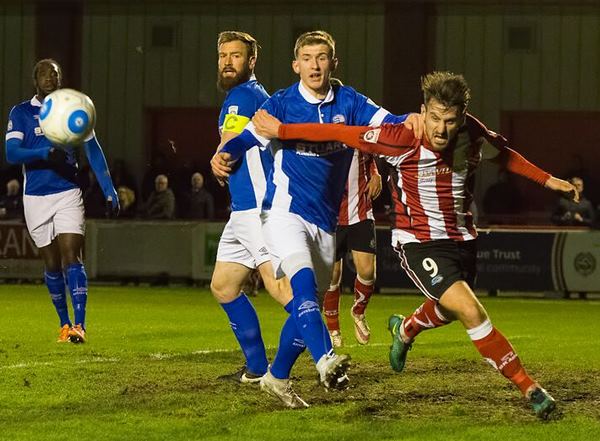 Above: As ever Simon Richman battled for everything on Tuesday night. Here he is seen by the camera of Michael Ripley.
Nuneaton Town report that they "returned to winning ways on Tuesday evening with a 3-1 success at Altrincham.
'We were all disappointed about our second half display in the previous game at Curzon Ashton,' said manager, Tommy Wright. 'The beauty of football is that you get an opportunity to put things right and I asked the lads for a response at Altrincham. As in the previous game, we started really brightly and went in at the break deservedly two goals to the good following some pleasing play.
'Again we started slowly after the restart and conceded an early goal to make it nervy, but we rolled our sleeves up and worked hard to get back into it and grab a crucial third goal.
'It was a deserved win in the end. There were plenty of positives to come out of the game, particularly the performance of Billy Daniels, who has been outstanding since his return to the team'".
Vanarama National League North.
Darlington 1883 P=P Bradford Park Avenue (waterlogged pitch).
According to
NL Pitchero
, "Relegation battlers Stalybridge Celtic have signed former Southport player-manager Andy Bishop. The former England C international striker started his career in the youth team at Walsall, taking loan spells with Kidderminster Harriers, Rochdale and Yeovil Town.
He was released by Walsall in 2004 and joined York City ... before signing for Bury... Following this he enjoyed a successful spell at Wrexham and was player-manager of Southport before losing his post and joining Hyde in September 2016. Stalybridge have also signed striker or midfielder in Liam Tongue on dual terms with Cheadle Town... He began his playing days with Manchester League club Stockport Georgians before joining Cheadle for the first time.
He was snapped up by Mossley AFC in March 2016 but re-joined Cheadle last summer and has scored 7 goals this season to date."
In its midweek review, the Vanarama National League North reports that "AFC Fylde were held to a draw at Mill Farm on Tuesday night to give fresh hope to the chasing pack.
In front of an excellent crowd of 2,489, including a good number from Stockport County, an end-to-end encounter surprisingly finished goalless to leave the Coasters nine points in front of second-placed Kidderminster Harriers, who won a thriller at Tamworth...
It was an amazing game at The Lamb where the hosts... raced into a 2-0 lead with goals from Dan Newton after 25 minutes and Reece Styche 7 minutes later... But new signing from Nuneaton Town, Joe Ironside, gave Harriers a lifeline seconds before the half-time whistle.
Just past the hour-mark, Tyrone Williams pulled the visitors back on level terms and with 15 minutes left, Ironside scored his second to give Harriers a 3-2 lead.But in the 87th minute, Ellis Deeney grabbed what looked like being a valuable point for the Lambs. However, Harriers went in search of a winner and found [one] as a James McQuilkin delivery was powered home by the skipper Keith Lowe in the second minute of stoppage time.
An equaliser in the 4th minute of time added on was probably more than third-placed Salford City deserved following an undistinguished performance against the team immediately below them, Chorley, but Michael Nottingham's dramatic leveller might just turn out to be one of the key goals of the season...
FC Halifax Town moved into the top five after a 2-1 win at The Shay against third-bottom Gainsborough Trinity. However, the strugglers made it tough for the Shaymen and took a 21st minute lead through Jordan Thewlis. And they held that lead until 8 minutes into the second half when the home side`s four-and-a-half-hour wait for a home goal finally came to an end and ironically it was an own goal attributed to Trinity debutant Chris Salt. Then 9 minutes from time, Adam Morgan's late strike means the Shaymen retain their place in the play-offs.
An early 2nd minute goal from Lee Ndlovu and a 67th minute winner from Matthew Barnes-Homer were enough to give Brackley Town the three points at the Victoria Ground against fourth-bottom Worcester City....
Boston United left Alfreton Town empty-handed on after failing to convert their supremacy into goals at the Impact Arena. The Pilgrims went down to Liam Hearn's 41st minute header after seeing numerous chances go begging".
Before the match was postponed, the National League reported that "Goalkeeper Adam Bartlett will make his debut for promotion-chasers Darlington 1883 after joining from Hartlepool United.
The experienced keeper left Pools to take up a role coaching in Middlesbrough's academy, but the 31-year-old is to continue playing for the Quakers... Bartlett, who has been on the Pools bench in recent weeks having lost his place to Joe Fryer, has racked up a career total of 343 games with the likes of Blyth Spartans, Kidderminster Harriers and Hereford United and was with home-town club Gateshead for three years before joining Hartlepool in 2015, making twenty-nine appearances for the League Two outfit.
Bartlett will become the fifth goalkeeper Darlington have used this season."
And, the National League confirms that "Tomorrow [Thursday] afternoon on 5'clock the door shuts on ALL player registrations".
"Workington AFC has retained its B Grading after completing work recommended following the latest ground inspection. Reds had to have the work completed by 31st March to retain B status which is the requirement for Level 2.
The work carried out included:
Extra seating in the Directors' and press box area
Several areas of the perimeter fence needed infill replacement
Removal of tin sheeting on one of the Town End entrances
New path from the Town End turnstiles to the terraces
Old floodlight bases removed
Additional exit signs installed in the Town End area of the ground
To ensure the Derwent End toilets were functional after recent vandalism.
News from our next opponents appeared before their Tuesday game at Darlington was postponed...
Bradford Park Avenue states that "manager Mark Bower says he wanted a reaction from his side after last week's disappointing defeat at Stalybridge.
Bower certainly got that, as a Wayne Brooksby hat-trick led Bradford to a 3-1 victory away at fellow strugglers AFC Telford United. The win opened up a four point gap between Bradford and the bottom three...
Bower said, 'Prior to Saturday, we'd been disappointed with the last three results... We've got to just keep chipping away, making that gap between us and the bottom three bigger. The gap is the biggest it has been all season, we're progressing and we've got to keep that going...
'I don't think anyone expected us to play like we did at Stalybridge but these things can happen... It's how you bounce back and the lads performed brilliantly on Saturday...
'It's a difficult job we've come into. When you're progressing, you don't just progress in a straight line, you get ups and downs along the way... We are moving in the right direction but I'm sure there will be a few more setbacks before the end of the season'...
Brooksby netted a well-taken treble... 'We got him on the ball a little bit before weathering a little bit of a storm from them... He's probably been a little bit unlucky in his time with us so far, but four goals in a week shows what he's all about. Like a lot of wingers, he's a confidence player, and he's playing with a lot of confidence at the minute...
'We chose to play Adam Nowakowski in front of the back four and he did a big job for us stopping the ball getting to their strikers, and Emile Sinclair came in up front. He was vital to us at the weekend, when Telford put pressure on us Emile was our outlet, getting us up the pitch and playing in their half.
'It was a big performance from Emile I thought he was outstanding for us, probably another one who thrived on the space from the pitch and the room he had to get in behind...
'The Stalybridge game was a different type of task for our defence," Bower explained. We came up against something rare in this league, small lads who had pace and got in behind us and caused us problems that way... I thought Hibbsy (Jake Hibbs) especially did excellently for us, coming in at right back...
'And Hilly (Matt Hill) as well, doing an 80-yard run tracking back in the 93rd minute, everyone defended superbly'...
Hibbs came in at right back for the previously ever-present Ryan Toulson, and the manager explained his decision. 'We had to make some changes after Tuesday night,' Bower stated. 'To be honest, if we had another 11 players we'd probably have changed all of them... We just freshened the side up a little bit.
'Tully is a player that I've had for a while and I know that I'll get a good reaction from him... Sometimes a game or two out of the side will do you a world of good and I'm sure Tully will come back in before long'" added Bower.
The Vanarama National League North Play-Off dates are, as follows:
Play-Off Semi-Finals
Wednesday 3rd May: 1st leg: 5th place vs 2nd place and 4th place v 3rd place - Kick Off 7.45pm
Sunday 7th May: 2nd leg: 2nd place vs 5th place and 3rd place v 4th place - Kick Off 3.00pm
Promotion Final
Saturday 13th May on the ground of the club finishing highest in the League - Kick Off 3.00pm
---
22 March 2017
After a decent run of form (eight points from six games), Altrincham were brought down to earth with this very disappointing defeat by Nuneaton Town. The evening started badly with seven players out injured and it got worse. Before kick off, goalkeeper Stuart Tomlinson had been added to the casualty roll-call, joining Shaun Densmore, Sean Miller, Craig Hobson, Tom Hannigan, Tim Deasy and Micah Evans on the list of those sidelined. And although Nicky Clee was fit to play tonight, Sam Heathcote was to be stretchered off before half-time...
Match report here.
Tue 21 March
AFC Fylde 0-0 Stockport County
Alfreton Town 1-0 Boston United
Altrincham 1-3 Nuneaton Town
FC Halifax Town 2-1 Gainsborough Trinity
Salford City 1-1 Chorley
Stalybridge Celtic P-P Harrogate Town (waterlogged pitch)
Tamworth 3-4 Kidderminster Harriers
Worcester City 1-2 Brackley Town
Wed 22 March
Darlington 1883 v Bradford Park Avenue
On Tuesday, the
Vanarama National League
confirmed that "Jordan Nicholson has been recalled from his loan spell with Nuneaton Town by Peterborough United.
'He has another year on his contract at Peterborough and, with his form here, they have decided that they want to have a look at him', admitted manager, Tommy Wright. 'He has been outstanding for me since I took charge with 13 goals in my nineteen games at the helm.
'His character is infectious and he is very popular in the dressing room. He's one of those players that you love going into work every day to see play football. Characters like him are so important for morale at clubs and, as such, he will be missed both on and off the field.
'This news is a blow to us, especially after losing Joe Ironside to Kidderminster Harriers as well, and we need the players and fans to stick together and pull as one, especially heading into tonight's game at Altrincham.
'We wish Jordan well for the rest of the season. He's a player that I will be keeping in touch with and I'll be closely monitoring his situation at Peterborough. There is still a lot of quality in the squad; there are a few of the lads under-performing at the moment and now is the time for them to stand up and be counted'".
Meanwhile "Kidderminster Harriers have announced the signing of striker Joe Ironside from league rivals Nuneaton Town. The 23-year-old forward has inked a long-term deal at Aggborough that ties him to the club until the summer of 2019.
The hit man already has 18 goals to his name so far this campaign in all competitions and goes straight into the squad for tonight's match at Tamworth.
A former Sheffield United youth prospect, Ironside spent three years with the Blades, picking up non-League experience with the likes of FC Halifax Town and Harrogate Town before moving to Afreton Town and, just over year ago, Nuneaton...
Despite attentions from teams above Harriers in the National League North and National League, Ironside has opted to make the switch to Aggborough.
The transfer has been completed only thanks to the 'Crowdfunder Give It 100% Campaign' held earlier this year, raising £10,000. This has enabled Harriers to pay a five-figure fee to Nuneaton for Ironside's services.
Chairman Colin Gordon added, 'As a football club we are not cash-rich and as such, without the Crowdfunder money, we wouldn't be able to bring Joe here. A lot of work has gone into signing him and our supporters should be in no doubt as to how much they've made this possible'".
Over at Boston United, "Defender Joe Maguire has joined Buxton on loan for the remainder of the season.
The 25-year-old, who has not played for the Pilgrims since December 17, will remain at Silverlands until the completion of the campaign, including the play-offs if Martin McIntosh's side qualify. Maguire has three goals to his credit in 23 appearances for United."
---
21 March 2017
Altrincham FC Press & Media Officer, John Edwards, writes, "In his
Edlines
column in tonight's Robins' Review, chairman Grahame Rowley has a special message for the supporters who left the ground after 15 minutes of Saturday's Vanarama National League North game against Stalybridge Celtic.
Also in the Review, Shaun Densmore reflects on the goalless draw against Stalybridge, in his Captain's Chat column, while a legendary name from Alty's recent past makes a guest appearance for the Players' team in the What's The Score? predictions competition. The Robins' Review will be available inside the ground prior to kick-off against Nuneaton Town, priced £2.50.
Nuneaton Town will be without two players tonight. Jordan Nicholson has been recalled by parent club, Peterborough United, whilst Joe Ironside has been transferred to Kidderminster Harriers for a five-figure sum... More on this in tonight's update.
Despite the rain of recent days, the pitch at the J Davidson Stadium does not require a pre-match pitch inspection and the game, tonight, against Nuneaton Town is therefore will go ahead as planned (7.45pm).
TASC's Paul Salt writes that "Altrincham's recent one goal victory over Boston took Altrincham's total goal tally to 51 in all competitions. As a consequence, TASC will be conducting the draws for each 10-goal benchmark achieved so far this season.
The draws will take place in the Community Sports Hall, prior to kick off, before Altrincham's next home game against Nuneaton Town on Tuesday evening.
Each winning entry will be able to chose from one of three prizes, namely
Two tickets for a forthcoming Altrincham FC home game
Free away travel on the TASC organised coach travel
A signed photograph of your favourite Altrincham player.
Nuneaton Town
tell us that "Boro have an immediate opportunity to bounce back from Saturday's disappointing defeat at Curzon Ashton as we travel to bottom of the table, Altrincham, on Tuesday evening.
Having taken an early lead at the weekend courtesy of a fine goal from Ashley Chambers, we failed to take advantage of being on top for the majority of the opening period.
'You need to make it count when you are on top,' said manager, Tommy Wright. 'We created plenty of chances during the first half but we failed to take them and were made to pay after the break. We were well on top during that first half and should not have let them have any chance of getting back into the match, but we were poor after the break and conceded two very sloppy goals.
'To concede from a set-piece is even more disappointing, but we have a young group here who will learn from this and I have every faith in them to bounce back in the right way. We have an instant opportunity with our game at Altrincham. It's a chance for us to show that we are learning and moving in the right direction.'"
Curzon Ashton P-P FC United of Manchester. Waterlogged pitch.
The recent game against Brackley Town was
Darlington 1883
's "seventh game back in Darlington and since Boxing Day the Board has been continuing to work hard to improve the match day experience. I know a lot has been said on social media over the last few weeks about the football club's relationship with the rugby club, unfortunately most of it is false and baseless, and some of it comes from people who should know better and unfortunately don't know the facts.
'What everyone has to remember is both the board of Darlington FC and the committee of the rugby club are all volunteers, so we are all time-precious, arranging meetings whenever we can afford the time to discuss the key issues and build on the relationship. Getting everybody together in one place on a regular basis is not that easy. Since the first match on Boxing Day both clubs have worked together to try and improve the experience whilst not alienating some people who have called Blackwell Meadows their home for over 25 years. Comparing the first game and where we are now... progression is not any different to that in business and in our personal lives if we think hard about it.
We have lots of further ways we will improve the relationship but we need your help to cement it. Please do not snipe, it's not helpful...
We are now also planning for next season with the launch of our season tickets. We have launched the season tickets in March in line with many other football clubs so we can estimate the demand and start to set budgets for next season. We have looked to reward fans who commit early and have frozen the price of standing tickets for the third year running. Once the 15th April deadline passes we will be applying pricing for next season which will be dependant on which league we are playing in.
Martin's budget for next season... will be based upon our season ticket receipts as we look to consolidate our finances after a number of challenging years... We need your help, we continuously need volunteers to run our club both on a match day and through commercial and other off the field activities".
At Gainsborough Trinity, "captain Matt Wilson has issued a rallying call to his teammates... Central defender Wilson spoke out after the National League North side lost 1-0 at Tamworth on Saturday to leave Trinity in the relegation zone...
Wilson said, 'We need to believe. As a team we need to regroup. We can't dwell on the past. We have got to keep going and we have got to get out of this dogfight... We had a good game last week against Fylde, but today we slipped back into bad habits and those bad habits are not going to get us higher in the league...
'We don't seem to be creating many chances, but the one or two we do create we need to be putting away... We found it difficult to keep hold of the ball and it kept on coming back at us', he added...
'I suppose we are getting more solid at the back. We just need to squeeze those lines a little bit better, not just between defence and midfield, but between midfield and attack, get the banks of four in and go back to basics'".
From Alfreton Town we learn that the Reds "won their second home game in a row on Saturday with an excellent win over FC United of Manchester to move seven points clear of the relegation zone and move up to 16th place in the Vanarama National League North table... The Reds are at home again this Tuesday when Boston United visit the Impact Arena kick off 7-45 pm."
---
---