an unofficial Altrincham FC website
OPTIONAL DROPDOWN MENU - HERE
---
NEXT MATCH: Season 2020-21
Home/Away v TBA
Vanarama National League North match
---
---
ALTY HEADLINES
OTHER HEADLINES
---
2 June 2020
Grahame Rowley has confirmed that his tenure as Chairman of Altrincham FC ended on 31 May 2020 and that the co-Chairmen in waiting, Bill Waterson and Lawrence Looney have jointly assumed the chairmanship role from 1 June 2020.
Grahame's statement to this effect and his review of his time as a member and as chairman of the Board is on the official Altrincham FC website. As reported yesterday, Grahame is now becoming the President of Altrincham Football Club.
Grahame is pictured, right, at the time of the appointment of Lee Sinnott in 2011.
At the time of his apppointment as chairman, press officer John Edwards wrote the following in the Sale & Altrincham Messenger, which was reported on the website on 16 September 2010.
"New chairman Grahame Rowley vowed to keep Altrincham moving in the right direction, despite having to cope with the loss of boardroom boss Geoff Goodwin and team manager Graham Heathcote in the space of a few hours.
Goodwin bowed to outside pressures and stood down as chairman on Monday afternoon, while Heathcote's eight-year reign as manager ended by mutual consent at a board meeting later that evening.
While many clubs may have been left in disarray by the departure of two such prominent figures, Rowley is convinced Alty are on a sound enough footing to maintain the progress of recent seasons on and off the pitch.
Confirmed as Goodwin's successor at a meeting which also handed temporary control of team affairs to Heathcote's assistant Ken McKenna, Rowley said: 'Geoff's decision has been coming for a while, because of pressure at work and the need to find time for some sort of home life.
'His company has been taking on more bus routes, as well as their luxury coach service, and he has been heading into his office at 5.30 every morning. His son has been making great strides at kart racing as well, and, naturally enough, he has taken a close interest in that. He told me he felt guilty about not being able to devote more time to Altrincham, but he has nothing to reproach himself over after all he has done for this club.
'When he took over in 2002, and formed a new board with me and Andrew Shaw, we inherited a debt of £650,000 and were on the point of going bust. We didn't know each other, and were different characters from different backgrounds, but the shareholders proposed us for the job, and we set about making it work.
'During the course of that, close relationships were formed. We all got on really well, and though the prospects looked extremely bleak at the outset, sheer hard work got us through. We sold advertising space round the ground and in the programme and organised fund-raising events, sporting dinners and Christmas do's, chipping away at the debt all the while. Selling the car park a couple of years ago for house building also made a big difference, and finally we managed to pay it all off.
'You see some clubs going into administration at the drop of a hat these days, then re-forming, but that was never our intention. It may have been the easy way out, but we can hold our heads high and say we repaid every penny to anyone we were in debt to. Everyone who played a part in getting us back on our feet is entitled to feel extremely proud about that.
'There were times when you wondered if you would ever reach the end of it, and it was a huge relief to be able to say "mission accomplished". It's what this club is all about, too, doing things the right way. It was sad to see Geoff go, after the times we've had together, but I share the same values as him and will try and ensure the club continues to be run within its means.
'I was voted in as chairman at the meeting on Monday, and I can't tell you how proud I am of that. I am Altrincham born and bred and have supported the club since I was six-years old. To be given the honour of taking up the mantle is something I'll never forget and has to be one of the proudest moments of my life. It's not going to be easy following Geoff, but at least this gives us some continuity. Geoff, Andrew and myself have always sung from the same hymnsheet, and the aim will be to carry on in the same sensible, hard-working way as before'".
Gloucester City
"confirm our first new signing with the acquisition of goalkeeper and First Team coach Jake Cole. Cole, who is 34, joins fellow teammate Luke Pennell in making the switch from Maidstone United and also joins the Club as first team coach.
London-born Jake started his career in the Championship with Queens Park Rangers, playing six times for the R's in between spells on loan at Hayes, AFC Wimbledon, Oxford United and Barnet. In 2009 he joined Barnet permanently and appeared for the Bees 87 times in League Two.
After his time in North London Cole transferred to Plymouth Argyle in 2011, establishing himself as their first choice keeper. After three seasons and 91 games for Argyle in League Two, he then went into the National League with Woking and then later Aldershot. Cole spent last season in the National South at Maidstone, playing 28 times for the Stones.
Co-Chairman Alex Petheram stated 'Jake is someone I've seen play a number of times from my Plymouth days so, when James suggested him, I thought, wow this could really work well. Jake has the experience and contacts in the game that tick a lot of boxes as First Team coach. He'll also be able help develop not only keepers like Niall but the young talent within our youth team and ladies set up. At 34 he's a great age for a goalkeeper, I just couldn't see a negative in bringing him in.
'Jake also knows Matty, Luke, Fabien and Bernard from days gone by, so I'm hoping he settles in quickly both on and off the field'...
'I'm looking forward to a new challenge in the role given to me by the gaffer. It'll be good to link up with some former teammates'", said Cole.
Meanwhile, https://www.farsleyceltic.com/news/luke-parkin-extends-citadel-stay-2539647.html">Farsley Celtic "announce that Luke Parkin will remain with the club next season after exercising an option in his contract. Parkin, who joined from Brighouse Town in 2017, was an integral part of the squad that won the Northern Premier League and has made 136 appearances across his three seasons with the club, scoring 17 goals.
The 24-year-old is looking forward to spending another season at the Citadel, as he said 'I have been here for three years and loved every minute to be honest, I'm sure you have heard it from many of the lads but the dressing room is unbelievable, and that's what has been so good for three years. I thought we did really well in our first year in the National League North, after being tipped to go down at the start, to finishing mid-table with a chance of the playoffs, I don't think you could argue with that.
'I did have a month on loan at Tadcaster which was a strange one, because I went to play some games and ended up only playing two because the weather saw four cancelled. So it was frustrating, but coming back to Farsley made me realise how much I love it here...
'Next season I want to play as many games as possible to help the team... There's no reason why we can't finish in the playoffs' [next season].
Farsley Manager Adam Lakeland... added 'Luke has become an important member of the group and always gives his all on the pitch. He's incredibly popular with his teammates and possesses great ability. Sometimes the way in which we set the team up last season resulted in him missing out more than he would like, but he understood that'".
The Boston Standard reports that "Matt Challoner could still make his Boston United debut, despite signing for Southport. The defender joined the Pilgrims in March after leaving National League side Chorley, but has not featured for the club.
He linked up with his new teammates for one training session before contests... were postponed due to the COVID-19 outbreak... On Friday United's league rivals Southport announced that Challoner had signed a contract to spend next season at the Pure Stadium.
However, with the prospect of Boston still being involved in some form of play-offs, the right back's contract was extended and he is still, at present, a Pilgrims player. Challoner will be a Southport player next term, but the FA will not rubber stamp the move until Boston's campaign is officially over.
United boss Craig Elliott has not ruled out Challoner featuring, if Boston's season is still to be completed. 'He's still technically our player and still with the club,' he told The Standard. 'I think that's down to the individual and whether they want to play. He's agreed to join Southport and I don't know what his thought process is in terms of whether he would want to play as he knows he won't be here next year.
'I think that there will have to be a bit more flexibility if we are to play play-offs. It's been a strange time for players but we want to know what their commitment to Boston United will be.'
'Players are talking to clubs and other teams are doing business and I'm not able to retain or release players at the moment. We're stuck in limbo,' added Elliott... 'It's something we've not seen before and we have to look at the best way to manage that. It's frustrating when you don't know if we're working towards finishing this season or preparing for a new one. I think it's obvious we're waiting to see what divisions above do and we'll take the lead from that. But it's frustrating not knowing what that decision is.
'I do hope there's an opportunity to try to finish off what we've started.'
Loanees Simon Ainge, Jake Wright, Frank Mulhern and Jordan Nicholson should be eligible to feature for United in play-off contests as they were available for selection when the campaign was concluded. But they would need to be free agents and agree to sign short-term deals."
At Bradford (Park Avenue) "Isaac Marriott has agreed a pre-contract agreement to join the Avenue for next season when his current deal with Huddersfield Town expires. The dynamic and energetic midfielder has been part of the Huddersfield elite academy set up since he was 9 years old, and benefits from the strong work ethic and technical skills developed and instilled in him by Huddersfield...
[He joins] on a permanent basis after his loan spell with us last season".
[Assistant manager Danny Boshell said], 'He's a great kid with a top class attitude, and has a willingness and determination to learn which is a real positive in any player. The challenge for Isaac now is for him to establish himself at this level, then to hopefully kick on and fulfil his potential and get back into the EFL. Its great that he sees us as a platform to that and having played the odd game or two in Isaac's position myself, I'm sure I can give him one or two pointers in the right direction to try help him meet his ambitions.'
Isaac Marriott [added that he was]... 'inspired by the ambitious plans the club have moving forward. I also felt that during my loan spell the fans took a liking to me which is a big factor in me joining'">
The National League reports that "Even now, Salford City's parting of ways with Anthony Johnson and Bernard Morley having just lifted the National League North trophy is somewhat of a head-scratcher...
Much water has passed under the bridge since the pair departed in May 2018, and two years in at Chester they say the ambition still burns to do it all again... Johnson said 'It's not bitterness, it never has been. It's more about proving people wrong, we're constantly trying to do that. We feel we could manage at National League level and we desperately wanted to, but we weren't given that chance. It's a decision we respected and we move on. OK, we maybe feel a little cheated, and that's nothing against the Salford owners at all.
'What you've got to remember is that we are going into our 12th season as managers next year. We have served two years or more in all the divisions from North West Counties up...
'We actually felt we would have taken Salford up again, we might have even won that league. But you've got to move on and we certainly have... Chester are something different. Ramsbottom United were the village club, while Salford City were the money machine with big ambition.
'Chester are more of the sleeping giant, the historical club who hope to be back playing at a higher level. Being the ones to try to take them there has always excited us... We actually had a chance to go in at a National League club, but like everything the situation has to be right... Then we got the call about Chester and it just felt like something we needed to do. We actually accepted the job without knowing the budget for the season! We feel we can have success without being the biggest spending side in the division...
'Next season is a very big one but first of all our current season isn't over,' he added... 'I think we're actually going to see the level of football get better and better. Squads throughout the game are going to be more compact and streamlined and that means that better players are going to be playing a level down than maybe they should be. Clubs will now have more control and there could be a lot more balance going forward.'"
Cumbria's
NW Evening Mail
confirms that "A vote to decide the outcome of the League Two season... will be held on June 8.
League Two clubs have already decided that ending the season is their preferred option and are likely to agree this with a majority.
Once the climax of League Two is rubber-stamped, the National League is expected to decide how to conclude its own season and if play-offs will be staged... The English Football League (EFL) confirmed on Friday that the June 8 meeting would take place. The EFL board had unanimously agreed upon a framework at a meeting on Wednesday, but now needs clubs to approve it.
Clubs have until next Tuesday to continue putting in any alternative suggestions for how the season's end could work.. As things stand, a points-per-game system would determine final league placings in all three divisions if seasons cannot be completed. So far, no consensus on how to end the season has been reached in League One...
The League One and League Two play-offs are likely to be held before the Championship play-offs because these divisions have many players whose contracts expire at the end of June. The Championship play-offs are likely to be held in late July and the final at the start of August, to help clubs deal with difficult contractual situations."
---
1 June 2020
The Altrincham FC Awards event was relayed via YouTube on Sunday evening and produced the following outcomes...
Young Player of the Season: 3rd - Josh Lundstram, 2nd - Tom Peers, 1st - James Jones
Players' Player of the Season: Josh Hancock
Goal of the Season: 3rd: Josh Hancock v Blyth (H), 2nd: Shaun Densmore v Hereford FC (H), 1st: Tom Peers v York City (A) (FA Cup). Also, James Jones at Telford, Andy White at Curzon, Tom Peers at Southport, received a lot of votes.
Tom Earley Trophy for Club Person of the Season: Jordan Tyms
Manager's Player of the Season: Shaun Densmore (right)
Fans' Player of the Season: 5th: Tom Hannigan 215 points, 4th: Jake Moult 249, 3rd: Shaun Densmore 256, 2nd: Jordan Hulme 339, 1st: Josh Hancock 482.
Before the awards, Phil Parkinson praised his team, both those who played on the pitch and those whose roles were off the field.
Phil also paid tribute to goalkeeper Steven Drench, who is "really ill" with appendicitis and supporter Mark Eckersall, in his exemplary battle against cancer.
The physical awards will be made when football resumes.
Following the awards, compere Brian Flynn invited future co-chairmen Bill Waterson and Lawrence Looney to speak. They paid homage to current chairman Grahame Rowley and saluted his twenty years of endeavour, eleven as chairman. He has been appointed President of Altrincham FC in succession to the late Noel White.
Grahame paid tribute to Shaun Densmore who joined the club in 2008 and announced that Shaun has been awarded a testimonial when football resumes at the club.
Bill Waterson then thanked the supporters, not least for their generosity during the Covid-19 lockdown.
Next week the Club will announce its plan of works over the summer and will be launching a sale of shares. Other initiatives will be undertaken including the establishment of the club's Academy.
---
31 May, 2020
On this day, 31 May, in previous years, the following stories appear on the website...
31 May 2015: DAVID PARTON JOINS KYLE PERRY AT HEDNESFORD. The Express & Star reports that "Hednesford Town have signed goalkeeper Dave Parton (right) from Conference Premier Altrincham, with a view to him taking the number one shirt left by Dan Crane...
Parton, 22, was signed from Newcastle Town by Alty last season following their promotion into the top tier of non-league football. He played 15 times for the Robins, finishing the season as their number one.
31 May 2014: ALTY'S COMPETITORS. As Altrincham get to grips once more with the Conference National it may be helpful to remind ourselves of what we are up against. Last July, the NL Paper said that, for the 2013-14 season, "There will be 14 fully professional sides, training every day, usually with a Wednesday off, in non-League's top flight.
They are Aldershot, Barnet, Cambridge United, Forest Green, Gateshead, Grimsby, Hereford, Kidderminster, Lincoln City, Luton, Macclesfield, Salisbury, Tamworth and Wrexham. Eight sides are two-nights a week semi-professional outfits; Alfreton, Braintree, Chester, Dartford, FC Halifax, Hyde, Nuneaton, and Woking. The other two teams are the "Inbetweeners" doing three sessions a week, Southport... and Welling".
And last August, the NLP added that the then Skrill Premier "budget table" was as follows...
£1 million plus: Forest Green Rovers and Luton
£750,000 to £1 million: None
£500,000 to £750,000: Barnet, Wrexham, Grimsby Town, Kidderminster Harriers, Cambridge Utd, Gateshead
£250,000 to £500,000: Aldershot Town, Lincoln City, Hereford Utd, Salisbury City, Dartford, Chester, Woking, FC Halifax Town, Southport
Below £250,000: Macclesfield Town, Tamworth, Alfreton Town, Braintree Town, Nuneaton Town, Welling, Hyde.
31 May 2013: DANNY HELPED JAMES TO DECIDE ON ALTY. The Yorkshire Evening Post reports that "James Walshaw [right]has revealed his disappointment after leaving Guiseley to join Altrincham,claiming that the club's failure to contact him about a new deal forced him to go.
The 29-year-old will link up again with ex-Farsley Celtic chief Lee Sinnott and Villagers' striker Damian Reeves at Alty after his second spell at Nethermoor ended in unfortunate fashion.
Ex-Ossett Town, Bradford Park Avenue and Farsley frontman Walshaw insists he was ready to talk the Lions about staying but says that boss Steve Kittrick, who first brought him to Guiseley towards the end of the 2008-09 season, didn't call him and say he was in his plans.
Kittrick has countered by saying he was waiting for clarification on the club's playing budget for next term before speaking to players and says Walshaw's decision was premature.
Walshaw said, 'It was a very tough decision and I don't think it was one made by myself. I hadn't heard from the manager since the last game and kind of thought that he didn't want me. There were a few clubs interested and I didn't want to be waiting around, so I took the decision to sign for Altrincham. It would have been nice to have had the choice. I am disappointed. I have got a lot of friends at Guiseley and a close bond with supporters and it has not ended on a good note for me.
I had interest from Stockport and Altrincham and a few others including Ferriby. But I decided to join Altrincham and I am looking forward to linking up with Damian Reeves and Lee Sinnott."
Darlington
provide "the latest status of the playing squad:
Players who have accepted new terms for season 2020-21:
Will Hatfield
Joe Wheatley
Justin Donawa
Jarrett Rivers
Jamie Holmes
Ben Hedley
Alex Storey
Adam Campbell
Louis Laing
Michael Liddle
Sean Reid
Jordan Watson
David Atkinson
Players whose options have not been exercised by the club:
Players who turned down new terms and have left the club:
Stephen Thompson
Luke Trotman
Players who have yet to accept new terms:
Omar Holness
Terry Galbraith
Southport "confirm the signing of defender Matt Challoner, who returns to the Pure Stadium after four seasons.
Matt made 90 appearances for the Port between 2013 and 2016 before moving to Chorley, where he won promotion to the Vanarama National League North through the play-offs twelve months ago.
Now 26, the right-back was a regular in the Southport side for three seasons at the top level of Non-League football during his previous time with the club. He becomes our second signing of the week after the addition of fellow former Chorley team-mate Marcus Carver.
Born in Blackburn, Matt progressed through the youth set-up at Blackpool, earning a Player of the Season award and featuring for the reserves before joining the Port. He played a total of 180 times for Chorley... He played in the National League last season before finishing the campaign at Boston United.
Manager Liam Watson said 'It's great to have Matt on board for next season. He has got valuable experience in this division and at the level above and has really developed as a player during the last few years. We want to be solid all over the pitch, have a competitive squad and Matt will be an important player in achieving that. I'm very pleased to have two players on board who have won promotion from this level and we're making good progress with our plans to ensure we're as strong as possible for when football returns.'"
From King's Lynn Town comes a "squad retained list. We are able to provide and updated squad retained list after some names were inadvertently missed from the original post last evening...
Alex Street, Alex Brown, Ross Barrows, Michael Clunan, Michael Gash, Chris Henderson, Sam Kelly, Rory McAuley, Tom Ward, Dayle Southwell, Luke Johnson, Sonny Carey, Ryan Hawkins, Aaron Jones, Jordan Richards, Chris Smith
Offers have been made to both Ryan Jarvis and Adam Marriott.
To date the following players have been released: Ryan Fryatt and Nathan Fox"
Farsley Celtic
"announce
that
Chris Atkinson has signed a contract extension for the 2020-21 season.
Atkinson has been an integral part of the Farsley squad since initially joining on loan from Salford City in 2017, making 167 appearances. The former Huddersfield Town and Crewe Alexandra man has been involved in two promotions and two County Cup wins in his time in west Leeds, and was a regular last season in the club's first campaign back at step two.
The 28-year-old midfielder is looking forward to spending a fifth season at Farsley, as he said... 'It's always going to be hard for me to leave with the memories I have here. The changing room we have is the best I've ever been in, along with the management staff. Hopefully, we can keep everyone together for next season!
'Last season I think we did really well, to be a few points outside the play-offs with that amount of games to go, we would have definitely taken that at the start of the season. We beat a lot of the bigger clubs in the league so that just shows what we are capable of as a team on our day!
'Obviously it's been frustrating not knowing when you're going to be kicking a ball again but, in the grand scheme of things, football has been irrelevant... I've been running three or four times a week, just ticking over really...
'As a team, I think we need to be aiming for the playoffs, I don't see why we can't if we can improve a little on last season. I know [new signing] Jake (Charles) from my time at Huddersfield, he played with my brother in his age group. He likes to play on the shoulder and run in behind with his pace, which is something we haven't really had here. He's got a great left foot as well so hopefully, he will be a good signing for us'...
Farsley Manager Adam Lakeland... commented, 'Chris has been an ever-present in the team in my time at Farsley and is a very important player for us. He's one of those players who doesn't always get the credit he deserves, but the role he plays within our team is one of great importance'".
Brackley Town provide "an update from the continuing saga of how the National League season will be concluded.
While it seems highly unlikely that National League North and South play-off games can be played due to the level of testing required and the costs of playing behind closed doors for clubs with zero income, we are tied to the National League which is in turn waiting on EFL decisions around promotion and relegation. The case for and against the various options for settling final league placings has been extensively aired and nobody would dispute that these decisions are difficult and cannot please everybody. But for most clubs at our level we need to draw a line under the season and look ahead. There are sufficient challenges facing us all in the future without the continued added conjecture and uncertainty around the conclusion of the 2019-20 season.
As a club, disappointed as we are not to conclude our games, cement a play-off place and look forward to competing for promotion for a third successive season, we are looking ahead to the next campaign...
[Manager] Kevin [Wilkin] has been discussing options with current players and talking with players who may become the new faces in next season's squad...
'I am pleased that we have secured the services for another season of many of the players who have been the foundations of our recent side'... Kevin says. 'Jimmy, Gaz, Lee and Matt were signed up some time ago and in recent days Ellis, Glenn, Danny, Connor, Shep and Shane have or are about to put pen to paper and will form the back-bone of another strong squad that we hope will be competitive again next season. Conversations with other players from last season continue and undoubtedly as well, one or two will move on because that's the way of these things at this level.'
'The club treats players well, this is a good club to play for and I know that players appreciate this... The club is ambitious as well as realistic and prudent. Across the country players will find that they have to be realistic in terms of their expectations because the situation is fluid. I think some players may have a rude awakening as the hard reality of the difficult financial situation hits home at lots of clubs at our level but also above'...
The latest news on the ground development is that we have moved the media tower and all being well a further new seated stand will be in place on the far side of the ground by this time next week adding to the seated capacity of the ground and further enclosing the pitch on all sides. We hope to bring you further news on progress with the re-build of the clubhouse next time as the Football Foundation meets next week and hopefully this will confirm funding allowing us to set a start date for the works to demolish and start re-building. Again, this is all evidence of the exciting future at the club despite the difficult times we have to get through at the moment'".
At Boston United "Significant progress has been made on... [the] brand-new Community Stadium but it is not too late to play your part.
The Pilgrims' new home alongside the A16 is taking shape and you could help out by purchasing a seat dedication, a Fans' Wall or Memorial Wall brick or a pitch sponsorship opportunity. among a host of pledging options... With United's exit from York Street looming large, all funds will be used towards completion and fit out of the Community Stadium, ahead of the 2020-2021 football season".
"Three AFC Telford United players have agreed new contracts with the club, ready for the 2020/21 season.
Adam Walker, Brendon Daniels and Zak Lilly have all signed new contracts which will see them remain at the New Buck's Head for another year.
Boss Gavin Cowan... [said] 'Brendon and Adam were stand out players last season and Zak made huge strides in his development, this I feel will bode well for the coming season. All three are a joy to work with and are highly motivated to put our plans into action for the 2020/21 season!'
AFC Telford United can also confirm we have offered Henry Cowans the opportunity to join to prove his fitness during pre-season having spent the majority of last season out injured from a recurring ankle injury. Cowan added 'After an injury hit season, myself and Henry agreed that coming in to prove his fitness was the best way forward. We know what he is capable of and so a fit Henry Cowans could be very positive for the club.'
Adam Walker, Brendon Daniels and Zak Lilly all join Shane Sutton, Ross White and Aaron Williams who have already committed to the 2020/21 campaign".
The Shropshire Star adds that "The Bucks' boss is making his final decisions on which of the squad from last season... will be at the club for the next campaign and admits the decision have been 'tough'.
Cowan is aiming to strike a balance between maintaining familiarity in his ranks and adding fresh impetus, having kept the majority of his 2018/19 troops on board 12 months previous.
'I'm really happy. It's a tough time because it's the hardest part for a manager, to have to make some of these really cut-throat decisions,' Cowan said. 'I suppose for the most part last year I didn't really need to do, we retained most of the players. We're still in talks with some to make final decisions. We're very busy talking to a lot of players, lots of decisions are being made.
'I think of the players that were here last year, given the option, [all?] would've stayed. I think that speaks volumes of the environment we've created. We've been outlining some of the plans to the players who are staying and they're very excited and eager to get going again.'".
---
30 May 2011
Wales's
Leader Live
reports that "Elliott Durrell lifted the lid on how another former Wrexham favourite played a key part in his move to Altrincham. Durrell was on the lookout for a new club earlier this year after a brief spell at National League North title favourites York City came to an end.
And the 30-year-old revealed how Lee Fowler helped convince him that a move to Moss Lane was the right one.
'Lee told me to watch Altrincham,' said Durrell. 'He told me they were a proper football team before the move came about. I know Fowls from my time at Tamworth and I've learned a lot from him. I went to watch a game at Alty and sat with Fowls. We had a good chat and it was clear to see that they were right for me football-wise.'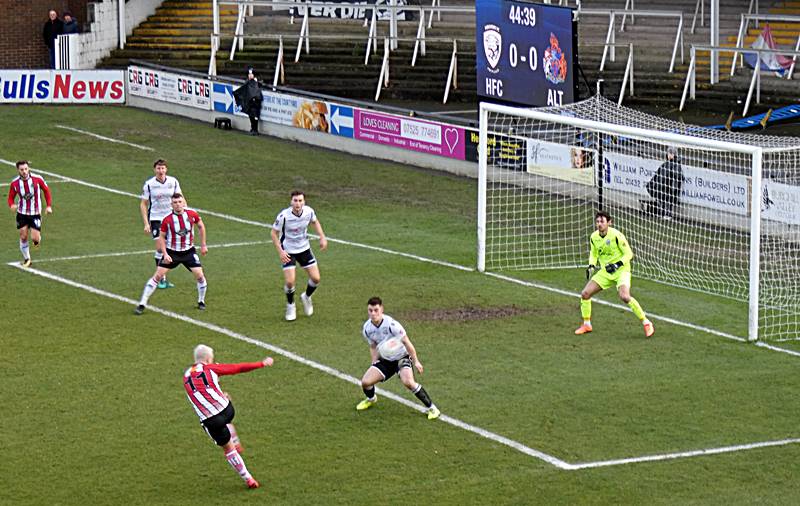 Above: Elliott Durrell scores for Altrincham at Hereford, just before half-time on 29 February. It was Alty's last away game of the curtailed season and they won it 2-0, with a late goal from Simon Richman being added to Durrell's opener.
Altrincham have a reputation for playing some of the best football in the entire National League, something that Durrell was keen to be a part of.
'Altrincham's style of play is frightening for the level,' said Durrell. 'I didn't want to sign for another National League North team to be honest. But when I was at York we played them twice in the cup and they battered us. The result was only 1-0 on both occasions, but they were superb and probably had 80 per cent possession, which stuck in my mind.
'I went to watch them to make sure that they were as good against someone other than York and the style of football caught my eye again. The goalkeeper, Tony Thompson (right), rarely kicks it long and, if he does, it's a 30-yard clip to the full-back. They want to play out from the back and it was something I wanted to experience.'
The chance to work under Phil Parkinson was another reason behind Durrell's decision to sign for Altrincham. 'He [Parkinson] says "As long as you work hard I don't mind what you do, just do what you do best"', said Durrell. 'The whole team has a licence to play and it's great. I've been told things like that by managers before and then, inside 10 minutes, when you've lost the ball you are on the end of a rollicking.
'But the manager here doesn't stop encouraging you. If you lose the ball he just says "win it back and go again". I was close to signing somewhere when I got the call from the manager, who suggested I could be the missing piece in a promotion push and it was great to hear.'
Prior to the season being suspended indefinitely due to the coronavirus pandemic, Altrincham and Durrell were in fine form, the former Wrexham and Chester playmaker scoring in his first four games for the club. Durrell was showing the form that helped him forget a 'mad old year', which saw him leave Macclesfield in disappointing circumstances and endure a frustrating stint with York City.
'It was very strange at Macc,' said Durrell, one of six players who petitioned for the club's winding-up due to unpaid wages. 'I was offered a new contract and accepted it initially, but they weren't able to make assurances going forward, so I opted to leave... I spoke to quite a few Football League clubs and National League clubs, but they'd done their budgets,' said Durrell. 'I went into York at a difficult time as they were flying and the manager was rightly loyal to the players that were doing well.
'The travelling didn't help. It's a long old jaunt from Shrewsbury to York and when you aren't happy it doesn't help you play your football. I'm lucky that I've not had to move in my career, but that commute on a daily basis was tough. There's no bad feelings and I moved on to Altrincham, where I was starting to show what I am capable of. It was only a matter of time before I got back to the levels I know I'm capable of.'"
Farsley Celtic
reports that they "have agreed a deal to sign Stafford Rangers forward Jake Charles.
The ex-Wales Under-21 international, who is the grandson of the late Leeds United legend John Charles, scored 27 goals in 71 games for Stafford, who have said the following about his move up to the National League North:
'With the club being a few miles from Jake's Leeds home and being a division higher, the decision was quite a draw, especially in the current climate. Although Jake's contract with Rangers had expired, Farsley had the decency to approach us for permission to speak with Jake, so we thank them for their conduct over the matter and we wish Jake the very best for the future and thank him for his service'".
From the Sunderland Echo we learn that "Former Newcastle United duo Greg Olley and Alex Nicholson have committed to Gateshead for the 2020-21 season.
The former Magpies academy duo joined team-mates Jordan Preston and Sam Guthrie in confirming that they will extend their time at the International Stadium into next season.
Olley joined Gateshead in the summer of 2018 after being released by Hull City and has gone on to establish himself as a real fans favourite during his two years with the Tynesiders. The classy midfielder also won international recognition for his on-field performances after being handed an England C call-up in March 2019...
Nicholson moved to Gateshead last summer after a spell with National League North rivals Blyth Spartans. The former Wales youth international put in a solid first season at the International Stadium... Forward Preston returned to Gateshead for a second spell last summer and went on to score eight goals and provide six assists...
Goalkeeper Guthrie also joined the Heed last summer after impressing during a trial period and made three appearances as he provided able back-up for on-loan Middlesbrough stopper Brad James throughout the season."
NL Daily adds that "Greg Olley, Alex Nicholson, Jordan Preston and Sam Guthrie... were part of the Heed squad that were within two points of the National League North play-off places, with games in hand on the seven sides above them prior to the season suspension in March.".
"Alex Prosser is the latest player to re-sign for Russ Penn's Kidderminster Harriers after agreeing a new contract at the club.
The 21-year-old midfielder joined Harriers last summer after leaving Aston Villa.
He made 30 appearances in total, scoring three goals...
'Alex is another great character who is desperate to do well for the club. He really came into his own in the second half of last season but I've told him I need that version of Alex Prosser every week now. He's got great ability and an eye for goal'".
According to Lynn News, "King's Lynn Town Football Club face a further wait to find out if they will be promoted following the latest announcement by the English Football League (EFL).
EFL officials have now called a meeting on Monday, June 8, to consider and possibly approve the framework for curtailing the season.
The National League's decision remains predicated on the situation in the EFL and, in particular, league Two, who expressed a desire to end the season with promotion but not relegation."
---
29 May 2020
Altrincham FC
announce that "The deadline is looming for voting in the various end-of-season awards categories, and it is fast turning into one of the closest-run contests we can remember to be crowned best Altrincham player in what was a highly-successful if sadly truncated campaign.
Every vote counts, as election campaigners constantly remind us, and that has seldom been more applicable than in the race to win this year's two fans' player-of-the-season accolades, as well as best goal from a long list of exceptional entries...
You won't have to wait long for the results, either. A YouTube Premiere covering all the awards, and more besides, will be screened this Sunday, May 31st, starting at 7pm and with an estimated running time of 45 minutes.
A link to enable viewing of the event will be posted on the official club website and social media channels on Sunday.
There's plenty to look forward to, with the running order already in place and including a special announcement relating to one of the players, a brief review of the season by manager Phil Parkinson and an outline of some plans for next season from directors Bill Waterson and Lawrence Looney, as well as the awards.
As a reminder, the categories are: Goal of the Season, Young Player of the Season, Fans' Player of the Season, Players' Player of the Season, Manager's Player of the Season and Club Person of the Season."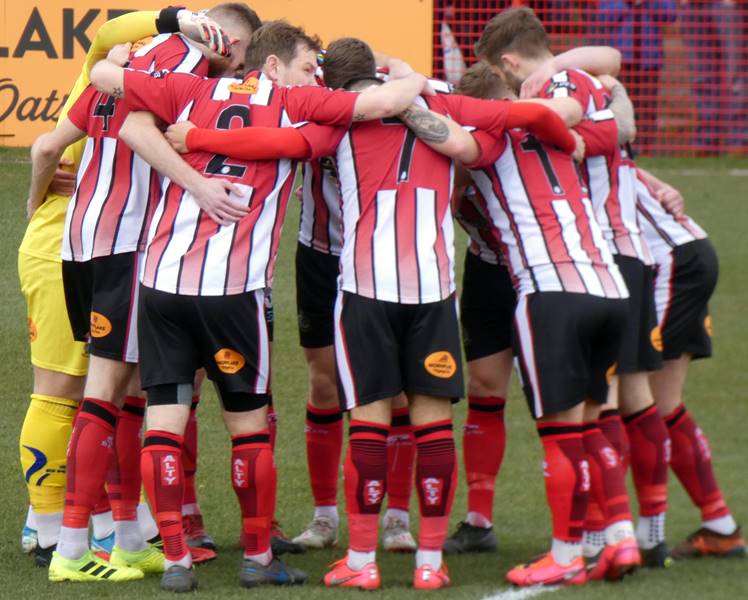 Above: How many of Alty's pre-match huddle (pictured before their most recent game, at home to Spennymoor Town on 7 March), will be involved when football resumes?
The Sale & Altrincham Messenger reports that "New Altrincham director Rob Esteva has highlighted the role played by generous Robins fans in helping keep alive manager Phil Parkinson's promotion dream... Alty are clinging to the hope there may yet be a positive end to a truncated season, as they continue to wait for word on whether promotion play-offs could still be staged...
Alty are ready to hit the ground running, thanks to careful planning and financial backing from supporters. A GoFundMe page raised around £30,000, and now the club's Patrons' Scheme for 2020-21 has generated a further £7,000 within a month of being launched.
'Whatever the future holds, we want to keep as many of the squad together as we can,' said Esteva... 'That is a priority, and there's absolutely no question the generosity of our fans has helped enormously in that respect...
'All the donations that have come in through various means have given us a really good chance of riding out the storm and keeping the squad intact, which is going to make us all the more competitive when football resumes. We have seen this squad is capable of earning promotion.
'We know we are close, and if we can restart and have the play-offs, keeping the squad together is going to be a priority.'"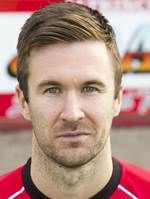 Former Altrincham midfielder Josh O'Keefe [left], now aged 31 and playing in 2020 at Chorley, is subject of a tweet from The Magipies which states that "Our best wishes go to midfielder Josh O'Keefe who's [sic] decided to hang up his boots to concentrate on his career in physiotherapy. In four years at Victory Park, Josh played 162 games & scored 21 goals".
Signed by Altrincham in mid-May 2015, a former Midderminster Harriers midfielder, Josh O'Keefe made 20(+11) appearances for Altrincham, scoring once. Earlier in his career, Josh was at Walsall before he moved to Lincoln City. A loan spell with Southport followed before he joined Hereford United and then Kidderminster. Loan spells at AFC Telford United and Chester FC also added to his experience.
His start to 2015-16 was a mixture of starts and sub appearances and he was not helped by an injury on 5 September which sidelined him for a spell. Having then re-established himself in the side he was suspended for three games after a sending off at Forest Green.
His appearances continued to be limited till the end of the campaign, at which point he was released. Josh joined Chorley for 2016-17.
A brief reminder of some news which featured on the website on this day, several years ago...
29 May 2016
"News of a second ex-Altrincham player to join Guiseley comes with the Yorkshire club's signing of versatile winger Nicky Clee.. Clee, 32, follows Michael Rankine to Nethermoor from Altrincham where he spent seven successful years and became a fans' favourite during his time at Moss Lane...
Lions' boss Mark Bower said, "Nicky has come to us on an appearance based deal and turned down more security elsewhere for the chance to prove himself with us at National League level. He's a very gifted footballer with a great left foot and can play in numerous positions. We're pleased Nicky has decided to join us and we feel he will be a real asset to the team for the coming season".
29 May 2015
DUNCAN'S SCORING DEBUT: Congratulations go to former Altrincham winger, Duncan Watmore, who scored on his debut for England Under-20s on Thursday, against Morocco in Toulon. The game ended three-all.
Kidderminster Harriers
report that "Russ Penn's 2020/21 squad has grown further with the news that Tom Palmer and Jaiden White have signed new contracts. The pair were handed new terms by the Manager at the end of last season.
Both are products of the club's Academy system, with the duo each enjoying spells of first-team football, as well as further games out on loan; White, in particular, spending much of the term getting vital experience with Stafford Rangers.
Penn... said, 'These two are at a vital stage in there [sic] career now and I was really keen for them to stay with us and push on.
'Tom has played enough first-team games in goal now and knows what it takes to hold that position, it's about taking that further.
'Jaiden had three managers in his first full season as a professional here, so he needs stability. I can give him that, but he knows what we need in return. He's a real talent and we need to see that.'"
According to the Northants Telegraph, Paul Cox "believes Michael McGrath's experience and versatility will be important to Kettering Town next season.
Experienced McGrath, who joined the club during the last campaign, became the latest member of the squad to agree fresh terms for the next National League North season. McGrath proved to be a key player at the heart of the Poppies defence after Cox arrived at Latimer Park.
But the Kettering manager hasn't ruled out the possibility of using McGrath in his more natural position in the middle of midfield during next season.
'I can only judge people on their performances since I have been at the club and Michael was very consistent,' Cox said. 'I have had a few positive chats with him and he's not ruling out the fact that he feels he's an out-and-out midfielder but hasn't played there for Kettering since we have been in charge.
'We have been talking about his close season training programme and he is aiming to come back, not just very fit, but strong as well. So I wouldn't rule out the possibility of seeing him in a central midfield role as well as defence and I think that's a big thing with him, he's very versatile and can play in a number of different positions.
'He also has very good experience. He's good with the less experienced players and, with the likes of Luke Graham, it will be so valuable having them in and around the squad next season... Having experience on the pitch and being able to calm people down is a good attribute to have.'
Cox, meanwhile, remains hopeful of completing some early business in the transfer market...
'It's been a bit strange because I don't think there's a lot of business being finalised,' the Poppies boss added. 'There's a lot of clubs talking to a lot of players and we are in that category... Hopefully we should have some moves in the coming week or so but I think a lot of clubs and players are being non-committal at the minute because no-one really knows when we are going to start...
'But the PFA list of players won't be coming out until the mid stages of June so I think patience is key to make sure we get the right player, with the right mindset for the right price.'"
Darlington "announce that midfielder/defender David Atkinson has agreed new terms to stay at the club for season 2020-21.
David joined us last summer from Blyth, but his season was restricted because of injury and he made seven appearances.
However, he was back to full fitness by the end of the curtailed season".
---
28 May 2020
Voting is open till 10pm (28th May) for Altrincham FC's Player of the Season, Young Player of the Season (aged 25 and under) and Goal of the Season awards. Details are on the official
Altrincham FC
website.
Place North West
reports that "Josh Hancock, midfielder for Altrincham FC and head of commercial in Manchester for Bruntwood Works, explains how he juggles the two professions and how the Covid-19 lockdown is affecting day-to-day life.
'Right now, I should be celebrating Altrincham FC's promotion to the National League, the fifth tier of English football. Instead, I'm debating where I should go for my exercise today while social distancing. Due to the current crisis, the season has ended early, with us sitting in the play-off places after 33 games played. The league has cast votes to see which teams would like to continue but the future is uncertain, and the club is not alone in facing question marks over promotion.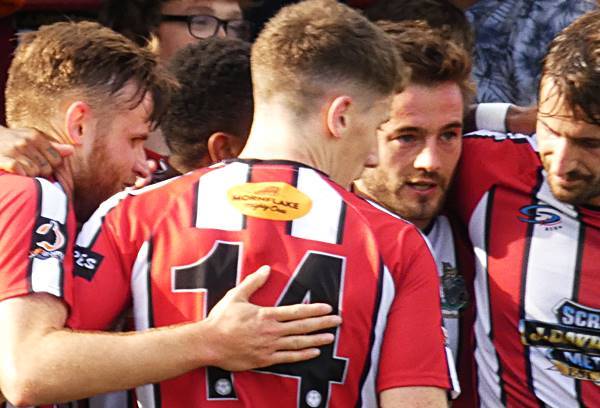 Above: Josh is congratulated after netting Alty's fifth goal against Leamington in September 2019
'I'm still training regularly and having to run 25km a week. It doesn't sound like much, but sometimes it's difficult to motivate yourself to turn out every day, especially when we don't know for certain when the lockdown will end. Our WhatsApp group is now called the 'Altrincham Running Club' because, without being able to kick a ball together, it's pretty much all we can do for the moment.
'Yet despite the current disruption, some things remain the same, and this includes juggling semi-professional football with my full-time role at Bruntwood Works. I joined straight out of university nearly eight years ago, starting in the commercial team, before working my way up to head of commercial for Manchester'.
The team at Bruntwood Works has been outstanding in the way that they've supported me over the years in balancing my role with my commitment to part-time football. Flexible working and a balanced lifestyle are two of our team's core values, and that's made it easy to fit in training or away games on the other side of the country that would ordinarily need me to leave work in the early afternoon to travel...
'In terms of football, not knowing whether we'll play again this season is also beginning to take its toll. Maintaining high fitness levels, let alone being match fit, is challenging at the best of times, and the routine of training every Tuesday and Thursday, with a game every Saturday and sometimes mid-week, is sorely missed... It would be a shame if 29 weeks of hard graft wasn't carried through to the end, but we're still hopeful of resuming the play-offs when it's safe for everyone to do so'".
According to
York Press
"The Football Association (FA) have granted the National League an extension to the 2019/20 season.
The extension will allow the National League to hold play-off matches in its three divisions beyond the original deadline that was set for the end of May. FA Council members had been asked to vote on the National League's proposal following a meeting by the former last week... The FA's decision does not guarantee that play-off matches will happen.
However, it does mean that the option remains on the table as the league looks to decide the sporting outcomes for the current campaign.
Clubs have not yet been offered a vote by the National League on how they would like to resolve the season, whether by a points-per-game system, play-off matches or declaring the season null and void.
The news may come as a boost to promotion-chasing York City who, at the point in which the regular season was ended, sat at the top of the Vanarama National League North table, two points in front of second-placed King's Lynn Town, who had played two games less than the Minstermen.
Last month, the National League to end its regular season of matches after deciding that it would not be able to complete the programme of games still left to play due to the coronavirus pandemic. However the National League's decision remains predicated on the situation in the English Football League (EFL) and, in particular, League Two, who expressed a desire to end the season with promotion but not relegation.
Earlier this month though, the EFL recommended that promotion and relegation take place throughout its three divisions, with its 71 clubs still to be asked to vote on this is achieved".
NL Daily confirms that "Former Birmingham City midfielder Koby Arthur has earned a deal with Kidderminster Harriers for next season.
The 24-year-old left Macclesfield Town last year and later spent a number of months training with Kidderminster.
Manager Russ Penn told the club's website 'Koby has shown his commitment to the club, having trained with us for several months last year, purely because he wanted the opportunity. It's one he's really grateful for.
'He knows he has lost his way in the game a little over the last year, and I want to be the manager that finds the player I know is still in there somewhere. He's still capable of being one hell of a talent'".
The unofficial Harriers Online adds that "Koby Arthur... has been around the club for a while now having been training with us since January following his release from Macclesfield Town back in July last year.
He was supposed to take part in the Worcester Senior Cup tie against Bewdley Town etc but flooding put paid to that so he actually made his 'debut' for us at Alvechurch in the following round but couldn't save us from making the expected exit anyway.
Ghana-born Koby started his career off with Birmingham City... He'll be with us for the eventual coming season whenever that may be.
Leaving the club, somewhat expectedly, yesterday was Ashley Chambers who decided not to renew his contract with us following two years of banging the goals in. Twenty-six in seventy-four games to be exact. It was well known that he was possibly one of the higher paid players with the club and with the uncertainty surrounding football at the moment it was agreed that he would seek out a new club to play for. Finding a club that could improve on his salary here could prove to be difficult and one wonders why he left if that was the case."
Confirmation comes from NL Daily that "Full back Michael Liddle has agreed terms to stay at Darlington for the new season.
Having joined from manager Alun Armstrong's old club Blyth Spartans last summer, Liddle made 29 appearances in 2019/20, scoring once."
The National League adds that "Alun Armstrong's first job after signing a new three-year deal at Darlington was to convince six of their club's star players to stay too...
Top scorer Adam Campbell, who bagged 16 goals last season, has also agree to stay on, with defender Jordan Watson putting pen to paper on Wednesday morning.
Louis Laing, Joe Wheatley, Michael Liddle and Will Hatfield have all signed on for next season.
The deals were aided by the club's fans with the Boost the Budget campaign now passing £100,000...
'I would sum up the season as satisfying before the coronavirus hit,' he said. 'We haven't scored enough goals, I think that's the one area we are looking to address; the question is can we go out and get that 25-goal a season striker?
'Sometimes you have to ask yourself if a club can go up too soon. Would we be financially ready if we were to win promotion this season? I'm not sure we would, but in the years ahead we would give ourselves a better chance. I always knew this would be a two or three year plan.'"
Southport "are delighted to confirm the signing of former Chorley and Accrington Stanley striker Marcus Carver.
The 26 year-old, who scored 47 goals in four seasons for Chorley including 17 in their Vanarama National League North promotion-winning-season, becomes the Port's first signing of the summer.
Born in Blackburn, Marcus began his career at Accrington Stanley, progressing through the youth-set up and into the first team during a five-year period, making 38 senior appearances. Whilst at Stanley, he spent time on loan at clubs including Halifax Town, AFC Fylde and Barrow, before making his move to Chorley permanent in 2016...
Marcus played a total of 203 times for the Magpies before leaving at the end of last season.
Manager Liam Watson said 'Being able to bring Marcus in as our first summer signing is really exciting for the club. He's a striker with a record and pedigree which speaks for itself at this level...
'At 26, he's about to come into his own and is exactly the right age to fit into the squad. He is a striker with many different elements to his game and he has shown he can score different types of goals. He's someone who has has proven himself over a good period of time but is still relatively young'".
Cymru Football
reports that "Connah's Quay Nomads, Prestatyn Town, Swansea University and Swansea City Ladies have been crowned champions of their respective divisions following the decision made by the Football Association of Wales (FAW) Board of Directors to curtail the remainder of the 2019/20 season for Tiers 1 to 4.
The decision, which was ratified by the Board of Directors following a recommendation from the National League Board was approved on Tuesday 19th May 2020...
Nomads have been crowned champions, ending The New Saints' eight-year run in the competition en route to securing their maiden title... And in the first year of the JD Cymru South and North, Swansea University won the title after a battle with Haverfordwest County, despite it being the Students' first year in the second tier, whilst Prestatyn were named champions after a relentless season in which they led the race from very early on.
As a result... European competition nominations were determined as follows:
UEFA Champions' League – Connah's Quay Nomads (1st Place)
UEFA Europa League – The New Saints (2nd Place)
UEFA Europa League – Bala Town (3rd Place)
UEFA Women's Champions League – Swansea City Ladies (1st Place)
The FAW Board are yet to decide on promotion and relegation between leagues".
---
27 May 2020
Sunday's
Non-League Paper
had pieces on two former Alty players.
Alex Meechan made 11(+17) appearances for Altrincham in 2008-09; he scored three times in that spell.
Born in Plymouth, Alex started his professional career at Swindon Town in 1997. He moved to Bristol City for 1998-99 season but City loaned him to Forest Green Rovers in August 2000. He later signed for FGR (1 January 2001) following a month's loan at Yeovil Town. Dagenham & Redbridge bought him in 2003 and later loaned him to FGR whom he joined permanently in February 2004. He had three months with Leigh RMI at the start of 2004-05 and then went to Halifax Town in November 2004, until the end of July 2005 when he returned to FGR. In January 2007 he started a six-month stay at Chester City before spending three months with York City (July-October 2007). He made 191 league appearances for FGR and netted 46 times.
Alex made his Alty league debut, scoring at Woking on 9 August 2008 and, when selected for Altrincham, he figured mostly on the right-wing. After a period on the sidelines, Alex went on a month's loan to Stalybridge Celtic at the end of January 2009. He returned from loan and was a used sub in the Cheshire Senior Cup Final win on 23 March but had his contract cancelled by mutual consent and joined Stalybridge Celtic.
The NLP records that "He turned out for no fewer than 19 different clubs as a player, now ambitious Alex Meechan is ready to hit the road again, plotting his next move on the managerial ladder.
Playmaker Meechan made his name in an 18-year playing career which started at Swindon Town and took him up and down the country...
Last summer Meechan was handed the permnanent job at Stafford Rangers... However, a misfiring and injury-hit campaign saw the famous club rooted to the foot of the table when football was abruptly halted in March and, a matter of weeks later, the managerial axe fell".
Meechan said, "Football has only ever been my life and I guess you could say I have always been frantically chasing a dream. I have always travelled. When I was a young boy I'd make the draining journey from my home on the south-west coast to Norwich to play every single wekend...
"A huge advanatage is that I played under so many managers and learned so much... I have crossed paths with some superb managers and some horrendous ones and have used those experiences to refine my own coaching methods".
Elsewhere, the NLP has a feature on North Ferriby United which includes the views of their captain Liam King [right] who spent time at Altrincham on loan from Rotherham United with effect from 1 January 2008. He had made four league starts and two substitute appearances for Rotherham the previous season and he made his Alty debut in central midfield at Northwich on New Year's Day, 2008.
His initial one-month loan was subsequently lengthed to a second month after making a good impression for the Robins for whom he made seventten appearances, all of them in the first eleven.
Liam tells the NLP about Ferriby's run to Wembley where they lifted the FA Trophy against Wrexham. In an earlier round King, as captain, had to take a penalty as no one else would and he scored. He says "What nobody knew, including manager Billy Heath, was that I'd only ever taken two penalties before and missed them both!... From that day onwards I couldn't miss a penalty".
According to the
BetVictor NPL
, "Morpeth Town have signed attacking midfielder Andrew Johnson from Spennymoor.
Johnson, 32, was formerly captain at Northern League Ashington and helped Spennymoor gain promotion from the Northern Premier League in his first season.
He told the club's official website 'I had a brilliant four seasons at Spennymoor but felt I needed a new challenge.
'There are a lot of similarities between Spennymoor and Morpeth as both are trying to progress through the leagues and that's something I want to be part of. On a personal note, I live local and the move will be of benefit to my family life. I see Morpeth as a very similar club to when I first joined Spennymoor; a club on the up. It's a great time to join'...
The Highwaymen enjoyed a fine first season in the Premier Division, and though [they] weren't in the play-off places due to having a number of games in hand, they did have the third-best points average in the division when the season was brought to a premature end".
Elsewhere in the North-East, Darlington "announce that midfielder Joe Wheatley has accepted terms for the new season.
Joe, who will be starting his fourth full season with us, gained a huge amount of exposure for himself and the club when he scored that memorable equaliser at Walsall in the FA Cup first round in November last year.
In total, Joe has made 89 appearances for us, scoring three goals".
The NL Paper reports that "Gateshead chairman Neil Pinkerton has been 'overwhelmed' by a new fundraising initiative launched by the club's supporters over the weekend... The Heed Army sprung in to action with a new funding page to help boost next season's playing budget for their management team of Mike Williamson and Ian Watson.
The 'Gateshead FC Budget Booster' officially went live on Sunday evening with an initial target of raising £10,000 while offering several rewards for anyone willing to donate to the fund. By 9am on Monday, more than £3,500 had already been raised.
Heed chairman Pinkerton hailed the initiative as 'essential' in a statement on Tuesday as they look to move into the next chapter under the ownership of a supporter-led consortium.
He said 'The football club has been overwhelmed and the support that has come in through this fans initiative is fantastic.. The impact the supporters are having on morale and the finances is going to directly benefit Mike (Williamson)and Ian (Watson).
'We have come a long way since March and the income that we budgeted for was significant in the latter part of the season, so we have had to adjust our forecasting and budgeting accordingly. That overlaps into pre-season, so this initiative set up by the supporters is essential. Everyone at the club, Mike (Williamson) and Ian (Watson), myself and the board are so appreciative of their hard work.
'The fans will get to see directly how they have impacted the club by what is produced on the pitch next season. This perfectly highlights the strong bond between supporters and the football club'".
At King's Lynn Town, "Striker Michael Gash has become the latest member of last season's squad to agree a Walks return for next season.
The 33 year-old forward has played a big part of the success achieved over the past few season's and will be forever remembered for his extra time winner at Warrington in the 'super play off final' just over a year ago. Gash joined The Walks set up in July 2017 following a career that has seen action at clubs such as York City, Kidderminster, Cambridge United and Barnet and has found the back of the net 36 times in his three season's with Lynn...
The club's director of football Rob Back said ' With Michael it's not only about the goals he bring's to the team it's all the other aspects like the hold up play, the tracking back and the general nuisance he causes to the opposition. He must be a real pain to play against not only with his size but the skill and know how he has. The football management were all keen to get him back to King's Lynn for next season and to say we are all very pleased Michael has agreed to come back would be an understatement'".
---
26 May 2020
26 May 2019: SHAUN AND MAX SIGN ON
On 26 May 2019, it was reported that "Shaun Densmore and midfielder Max Harrop have both signed up for next season at the J. Davidson Stadium.
For Shaun, now aged 30, another thirteen appearances will take him to 400 games in the Altrincham shirt since he joined, initially on a month's contract on 12 September 2008. At that time, Shaun, a former Everton Academy Player of the Year, had just been released by the Toffees. He made his Alty debut on 16th September 2008 and on 13 October 2008 he signed on for the rest of 2008-09 season. In his 387 appearances to date, Shaun has netted 28 goals.
26 year-old Max Harrop (left) joined Alty on the eve of the opening game of the 2017-18 season. His career had begun with Liverpool FC's Academy, before he moved to Bury, where he made his Football League debut in March 2011. At the end of that year he went on loan to Blyth Spartans. After returning to Gigg Lane, another loan followed, at Hinckley United. After he had been released by Bury, he joined Nantwich Town in the summer of 2013. However, he left for Ashton United in March 2015 but, at the start of the following campaign, he was at Ramsbottom United. However, he then rejoined Nantwich in 2016".
26 May 2016: NEIL ADDS WIDTH TO ALTY WITH TWO NEW SIGNINGS
Altrincham FC announced that "Neil Young has added width to his new-look Altrincham squad by signing two highly-rated young wingers in Billy Hasler-Cregg and Jamie Menagh.
Burnley-born Hasler-Cregg, 19, has arrived from Rochdale, while 22-year old Liverpudlian Menagh has linked up with Young for a third time after previously playing for him at Chester and Stockport County...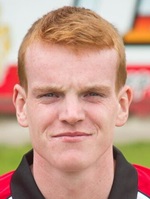 Hasler-Cregg was one of only three Academy graduates to be offered 12-month professional contracts at Rochdale last summer, after benefitting from training with the first team throughout the 2014-15 season. During that campaign, he was among the substitutes for the FA Cup first-round replay at home to Northampton and League One fixture against Doncaster... Hasler-Cregg marked his first seven games on loan to Droylsden last season with three goals, five assists and two man-of-the-match awards and became a top target for Young once the recently-appointed Alty manager heard of his availability.
Menagh (right) was snapped up by then-Chester boss Young from Prescot Cables in October, 2013 and could hardly have made a more impressive start, scoring twice on his full debut in a 3-3 draw with Lincoln City and following up with a dramatic stoppage-time winner in the live BT Sport game against FC Halifax.
He started out in central midfield but switched to the right flank and was described in the Chester Chronicle's sports pages as being a 'direct and energetic' winger. He left Chester in January, 2015 and joined forces with Young again at Stockport nearly 12 months later...
Young's latest double signing follows the capture of keeper Andrew Dawber, midfielders Charlie Joyce and David Lynch and centre-back Tom Hannigan, as well as news that James Lawrie and Damian Reeves have accepted new terms for next season. Former Clitheroe manager Simon Garner has also been added to the backroom staff".
26 May 2010: GREG'S FAREWELL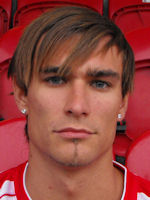 "Altrincham supporters were very sorry to hear that Greg Young (right) had joined Chris Senior in leaving Altrincham this summer as he,too, was offered full-time football and much nearer to his Doncaster home, too. Greg has sent an open letter to the website which we are pleased to reproduce below...
'I know Chrissy [Senior] has set the trend, however it was always my intention, should I have left the club, to publicly thank everyone associated with it. I think the fact that we have both felt the need to write demonstrates the feelings we hold for Alty.
The last few weeks have been very difficult for me because I have had much to consider. On the one hand is my genuine affection for Alty and everyone associated with the club, on the other is a desire to return to full time football whilst I still have some good years of my career left.
Also from a practical point of view York is much nearer to my home in Doncaster, which is an advantage.
Altrincham Football Club will always hold a place in my heart, as I know it will for my parents who have become big fans. This is no doubt down to the welcoming and friendly atmosphere, which pervades the club at all levels, and the fantastic way it is run. I've enjoyed being part of the best part-time club in the country for which I have the utmost respect'"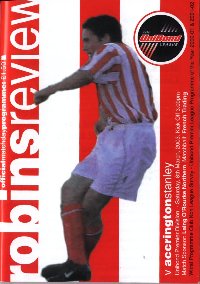 26 May 2003: ROBINS' REVIEW
"The Altrincham FC matchday programme, The Robins' Review, has won the UniBond Premier section of the prestigious Wirral Programme Club's Non-League Programme Survey for 2002-03. This is its third successive win in the UniBond Premier section of this competition. The Alty programme is jointly edited by Grahame Rowley, a Director of the Club, and his brother Terry, who spends most of the year working in the Middle East or North Africa but nevertheless shares the editorial role from afar. The overall UniBond winners were First Division champions Alfreton Town (160pts), just one point ahead of Altrincham. In a North-West clean-sweep, the runners-up in the Premier were Vauxhall Motors, followed by Stalybridge Celtic".
Kidderminster Harriers
"confirm that Ashley Chambers is to leave the club at the end of his current contract.
The 30-year-old has spent the last two seasons at Aggborough Stadium, and has scored 27 goals in a little under 80 appearances.
Manager Russ Penn has continued discussions with the striker this week and confirmed that the club will not be offering a new contract.
Russ explained 'Chambo has been a great servant for the club over the past two seasons. I've only got good things to say about him. However, having weighed up all the factors, I feel it suits all parties for him to have a fresh start, and for us to move in another direction.
'He's a model professional and everyone at the club wishes him nothing but the best for the future.'"
However, at Darlington "Defender Louis Laing has agreed to new terms at the club.
Louis, who signed during the summer after leaving Blyth Spartans, established himself in the middle of defence last season, and made 38 appearances"
And Darlington add that "Last season's top scorer, Adam Campbell, has committed his future to the club by agreeing new terms!
Former Newcastle striker Adam, who signed for us last summer, scored 16 goals last season in league and cup, and had scored in three successive games before the season was prematurely ended. He also scored in the FA Cup win at Trafford".
According to the Telegraph & Argus, "Defender Mitch Lund has become Bradford (Park Avenue)'s third player to sign on for the 2020/21 season.
The 23-year-old, who can play across the back four, has put pen-to-paper to a one-year deal with an option for a second. He follows in the footsteps of forward Lewis Knight and new goalkeeper Dan Atkinson as Mark Bower begins to put his squad together.
Lund was a regular last season, featuring 30 times, especially excelling when Liam Hughes' departure left a void in the centre of defence. The former Doncaster Rovers and Morecambe Town player... told the club's website 'I am looking forward to stepping out on the pitch for this great club... It is a credit to the club that at this uncertain time they are in such a positive position off the field, securing a strong playing squad for next season as well as signing the gaffa (Bower) and Bosh for another 3 years..
. 'It will give me immense pride to represent this club once more'".
The Shropshire Star reports that "Midfielder Adam Walker has asked AFC Telford United fans to 'stick with us' throughout the uncertainty caused by the coronavirus pandemic...
Experienced midfielder Walker, who was a big hit in his first season at the New Buck's Head, taking home two end of season awards, admits the lack of football has been a 'big gap' in everybody's lives... 'In non-league we haven't got the powers of the TV rights and sponsorships,' Walker told BBC Radio 1. 'Non-league does rely on people coming through the gates and watching us play. We want the supporters to stick with us and hopefully start the new season with a football club there'.
He added... 'On the Saturday, as you usually do, you would say bye to your team-mates and that you'd see them on Tuesday and then this happened. It's been a big gap in everyone's lives really'...
Chairman Andy Pryce admitted that it has been a financial 'struggle' for the club, who are in the awkward position of trying to assemble a first-team squad without knowledge of when next season will take place. Pryce added negotiations with sponsors has been 'difficult, though the Bucks have sealed a new one-year deal with North Stand sponsor Hamer Leisure Ltd, a Telford-based static caravan business".
---
25 May 2020
Exactly a year ago today, 25 May 2019, it was reported here that striker Tom Peers [right] had returned to Altrincham whilst goalkeeper Elliot Wynne had been released in what Altrincham manager Phil Parkinson described as "the toughest of decisions".
Tom Peers (d.o.b. 23 October, 1995) first joined Altrincham in summer 2017 and went on to make 30(+29) Altrincham appearances, in which he scored 14 goals. Although his Altrincham appearances in 2017/18 were more often from the bench than from kick-off, by mid-November 2017 he had participated in more Altrincham games than any other member of the squad and had weighed in with some important goals. 2018-19 also saw him primarily deployed as a substitute and on 1 November it was announced that he had opted to move to FC United in the hope of more consistent game time. Ironically he left Moss Lane whilst top of the chart for goals scored per minutes played in 2018/19 season!
At that point he had made 30 starts and 29 further appearances from the bench, scoring 14 goals.
He netted five times for FCUM but the club was relegated from the National League North. Nevertheless, Tom ended the season at FCUM but rejoined Altrincham in late May 2019.
Tom scored a number of important goals in 2019-20 season and added 16(+17) appearances to his record, netting eight goals. Twice he netted the only goal of the match at Bootham Crescent to dismiss York City from both the FA Cup and FA Trophy. Overall he has now made 46 starts and 46 substitute appearances and scored 22 goals for the club.
Born in Warrington, Tom initially came through the Chester FC youth system (2013-16), at which club he made 3(+21) first-team appearances under manager Neil Young. He then went on loan to 1874 Northwich FC and, in January 2015, he started a month's loan at Marine.
In December 2015 he went on a month's loan to Salford City, with a similar loan stay at Hednesford Town following that. In 2016 he briefly joined Hednesford before a summer 2016 move to AFC Telford United. However, he soon moved on to Warrington Town (Sept. 2016) and then Droylsden (Dec. 2016 to Feb. 2017). At that point he joined Nantwich Town before following manager Phil Parkinson to Altrincham in summer 2017.
Goalkeeper Elliot Wynne (21), [left], impressed boss Phil Parkinson in a pre-season friendly when playing for Abbey Hey and he joined Alty in late July 2018. Elliot won his place as first-choice keeper in late August 2018 but gave way to Tony Thompson in October. On 4 January 2019, it was announced that Elliot had gone on a month's loan to Trafford FC and this was extended before he returned to Moss Lane in early March 2019. He made ten Altrincham appearances.
He subsequently faced Altrincham for Farsley Celtic.
Histon FC
have held a Q & A with their manager and former Alty loanee goalkeeper, Lance Key.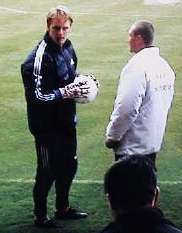 "Lance [right, seen at Rushden before playing for Alty at Nene Park in 2000] started his career at Histon before signing for Sheffield Wednesday in 1990 for a fee of £10,000. Six years with the Owls were followed by spells at Oldham Athletic, Oxford United, Lincoln City, Hartlepool United, Rochdale, Dundee United, Sheffield United, Northwich Victoria, Altrincham and Kingstonian before returning to Histon in September 2004. That is some road trip!
For those too young to remember, Lance was a member of the Histon team that won the Southern League and Conference South championships in 2005 and 2007 respectively. He has since been employed at Rushden and Diamonds and Royston Town as goalkeeping coach and is currently the proprietor of the Hop Bind in Cottenham (directly opposite the Curry Palace) where they serve a lovely pint of ale".
The article goes on to report "Lance's verdict on the class of 2019/20" at Histon.
Lance Key was drafted into Altrincham in 1999-2000 season following injuries to Stuart Coburn and his replacement Dean Greygoose. He was unable to halt Alty's end of season collapse which saw them relegated from the Football Conference to the UniBond Northern Premier League. He made 15 Conference appearances for Altrincham.
Our neighbours,
Trafford FC
write that "On behalf of everyone at the club, a heartfelt 'thank you' goes out to our amazing friends who have so generously donated to our Just Giving fundraiser. We're genuinely overwhelmed to have already smashed our original target of £5k which we only dared to dream we'd achieve.
Every single penny will help our little club to survive this current crisis; that's why we're keeping the page open for those who would still like to donate. Please keep sharing our page, the more we can raise, the better our chances of being here for our 30th anniversary!"
Meanwhile, NL Daily confirms that "Seven out-of-contract Stockport County players will be leaving the club.
Dan Cowan, Frank Mulhern, Ian Ormson, Connor Dimaio. Szymon Czubik, Tyler Garrett and Liam McAlinden will not be offered new deals. County say they have taken up the option to extend the contracts for a further year of youngsters Festus Arthur and Jordan Downing.
'Constructive and ongoing talks' have been had with Ash Palmer, Ben Hinchliffe and Adam Thomas regarding new contracts and 'It has been agreed to extend the current contractual terms of the players on a rolling basis, until such time as there is clarity on next season.' County have decided to continue the contracts on a similar extension basis of Sam Minihan, Paul Turnbull, Nyal Bell, Sam Walker and Elliot Osborne, while Darren Stephenson's contract will be contined until he has returned to full fitness following his serious injury last pre-season which required surgery in the spring of this year'".
According to
NL Daily
, "Darlington manager Alun Armstrong has agreed to extend his contract at the club for a further three years.
The former Darlo striker returned to the club this time last year after a three-year spell in charge at Blyth Spartans. The club reached the first round of the FA Cup for the first time since 2010 and were six points outside the play-offs in the National League North at the time of the season suspension.
Armstrong... told the club website 'The deal gives me the stability and the opportunity to plan properly as a group to try and get this club back where it belongs, in the Football League'".
Also, Darlington "announce that central defender Alex Storey has agreed new terms for the 2020-21 season! Former Sunderland youngster Alex joined us from Sunderland RCA in September... Since then, he has made 26 appearances, scoring once and became a valuable member of our squad.
Darlington "Sean Reid has signed for us for another season. Sean signed for us from Morpeth in December, and made his debut in the 1-0 away win at York just before Christmas.
He has made a total of 13 appearances for us, scoring twice, and has proved that he can play in different positions."
According to the Northern Premier League "Witton Albion have signed full-back Isaac Baldwin from Farsley Celtic.
Baldwin, 23, made 21 appearances for Witton last season on loan, having previously helped Farsley to promotion to National League North".
The Telegraph & Argus reports that "Life as a goalkeeper can often be a struggle. The pressure that comes with the position is unlike any other, with you knowing that one slip up can cost you a place in the team for months on end.
New Bradford (Park Avenue) stopper Dan Atkinson has found it hard to stamp down a regular spot at the clubs he has represented.
'You have always got to be on it and you can't afford to make mistakes,' he said. 'As you get older, you get used to that pressure and you don't think about it as much.'
The 24-year-old's experience is second to none. He worked his way through the ranks at Leeds United for over 10 years, and even earned himself a spot at Under-16 and Under-17 level for England... 'I loved it being at Leeds,' Atkinson said. 'I had some good times... If I had my time again, I would have gone out on loan and gained some experience early... I always look back and have very fond memories of my England days... One game we came up against Timo Werner. He is in the news at the moment being linked with Liverpool.'
But who stood out to him the most?
'Ruben Loftus Cheek. He dominated at every age, even on the international stage, so it was a pleasure playing with him. He had the size, stature and football skills. He was the whole package.'
When Leeds let Atkinson go in 2015, current Avenue managerial pair Mark Bower and Danny Boshell quickly snapped him up for then-National League side Guiseley... Atkinson got his first team bow when a future Bradford keeper fell ill.
He said 'It was a blessing in disguise (getting released by Leeds). I was excited to get out there and play some professional football in a proper league and get that experience. I got a bit of luck. (Steve) Drench [now at Alty] went down with tonsillitis and that gave me a game. I played well and kept the shirt for a couple of months'...
'The season after was a bit of a struggle. I was going to be Bower's number one for that season. He got the sack after five matches and a new manager came in and brought his own goalkeeper and that was me done for the season. It is difficult at times when things change so quickly.'
A couple of years out of the game followed, but now Atkinson is back... He said 'I have been coaching the academy keepers at Leeds, which has been a brilliant experience. I joined in with a few sessions there to keep sharp with their group of young players and I can't wait to get back to it... I think I stepped down from Guiseley before I should have. It gave me the hunger back, which is good... I sent Bower a good luck message when he signed back up at Avenue. I absolutely loved playing under him at Guiseley.
'There are not many people I would have come back to play for but Bows was definitely one. It was a big part of me coming to play again'".
The
Leader Live
says that "Wrexham haven't been involved in discussions regarding a potential restructuring of the National League.
Reports emerged last week that some chairmen at League Two and National League level have held preliminary discussions regarding a 'radical restructuring' of the divisions. The plans, which are reportedly at a tentative stage, would see League Two and the National League merge on a regional basis, turning them into League Two North and League Two South.
That would mean having five divisions in English football's Premier League and EFL pyramid for the first time, helping save money on travelling costs, while boosting attendances through an increased number of derby matches.
Wrexham insist they have not been involved in any of the rumoured discussions...
'We have not been a party to any of these discussions, if any have actually taken place. For this idea to come to fruition it would require League Two clubs to accept a reduced share of TV money and this seems unlikely at this point.'"
---
24 May, 2020
Altrincham FC
has announced how to vote for the prizewinners in the End of Season awards.
The award categories are Player of the Season, Young Player of the Season (aged 25 and under), Goal of the Season, Players' Player of the Season and Clubman of the Season.
Recently returned Altrincham FC director, Rob Esteva, has been interviewed by the Club's press and media officer, Brian Flynn, and the fourteen-minute videod discussion can be found on the official
Altrincham FC
website.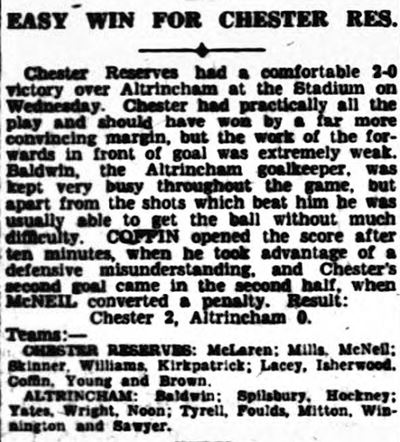 Following our recent piece on previous Alty games which have been played deep into the month of May, I am grateful to Terry Rowley who confirms that actually "The latest competitive match played was on May 21 in 1947, a 2-0 defeat against Chester Reserves in the Cheshire County League". For the record, Chester Reserves had lost 4-0 at league leaders Wellington, 48 hours before playing Altrincham.
The adjacent match report from 1947 was found in the Cheshire Observer, confirming this not only as the latest date in a season on which Alty have played a league match but also as the latest date in a season on which they have lost a competitive match! Altrincham finished tenth that season, which was the first to be completed in the Cheshire County League after World War Two.
By coincidence it was a match against Chester FC which was the first of Altrincham's home fixtures in 2020 to be postponed because of Corona virus.
Darlington
"announce that winger Jarrett Rivers has agreed a new contract.
Jarrett joined the club last summer from Blyth following the appointment of manager Alun Armstrong, and last season was a real handful on the wing.
Jarrett made 41 appearances for us last season, scoring three times."
And Darlington also "announce that striker Jamie Holmes has agreed new terms.
Jamie, who started his career at Newcastle, joined us from Blyth last summer after Alun was appointed as manager, and looked set to be a regular starter.
However, he injured his anterior cruciate ligament (ACL) in the second game of the season, and was ruled out for the rest of the season. Happily, he is now well on the road to recovery, so hopefully we'll see Jamie at his best next season!"
At Gateshead the "Chairman looks forward to a brighter future.
It was on this day last year that a supporter-led consortium officially completed their takeover of Gateshead Football Club. The days and weeks running up to the conclusion of the deal were fraught with worry and concern that the club could go out of business.
But now, twelve months on, Gateshead chairman Neil Pinkerton wants to look to a brighter future... The club's first season under supporter-led ownership may well have been curtailed by the coronavirus epidemic, but that can't take the shine off a season of progress at the International Stadium.
Under new manager Mike Williamson, and with a squad that has developed throughout the campaign, the Heed were well-placed to challenge for a National League North play-off place in the closing weeks of the season.
Progress has been made off the pitch too as the club continues to work hard in the local community, the academy is showing signs of producing talented local players and the commercial side of the club continues to evolve.
As he assessed his first year as chairman of the club he has supported throughout his life, Pinkerton insisted that... 'It's now a case of having a vision of what we can achieve with the resources we have. We have great staff at the club, a loyal fanbase and it's now about how we make the club sustainable for the future'...
He continued 'We have the International Stadium, which is a great facility, and we have the college, so we have a good foundation to build on. We have had lots of feedback from people that have come back and said what a different feel there is at the club.
'That's the volunteers that run the matchday, the people that experience hospitality, the businesses that are getting involved once again and other potential sponsors. We are in a decent position, but obviously without any income in the near future, you have to start looking and thinking we need decisions from the authorities... but as a club, we are also moving on together.'"
---
23 May 2011
The
BetVictor Northern Premier League
reports that "Stafford Rangers have announced Jody Banim as the club's new first team manager.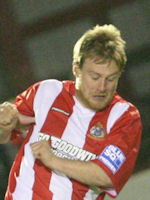 Banim, 42, [pictured in his Alty days, right] left Ashton United last November after three years in charge having previously helped them to promotion to National League North.
He said 'Stafford Rangers are a massive football club and our objective is clear. We want, and will bring back, the glory days and we are proud to be part of the Boro. We have seen, during lockdown, the passion and the enthusiasm that fans have shown in supporting so magnificently the "Stand Together" campaign and we want to be part of it.'
Banim has extensive experience at this level and beyond, playing for the likes of Altrincham, Accrington Stanley and Burton Albion during his playing days.
He will be joined by Boro favourite Matt Hill, who takes the role as assistant manager.
Stafford Director of Football, Andy Fearn, said 'Jody just impressed us from the start with his enthusiasm and knowledge of the game, at our level and above. We believe he is the right man at the right time. He has demonstrated in his management career an ability to rise to challenges and we welcome him on our journey.'"
Altrincham signed striker Jody Banim on a month's loan from Burton Albion on 27 January 2009. He was already well known at Moss Lane, having been based for several years in the North West and even having a brief spell as a trialist at Altrincham in 1997. He started out as a youngster with Manchester United and was a trainee at Old Trafford in 1995/96 season before being released and joining Trafford FC. A brief trial at Altrincham in 1997 followed but he moved on to Flixton in 1998. In 2001 he joined Radcliffe Borough where he made 125 appearances and scored a phenomenal 97 goals, netting in 14 successive matches in one spell.
In December 2003, his performances prompted a move for £20,000 to Shrewsbury Town who were in the Conference at that time. After 9+(8) games for the Shrews in their promotion season, he joined Accrington Stanley and Droylsden before arriving at Stalybridge Celtic in 2005. He rejoined Radcliffe in March 2006 on loan before rejoining Stalybridge and then Droylsden, again, in August 2007 for their promotion into the Conference. From February to April 2004 he was on loan at Torquay United where he made 3(+5) appearances without scoring. In May 2008 he joined Burton Albion. Jody made his Alty debut as a sub against York on 27 January, 2009. At the end of his loan spell he returned to Burton who soon released him. Jody then rejoined Droylsden. Career appearances for Altrincham: 2+1, 1 goal.
Alfreton Town
"are delighted to confirm that the club raised a wonderful figure of £1068.20 in memory of Sinbad [Jordan Sinnott], with the proceeds going to his family.
Jordan tragically passed away on the evening of the 25th January following an incident which saw the former Reds midfielder suffer life threatening injuries, which he was unable to recover from, in the early hours in Retford Town centre.
With a global viral campaign which saw thousands of shirts donated in Jordan's memory from non-league, the Premier League and abroad, Sinbad's funeral at Bradford City's Valley Parade on the 4th March, saw all of these shirts displayed, including one sent by the Reds.
In addition to this, ATFC raised the figure above through collections at fixtures in the aftermath of Jordan's death including games against Gloucester and Gateshead. The many donations the club also received were massively appreciated, including the donations obtained from Gateshead supporters and ATFC Social Club.
The Reds are extremely proud to have raised £1068.20 and we thank all who contributed to make this fantastic sum. Jordan will always be in our hearts and we send all of our love to his family."
The Lynn News confirms that "Two more of King's Lynn Town's playing squad have signed new deals.
Right-sided midfielder Ryan Hawkins and goalkeeper Alex Street have both agreed terms for another season.
The news comes hot on the heels earlier in the week that defender Aaron Jones is also West Norfolk bound for another spell after agreeing a fresh deal."
Kidderminster Harriers "announce that Keith Lowe has signed a new contract with the club.
The influential and popular defender returned to Aggborough to start a third spell back in January.
In total, he's amassed more than 130 starts as a Harrier, and has now penned terms to remain here for next season.
Manager Russ Penn said 'Our fans know that Keith's professionalism and experience speaks for itself, so this is great news for us. He'll again be a massive player for us this season and will be a leader on the pitch, but we've also agreed that he'll take on an extra role as a club ambassador as well...
' 'He's the ideal person to try and keep all of that knitted together, whether it be with player appearances, interviews or input on social media.
'We're proud of what we're building as a team and a club and want Keith to be a massive part of all of it.'"
---
---
The following pages, which initially replicate those pages with the same web addresses which formed part of the official Club website, will be re-branded from 2018 as part of this new unofficial Alty Files site.
A/Z Site Index to The Alty Files at www.altrinchamfc.co.uk
---