an unofficial Altrincham FC website.
www.altrinchamfc.co.uk
---
OPTIONAL DROPDOWN MENU - HERE
---
ALTY HEADLINES
26 May 2019: TWO MORE COMMIT THEMSELVES...More
26 May 2019: TOM PEERS'S RETURN...More
26 May 2019: OLD ACQUAINTANCES: 4. KETTERING TOWN...More
OTHER HEADLINES
---
26 May 2019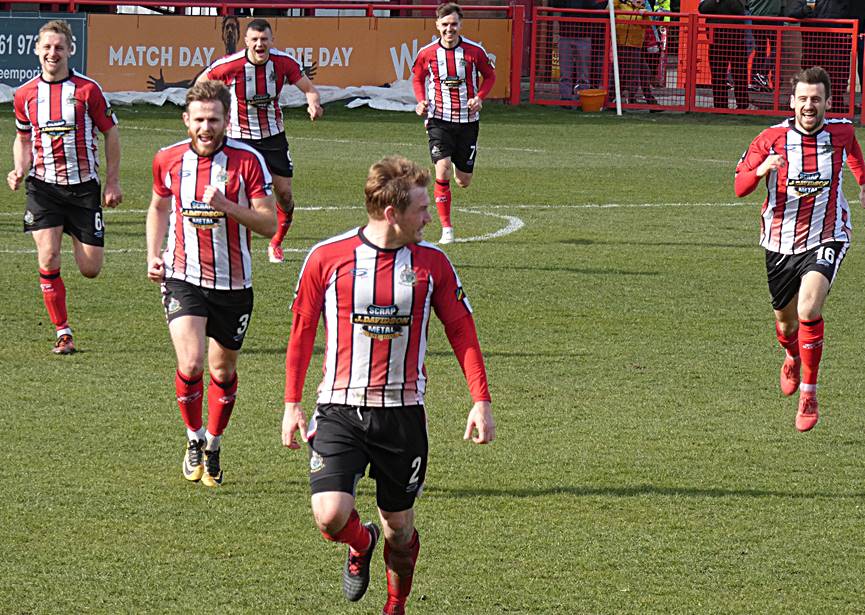 The Altrincham FC official site confirms that defender Shaun Densmore and midfielder Max Harrop have both signed up for next season at the J. Davidson Stadium.
Above: Shaun celebrates after scoring against Chorley in April 2019.
For Shaun, now aged 30, another thirteen appearances will take him to 400 games in the Altrincham shirt since he joined, initially on a month's contract on 12 September 2008. At that time, Shaun, a former Everton Academy Player of the Year, had just been released by the Toffees. He made his Alty debut on 16th September 2008 and on 13 October 2008 he signed on for the rest of 2008-09 season. In his 387 appearances to date, Shaun has netted 28 goals.
26 year-old Max Harrop joined Alty on the eve of the opening game of the 2017-18 season. His career had begun with Liverpool FC's Academy, before he moved to Bury, where he made his Football League debut in March 2011. At the end of that year he went on loan to Blyth Spartans. After returning to Gigg Lane, another loan followed, at Hinckley United. After he had been released by Bury, he joined Nantwich Town in the summer of 2013. However, he left for Ashton United in March 2015 but, at the start of the following campaign, he was at Ramsbottom United. However, he then rejoined Nantwich in 2016.
To date he has made 54(+26) appearances for Altrincham and has scored 12 times.
Following his return from FC United of Manchester, striker Tom Peers [right] was interviewed by press and media officer, Brian Flynn, for the
Altrincham FC
website. In the interview he explains his reasons for returning to the J. Davidson Stadium.
The fourth club in the series on renewing acquaintances with former opponents is Kettering Town. The other clubs already profiled here have been Oxford City, Farsley Celtic and Gloucester City. As with Farsley Celtic, since Alty last met them, Kettering Town have "gone under" only to be reborn and regain their status in the pyramid.
And, like Gloucester City they now play at a different venue from when we last met. Altrincham's previous away matches with Kettering were at Rockingham Road, their home from 1897. But that venue was sold in 2011 and subsequently built upon. Since then, Kettering have been nomadic; they played at Nene Park (formerly the home of Rushden & Diamonds), then at Steel Park in Corby in 2012. They moved again, a year later, to Burton Park Wanderers' stadium at Latimer Park in Burton Latimer, to the south of Kettering. That remains their home for 2019-20.
The original Poppies were an older club than Altrincham as it was as early as 1872 that a Kettering Football Club was set up. As Altrincham were to do later, they attempted to gain Football League status in the 1950s and 1960s but were unsuccessful and they remained in the Southern League.
Various applications to the Football League also took place in the 1970s but, again, without success. In 1979 both Altrincham and Kettering Town once more failed to win Football League status through the re-election process and both became founder members of the Alliance Premier League. In the second season of that competition they finished second to champions Altrincham.

Above: Alty (in yellow) at Rockingham Road in 1999 season.
Kettering were to be Alliance/Conference runners-up three times more, in 1987-88, 1993–94 and 1998–99. Indeed, they lasted longer than Alty in the Conference. Whereas Alty were first relegated in 1997, Kettering did not drop down until 2001 but won promotion back to the national level the next season. They became a yo-yo club as, in 2002–03, they were relegated again.
Like Alty they were founder members of Conference North in 2004. As Alty fans will recall, they lost at home to Altrincham in the play-offs, which led to the Robins regaining Conference status.
In 2007 Kettering again lost out in the Conference North play-offs but they won the league below the next season and so rejoined the national level.
After the Rockingham Road ground had been sold in 2011, the club went went into administration. Having finished bottom of the Conference in 2012 they were demoted down to the Southern League Premier, in which they again finished bottom. So, like Alty they know all about double relegations!
For 2018-19 they were moved into the newly created Southern Premier Central Division and won the league to regain Step Two status. They were allocated to the North Division for 2019-20 and hence they renew their acquaintance with Altrincham for the first time since 2010-11 season.
In that campaign the league results were
Tue.28.9.10 away 3-3 in front of 1,194 spectators. Alty scorers were Denham 19, Reeves 30, Hewson 81
Sat.19.2.11 home, Alty won 3-2 in front of 752 spectators. The home scorers were Reeves (pen) 22, Baynes 64, Young 88
Curzon Ashton
report that "Club stalwarts leave. At the weekend Chris Rowney confirmed that he will be looking for a new challenge elsewhere next season. A key member of the successful promotion winning side, Chris signed for the Club in 2013 in a transfer from Mossley...
This week also sees striker-midfielder-defender, Ryan Brooke, leave for pastures new...
The club can also confirm that Captain, Jonathan Hunt, will also be leaving after 7 years. Hunt declined an offer to renew his deal with Curzon and has accepted an offer from neighbours, Ashton United, to help them get back to the National League North at the first attempt. He will join up with former team-mates [ex-Alty man] Simon Woodward, [ex-Alty loanee] Liam Tomsett and recent signing, Connor Hughes, at Hurst Cross."
Farsley Celtic "announce that Luke Parkin will be remaining with the club for the 2019/20 season. Parkin becomes the ninth player to renew his contract...
[Also], we are delighted to announce that Paul Walker will be remaining with the club for a fifth season... [and] we are extremely pleased to announce that Will Hayhurst has agreed to extend his stay with the club."
Mossleyweb
reports that "Mossley manager Dave Wild is excited to have landed his first transfer target of the closed season, Curzon Ashton [and ex-Alty] striker Ryan Brooke.
Brooke (age 28) began his playing career with Oldham Athletic and on 2nd May 2009 was handed his league debut against Walsall in Oldham's final game of the 2008–09 season... He came on and scored the winning goal with his first touch of the ball.
In the 2011/12 season he had loan spells with Barrow and AFC Telford United. He went on to make a total of 29 appearances for the Latics scoring 2 goals before his release... He joined Altrincham in May 2012 scoring 6 goals in 22 appearances for the Robins in the 2012/13 season.
Brooke joined Curzon for the first time in 2013... In August 2016, after 121 appearances and 41 goals, Brooke departed the Tameside Stadium for Nantwich Town and scored on his debut for the club the following day.
He returned to Curzon for a second spell in November 2017 and made 37 appearances, mostly in midfield, but still managed 9 goals last season".
---
25 May 2019
Altrincham FC
announce that "Tom Peers [right] has made a welcome return to The J.Davidson Stadium, but Elliot Wynne has been released in what Altrincham manager Phil Parkinson described as 'the toughest of decisions'"
Peers (d.o.b. 23 October, 1995) joined Altrincham in summer 2017 and went on to make 30(+29) Altrincham appearances, in which he scored 14 goals. Although his Altrincham appearances in 2017/18 were more often from the bench than from kick-off, by mid-November 2017 he had participated in more Altrincham games than any other member of the squad and had weighed in with some important goals. 2018-19 also saw him primarily deployed as a substitute and on 1 November it was announced that he had opted to move to FC United in the hope of more consistent game time. Ironically he left Moss Lane whilst top of the chart for goals scored per minutes played in 2018/19 season!
He netted five times for FCUM but was unable to help them stay in the National League North.
Goalkeeper Elliot Wynne (21) impressed boss Phil Parkinson in a pre-season friendly when playing for Abbey Hey and he joined Alty in late July 2018. Elliot won his place as first-choice keeper in late August 2018 but gave way to Tony Thompson in October. On 4 January 2019, it was announced that Elliot had gone on a month's loan to Trafford FC and this was extended before he returned to Moss Lane in early March 2019. He made ten Altrincham appearances.
The AltyFiles website has been contacted recently by Mark Grey, son of former Altrincham FC player Rex Grey. Mark writes that "My dad Rex played for Altrincham after he had to retire from playing professionally for Manchester City in the 1950s. Doctors told him he could never play football pro or amateur again but he always was very headstrong and called his own shots. He played in the same squad as Bert Trautmann, who I had the awestruck pleasure to meet. I think my dad played for Alty in the early to mid 60s.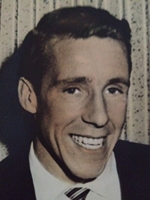 I attach a picture (left) from his playing days and I am told that the squad photo which he is in is still in the club. It's still online here.
He retired, as he had the cartilages taken out of his knees, and his mobility now is very limited. He had two total knee replacements around 19 years ago. All that said, he is still doing OK in his mid-80s. He was a pretty deadly forward in his day!"
As an article from the match programme, of 26 December 1962 for the Altrincham v Wigan Athletic fixture revealed, in February 1962, "Rex Grey signed from Macclesfield for a substantial fee". The same article's entry for March 1962 says "A great game against Buxton, 4-2 victory. Rex Grey netted two... Last match of March against Tranmere. Altrincham came away with a 4-3 victory. Scorers, Green 2, Grey and Goodwin.
In April "A great game at Wigan... Grey nets 2. 500 fans travelled to Wigan to see this game.
August, 1962 "A match against an All Star XI opened the season which we won 2-1. All Star team included FIELDlNG, MEADOWS, BATTY, BOOT, OWEN, COCKBURN, CLARK, REVIE, ASTON, PEARSON, ROGERS. A great 2-1 victory at Chester. Perry and Grey scored.
October, 1962 "Altrincham still top of the league. Four points clear. A fantastic game against Congleton, Rex Grey netted four... St. Helens defeated 3-1 In the F.A. Cup. Grey nets two again.... 6,000 witness Altrincham's F.A. Cup defeat by Rhyl. Dickenson and Grey score again. What a combination these two are".
The third in our four-part series on clubs against whom Altrincham have played in the past but who did not play the Robins last season in 2019-20, features Gloucester City.
2019-20 will be the fifth season in which our clubs have found themselves in the same division. However, Gloucester City is arguably the only club that Alty have met in away fixtures on numerous occasions yet they never played in their opponents' home city. On previous occasions, City were playing at Cheltenham Town. In 2019-20 Gloucester will be playing at Evesham.
Unlike other clubs playing away from their historical origins, in Gloucester's case this is due to circumstances beyond their control. Major floods in 2007 made their stadium venue unplayabale though they hope to return there in the near future following completion of anti-flooding measures.
Gloucester entered the northern realm of non-League football when they were assigned to Conference North for 2009-10 season. At that time, Altrincham were in the national division. So their first encounter with each other came in 2011-12 and the two subsequent campaigns in Conference North. Altrincham were then promoted leaving City in the North until the end of 2016-17, the season in which they renewed acquaintance with the then relegated Alty.
However, the following season, 2018-18, saw Gloucester reassigned to Conference South. They have thus spent ten seasons in Step Two, eight in the north (2009-17) and two in the South (2017-19). In those ten seasons they have never finished higher than tenth (2017) and never lower than 18th (2010).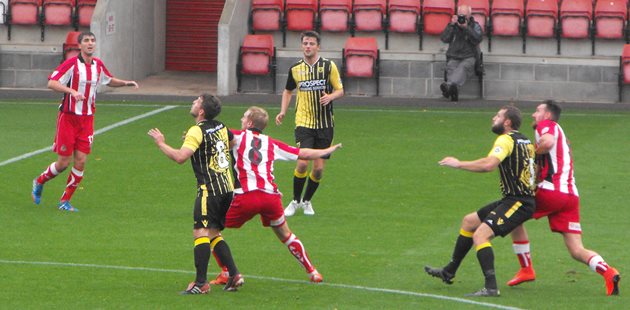 Above: David Lynch, Jake Moult and Craig Hobson in action in the 5-0 defeat at Whaddon Road against Gloucester City in 2016.
The meetings with Altrincham in Conference North were as follows. By a quirk of the fixture list, Alty played The Gladiators four times in league matches in the calendar year 2013.
Sat.3.9.11 Away 1-1 att.360
Sat.19.11.11 Home 1-2 att.773
Sat.2.2.13 Home 2-0 att.762
Tue.26.2.13 Away 0-0 att.205
Tue.24.9.13 Home 2-0 att.626
Tue.10.12.13 Away 0-2 att.269
Sat.10.9.16 Away 0-5 att.406
Sat.7.1.17 Home 0-1 att.915
Longstanding Altrincham supporters will recognize the symptoms of being a fan of the Robins which are revealed by Alan Goodacre in his message to the AltyFiles website. And younger fans are warned that they, too, will fall under the spell of Alty which will oblige them, too, in later years, to make sacrifices to follow their chosen club.
Alan writes that "My dad [Arthur Goodacre] was a long-standing (and suffering) fan of Alty throughout his life until he died in 1986. My mum [Iris Goodacre] worked in one of the Alty refreshment kiosks for several years. I started coming to Moss Lane when I was about three years of age with my dad and loved all of the excitement, including many trips away.
However, I left Altrincham in 1970 (when 18) so have only been a long-distance fan since.
Childhood (and later) highlights for me were:
Trips on the Easter special train hired (in the good old days) to take all the Alty fans to Bangor City!
Goalkeeper (George Smith [right] I think) scoring from his own penalty area down the slope at Congleton! [Clearance bounced over their goalkeeper's head!]
The 1966 trip to Molineux when the Robins first made it into the Third Round round of the FA Cup [even though we lost 5-0] – 1966 was a very good year!
Jackie Swindells (ably aided by the centre forward Connolly, I think) scoring seven in the away match against Chester Reserves
A huge crowd (more than 13,000?) in Moss Lane to see an all-stars charity match on a glorious sunny day – heaving!
When my dad died, Alty very kindly let me fulfil his wish that his ashes be scattered on the pitch at Moss Lane; he has had a great view of every home match since. Did you ever wonder why the grass grows well near the penalty spot at the Golf Road end?".
Alan added that he was "coming back to Moss Lane to 'catch up with my dad' and to see the playoff match against Blyth Spartans – only a 500 mile round trip from Stirling (Scotland) where I have lived for almost 40 years... I have really enjoyed watching the Alty TV and other videos of them this season; very impressive football. Huge thanks to all who do the videos and run the web pages; it's great to be able to continue to follow the team, even at a distance".
Southport
"confirm the following players have been retained for the 2019-20 season:
Ryan Astles, Brad Bauress, Dion Charles, Jason Gilchrist, Devarn Green, Dan Hanford, Morgan Homson-Smith, [ex-Alty] Patrick Lacey, David Morgan, [ex-Alty loanee] Andy Parry, Jack Sampson and Dean Winnard.
The following players will not have their contracts renewed and the club say they would like to thank all of them for their time and efforts at the club and wish them all well in the future:
Liam Davies, Josh Tibbetts, Jordan Richards, Billy Priestley and Josh Langley. [Langley, who was on loan at Alty for part of last season, ended the campaign at Ashton United].
Alfreton Town "have signed centre-back Ryan Qualter from Boston United. Qualter, 28, has a wealth of experience at National League North level, having played previously at Bradford (Park Avenue) and spending the last season and a half at the Pilgrims.
He is the first addition to the Impact Arena ahead of the 2019/20 campaign. Former Shaw Lane captain Qualter joined the Pilgrims in January 2018, making 18 appearances during the 2017/18 season before featuring 44 times last season... Qualter found the net once last season.
Billy Heath said, 'Ryan has a wealth of experience at this level, he's played and was captain at Shaw Lane, Ryan has been at Bradford PA before spending the last season and a half at Boston.
'He has played a lot of games and is a very solid strong defender, he definitely stood out to us in both games last season and we are delighted to have him at the Reds and we are excited to have him part of what we hope will be a more solid defensive unit.'"
According to Lynn News, "King's Lynn Town defender Frazer Blake-Tracy has finally completed his move to Peterborough United.
Lynn confirmed the departure of the highly-rated left-back... The Linnets are said to be delighted with the compensation package that has been agreed for the 23-year-old."
At Leamington "Brakes' fans will be delighted to hear that Tony Breeden has agreed to remain with the club for the 2019/2020 campaign.
The experienced shot stopper, adored by the Leamington support and taunted by opposing fans who wish he was in their team, is in his third spell at the club, and has amassed well over half of his total of 341 appearances for us since returning in the summer 2015 from Solihull Moors.
Well known and respected as one of the best goalkeepers in the National League North, manager Paul Holleran was delighted to announce his retention, saying 'Tony has been a mainstay of our successes over the last few years as part of an experienced and settled defensive unit, and it is fantastic that he will be remaining with us for the new season.'"
Chester FC "announce the signing of Kevin Roberts following his release from Wrexham. The move comes 12 years on from Roberts making his senior debut at Chester, back in 2007.
The versatile defender and midfielder is a product of the Chester City Academy, and made his debut at the Deva in 2007. From Liverpool, Roberts went on to make 81 appearances for City, scoring seven goals.
The 29-year-old then moved on to make over 100 appearances at Cambridge United and also at FC Halifax Town before joining Wrexham for an undisclosed fee in 2017. Kevin made over 70 appearances at the Welsh club, and has now signed an initial one-year deal at the Swansway Chester Stadium.
Bernard Morley said, 'We are delighted to have signed a player who has already won this division and it was a very strong league when FC Halifax were promoted. He adds massive experience and can play in a number of positions. Kevin is a winner. He played a big part in Wrexham's promotion push last year and we're very happy to have him on board'".
The Telegraph & Argus claims that "Garry Thompson knows better than most that anything is possible is football.
Having forged his reputation in Bradford as a member of the history-making City squad under Phil Parkinson, he is now looking to make his own mark with Park Avenue. His appointment as the new boss at Horsfall Stadium has certainly caused a stir and his previous achievements at Valley Parade will naturally set a high bar...
'I think pressure is a good thing because it doesn't allow you to rest on your laurels,' he said... 'When you've had a career as long as mine, you're going to have pressure... I'm a really positive guy and all I want is my players to show no fear and go out and express themselves. I want them to enjoy what they are doing'...
Thompson's arrival to succeed Mark Bower has created massive public interest in a club that have not been used to the spotlight...
He added, 'I aim to leave the club on a better footing than when I found it. They've been in the play-offs the last two seasons so there is pressure straight away from that point of view. One thing I've accumulated over my career is a lot of really good contacts and experienced people who have made the same jump. I'll be calling on all of them to advise and guide...
Thompson admits he has almost drifted into his management during a career that has spanned more than 700 senior games...
'I naturally fell into that category of being a leader... It's going to be difficult obviously dipping my toe into management for the first time...
'I've come from a non-league background myself. I played in the Conference until I was 26 and know what it's about. There are no passengers. Everybody has got to work, graft and scrap for every single point.. This is a big opportunity at a proper club'".
News of an Alty loanee from last season comes from the Shropshire Star. It says that "AFC Telford United boss Gavin Cowan admits the challenge for newly re-signed attacker Brendon Daniels is to find consistency.
The 25-year-old yesterday put pen to paper on a new one-year deal at the New Buck's Head after initially joining in January. Left-footed Daniels, who can play on either flank, possesses exciting natural ability and has a rocket of a shot and free-kick.
And boss Cowan wants to help the former Port Vale flyer channel his talent... 'He's someone who, on his day, is unbelievable with the quality he brings when he's on it,' said Cowan. 'He has a wand of a left foot and it's about getting that consistency because he's unplayable on his day.
'He's had big offers to go elsewhere but he wanted to stay. He feels at home and comfortable here. We will challenge him and man to man I've put lots of incentives to him to get him to the next level but he has to earn it.'"
In the Northern Echo we read that "With a raft of new signings imminently lined up to replace the players who left at the end of the season, Darlington are in the midst of a substantial summer of change but one player unaffected by the comings and goings will be Stephen Thompson.
Now a certified club legend having made 301 appearances and scored 94 goals, the Peterlee-born forward is a crowd favourite and will be central to Quakers' team, says Alun Armstrong.
The new manager says that the 30-year-old is assured of his place in the side next season, as is fellow long-serving team-mate Terry Galbraith... Armstrong said, 'I've always wanted to work with Thommo. I noticed he played right-back once and that was when I thought I would have to see if I could get him to Blyth!
'I didn't make an approach in the end, I knew how long he had left on his contract and I couldn't afford him, but I would've loved him at Blyth because he would've gone into that team like a duck to water. He's my type of player and can win a game by himself...
Armstrong officially begins his Darlington tenure on Monday, and it will not be long before new signings are made, with up to five deals understood to be close to completion.
While Jonny Maddison, Alex Henshall and Ben O'Hanlon left Darlington at the end of the season, plus the loanees, there is a possibility that some of those that remain under contract could yet leave Quakers too".
At Hednesford Town, the Pitmen "extend a warm welcome to Louis Ezewele who has signed from Hereford FC. Louis is a highly rated centre back who has represented Bristol Rovers, Tamworth and Redditch after coming through the academy at Wolverhampton Wanderers".
The
BBC
has a less than crystal clear report that "Gateshead have been suspended from the National League and refused a licence for next season.
The fifth-tier club has breached the league's rules on financial reporting and permitted loans, as well as defaulting on football creditors. At a disciplinary hearing The Heed were found guilty of failing to obtain security of tenure over its ground.
The club has also been fined £3,500 and docked nine points from this season meaning they drop from ninth to 17th.
It is not yet clear how the league will be re-organised, although Gateshead can appeal to the Football Association over the suspension. If the club appeal and are unsuccessful, they face the prospect of a drop of at least two divisions, with the sanction also applying to the National League North, the tier below.
BBC Newcastle reports that a takeover of the club by supporters from owner Dr Ranjan Varghese had been agreed this week, but is not yet complete...
They were also evicted from the International Stadium, which they lease from Gateshead Council, although they were allowed to play out the season at their ground. The Heed currently have one player left contracted, Scott Barrow, but he will leave when his deal expires next month...
Fans' group Gateshead Soul, who helped pay for food and transport for unpaid players, still hope they can rescue the club and run it on a fan-owned model."
---
24 May 2019
Altrincham FC
has confirmed that goalkeeper Steven Drench, right-back Andy White and left-back Connor Hampson will remain at the club for 2019-20. "We now have nine players signed up for the 2019-20 season and we hope to be able to announce further signings in the coming days", the official website says.
Already announced as staying at the J. Davidson Stadium are Jordan Hulme, John Johnston, Tom Hannigan, Jake Moult and Josh Hancock with the signing of centre-back Toby Mullarkey from Nantwich making up the total of nine players in question.

As seen above, the annual renovation of the pitch at the J. Davidson Stadium is in progress, under the guidance of groundsman Neil Brown and his assistant Bryan Ford.
Five clubs will compete with Altrincham next season who did not face them last season. Of these five, four have played against Altrincham in some guise in the past. We looked at the first of these, Oxford City, yesterday. Today we look at Farsley Celtic.
Alty and Farsley Celtic last met in 2017-18 in the EvoStik Northern Premier League. That season, Altrincham completed a double over Celtic, winning 6-0 at Moss Lane on 19 September 2017 and 1-0 in the away fixture on 6 January 2018. Those were the first matches against the re-formed Farsley club which had gone out of business after failing to complete its fixtures in Conference North in 2009. It was only in 2015 that the new Farsley club was allowed to restore its historic Celtic appendage to its club name.
Prior to the encounters in 2017-18, Altrincham had met the earlier Farsley Celtic on four occasions, three of which were at Moss Lane and only one at Throstle Nest.
The original club had joined the Yorkshire League Division Two in 1949 before becoming founder members of the Northern Counties East League in 1982. When the Northern Premier League created a Division One, Celtic joined that division in 1987.
For 2003-04 season they had reached the Premier Division of the NPL and, two years later, they were promoted to the Conference North via the play-offs. From 2006-08 they were in the National division before relegation back to Conference North for 2008-09 season. They failed to complete the following season for financial reasons and their season's record was deleted.
A phoenix Farsley club, shorn of the Celtic name, competed in 2010-11 in the Northern Counties East League Premier Division and, from there, they were promoted to the Northern Premier League Division One North in 2011. Play-off victory brought them promotion back to the Premier division and the following season (2017-18) they reached the play-offs for National League North but were beaten by Ashton United. However, they earned automatic promotion in 2018-19 as champions of the EvoStik Premier.
Farsley's most notable connections with Alty are that Damian Reeves established his goalscoring reputation there before joining Altrincham and manager Lee Sinnott managed at Farsley from 2003-07 before a spell with Port Vale. Lee firstly took the West Yorkshire club from the Northern Premier League First Division to the Northern Premier League.
There was then a bizarre situation as Wikipedia explains, "Sinnott would have achieved another promotion in his second season at Throstle Nest as Farsley topped the Northern Premier League at the end of the season. However this was only on the FA's decision that Spennymoor United's records were expunged after they folded. The other clubs in the promotion mix appealed and the FA reversed their decision to expunge the results, leaving Farsley in third place and having to compete in the play-offs. Despite a 1–0 semi final win over Whitby Town, they lost in the final to Workington on penalties".
Undeterred, Lee won promotion in 2005–06 and, in 2006–07, he earned Celtic their third promotion in four seasons as they rached the Conference's national division for the first time in their history.
Above, we see Alty's first visit to Farsley in November 2007. Pictured is Farsley's Ryan Serrant preparing to take a first-half throw-in as Alty's Robbie Lawton and Gary Scott kept an eye on Celtic's Stamer and Darren Tinson marshalled the Robins' defence.
The first league encounter with Altrincham was in a 1-1 draw at Throstle Nest in the Blue Square Premier League on Tuesday, 20 November, 2007. This was Alty's first encounter with Damian Reeves, who was first booked and then sent off after giving his side an early lead. Colin Little equalised for Alty. The return fixture on Tuesday, 12 February 2008, was a goalless draw.
The other two clashes between the clubs were in cup matches. In 2004-05 in the FA Cup 2Q, Alty won 4-1 at Moss Lane. And, on 14 October 2008, Alty and Farsley drew 1-1 after extra-time in a Setanta Shield Round Two match. Altrincham won 4-2 on penalties.
In the
Sale & Altrincham Messenger
, Altrincham FC press and media officer, John Edwards writes that "Phil Parkinson's promotion plans have been given a major boost after three of his most influential Altrincham players signed deals to remain at The J.Davidson Stadium next season.
Leading marksman Jordan Hulme was first to put pen to paper, and his show of commitment was quickly matched by double player-of-the-year Tom Hannigan and fellow-award-winner John Johnston. Alty boss Parkinson hopes to tie up more of last season's squad".
Also as previously reported, Altrincham have signed centre-back Toby Mullarkey from Nantwich Town. The Altrincham FC website has an interview with him, conducted by press and media officer, Brian Flynn.
The
Telegraph & Argus
reports that "veteran Nicky Clee has bid a fond farewell to Bradford (Park Avenue). The experienced winger, who often filled in at left-back on occasion, came out on Twitter to say goodbye after two years at the club.
Clee said 'Had an amazing two years at Bradford (Park Avenue), but now it's time to move on... Thanks to Mark Bower and Bosh for bringing me to the club and the lads I shared a dressing room with. What a group.'
The 35-year-old leaves Avenue having made 40 appearances in the Vanarama National League North last season, scoring a single goal. Clee joined the Bradford side in 2017 from Altrincham and brought leadership and experience to the squad having played for a number of clubs throughout his career. This included spells at Ossett Albion, Ashton United, Hyde, Guiseley and Harrogate Town.
Avenue only have three players currently signed on for the next campaign. Lewis Knight, Alex Hurst and Conor Branson all have deals that run until the end of next season."
News of a former Alty loanee comes from NL Daily which says that "AFC Telford United have announced that midfielder Brendon Daniels has signed a one-year deal at the club.
The talented midfielder missed the final month of the season through injury but played a key role in the success of last season [after] his arrival from Port Vale. With Daniels's addition, Gavin Cowan now has 16 players signed ahead of the new campaign: Andy Wycherley, Ross White, Shane Sutton, Theo Streete, Zak Lilly, Steph Morley, Brendon Daniels, Jon Royle, James McQuilkin, Chris Lait, Henry Cowans, Ellis Deeney, Darryl Knights, Adam Walker, Andre Brown and Marcus Dinanga".
The Shropshire Star adds that "AFC Telford United winger Brendon Daniels has signed a new deal, meaning the futures of only two of last season's squad are uncertain... Last term's top scorer Daniel Udoh and strike partner Amari Morgan-Smith are the pair the club have not yet announced are staying or going".
The National League reports that "Reece Styche says he wants to play a part in helping Hereford back to the Football League. The striker has signed for the Bulls after Alfreton Town accepted an offer for the powerful forward...
'It's a massive club with a massive fan base, it's one of the things I'm most looking forward to,' he told the club's website. 'With two and a half thousand fans here every week it's a Football League club in everything but it's standing'...
Head coach Marc Richards worked hard to get the deal done and he think it is time well spent. 'It's a really exciting signing,' said Richards. 'There was quite a bit of interest around him, as you can imagine for a player of his calibre. I think it shows our intent for next season and I'm really looking forward to unleashing him here and seeing him score some goals!... He is someone who always gives 100 per cent, who wears his heart on his sleeve and I am really looking forward to seeing his partnership with Rowan develop.'"
From York Press comes news that "York City boss Steve Watson is close to conceding defeat in the quest for Scott Burgess's signature. The 21-year-old midfielder finished last season on loan with the Minstermen from newly-promoted League One outfit Bury, netting once in 16 outings for Watson's team. He was subsequently offered a permanent deal by the National League North outfit, but Watson admitted that the chances of him wearing City colours next term are diminishing.
'The contract was offered to Scott at the end of the season and we'd also been talking about it two or three weeks before then, so I'm getting to the point where I'd be surprised if it happened now,' the City chief declared. 'Time also runs out and you have to move forward.'
Watson added that out-of-contract midfielder Simon Heslop has accepted an invitation to return to the club for pre-season training, having never featured under the former Gateshead boss following his January appointment due to mid-campaign knee surgery. The City boss also suggested that he is probably now targeting five new additions but has no intention of rushing into completing all of his recruitment plans and running the risk of missing out on potential transfer-market opportunities later in the summer.
'I've spoken to three or four players this week who we'd like to bring in and they will probably make their decisions over the weekend,' Watson revealed. 'They've also got options higher up, so I'm trying to sell the club, our ambitions and the new stadium. Equally, I think we'd be foolish to rush into putting a full squad together when you don't fully know who might become available. I see on Sky Sports every day that players are leaving clubs due to mutual consent and, whilst I know people can get impatient for signings, I don't think it's a good idea to get all your business done by the end of May.
'That doesn't make sense for me. We've got a core of 15 players signed on and will, maybe, look to add another five. Players will also come in on trial and we've still got Simon Heslop, who is coming back from injury and has agreed to join us in pre-season, so we'll be seeing where he's at in games, along with people like Josh Watson, Nathan Dyer, Reiss Harrison and Tom Allan, because it's a good chance for me to assess them and everybody else in that situation.
'There might be some that decide to move on as the season begins as well if they're not figuring, which can change things.'"
The
EvoStik League
reports that "Warrington Town have made their first new signing for next season with the capture of Gainsborough midfielder Alex Byrne. Byrne, 26, was previously with Shaw Lane and played against the Yellows twice last season... Byrne's signing follows the news that
Tony McMillan
, David Raven,
Josh Amis
[right] and Jack Dunn had agreed deals to stay. Manager Paul Carden has also signed a one-year contract extension."
Across the border, the BBC reports that "Bangor City are facing relegation to Wales' third tier after what their chairman has described as a 'humiliating' 42-point deduction by the FAW. The three-time Welsh champions were issued with multiple charges for alleged breaches of FAW Rules. They include a failure 'to comply with financial obligations towards six of their current and/or former players' as well as fielding ineligible players.
The club have also been placed under a transfer embargo until 31 December. Bangor have said they will appeal and have until Wednesday, 29 May to lodge an appeal.
City chairman Stephen Vaughan Jr... said, 'I think it is a harsh decision, and the appeal will be going in today. As far as we are concerned we haven't done anything wrong as regards these two players.'
Regarding the club's financial difficulties he says that the issue is 'no secret' but he maintained that they are 'no different to any other club'.
The deduction of 42 points, the total the club amassed during the 2018-19 Cymru Alliance campaign, would see them relegated to the Welsh Alliance and would be the latest setback to befall the club. The Citizens were demoted from the Welsh Premier League at the end of the 2017-18 season after being refused a domestic licence. They have since avoided a second winding-up order over unpaid tax and further off field problems saw the club request assistance in January 2019 after having its electrical and water supplies turned off by creditors.
In April, the Bangor City FC Supporters Association (BCFCSA) voted in favour of forming a new club as an 'insurance policy'. The Association is forming a Supporters Trust and a formal application has been made to the FAW over entering a new club into the system... Vaughan said the 'door is still open' if the Supporters' Club wanted to discuss a deal to buy the club."
---
23 May 2019
The official
Altrincham FC
website reports on the signing of a young centre-back from Nantwich Town, Toby Mullarkey (22).
He has played at Moss Lane before; he was part of a Crewe Alexandra team which trounced Alty 6-0 in the Cheshire Senior Cup First Round match, on 3 February, 2016. And, the previous year, he also played for Alex in a pre-season friendly match at Altrincham on 24 July, 2015, which the hosts lost 0-3. After leaving Alex in 2016, he had a season at Leek Town, before joining Nantwich.
Toby also played against Alty in 2017-18 when his Nantwich side lost 5-1 at Moss Lane. He scored The Dabbers' goal. He also featured on the J. Davidson Stadium's pitch in April this year as Nantwich lifted the Cheshire Senior Cup against Canmmell Laird.
2019-20 sees Altrincham renew their acquaintance with four clubs against whom they have previously played, whether in an earlier incarnation, or as the same club that they remain today. One of the unchanged clubs is Oxford City, who have been transferred from the National League South to the North. They have been at Step Two since 2012 but have had a challenging time as the authorities have now moved them twice - from North to South and back again! They have also endured a difficult spell off the pitch under a previous, controversial American owner, but they have come through those problems in good shape.

Above: Alty line up at Oxford City, September 2012.
Unlike the three other "old acquaintances" who will face Altrincham next season (Farsley Celtic, Kettering Town and Gloucester City), Oxford City is the only club in the group which has neither had to re-emerge from financial meltdown nor move ground since we last met them. They still play at Marsh Lane, just north of the city, some 149 miles from Altrincham. The club describe the ground as being a "purpose-built stadium which has a capacity of 3,000 across two seated stands and two safe-standing areas. The clubhouse, refurbished in 2017, has a fully stocked bar, three TV screens with Sky Sports and BT Sport. The modern kitchen serves a range of hot and cold food before, during and after games".
City were founded in 1883 and were the premier club in the city before what is now EFL club Oxford United (formerly Headington United) eclipsed them in the football standings.
Things reached a low ebb when their ground was sold off in 1988 and the club did not return to action till 1990. In 1993 they moved to their current stadium, with their fortunes improving to the extent that they reached the FA Vase Final in 1995.
After success in the Southern League they won promotion to Step Two through that league's play-offs in 2012. They were assigned to the North division of the Conference. Folowing a mid-table finish in their first season, they finished in a relegation place in 2014 but were reprieved thanks to the voluntary demotion of Vauxhall Motors. Their third campaign was successful as they finished in sixth place.
After three campaigns in the North, City were moved to the South division where over the past three seasons they have finished 14th, 16th and 12th.
The clashes with Altrincham have been limited as Alty were promoted after the second season in which the clubs shared the same division and then Oxford had been transferred to the South when Alty returned to Step Two.
Sat.8.9.12 Away 2-2, gate 257, Alty scorers Reeves 41(pen), 57(pen)
Sat.2.3.13 Home 3-1, gate 740, Alty scorers Reeves 40,80, Watmore 81
Sat.14.9.13 Home 2-2, gate 820, Alty scorers Walshaw 17, Richman 22
Tue.15.4.14 Away 2-1, gate 283, Alty scorers Walshaw 16, Moult 83
>
The
BBC
reports that "Former Southport player Mike Phenix has been banned from all football and football-related activity for four years after a failed drugs test. The 30-year-old was sacked by Southport in October after failing an out-of-competition test on 17 September.
Phenix admitted the presence of Oxandrolone, an anabolic steroid, and Benzoylecgonine, which is a metabolite of cocaine, in his sample. His suspension from football will run until 16 September 2022. As well as being banned from playing, he is also barred from working in any capacity within the game including coaching, officiating or other off-field activities.
Phenix joined then-National League side AFC Telford United in 2013 before moving to League One side Barnsley for £25,000, but he made just two substitute appearances for the Tykes. He moved to Macclesfield Town and Southport on loan before agreeing a permanent deal to join Salford City in 2016. He left Salford last summer after they were promoted to the National League and joined Southport in National League North."
Alfreton Town "can now confirm its Released and Retained List following the conclusion of the 2018/19 campaign. The Reds finished in 15th place in the National League North after an inconsistent league campaign which saw better results away from home than at the Impact Arena. Billy Heath did see success however with another FA Cup first round appearance and winning a tenth Derbyshire Senior Cup.
Players retained for the 2019/20 season: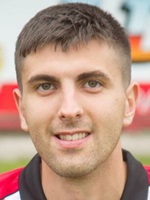 Reece Styche – ATFC can confirm that Styche has been made available for transfer; the club are deep into concluding negotiations for his fee.
David Lynch [ex-Altrincham midfielder, pictured right]
Morgan Brough
Kieron Hinchley
Harvey Grice
Players who have signed new deals for 2019/20:
Bobby Johnson
Declan Bacon
Josh Wilde
Danny Clarke
Players who were offered terms but rejected [them]:
Luke Shiels
Tom Platt
Nathan Hotte
Martin Riley
Richard Peniket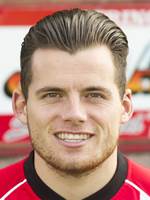 Players that have been offered terms:
Josh Clackstone
Jordan Sinnott [ex-Altrincham midfielder, pictured right]
Danny O'Brien
Tom Nicholson
Players released by the club:
James Clifton
Callum Chettle
Sam Ramsbottom
Craig Disley
Loan players who have returned to parent clubs:
The club can also confirm that we have already agreed with and signed five new players ahead of the 2019/20 season and their identity and pedigree will be announced in the forthcoming days.".
At Leamington "Brakes' boss Paul Holleran has revealed that, after discussions with top scorer Colby Bishop, the young striker has agreed to extend his current contract to the end of the forthcoming season.
'Due to mounting speculation over his position at the club I wanted to clarify our position as there has understandably been interest in Colby', said the manager. 'After having a couple of meetings, at this moment in time Colby Bishop feels that the best thing for him is to continue his football at Leamington Football Club. Colby has had a difficult couple of seasons which were exacerbated by the ACL injury he sustained, but he has shown tremendous character to come back in the manner that he has, and has had a fantastic five months.
'Colby and the club feel that if he continues in the same vein that he has been then the opportunity to return to full time football will surely arise, which is obviously an ambition of his, but for the forseeable future Colby feels that the best place for him to continue his football development and education is here with us at Leamington.'"
According to >Lincolnshire Live, "Boston United have appointed vastly-experienced former Grimsby Town player John McDermott as their new assistant manager. The former Harrogate Town number two has been confirmed as manager Craig Elliott's right-hand man...
McDermott, who spent the whole of his playing career with the Mariners, has also managed Alfreton Town. Elliott says the 50-year-old is the experienced number two he has been looking for... 'John certainly fits the bill,' said Elliott. 'He has vast knowledge of the non-league scene and is an excellent coach'... Elsewhere in Elliott's backroom team, Lee Stratford will assume the role of first-team coach, while Rich Lawrence and Richard Boryszczuk will retain their respective goalkeeping coach and chief scout duties."
Chester FC"caught up with Blues Joint Boss Bernard Morley, following the signing of Joel Taylor. The 23-year-old former Kidderminster man was Bern and Jonno's first new signing of the close season...
He said 'Joel gives us the platform. That's the type of profile of player we are looking for. He's 23 years-old, plenty of energy and there will be competition for places with Matty Waters also with us at left-back. We're very close to signing a right-back and an experienced, versatile player who can play in a few different positions...
'Hopefully we have a few more through the door by the end of the week and then defensively that would be us sorted. We'd then be looking to move up the pitch to midfield and attack. Obviously in midfield we've already got Gary Stopforth signed, Scott Burton still under contract and Gary Roberts who is keeping himself fit over the summer to come back in good shape and earn himself his deal.
'We're looking to add another five or six players. We want every single one to be better than what we had here last season.'
Bernard was speaking... as Joel Taylor checked in to sign a one-year deal with the club... The Joint Boss said 'Joel is somebody we've admired for the last couple of seasons. His energy levels are unbelievable and attacking wise we think he is one of the best about. Defensively we spoke about Joel maybe tweaking one or two things'".
From the Northern Echo we learn that "Darlington are unconcerned by the threat of potential legal action after Blyth Spartans announced they are taking advice from their lawyers following Alun Armstrong's decision to switch clubs.
Armstrong was appointed as Quakers' manager, moving from the fellow National League North club where he had been in position for almost three full seasons and enjoyed success... Despite his efforts for Spartans, or perhaps because of them, his departure to Darlington has not been popular at Croft Park.
Darlington made Armstrong's appointment official at 8am, and at 3pm Blyth released a statement saying... 'The club is currently considering its position, taking legal advice'...
The Northern Echo understands that Blyth had told Darlington they wanted compensation before Armstrong would be permitted to leave Croft Park, where he signed a two-year contract 12 months ago. Armstrong then tendered his resignation on Monday, leading to Quakers announcing that he is their choice to replace Tommy Wright, but also saying he will not officially begin his employment until next week.
'We have announced he is our new manager because he has resigned, but he will not start work until Monday,' Darlington chief executive David Johnston said. 'Darlington have acted impeccably throughout this process'...
Quakers... say they were granted permission by Blyth chairman Tony Platten to speak to Armstrong after he applied for the post three weeks ago. Armstrong was one of 72 applicants, and once he starts work on Monday will waste little time in bringing in players to Darlington, with some expected to be from Blyth, who have already lost two key players since the end of last season.
'He's got a lot of North-East contacts from his time in the professional game, and he's a well-known name in North-East football so I'm sure there will be a lot of players looking to play for him', added Johnston, who revealed that former England manager Steve McClaren assisted in the process... John Vickerman, a Darlington supporter and human resources director with Fujitsu by trade, was tasked with leading the process to appoint a manager, with McClaren and Johnston also involved, while supporters were consulted for their view too.
Johnston explained 'John comes from a recruitment background... The first round of interviews was a mixture of board directors and Supporters' Group directors. The final interview stage were done by myself, Steve McClaren and John.
'It is always a difficult process, a stressful time for everybody. We went through a detailed process, we had 72 applicants, we then had a shortlist and Steve helped with the final stages of the interview. We went through a detailed analysis, looking at each candidate's experience, their characteristics, their coaching style, how they gel a team together, the importance of dressing room spirit, their philosophy on football, all kinds of areas we looked at.'
After coaching for five years in the youth system at Middlesbrough, the Blyth job was Armstrong's first as a manager, one that saw him become only the third Spartans boss to record a promotion.
Johnston added 'He has a proven track record at this level, he did very well at Blyth on a very tight budget and knows how to manage in this league. Last year [at Darlington] the player recruitment didn't work out. Tommy did a great job for the club, he established the academy, so he's got a legacy there. It didn't quite work on the field, but we need better value for money from the playing squad and there'll be changes in the summer to reflect that.
'We're not going to be the biggest spenders in the league and he did very well to get a promotion and then get his team into a play-off position. He plays an attacking style of football, scores lots of goals and the form Blyth were in at the end of last season, they were as good as anybody in the division. With him being an ex-forward his emphasis is on attack and attacking teams, having a go, so I think that will go down well with the fans.'"
Oxford City report that "Ben Jefford has become the second player in as many days to commit to the club for the 2019/20 campaign. The defender, who really proved his worth at both left-back and centre-half, endured a difficult opening season with the Hoops, which was blighted by a serious injury picked up against Maidstone United. However, with this now behind him, he'll be a key member of Mark Jones's plans in the National League North, particularly with his flexibility to play across the back-line.
He made 28 appearances in the 2018/19 campaign, including a particularly impressive four game spell at centre-half covering for the suspended Joe Oastler early in the year. City boss Mark Jones is once again delighted, 'I like the balance he gives the side, he can play left-side, left-back, centre-half and I felt that he was a good influence around the changing room, a good character, and I felt that having him with us next season would be a positive'...
Jefford joins Zac McEachran, Craig King and Reece Fleet in the retained list".
This followed an earlier report that Oxford City "can confirm that Ryan Case, Bobson Bawling, Tom Carter, and John O'Donoghue have departed the club, following the end of the 2018/19 campaign... We can also confirm that all other players who were contracted at the end of the season have been offered deals for the coming season, while Craig King and Reece Fleet are already under contract for the new season".
---
22 May 2019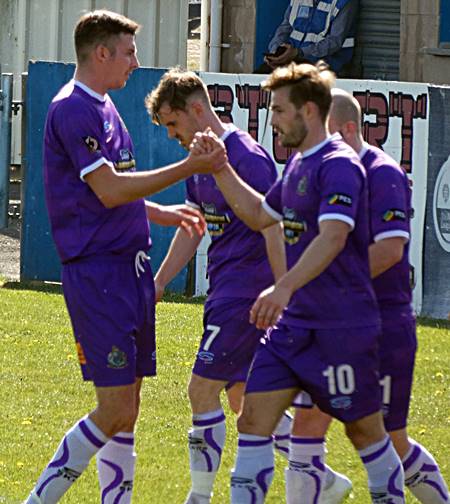 There is more good news for Robins' supporters, following the confirmation that Jordan Hulme, Tom Hannigan and John Johnston had renewed their contracts at the club, as
Altrincham FC
confirms that both captain Jake Moult and leading league goal-scorer, Josh Hancock, have also signed up to extend their stay at the J.Davidson Stadium.
To date, Jake has made 309 starts and 27 appearances from the bench for the club, which he joined in . He has scored 34 goals for the Robins. Meanwhile, Josh's two seasons at Moss Lane have seen him score at an impressive rate, with 41 goals from 88 starts and 10 sub appearances.
Right: Josh Hancock is congratulated by Ben Harrison on his goal at Nuneaton last season.
Altrincham were indebted to Blackpool last season for the Seasiders' loan of Yusifu Ceesay. And now,
Blackpool
announce that "A pre-season friendly has been confirmed for Saturday 20 July, with The Seasiders to face Altrincham. A split squad will head to Moss Lane for the match, while the rest of the players come up against Barrow AFC at Holker Street.
The decision to arrange two games on the same day, just two weeks before the new season begins, allows every player to get additional game-time on the pitch".
On the previous Saturday, 13 July, Blackpool take on Alty's league rivals Spennymoor Town at Shildon AFC.
Mike Garnett advises that Altrincham and Blackpool have had one previous pre-season meeting. That was 45 years ago on 10th August 1974 at Moss Lane. Altrincham, thanks to goals by Pritchard, Morris and Windsor, won that encounter 3-0.
The Altrincham side that day comprised Eales, Brooke, Davison, R. Hughes. Peel, Windsor, Broadhead, G. Heathcote, Owens, J. Hughes, Pritchard. The substitutes were A. Heathcote, Lyon, and Morris.
Mike adds that "This match concluded a quartet of home pre-season games; the other three started with a match against Rochdale (won 3-0) on August 3rd. Just two days later, Sheffield United were defeated 3-1 and another two days after that Port Vale were the victims as Alty won 2-0 on August 7th. These games were precursors to a season which saw the memorable FA Cup clashes with Everton.
Altrincham's competitive record v Blackpool is, of course, played 2, won 2, scored 3 and conceded 1."
Those two competitive matches were in consecutive seasons in the FA Cup:
1984-85, Round 1, at Blackpool, Alty won 1-0 (scorer Fagan)
1985-86, Round 2, at Blackpool, Alty won 2-1 in front of 5,037 spectators, who witnessed goals by Reid, and Anderson.
Although they reached the play-offs for two seasons running,
Bradford (Park Avenue)
"have agreed by mutual consent that Mark Bower will leave his role as First-Team Manager with immediate effect. The club would like to place on record its gratitude to Mark, for his hard work and dedication in his management of the team during three exciting seasons.
Mark Bower said of his departure 'I have thoroughly enjoyed my time at Bradford (Park Avenue) over the past three seasons and I'm proud of what we have achieved together as a club in that time'... Assistant-manager [and former Alty midfielder] Danny Boshell also departs his role".
Shortly after this announcement, Bradford (Park Avenue) added that they were "delighted to welcome Garry Thompson to his first managerial position as he arrives at Horsfall Stadium to take the reigns as Player/Manager ahead of the 2019/2020 season.
Thompson is no stranger to the city of Bradford and is remembered fondly for his committed heroics across town at Bradford City during the 2012 League Cup run, scoring against Arsenal before featuring in The Bantams successful promotion push later that season. Successful spells at Morecambe, Scunthorpe United, Notts County and Wycombe Wanderers saw Thompson earn over 650 appearances at league level, finishing with his home club of Morecambe last December.
The experienced attacker will bring experience, excitement and quality alongside exciting prospects Lewis Knight and Alex Hurst who, along with last season's Player of the Year, Conor Branson, will form the core of Thompson's new squad. Thompson's appointment comes after Bradford (Park Avenue) announced a new major partnership with the University of Bradford last week in an exciting period of new impetus for the historic club.
Of his new role, Garry Thompson said 'I've been working on coaching and looking towards my career after I finish playing. This is such a great opportunity at a fantastic club. I was attracted to the values and positivity of the Directors and we agree on what a strong club requires in terms of attitude and culture'...
Damian Irvine, CEO of Bradford (Park Avenue) said 'It's been an extremely busy 2019 for the club as we've focused on taking a fresh perspective and approach to every facet of our operation and structure. We have plenty of experience in seeing what successful and sustainable clubs look and feel like and it's genuinely exciting to deliver positive change and a culture of progress to Horsfall Stadium....
'If we keep doing what we have always done hoping for a vast improvement in performance on, or off the pitch, we wouldn't be doing the right thing by our supporters and our owners.'
Striker Shaun Gardner joins Thompson at Horsfall as Playing Assistant Manager. Gardner has earned over 300 starts at clubs such as AFC Liverpool, Kendal Town, and most recently Penrith AFC... Bradford (Park Avenue) will be releasing their pre-season schedule later this week along with further major sponsorship news.
On the back of a week [of] landmark announcements, the club's push for a record number of season tickets continues with their campaign providing incredibly affordable football for families and supporters of all ages."
Related news comes from this side of the Pennines where the Tameside Reporter says that "Ashton United manager Jody Banim has started to re-build his squad following relegation to the Evo-Stik Premier Division.
Winger Connor Hughes joins the club with a wealth of experience, having played in the National League with Halifax Town... Experienced goalkeeper Jon Worsnop has also put pen to paper, along with [ex-Alty and BPA] defender Gianluca Havern, who returns to the club having previously played for the Robins.
A number of key players from last season have also committed to next season. Liam Tomsett, who made 30 appearances and scored five goals, will be donning the red and white jersey next season, along with midfielder Sam Sheridan, who made 33 appearances and scored four goals. Other recruits include Aaron Chalmers."
Ashton United have an interview with Luca Havern.
Across the town, the Tameside Reporter adds that "Curzon Ashton have confirmed the departure of two key players.
Midfielder Chris Rowney, who has been with the club for six seasons, has decided the time is right to pursue a new challenge... He tweeted 'This is tough one but, after 6 years at club, I feel now is probably the right time that I took on a new challenge'...
Meanwhile, [former Alty] striker Ryan Brooke, who re-joined the club last season for a second spell, has also left. He said 'I love the club, the players, the fans and the staff. But due to the huge increase in travel in the National League North and my ever-increasing[!!] family, I have decided to sign elsewhere'".
The Liverpool Echo makes debatable use of the adjective "new" as it reports that "Southport FC's new £1.2m stadium [is] to undergo refurbishment from this week. The Yellows will benefit from even more improvements in the 2019/20 season
Southport FC's new stadium is moving ever closer to being finished, with works for the pitch to begin tomorrow (Wednesday). The works follow a complete Main Stand refurbishment project... Following a multi-million pound investment from majority shareholders Phil Hodgkinson and Ian Kyle, the Main Stand was fitted with new yellow and black seats and a fully repaired roof and there has been a major renovation of the Grandstand bar, club shop and other internal areas.
The pitch renovation was initially planned to take place last year. However, due to slight delays involving safety concerns, the pitch would not have had time to recover ahead of this season.
Southport director Ian Kyle said...'There has been much unexpected legal red tape to deal with'...
On Monday, Sefton Council approved the decision to surrender the club's current lease and grant a new 'modernised' lease, which will 'protect its interest going forward'. There will also be an increase in ground rent from £350 per annum to £3,250 per annum, backdated to January 2016, meaning the club is to pay the council £9,908.35".
Bulls' News comments that "Alun Armstrong has left Blyth Spartans for Gateshead. However, Blyth aren't happy as a club statement has revealed.
'Alun Armstrong informed Blyth Spartans Association Football Club on Sunday 19 May that he intended to leave the Club while under contract. The Club is currently considering its position, taking legal advice, and will make no comment about Alun's departure, at this stage.
'The search for a new manager now starts and the board will continue to work in the best interests of the Club to ensure that its objectives for next season are protected."
Ironically, nine months' ago, the NL Paper was reporting Armstrong as saying "I delayed in signing a new contract because I wanted to see if we [the club] were genuine about moving on [i.e. forward]... We try to sell the club as a progressive club but.. at the moment, I don't believe we are".
Meanwhile, the Northern Echo says of Armstrong that "Twelve months ago he signed a new two-year deal at Blyth, and the Northumberland club have indicated they wanted compensation to release the 44-year-old from his contract...
Armstrong, 44, was in the running to become Darlington's manager 18 months ago before deciding to stay with Blyth but, this time, has accepted the position at a club he represented in his playing days... Armstrong had two seasons with Darlington, in 2004-05 and '06-07...
The search for [ex-Darlo boss, Tommy] Wright's replacement concludes after what was a three-week selection process... Interviews took place last week, with Bradford PA boss Mark Bower and former Darlington defender David McGurk, who is currently Hyde assistant manager, understood to have been among those interviewed for the post.
Quakers whittled down the candidates to a choice of three before a second round of interviews later in the week, leading to Armstrong being offered the post... Armstrong hit out at the Blyth board last month after being told the finances available would be reduced.
'The budget is being cut. I've been told to get cheaper players from the Northern League, something I'm not willing to do,' Armstrong told The Non-League Paper...
The last week has seen Blyth lose two key players, Sean Reid joining Morpeth Town on Sunday, and last week Kieran Green moved to York City, with more of their squad set to leave Croft Park, with some heading to Blackwell Meadows. Armstrong will move quickly to bolster what is now a small Darlington squad after a number of players left at the end of the season, although Jordan Nicholson and Luke Trotman have signed new one-year contracts.
Armstrong's appointment, revealed online yesterday by The Northern Echo, was met positively by Quakers supporters and the club hope their reaction will be reflected in the Darlington FC Supporters Group Boost the Budget scheme. It currently stands at £59,000, with the target being £80,000".
Chester FC "are delighted to announce the signing of left back Joel Taylor from Kidderminster Harriers. The 23-year-old joins on a one-year deal from the fellow National League North club.
Joel, from West Bromwich, has made over 50 appearances for Kidderminster, with two goals to his name. Taylor arrived at Aggborough in the summer of 2017 following his release from Stoke City, despite just being named their Under-21 Player of the Season...
Joint Boss Bernard Morley... said 'Joel is somebody we've admired for the last couple of seasons. His energy levels are unbelievable and attacking wise we think he is one of the best about. We're delighted to get him on board.'"
The
EvoStik League
reports that "Marine have transfer listed striker Danny Mitchley [left]. Mitchley, 29, scored seven goals in 39 appearances last season as Marine were relegated from the Premier Division".
And a more recent player to don the Alty shirt, albeit as a loanee, is the subject of a report from Cumbria's News & Star which reports that "Nathan Waterston is set to wear Workington Reds colours once more next season. The striker/winger became new boss Danny Grainger's first signing when he was unveiled at Borough Park's Legends Day on Saturday.
Waterston, who was released by Barrow recently and also played for Penrith AFC, was highly thought of in his previous spell with Reds and chairman John Mackay is hoping he will have a similar impact next term.
'It is an excellent signing,' said Mackay. 'He has been away for a little while with Barrow but that didn't work out and, now, he is coming back to a club he loved playing for... He is a great lad from a great family and he will be a fantastic asset to the club.'
Mackay said this was the first of the summer signings for the club but he hopes there will be more to come as Grainger builds his squad to compete in the Evo-Stik West next season... He added 'Nathan is a young lad and he is hungry and wants to succeed. He wants to be more involved in both his football and cricket [where he plays for Furness Cricket Club], which he couldn't do as a full-time player, and he wants to enjoy life to the full.'
The 21-year-old only made seven appearances in the season just finished for Barrow with injury striking. He had to have shoulder surgery and he suffered cruciate ligament damage while on loan at Altrincham in February".
---
21 May 2019
Altrincham FC will play what has become an almost annual pre-season fixture when they travel across the Borough to Shawe View to take on our friends and neighbours, Trafford FC. The game is on Tuesday, 30 July at 7.45pm.
Altrincham FC
"are looking for a new Reserve Team Manager to join the club on a voluntary basis. The team play in the Cheshire League Premier Division where they were pipped to the title by Pilkington FC on goal difference in the 2018/19 season.
The reserve team is considered to be a vital part of the player pathway at the club between our 50+ youth teams and the First Team".
Altrincham FC have announced that "The first fundraiser of the season is a Q & A evening with Premiership referee Anthony Taylor on Friday, 14th June 2019 starting at 7.30pm. Tickets are priced at £25 each and include a 2 course dinner. Comedy, if not provided by Anthony, will be via Bill Wooland".
The
Northern Echo
confirms the widespread rumours that "Alun Armstrong is Darlington's choice to be their next manager.
The Northern Echo understands that the Blyth Spartans boss is set to take charge at Quakers, replacing Tommy Wright at the helm.
Armstrong, 44, was in the running to become Darlington's manager 18 months ago before deciding to stay with Blyth but, this time, has accepted the position at a club he represented in his playing days. A striker with Stockport County, Middlesbrough and Ipswich Town, Armstrong had two seasons with Darlington, in 2004-05 and '06-07. After struggling with injury he was deemed surplus to requirements by then manager Dave Penney, who had brought in a handful of new signings among them being Wright, who was a young striker at the time.
Twelve years later the roles are reversed only this time in the dugout as Armstrong returns, this time to replace Wright, who left Darlington after the final game of the season last month. The search for Wright's replacement concludes after what was a three-week process at the beginning of which Darlington stated preferred candidate would be someone with the UEFA A coaching Licence.
Wolsingham-based Armstrong, originally from Blaydon, has for several years been in possession of the UEFA Pro Licence, the highest coaching accreditation available, and at Blackwell Meadows will hope to replicate the success he had with Blyth where he was in position for almost three full seasons.
He replaced Tom Wade as boss at Croft Park early in 2016-17 and made an immediate impact by leading Blyth to the Evo-Stik Northern Premier League title, 12 months after Darlington had achieved the same feat by pipping Spartans to the post. During '17-18, Blyth's first season after promotion, Armstrong turned down the opportunity to replace Martin Gray as Quakers' manager in October 2017, and went on to guide Blyth to a tenth-placed position, four points outside the play-offs.
He bettered that this time around by achieving a place in the play-offs where, without talismanic Robbie Dale, Blyth lost to Altrincham on penalties. Nonetheless, their sixth place represented the club's highest ever finish, but Armstrong hit out at the Blyth board last month after being told the finances available would be reduced.
The last week has seen Blyth lose two key players, Sean Reid joining Morpeth Town yesterday, and last week Kieran Green moved to York City, with more of their squad set to leave Croft Park."
According to York Press, "The make-up of next season's National League North looks on paper as though it may be easier than this term but York City's assistant-manager Micky Cummins is taking nothing for granted.
City will dodge all four of the relegated sides from Step 1 this term as they will each be going into National League South, while the most northerly sides of that section who have been transferred into City's division, (Oxford City and Gloucester City), both finished in the bottom half of their table.
National League North's two best teams in champions Stockport County, once of the Championship, and Chorley have also both gone up to the National League, the latter via the play-offs, and they will be replaced by Evo-Stik League premier division table-toppers Farsley Celtic and 'super play-off' victors King's Lynn.
Cummins, though, refused to write off the division as a lesser challenge.
'It'll be tough', he said. 'We had a taste for it over the four or months here and it's very competitive. There was jostling for position, the top one and the play-offs. Travelling is not an issue for us, we're just going to prepare them with a good pre-season, five or six weeks against top opposition, hopefully hit the ground running and get off to a good start.'"
From Bradford's Telegraph & Argus we learn that "Ten players will not be with Guiseley AFC at the start of next season. Joint managers Marcus Bignot and Russ O'Neill have been working hard over the last few weeks speaking to the players.
Following Sunday's news that goalkeeper Jon Worsnop has left the club, nine more players have departed on Monday. Defenders Andy Halls and Niall Heaton, as well as midfielders Curtis Morrison and Kingsley James, have left Nethermoor Park. Academy graduates Fletcher Paley, Jack Lazenby and Luke Hogg have all been released, with Akeel Francis and Kwame Boateng also leaving the club... A full retained list will be announced once negotiations with the rest of the playing squad are complete."
More on this comes from Cheshire Live, which says that "Former Chester FC manager Marcus Bignot has bid farewell to three former Blues players as part of his and co-manager Russ O'Neil's Guiseley rebuild ahead of next season. The Lions released their retained list on Monday (May 20) and it revealed that ex- Chester trio Andy Halls, Kingsley James and Jon Worsnop would all be leaving Nethermoor.
Halls, 27, made 37 appearances for the Lions last season, joining Bignot once more after his release from Chester at the end of the 17/18 National League season...
Joining him in leaving the Yorkshire side is central midfielder Kingsley James. James, also 27, made 37 appearances for Guiseley after he joined Halls in linking up with Bignot once more after Chester had reached an agreement with the former Port Vale and FC Halifax Town man, who had two spells with the Blues, to terminate his deal halfway through as Chester looked to cut costs to make best use of a limited budget last summer.
Also leaving Guiseley is goalkeeper Worsnop, who made over 70 appearances in two years for Chester in all competitions between 2014 and 2016. He also played one game for Chester City at the beginning of his career in 2002. Worsnop, 36, has already fixed himself up with a new club and will play for recently relegated Ashton United next season."
AFC Telford United "are delighted to announce the signing of Adam Walker from Brackley Town. The 28 year old midfielder joins the club on a one-year deal... Walker made his professional debut for Coventry City on 28 December 2008...
Walker joined Nuneaton Town on loan in October 2009, before joining them on a permanent deal on 1 April 2010 after being released by Coventry City. Walker remained at Nuneaton for several seasons making over 250 appearances and was part of the promotion winning side to the National League during the 2011/2012 season.
The midfielder joined Gavin Cowan at Solihull Moors during the 2015/16 season and was part of the title-winning season that won the league by 10 points. Adam joined Brackley Town in the summer of 2015 and has remained at the club for the last two seasons during that period he made over 70 appearances, winning the FA Trophy.
Gavin Cowan spoke to the club website, 'Adam is someone who I have known for a long time and is a top player at this level. He is a winner and will bring not only ability but a real steel to what we do. To be attracting players of his calibre shows we are moving in the right direction'".
Gloucestershire Live reports that "The FA has confirmed that Gloucester City will be transferred from the National League South to the North for the start of the 2019/20 season.
The Tigers have spent the last two seasons in the South, finishing 14th and 17th respectively. Before that, they had eight seasons in the National League North with their best ever finish coming in the final season there in 2017, ending up 10th... Manager Mike Cook was cautious about any transfer. 'It's arguably a tougher league with well supported former league sides like Darlington, Chester and Hereford in there. The North tends to be more physical with 'bigger' sides so that is something we'll need to compete with.'
With four Southern placed sides relegated from the National League, Oxford City have been moved to the North again with Braintree Town confirmed in the National League South.
The has been widespread speculation that Tigers would return North after two seasons in the South since it was confirmed that Aldershot Town, Braintree Town, Havant & Waterlooville and Maidstone United are coming down from the National League's top division to the regional sections and will all be placed in the South.
Now City will face lucrative local derby games with Kidderminster and Hereford at their Evesham base next season, which is expected to be their last season in exile before they return to Meadow Park.
Former Football League clubs Boston United, Chester, Southport and York City are also opponents along with traditional non-League giants like Altrincham, Telford and Blyth Spartans and former League clubs Bradford Park Avenue and Darlington".
News of another newcomer to the National League North this season comes from the Eastern Daily Press which relates that "Portugal has been blessed by the presence of King's Lynn Town players for their promotion celebrations in recent days but for some of, er, more mature (in years) people at the club, it's been a week of planning for the new season.
Ian Culverhouse will have to decide who stays and who goes; the players won't find that out until they return because who needs to spoil a holiday?
At the same time, they will need to work out which positions need strengthening and where to look for replacements. Culverhouse will call director of football Robbie Back into the room for that one... There might well be a reluctance to look south for players... Culverhouse will know the weak spots, he will know who wants out because they're not getting game time...
Because Lynn have gone up a league it will cost more, which is where owner Stephen Cleeve needs to do his sums. I spoke to him a couple of days ago and it's clear that there is a very delicate balancing act to perform... Cleeve was eager not to push his luck with supporters.
The general range of North clubs is £15-£17, give or take a quid or two. Lynn's average home attendance last season was 712 but they would probably need to double that to cover the increased costs. Assuming more fans will come because of the higher standard of football and visiting clubs bringing a few hundred, he might not be far away. Clearly some clubs will bring more visiting fans than others; Lynn ought to hit the 2,000 mark when Boston United come to town, but other clubs are rather less well supported. It's the nature of the beast and all that.
So crowd figures will be extremely important and that depends on what happens on the pitch, and to make Lynn competitive and attractive to watch costs money, which is where the attendance income comes in... vicious little circle isn't it?
As Cleeve admitted 'It is really hard to work it all out to ensure everyone is happy. If I put the admission prices up to £20 it would solve a lot of the financial problems, but it would create difficulties for our supporters and the attendances would drop off, so it is a fine line and you have to charge what is reasonable and fair. I am happy to put a certain level of money in, but there is a level.'
There are also a few extra ground improvements that need doing; two new turnstiles will be installed, two new seats in each dug-out and more press seats and, on a personal level, it needs to be said that the press facility at Lynn is pretty much as good as you will get at this level and above in some cases. I had worse covering Norwich City in League One.
Cleeve has also to solve the question of segregation; when Boston come to town it will be needed, we know that".
And the Eastern Dail Press adds that "King's Lynn Town are looking to piggy back on the success of Norwich City as they prepare for life in the National League set-up.
The Linnets are keen to take young Canaries players on loan in what owner Stephen Cleeve believes will be an arrangement that suits both clubs. Lynn were promoted a fortnight after the Canaries clinched their place in the Premier League and have begun the process of strengthening ahead of their return to Step Two and they hope that will involve a relationship between the county's top two clubs.
There is a link between the teams in the form of Lynn boss Ian Culverhouse, who was at Carrow Road for almost a decade as a player and later returned as assistant manager under Paul Lambert.
Culverhouse's team was promoted from the Southern Premier Central on the back of a cultured passing game, something which allies itself with Daniel Farke's philosophy that runs throughout the Canaries footballing set-up".
On Tyneside, the
Chronicle Live
tells us that "Gateshead supporters association, Gateshead Soul, have made a last-ditch appeal to save the club. Gateshead FC owner Dr Ranjan Varghese and financial adviser Joe Cala have been summoned by the National League for a crunch meeting will in London on Wednesday, one that will determine the future of the club.
The odds are stacked against the Heed surviving unless a successful 11th-hour takeover bid is launched. That, or millionaire Varghese suddenly splashes the cash to pay off all creditors as well as securing a ground to play on. Gateshead Council are owed a substantial five-figure sum and want proof of funds that next season's rent will be honoured. That will be a commitment of £80,000-£100,000 to the council alone, to satisfy the rent arrears and next season's rent.
If so, Gateshead will remain at the International Stadium.
The National League will also demand all creditors are settled as well as a budget and business plan for 2019/20. Gateshead could be kicked out of the National League, or at best demoted to the league below, National League North. The FA, who have been investigating Gateshead, could force the club to play further down the pyramid.
Would-be saviour Chris Dunphy pulled out on Friday pushing the Tynesiders closer to the precipice. The Lancastrian had hoped to be given more time to put a rescue package together, but fan group Gateshead Soul have now released the following statement. 'After the understandable withdrawal of Chris Dunphy's offer the club is in a perilous position and are on a life support machine... Despite our best efforts the unrealistic time frames forced upon us cannot be met.
'This relates to servicing the current creditors to the tune of £95K by Wednesday, May 23, a deadline which was set by the National League. The obvious solution would be for the National League to waive this requirement up until the purchase was completed. They could then release the remaining bond (£100K) to allow the new owners to operate with a blank canvas.
'However, the National League did not see this as an option. Unless a buyer is sought by Wednesday the Club will cease to exist within a matter of weeks, if not days. For the past few weeks we've been putting the foundations in place for a potential phoenix club should the worst happen. However, we've suddenly been presented with an urgent opportunity to get our club back. This is something we hadn't anticipated.
'Since the end of last week, Gateshead Soul, in conjunction with other stakeholders and generous fans, have managed to raise £45,000 towards the payment of creditors. All payments have been pledged as gifts or loans and will be repaid on the return of the Bond, which cannot be accessed by the previous regime. This is our last throw of the dice before we face the prospect of the worst case scenario of starting again at Step seven... Talks elsewhere, meanwhile, are ongoing with Cala and Varghese to save the club. The pair have been asking for £100,000 to sell the stricken fifth-tier club."
---
20 May 2019
In addition to Jordan Hulme,
Altrincham FC
announce that both John Johnston and Tom Hannigan will be staying at the J. Davidson Stadium next season.
To date, Johnston has made 94(+5) appearances and scored 35 times in his two seasons at the club. Centre-back Hannigan, the club's player of the season, has amassed 96(+5) appearances and netted seven times in his three seasons at Moss Lane.
The FA has released its list of allocations of clubs to the various levels of the non-League pyramid for 2019-20 season. The list confirms that the five new clubs in the National League North, (two transferred sideways and three promoted), will be Farsley Celtic (57 miles from Altrincham), King's Lynn Town (152 miles), Kettering Town (132 miles), Gloucester City (112 miles) and Oxford City (149 miles).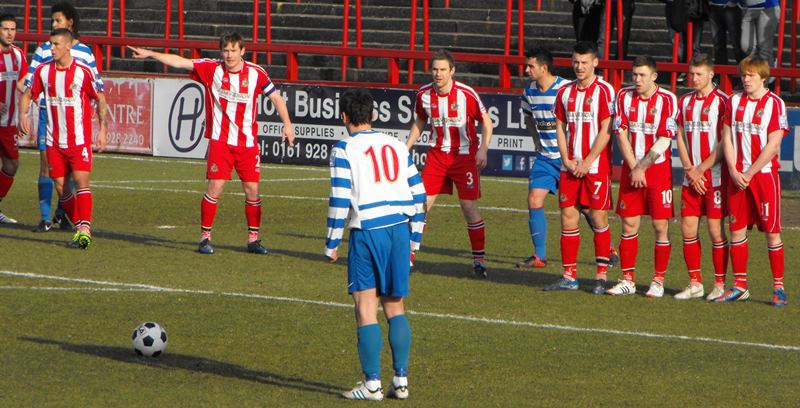 Oxford City have been in the North division previously; here we see Alty defend an Oxford freekick at Moss Lane in 2013
These five replace the promoted duo from 2018-19, namely Stockport County (10 miles from Altrincham) and Chorley (35 miles), and the relegated trio of Ashton United (19 miles), FC United of Manchester (21 miles) and Nuneaton Borough (90 miles).
So, Altrincham will have many additional miles to travel next season. This is because Altrincham have lost five return trips from 2018-19, which totalled 350 miles, and acquired five new return journeys totalling 1,204 miles, an increase of 854 miles.
With York City expected to move to a new stadium during 2019-20, there will be at least four new grounds to visit next season, as King's Lynn Town, Burton Latimer (Kettering Town) and Evesham (Gloucester City) are also locations where Alty have not previously played.
Sunday's FA Trophy Final was won by AFC Fylde, 1-0, against Leyton Orient. In addition to manager Dave Challinor's connection with Altrincham, chronicled here recently, The Coasters' physio is former Alty physio, Sean Riley.
Less happily, former Alty goalkeeping coach Ian Senior provided the kit for Vase finalists Cray Valley, through his company SKkits, who also provide Altrincham's kit. However, the Kent side lost 1-3 to Chertsey Town in Sunday's final.
As chronicled above, Altrincham will have five opponents in 2019-20 who were not in their league last season.
However, our neighbours, Trafford FC will face ten new opponents next season thanks to a redrawing of the boundaries in the former EvoStik First Division West. This division has been rebranded as the First Division North West, with seven clubs leaving the former West division to join the South East division. These are all Yorkshire clubs, with only the three most southerly Yorkshire teams remaining in the newly named South East division (Sheffield, Stocksbridge Park Steels and Frickley Athletic).
So next season Trafford will now have to navigate to new members of their division; Brighouse Town, City of Liverpool, Dunston UTS, Marine, Marske United, Ossett United, Pickering Town, Pontefract Collieries, Tadcaster Albion and Workington.
The EvoStik League explains that "The EVO-STIK Northern Premier League can confirm a tweak to the boundary line in its step four divisions, as revealed at the recent chairman's meeting. The East/West Division split has been adjusted to North/West and South/East ahead of the 2019/20 season.
As a board, we have a responsibility to all 40 of our step four member clubs and something had to be done to address the balance to make the competition fair. In the season just gone, teams in the East Division had to travel 20,000 more miles to complete their fixtures in comparison to their West Division counterparts. The average journey in the East was 127 miles, compared to 84 in the West.
With the changes, the difference is reduced to around 7,000 miles, with an average of 126 in the South/East division and 110 in the North/West division. This has resulted in a number of lateral movements in the FA's club allocations for steps one to four, announced on Sunday morning.
Brighouse Town, Marske United, Ossett United, Pickering Town, Pontefract Collieries and Tadcaster Albion move across to the North/West division.
Chasetown, Glossop North End, Kidsgrove Athletic, Leek Town, Market Drayton Town, Newcastle Town and Sutton Coldfield Town move across to the South/East division.
Worksop Town and Ilkeston Town, both promoted from step five, join the South/East division, with City of Liverpool and Dunston going in to North/West.
Carlton Town are reprieved and stay in the Southeast division, with Kendal Town reprieved from relegation in North/West. The two clubs relegated from the Premier Division, Marine and Workington, go in to the North/West division.
Departing the NPL are Hednesford Town, who have moved across to the Southern League Central. Coming down from National League North to the Premier Division are FC United and Ashton United".
According to the
Telegraph & Argus
, "Bradford (Park Avenue), Guiseley and Farsley have had two long trips added to their fixture schedule following adjustments made to National League North for next season.
Gloucester City and Oxford City have been moved across from the South division... Gloucester stayed up in their second season in the South section in the campaign just ended after eight years in step two's Northern section. Oxford had three years in the North between 2012 and 2015, including a sixth-place finish, but have spent the last four campaigns in the South.
Their lateral movement is because Maidstone United, Havant & Waterlooville, Aldershot Town and Braintree Town have been relegated from the National League top flight".
Chester FC report that "At last night's Chester FC Awards, Craig Mahon put pen to paper and signed a new one-year deal. This deal takes the Irishman into his seventh season at the Swansway Chester Stadium and, during 2018/19, he eclipsed the 200 appearances mark for Chester FC. The first and only to do so since reformation.
The 29-year-old joined from Vauxhall Motors in the summer of 2013, and has gone on to make 229 appearances and scored 18 goals. Last season he was a regular once again, making 40 appearances and scoring four goals."
And NL Daily tells us that "AFC Telford United vice skipper Ellis Deeney has signed a new deal which keeps him with the club until May of next year. The 27-year-old younger brother of Watford star Troy has been a vital member of the Bucks squad over the last couple of seasons.
He joined in January 2018 and helped Rob Edwards's side seal National League North survival... Combative midfielder Deeney made 45 appearances in all competitions for Telford last campaign, scoring four goals."
Blyth Spartans "must announce the departure of midfielder Sean Reid, who has signed with Evo-Stik Northern Premier League side Morpeth Town. The tireless midfielder joined the club in the summer of 2015 from Northern League outfit West Allotment Celtic, making himself a household name at Croft Park.
'Reidy' made 186 appearance for Blyth notching an impressive 66 goals in all competitions. He has filled in a makeshift centre-back and centre-forward on a number of occasions".
Meanwhile, Bulls' News reports that "The football budget for next season at Edgar Street looks as though it will be around £700K. That's nearly double the budget former manager Peter Beadle had in his last full season.
In the accounts for the year ending May 31st 2018,the football budget was £331K which was up from £256K the previous season. In an interview last Saturday, director Mick Merrick confirmed that the budget would rise. '50% was the increase in budget from going into last season and this year we are looking at a 40% increase in the football budget and that is significent,' he said.
So, assuming the figure of £331K was correct, an increase of 50% gave a budget for last season of £496K. A further increase of 40% this coming season would lift the budget to circa £694K. For the record, team and management wages (the budget) is understood to include manager and all background staff and all playing staff."
---
19 May 2019
As previously announced, Altrincham FC's Patrons' scheme has been relaunched ahead of the 2019/20 campaign after just failing to gain promotion for the second season in a row.
Altrincham FC's Board "agreed that any funds raised via the Patrons' Club would go directly to boosting the playing budget. We've worked hard on retaining the management team and now the squad for next season as well as scouting potential new signings, and supporting the team via the Patrons' Scheme will only enhance our chances further."
For the cost of £50 each Patron's name will appear throughout the coming season in the matchday programme and on the official club website as a Patron of Altrincham Football Club. At the start of the 2019-20 season, every member will be entered into a prize draw, with 10 winners being given four hospitality places in the Manchester Glass Sponsors' Lounge for an alloted game at the start of the 2019-20 season.
If you are interested in becoming a Patron for next season, please forward a cheque, payable to Altrincham Football Club, for £50. Alternatively, you can pay by card by phoning the office (0161 928-1045). If you require any further information please do not hesitate to enquire by e-mail.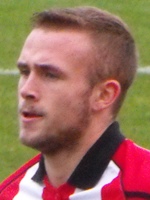 Hyde United
report "a second of last season's players remaining. Left back, Kyle Brownhill, has been secured for the 2019/20 season... This is another player who had spent a number of seasons at Hyde United going all the way back to the 2014/15 season. In total Kyle has chalked up 125 appearances but, sadly, no goals, but not for want to trying".
Altrincham signed local player Kyle Brownhill from Hyde United on 15 December 2016. Though signed initially as a left-back, Kyle was later deployed in central midfield. He was released by Phil Parkinson in summer 2017 after he had made 17(+1) appearances for Altrincham.
According to the
Hereford Times
"Hereford FC have increased their 'football budget' by 40 percent as they aim for at least a play-off place next season.
Speaking to the club's website Hereford United Supporters' Trust nominated director Mick Merrick said, despite the increase, the club would not blow the club's reserves on 'big ticket' players.
'We are really ambitious but we're not going to let the club go bust trying to do it,' said Merrick. 'We're not going blow our reserves and our budget on bringing in big ticket managers or players. We've seen that doesn't really work and we have to grow into the Football League and sustainably. That means living within our means and sustainably.
'Frankly we are well off because of our fantastic supporters which [who] provide the funding to attract players and, hopefully, make our way towards the Football League in the not so distant future. I wouldn't put a time on it but we need to be playing challenging football. Fifty per cent was the increase in budget from going into last season and this season we are looking at a 40 percent increase going into the football budget, that is significant.'
Merrick said that the management team are currently working towards [signing?] players that will 'get people excited' next season. He added '"Everybody works hard around this club and they (the management) are working particularly hard to make sure they put in place the sort of plan and bring in the players that are going to get people excited next year. We want to be in the play-offs and challenging for promotion. This will be the first season that it will be their (the management's) players and our team collectively and hopefully challenging.
'There has been quite a lot of activity going on to try and recruit the right type of players. Everybody wants to get into the Football League there is no doubt that is what everybody here wants to do.'"
Southport have published some interesting statistics.
The Facts And Figures From 2018-19 include:
The total home and away was 47880 our best in CN by 3493, this gave an average of 1140 which is up 84 on the previous season.
Interestingly in the second season we got promoted (2009/10) the home average was just 924. The best ever home average of 1423 came in 1999-2000.
We went 24 games without a draw from 2017-18 into 2018-19 which is a NL Club Record
We also went 12 games without a home win from 2017-18 into 2018-19 which is also a NL Club Record
The 13 wins is a CN low but way off the record of 8 set back in 1979-80
Chester Football Club "are pleased to confirm that defender Danny Livesey will join the Blues on a permanent deal from Salford City on July 1st."
AFC Telford United "announce that goalkeeper Andy Wycherley has had his contract option exercised, keeping him at the club for the 2019-20 season.
Wycherley joined the Bucks back in August 2018 from Welsh Premier League Champions TNS before going on to make 20 appearances for his boyhood club.... AFC Telford United have also completed the signing of Andre Brown for the 2019-20 campaign.
Boss Cowan said, 'I'm really pleased to confirm Andre will be staying with us next season. I believe his undoubted ability will be seen this year as we evolve to his style of play. His patience and understanding of the team needs have set him up to have his best season yet going into next year.
AFC Telford United are also delighted to announce the signing of Jon Royle for the 2019-20 campaign".
The
National League
states that "It was the most gripping of seasons which went down to the final day. Now BT Sport are offering you the opportunity to kick back and re-live it all again. The broadcaster have put together a special season review covering all the important action from a campaign to remember.
The one-hour highlights show will be sure to bring back plenty of good memories. The review is scheduled to start at 6.45pm on Sunday; right after the FA Trophy final.
Should Leyton Orient's match with AFC Fylde overrun, it will [be] following the final after extra time and possibly penalties.
The Trophy final is part two of a fantastic Non-League finals day which will be broadcast live on BT. It starts early with Chertsey Town's FA Vase final with Cray Valley PM from midday".
---
---
The following pages, which initially replicate those pages with the same web addresses which formed part of the official Club website, will be re-branded from 2018 as part of this new unofficial Alty Files site.
A/Z Site Index to The Alty Files at www.altrinchamfc.co.uk
---