an unofficial Altrincham FC website.
www.altrinchamfc.co.uk
---
OPTIONAL DROPDOWN MENU - HERE
---
Current News
---
ALTY HEADLINES
OTHER HEADLINES
---
12 December 2018
Altrincham's opponents this Saturday in the Buildbase FA Trophy First Round,
Stockport County
announce that "County fans should enter through turnstiles 1-4... Should a replay be required, this will take place at Edgeley Park on Tuesday 18th December in a 7.45pm kick-off. This would replace the league fixture at Ashton United, also scheduled for this date".
Admission prices for the replay would be
Adults – £10.00
Concessions – £7.00
Aged 6-17 – £4.00
Under 6s – £2.00
Please note that the Vernon Stand will be closed for home fans in the event of a replay."
The EvoStik League confirms that "After signing Connor McCarthy to boost their striking options, Warrington Town have lost on-loan forward Jake Kirby... He came off the bench in Saturday's 4-0 win over North Ferriby United, a game in which Kirby scored the third goal.
Kirby, 24, only had his loan deal from Stockport County extended last week, but he has now been recalled by the National League North side".
NL Daily adds that Kirby "will go straight into the Hatters squad for [Tueday] night's trip to Spennymoor. The former Tranmere winger, 24, has been training with the Hatters throughout his time at Warrington".
Tuesday 11 December 2018
Vanarama National League North
Spennymoor Town 1-3 Stockport County
The FA Trophy Third Qualifying Round Replays
Guiseley 1-2 Lancaster City
Derbyshire Senior Cup Quarter Final
Alfreton Town 2-0 Buxton (Att. 136)
Saturday 15 December 2018
The
EvoStik League
reports that "Buxton are targeting a new centre-back to replace captain
Greg Young
, who left to join Frickley last week. Young, 35, made more than 185 appearances for the Bucks but drops down to the EVO-STIK League East Division for a player-coaching role under former boss Martin McIntosh".
And the EvoStik League adds that "Mossley have signed goalkeeper Josh Ollerenshaw. Ollerenshaw, 28, is an active soldier and has recently returned from a three-month tour of duty in Kenya. He last [?played] with Ashton United but has a lot of experience in non-league, playing for Curzon Ashton, Colwyn Bay, Fleetwood Town, Stalybridge Celtic, Warrington Town and Hyde United.
The 6'5" stopper will join the Lilywhites ahead of Saturday's clash at Widnes".
NL Daily
reports that "Colne have announced the signings of Josh Hine and Richard Baker. 27-year-old forward Hine joins after spells at Southport, Chorley, Salford City, Warrington Town, Marine and Boston United. Hine joined Craig Elliott's Boston United in October on dual-registration terms from Marine.
Midfielder Baker, meanwhile, made over 100 Football League experiences for Bury after spending several years as a youngster at Manchester United. The 30-year-old has represented North West clubs in non-league including Stockport County, Curzon Ashton and AFC Fylde."
From NL Daily comes news that "The Spennymoor Town board of directors has released a statement following the postponement of the Vanarama National League North game against Kidderminster Harriers on 1 December 2018. The game was called off with more than 24 hours until kick-off, sparking fears of another spate of season-disrupting postponements...
Tony Wilson, Managing Director of Spennymoor Town, said "Postponements arguably cost us a place in the National League North play-offs last season. I was surprised myself in the build up to the Kidderminster game at the pitch's inability to deal with the rain we'd had and the management team of the club has been working constantly throughout December to investigate and resolve issues. We invested in new pitch irrigation at the start of the season, which we thought would have prevented a reoccurrence of last season's waterlogging. But we've since uncovered more than one problem which was preventing the system from having an impact.
'Firstly, I'd like to dispel a rather peculiar rumour in circulation that there is a stream running beneath the ground. We're in possession of a map of the area from the late 1800s and early 1900s that shows there was a stream nearby, but it forked either side of the ground with plenty of room to spare. This has not been a contributor.
'What we have found, from taking a cross-section of the pitch, is that historical treatment with large amounts of sand has created a dense layer between the pitch turf and the irrigation system, preventing effective drainage. The good news is that we've been able to rectify this using a verti-drain and make this layer porous, enabling the irrigation to do its job. Whilst we've done this before, it became apparent that a standard approach was not penetrating the dense layer and a more powerful method was needed. The bad news is that this will be required more than once and we'll need to invest in the costly equipment required.
'In addition to this, we've decided to invest in further irrigation beneath and around the pitch, to divert water away and into the local drainage system. Finally, we've been surprised by the sheer volume of water that we're draining away. I'm currently liaising with Northumbrian Water, who have been most helpful. We are currently chemically testing the run-off water to determine whether it has come from drinking water being transported by Northumbrian Water and, hence, whether there are any nearby leaks. The results of this are imminent.
'In the interest of preventing water reaching the pitch in the first place, the club is investing in new, state-of-the-art pitch-covers, which will further protect the pitch and be easier to use than our current options. This is being installed this year. The most important message from this announcement is that we have made significant improvements thanks to the investigation over the last couple of weeks. The pitch is more durable than ever before; and this will increase further upon the completion of our work with Northumbrian Water.'"
Nuneaton Borough "have confirmed that full-back Rhys Davies has been recalled by Shrewsbury Town. The young defender appeared 10 times for the Boro' and scored the equaliser in a 1-1 draw at home to Kidderminster Harriers".
Leamington announce that "With an above avearge attendance anticipated for this Saturday's Buildbase FA Trophy 1st Round clash with Hartlepool United FC, we are asking supporters of both sides to help with travel and parking by using the 'Match Day Bus Service' or by car sharing or using the Brakes Trust Mini-bus service...
Although there is parking for approximately 450 vehicles, there is NO alternative 'on street parking', as we are located on a busy country road with no pavements and surrounded by farmland...
This tie will be played to a conclusion with extra-time and penalties if required. The match will NOT be segregated".
Brackley Town have signed "Former Coventry City midfielder Jack Finch".
The EvoStik League reports that "Ben Purdham, who has played the last six games for Mossley, has now returned to parent club Curzon Ashton."
Blyth Spartans report that "Alun Armstrong praised an all-round team performance as Blyth Spartans made it five wins on the bounce in a comfortable win over Ashton United. Goals from Sean Reid and Robert Dale in the second half secured all three points for Blyth. Spartans [are] now just two points outside of the play-off places in ninth.
But Armstrong was keen to temper expectations... 'We know that when we are fully fit, we are a match for any team in this division, but we saw earlier in the season how injuries can decimate our squad. We played for a month with three teenagers on the bench. We have a tough few games coming up, Chorley... Then we play Spennymoor Town twice, who are in excellent form... And we have York City in between those two games... The five wins are vital for us, we had to win the majority of those games with the fixtures we have coming up...
'As I've said a number of times, we are a confidence side. We're a streaky side and when we are in-form we are difficult to beat.'
Robert Dale is now just one goal away from 200 in a green and white shirt, whilst Sean Reid continues to contribute goals from midfield, and the 43-year-old praised his dynamic frontline over the winning run. 'Everyone is contributing at the top of the pitch, and that's giving me a headache... I know we are always capable of scoring goals. I turned around to the bench and I had Jamie Holmes and Bradley Fewster sitting there, Adam Wrightson wasn't even available today; we have so much talent going forward...
'"Defensively we were outstanding, no last-ditch tackles, to diving stops on the line. Peter Jameson came into the dressing room with a clean jersey, that tells you the story of the game.'
Lewis Horner came into the side for Alex Nicholson at right-back, and Armstrong was delighted with his defender's contribution. 'It was fantastic display by Horner, he's done well at right-back over recent weeks and with performances like he is making it impossible for me to leave him out. He's fully fit and you can see his undoubted quality, it's taken a while due to injuries and fitness but he's beginning to show the talent that had him featuring in the Scottish Premiership.'"
the other side, Ashton United report that they "slipped to their third successive league defeat against their in-form hosts who duly won for the fifth successive match. With the Robins having picked up 3 injuries on Tuesday, James Jones was making his full debut at centre back with Matt Regan switching to left back...
Dale got the better of [Liam] Goulding out wide and saw his cross converted from close in by Reid. Goulding then reached the by line at the other end and saw his cross helped over by Anghel before the same player made space but fired past the far post... With 3 minutes left a quick break saw Rivers and Maguire combine to put Dale in for a calm finish and after Maguire had hit the post again Sam Sheridan was dismissed somewhat mysteriously after receiving a second yellow card.
Team: Pilling, Stead (Chalmers 17), Regan, Jones, Goulding, Kay, Jackson, Sheridan, Chadwick (Howarth 73), Tomsett, Anghel (Crowther 66 ). SNU: Roberts, Hill.."
Before Tuesday's win in the Derbyshire Senior Cup, Alfreton Town reported that "Alfreton Town host neighbours Buxton in the Derbyshire Senior Cup Quarter Final at the Impact Arena tonight. The Reds will need serious improvement after a horrendous display on Saturday against Spennymoor with the Moors romping to a 7-1 win at the Impact Arena, our worst ever home league defeat...
A massive reaction is now needed following Saturday with another tough assignment tonight, it was yet again another set-back in the Reds league season with inconsistency and constant team changes due to injuries being a huge downfall so far for Alfreton in the National League North. Billy Heath will expect a totally different display tonight and for the Reds to right the wrongs of Saturday's performance thus restoring some belief back into the side.
We head into tonight's clash with just two wins in our last 11 games in all competitions. We have lost our last three games at the Impact Arena and have recorded just one win (3-1 v Nuneaton) in our last seven games at home".
---
11 December 2018
Having already met Stockport County in the FA Cup, Alty meet the Hatters again on Saturday, this time in the Buildbase FA Trophy. And on the near horizon there is also a double-header with County over Christmas and New Year in the league.
Last Saturday, Stockport drew 1-1 at Edgeley Park against Chester FC who have "All the action from Saturday's draw at Edgeley Park as the Blues are pegged back by a controversial penalty decision".
Meanwhile, Cheshire Live tells us that "Stockport County manager Jim Gannon was less than impressed with some aspects of his sides performance in Saturday's 1-1 draw with Chester FC. An Akwasi Asante goal on 33 minutes for Chester was cancelled out by a dubious Sam Walker penalty on the stroke of half time after Deane Smalley was adjudged by referee Adam Herczog to have handled.
Chester had the better of the chances at Edgeley Park... and the Blues can feel aggrieved to have come away with just a point. Stockport, too, had chances and Gannon was unhappy with their inability to convert and also their structure in the lead-up to the Blues' opener. When asked if a draw was a fair result, Gannon told the club's official YouTube channel 'It depends. Do you talk about chances, possession or penetration? The result is what it is. You get players and managers who think tiddlywinks football, I think chess. I look back to a poor foul, and I'm not sure if it was a foul, and then our structure was poor and Asante is getting free in the box and having a shot and we conceded a corner from that.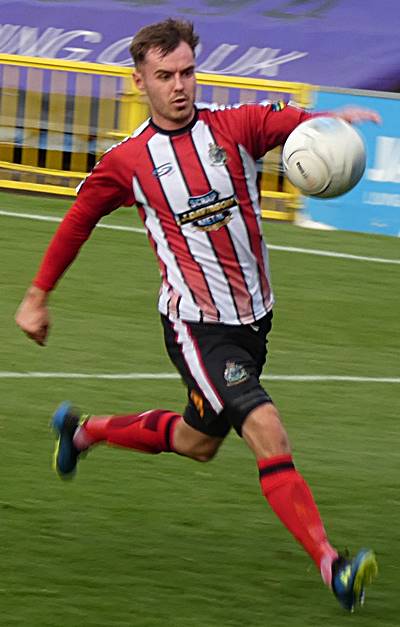 Left: John Johnston in action at Stockport in October's FA Cup clash.
'I was disappointed we didn't deal with it. Credit to them if they found a soft spot in our defensive make up, credit to them, but I was disappointed with the layers that lead up to it'...
Stockport had chances through Matty Warburton, Adam Thomas and Frank Mulhern but failed to really test Chester stopper Grant Shenton. And Gannon intimated that changes could be on the way if his National League North side don't improve.
He added 'We have been doing a lot of work on the training ground but there are still players playing their own game. The one thing that Jason Oswell said to me when he walked away from here was 'I've learned so much about crosses and what works and what doesn't work'. He scored 12 goals from near-post crosses on the deck and took that away with him but we have players who don't understand the value of that cross. We can't talk about potential anymore we have to talk about players fulfilling tactics. You have got to be taking stuff off the training ground and delivering.
'I don't know if it the stage or if it's players not doing what we work on in training. These are the things we need to iron out. I am having to say the same things to the same players over and over again. My patience is running out with a few and unless we start seeing a few delivering more than their potential then we're going to have to freshen the group up with players who have the nous and the quality.
'We should be able to get out from the back and work our way up the pitch, whether that be goal kicks, throw-ins or free-kicks. But I think there are a lot of players who don't really think about what they are doing, what we are trying to achieve and why we are trying to do it. Once players get the "why" they become thinking footballers.
'Confucius has a saying that if you give a man a fish you feed him for the day but if you teach a man how to fish you feed him for life. I think we have too many players that we are giving fish to and they just don't know how to fish.'"
Last week,
Cheshire Live
reported that "Owen Dale has been 'toughened up' during loan spells in non-league, and is now ready to push for a place in the Crewe Alex team. That's according to manager David Artell, who called the 20-year-old striker back after a successful loan spell at Altrincham last week.
The academy graduate impressed in a three-month spell with the Conference North outfit, scoring three goals in 10 league starts. Alty boss Phil Parkinson wanted to extend the loan deal, but the pacy attacker, who can play central or wide, will be added to the Crewe squad.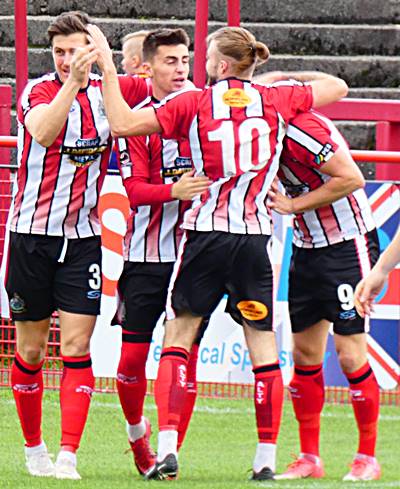 Right: Owen is congratulated on his goal against Alfreton Town.
Manager Artell said 'He needed toughening up. People think I mean getting kicked up in the air by that, and that's part of it. But it's also learning to play Saturday–Tuesday. We've seen players in our first team now who couldn't play Saturday, Tuesday, Saturday not long ago. Owen has done that in someone's first team now. Phil has been brilliant with him, and it's helped Owen. He scored an absolute cracker for the under 23s on Friday, then he got walloped by George (Ray) in training on Monday.
'Twelve months ago he'd have rolled around the floor and gone in. But he just got up; it's a real positive mindset he's learned from being elsewhere'...
Dale made six appearances for the Railwaymen last season, but had the bulk of his first-team football on loan at Witton Albion, where he played 25 times and found the back of the net on five occasions. He signed a new contract with Crewe in the summer, extending his stay for two years with the option of a further two years...
The boss added 'The gap between U23s football and the first team is widening all the time, and we have to bridge that with loans where we can. They generally come back better players, they see something different from this club and understand there's a big, wide world to football. It's part of their development and they see a bigger picture. We are hoping others go out on loan too. It's not always easy, but it's not a financial thing either.'"
And on Monday, Cheshire Live added that "Owen Dale says he's ready to make an impact at Crewe Alex after 'learning how to win' on loan at Altrincham. The 20-year-old striker is back after a successful three-month spell with the National League side, and was put straight into the squad for Saturday's 2-0 home defeat to Oldham.
Dale... says the spell there and a previous one at Witton have been a positive learning curve for him. Dale said 'It's been great for me, I've learned a lot and grown up a lot. I think I've learned how to win, I think we went nine or 10 unbeaten. Hard work is the main thing, it doesn't matter how much talent you've got, if you work hard you'll go a lot further. It feels like the hard work has paid off a bit. I feel I'm more ready than I was a year ago, a lot's changed and I've improved a lot.
'I know I've still got a long way to go to make an impact, but I feel like the time is now for me. Hopefully I can help the team get results.'"
The extended highlights of the Alty v AFC Telford United game last Saturday are now on
AltyTV
.
The Shropshire Star adds that "AFC Telford United need to discover their cutting edge in the final third of the field to kick-start another run in the National League North, according to boss Gavin Cowan. The Bucks chief watched his side slip to a second successive defeat at high-flying Altrincham on Saturday.
The Bucks went six games unbeaten prior to last week's defeat at home to Bradford PA and, after Saturday's loss at Moss Lane, Cowan called for his side to start turning possession into chances and goals. He said 'I feel we dominate in and out of possession but have had no real cutting edge and what we need to bring now is that cutting edge. We've got the players to do it, we have players with a history of being clinical.
'Someone said to me recently, look after the performances and the results will look after themselves and I think that will come. We aren't being out-fought and it isn't like the opposition are better than us, but there are areas that we need to be better in. Defensively we were not as reliable as we have been, we were jumping in and making rash challenges. That isn't needed when you're up against a team that is doing well away from home. For some reason the lads' belief has deserted them. The performances aren't bad but the results need to improve'...
He added 'Last week I apologised to the lads because afterwards I said they've let themselves down, but looking back I realised they didn't. I was just disappointed, and it is a good development for me because I know I can't be so rash, that is why I haven't spoken to the players straight after and have given myself time to take the game in.'"
NL Daily
reports that "Ashton United have signed Salford City defender James Jones on loan. Youngster Jones joined Salford from Chester FC at the end of June, signing for the Ammies on a two-year deal. Neither club have confirmed as yet how long the loan is for.
Jones started for Jody Banim's side in Saturday's 2-0 loss at Blyth Spartans".
Cheshire Live reports that "It hasn't taken long for Akwasi Asante to hit the ground running at Chester FC. A hat-trick on his debut last week and another one [goal] in 1-1 draw at Stockport County at the weekend sees him on four goals in his first two games for the Blues since his loan move from Tamworth at the start of the month.
He has already started to forge what looks to be a dangerous partnership with Anthony Dudley and, with Chester harbouring aspirations of a promotion push this season in the National League North, keeping Asante could prove vital. But Chester only have the Dutchman until the end of the month and, while the club intimated that there was a chance to make it permanent, whether that can transpire is another matter.
Speaking after the draw at Edgeley Park, Chester joint-manager Bernard Morley said 'He's given us a real platform and he's what you'd call a real centre-forward. He does the right things. I still think he needs minutes in his legs but, for what he's contributed in that short space of time since he's been here, he's been unbelievable. To score four goals against Darlington and Stockport is obviously a dream come true for him.
'Decisions like that are out of our hands unfortunately. We love him, the lads love him and I think he's enjoying himself. It's still early days for him but all we can do is see out the 28 days and see what the future holds for him. If the opportunity is there to make it permanent we'll push everything and do everything we can to make that happen.'
Chester are without a game this weekend due to their exit from the FA Trophy but return to National League North action on Saturday, December 22 when AFC Telford United are the visitors. Chester will have Dan Mooney available once again after he served a one-match ban on Saturday."
Nuneaton Borough "have confirmed that full-back Rhys Davies has been recalled by Shrewsbury Town. The young defender appeared 10 times for the Boro' and scored the equaliser in a 1-1 draw at home to Kidderminster Harriers".
Alfreton Town remind us that "Way back in 1960 petrol cost 23 pence [i.e. four shillings and seven pence?] per gallon, John F Kennedy had just been inaugurated as President of the USA, Coronation Street was shown for the first time on TV, the farthing was still legal tender and Alfreton Town lost 1-7 to Belper Town in their first ever FA Cup tie and, until this weekend, that record had stood as the worst Reds' home defeat.
Cue the arrival of Spennymoor Town on Saturday and a repeat of that score-line has given Alfreton the unwanted record of their worst League defeat ever at home.
Billy Heath made two changes with Danny O'Brien and Michael Collins coming in for their debuts. The game started in a tight fashion... But with six minutes gone, we gave away yet another penalty with handball being given against Riley from a cross on the left. Leading league scorer Glen Taylor stepped up and converted the penalty to give the visitors the lead... After 29 minutes Spennymoor were lucky not to be sent down to ten men as a late challenge on Tom Allan after the ball had gone by Chandler, looked to have been with two feet off the ground, Chandler was booked and a few minutes later the visitors doubled their lead.
Taylor went down easily after an aerial challenge and Brogan stepped up and bent a lovely free kick into the far corner. Two minutes later it was three, Taylor's shot was blocked by Riley high into the air and the ball looped towards the far post where Chandler showed great pace to beat Ramsbottom to it and convert.
Just before the break we pulled one back as Styche converted a corner from Clifton at the far post with a neat header... With the rain pouring down and rendering the pitch surface to a lot of standing water, the Reds nightmare continued as Spenny grabbed a fourth goal before the break in first half stoppage time.
Taylor grabbed his second of the game slotting in from close range just two minutes after we looked to have got back into it. It capped off a truly horrible first half, although there were at least three key decisions that went against us in terms of the penalty awarded, the Chandler challenge and the free kick which led to the second goal, there were no excuses for our defending and a reaction was needed after the break.
The second half proved worse for us with the ball holding up on the surface due to the standing water... Spennymoor made it 5-1 on 55 minutes with Taylor grabbing his hat-trick at the Impact Arena in consecutive seasons with an unchallenged header from a corner, it was far too easy for the Moors going forward with the Reds struggling on nearly every offence.
62 minutes it became 6-1, Riley's back pass to Ramsbottom held up on the surface and didn't reach the Reds goalkeeper, Tuton raced onto it and took it past Ramsbottom and slotted into the empty net.
Spennymoor were running riot... with Reds' resistance coming from Styche who hit the bar from distance and David Lynch who forced a save from Gould who palmed his effort away from inside the D.
However Alfreton's embrassment got worse on 84 minutes as Johnson tapped in from a yard out after a header hit the post from a far post corner... The Reds were out-classed and suffered a damaging defeat in which Billy Heath will need to lift the players again and look to respond with the visit of Buxton in the Derbyshire Senior Cup quarter final".
---
10 December 2018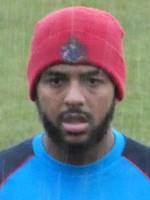 The
National League
has goal highlights from Saturday's match, a game in which AFC Fylde loanee, Ashley Hemmings (right) made a favourable impression in a substitute's role.
Howard Watts and Mike Garnett's
Through the Years
remind us that when Altrincham face Stockport County on 15 December in the FA Trophy First Round, it will be three years to the day that Alty drew at home to Leamington in the same round of the Trophy, a result which led to a replay saga. The replay was finally played on the sixth selected date, a sequence which included an abortive trip for the team and supporters to the Warwickshire club for a very late postponement.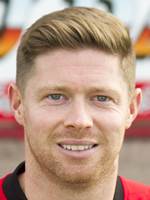 The original tie should have been played on Saturday, 12 December but in 2015, as in 2018, there had been heavy rain and on that occasion the fixture was postponed to the following Tuesday.
On that date, 15 December 2015, the match ended 1-1. With Altrincham leading 1-0 and less than 14 minutes remaining, an uncharacetristic mistake by left-back Adam Griffin (left) gifted Leamington an equalizer. Following an Alty corner, Leamington keeper Breedon collected the ball and kicked upfield. Griffin missed the ball, allowing substitute Ogleby, who had literally just joined the game, a clear run at exposed goalkeeper Tim Deasy whom he beat with his shot.
Altrincham had taken the lead in the 70th minute when Breeden failed to hold a Rankine shot and Reeves netted the loose ball. Earlier an Alty effort by Lawrie had stuck in the soft pitch as it was about to cross the line after evading Breeden and Sinnott had also hit the post with a fine shot.
ALTRINCHAM: 17. Tim DEASY, 20. Jordan SINNOTT, 5. Luca HAVERN (capt), 6. Scott LEATHER, 3. Adam GRIFFIN, 4. Jake MOULT, 8. Simon RICHMAN, 19. Ryan CROWTHER, 7. James LAWRIE, 9. Michael RANKINE, 10. Damian REEVES. Subs 11. Nicky CLEE, 23. Callum WILLIAMS, 18. George BOWERMAN, 24. Rhain DAVIS, 12. Sam HEATHCOTE.
On Sunday Altrincham FC Youth's away fixture against Tranmere Rovers was postponed.
Alty Youth lie third in the NWYA Premier with 18 points. Leaders Hyde United have 26 points from five more games, whilst second-placed Chester FC have a perfect 24 points from eight fixtures.
Altrincham's next match is away at Ashton Athletic who lie eleventh in the twelve-team division.
Altrincham FC Ladies' home league game against Curzon Ashton FC was postponed on Sunday. Their next match is away to Didsbury FC Ladies next Sunday. Alty Ladies lie second on the same points as leaders West Didsbury & Chorlton and third-placed Liverpool Feds Reserves. West Didsbury have 21 points from seven games, Alty have that total from 10 matches whilst Liverpool Feds have played eleven matches.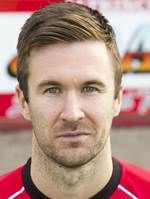 Josh O'Keefe (right) netted a last-gasp equalizer for Chorley on Saturday.
NL Daily reports that "Colwyn Bay have announced the return to the club of last season's top scorer Astley Mulholland following his departure from Barrow. The 30-year-old has agreed to come back to the Bay where he scored 19 goals in 49 previous appearances for the club, prior to him signing for Barrow in the summer, where he has struggled to get game time.
Manager Craig Hogg commented, 'We are delighted that Astley has agreed to return to Colwyn Bay FC. It was clear that a number of parties were interested in him after leaving Barrow recently but, after speaking to him over the past week, he expressed an interest in returning and was very excited with what the management team are trying to achieve. We are delighted we've been able to agree terms with him. Astley has been a good player for the Bay and made the Evostik North Team of the Year last season during his last spell with us, producing a good goal scoring return along the way, and we hope he can replicate that form again for us'...
Mulholland, who has previously been with Ashton United, Altrincham, FC United, Chorley and Glossop, will be available for selection once international clearance comes through from the FA of Wales. A number of clubs had been interested but he commented... 'A few clubs have been in touch with me, but there is no point signing a contract with somebody if you're not sure you are going to be happy.'"
The next league visitors to the J. Davidson Stadium are Darlington. The
National League
reports that "Tommy Wright refuses to throw in the towel at Darlington despite a costly defeat on Saturday... 2-1 at home to bottom club Nuneaton. It was the Quakers' third National League North defeat in a row and they are now just two points above the drop zone.
Wright spoke to the Northern Echo... 'I'm not resigning, I'm determined to turn this around,' he told the website. 'I won't let this situation beat me. I understand football, I know how these situations work. At the end of the game, I told the lads in the dressing room that I won't be resigning, and I said the same to the directors. The majority of people don't know the circumstances that we're working under, and that it's difficult to build a team at the moment. I still think that we'll be fine, and we'll sort this out. We'll all keep trying hard.'"
Also from the National League we learn that "Sam Collins says the fault for York City's unraveling season lies squarely at the feet of the players. The Minstermen's 2-0 weekend defeat at Boston United made it just one National League victory since mid-October.
Furious Collins let rip at his squad after their eighth loss of the season left them seven points off the play-off spots. He said 'There's no one else at fault here. There is nobody else to blame except the players. I'm sick of hearing excuses. The fans and the chairman here are different class but it means nothing if the players don't want to stand up and fight. The performance was weak, it was soft and there was little bravery.
'I saw an attempt to go and scrap from two of three maybe. To be honest, I have felt like that for a couple of weeks. I stood there for ten minutes in the dressing room and let them talk. All I heard was excuses. They change excuses every week. I have told them to go home, look in the mirror and ask if they are giving everything they have got to this club.'
The manager added 'There are three or four that do, but we have 20-odd players here. We have 20-odd players that are on good money. I'm a proud man and I'm disappointed. I have been in football all my life and the one thing I pride myself on is fighting. I would try every day. We have 20-odd players. Are they doing that? Not really.'"
According to
NL Daily
, "FC Halifax Town chairman David Bosomworth says the club is committed to the full-time model it adopted over the summer, the Halifax Courier report. The Shaymen switched from training two nights a week to at least three mornings a week this season, and have established a base at the University of Leeds's sports centre near Weetwood.
'We want to develop it, not come back from it,' said Bosomworth... 'At the moment we're three mornings a week, so can we get to four mornings a week?'....
On the transition to full-time, Bosomworth said 'You do have different things, like salaries, players in digs or more training and the costs with infrastructure. But, at the end of the day, it gives us a better chance,and that's what we're striving to develop moving forward.'"
---
9 December 2018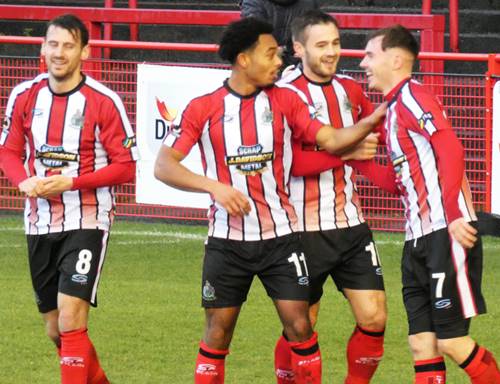 Above: Alty celebrate the opening goal; left to right we see Simon Richman, Kallam Mantack, Josh Hancock and John Johnston.
Although Altrincham ultimately achieved a comfortable margin of victory, for much of the afternoon AFC Telford United looked as if they would not emerge from the game empty-handed. After the visitors had started well, it was Altrincham who took a nineteenth-minute lead in the match. Johnston took advantage of a defender's failure to cut out a through ball before getting into the box and feeding Hancock who netted. But Udoh equalised for the Bucks in the 25th minute, when he converted a nod-down after Altrincham had failed to clear the ball in their own penalty area.
In a match played on a pitch which was sodden from the start, Altrincham regained the lead in the 74th minute. Densmore was chopped down on the front edge of the box as Mantack laid the ball off to him. From the freekick Connor Hampson curled a superb freekick into the net. The icing on the cake was Hancock's second and Alty's third goal in the 87th minute, which came from a corner. Hemmings, who made an impressive debut as a late Alty substitute, received the ball in the box and calmly laid it off to the unmarked Hancock who scored for the tenth time this season.
The win left Altrincham third, level on points with second-placed Chorley and fourth-ranked Chester, four points behind leaders Bradford (Park Avenue).
The official Altrincham FC site also has a match report and a post-match interview by Brian Flynn with Connor Hampson.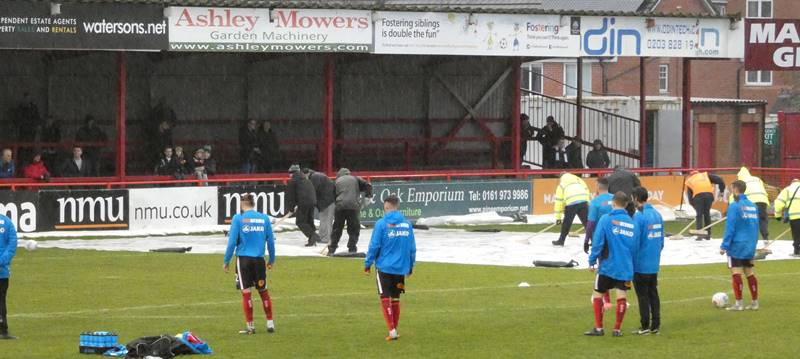 It would not have been a surprise to see Saturday's game postponed after a lot of rain through the preceding week and on the match-day itself. But hard work by groundsman Neil Brown, volunteer assistant Bryan Ford and other club volunteers paid off and referee Ben Speedie bravely elected to start the game in steady rain on a sodden surface. His optimism paid off as the rain stopped and held off for the rest of the match - resuming shortly after the final whistle.
Above we see volunteers helping to brush water off the goalmouth covers before kick-off.
Altrincham FC chairman Grahame Rowley sponsored Zoe Taylor as he cut off a length of her hair at Saturday's match against AFC Telford United. He was sponsoring Zoe to the tune of £100 for the benefit of the Little Princess Trust, a charity which provides wigs for children undergoing cancer treatment.
The Little Princess Charity, which has been awarded the MBE for volunteer groups, adds that "The Little Princess Trust provides real-hair wigs, free of charge, to children and young people up to the age of 24 that have sadly lost their own hair due to cancer treatment and other illnesses".
Above, we see Grahame cutting off a long plait of Zoe's hair. Santa was also a visitor to the J. Davidson Stadium on Saturday and he is seen keeping dry, and his beard well away from the scissors, in the new Manchester Glass Supporters' Corner, whilst safety officer Nigel Bunce braves the torrential rain.
The
Shropshire Star
reports that "Gavin Cowan believes his AFC Telford United side were the instigators of their own downfall after slipping to a 3-1 defeat at Altrincham.
The Robins, who had won their last five in all competitions, took an 18th minute lead after John Johnston skipped past two tackles, before finding former Buck, Josh Hancock, who slotted home. Hancock sealed the win with a goal late on, after Connor Hampson's super curling free kick had got the hosts in front 16 minutes from time.
The Bucks chief believes his side had control of the game for large parts, but errors cost his team on a wet afternoon at the J Davidson Stadium. He said, 'They were difficult conditions but they were the same for both sides so there is no argument there. I think we had a couple of chances in the first half we didn't put away, but I felt we controlled the game in parts.
'We were comfortable in open play and we nullified them for the most part, but we were the instigators of our own downfall, and that is not really us. We are quite a reliable team, individually and as a team. I was frustrated because we work hard through the week on specific things, and rely on the lads going over the white line.
'We did that in the first 18 minutes and controlled the game and, then, four players have gone jumping and sliding into tackles and that is uncharacteristic.'
Daniel Udoh drew his side level after 25 minutes of the game, but apart from that the Bucks never forced goalkeeper Tony Thompson into a save.
Cowan introduced Brendon Daniels and Yusifu Ceesau from the bench late on in a bid to grab an equaliser, but the Bucks got overrun and Hancock sealed the win with his second.
The manager took the blame for the third goal, and said 'In the second half we took control again and, as staff, we were talking about when we should go for the jugular. We tried to stay in the game as long as we could, and the third goal was my fault really because I have gone gung-ho. I felt we were in control of the game for parts, but we were not threatening in our attacking phases.
'In the final third it was a little bit hopeful, and we need to get back to the way we were and back to that belief.'"
The Shropshire Star adds that "Midfielder Josh Hancock came back to haunt AFC Telford United as his brace condemned the Bucks to a second straight defeat... The man who spent a season at the New Buck's Head back in 2014, handed his side a first half lead with a tap in on 18 minutes...
Telford struggled to create any real clear cut chances against their in form hosts...
The game passed an 11am pitch inspection, but even after the Bucks arrived at the ground the game remained in doubt. Referee Benjamin Speedie took to the field 45 minutes before kick off, testing the roll of the ball on the surface. He deemed it playable, shortly before the heavens opened again to make the sodden surface even damper.
Gavin Cowan said his troops were not good enough in last week's first home defeat of the season and he opted to make two changes against one of the league's form sides. Shrewsbury Town loanee Ryan Barnett impressed enough in his 30 minute spell from the bench last week to warrant a start. He replaced Amari Morgan-Smith, with Dom Smith missing out as defender Theo Streete returned from suspension.
The game got under way in what could only be described as testing with the rain lashing down, and the ball holding up a number of areas of the pitch. If the rain had got any heavier, referee Speedie may have been forced into a decision. As it was, the rain stopped but the surface remained difficult...
The water on the surface was hampering proceedings, and played a part in Altrincham taking the lead with their first real chance on 18 minutes. The ball held up on the surface during a Bucks move, leading to the hosts pinching possession and breaking. A cross field ball was misjudged by Ross White, allowing John Johnston to skip past him and drive towards goal.
The winger avoided Shane Sutton's lunging tackle, before squaring for Hancock to tap home from six yards.... The Bucks... drew themselves level, as Udoh ended his recent dry spell in front of goal. Barnett's cross from the right was met by Ellis Deeney at the back post, and his blocked header fell to Udoh who fired home from close range through a cluster of Altrincham bodies.
Both sides were trying to play passing football, but the surface wasn't particularly helping, especially down one flank with the ball continually holding up throughout the half...
The hosts had the momentum in their favour, and they managed to make their sustained spell of pressure pay 16 minutes from time. Mantack skipped inside and found Shaun Densmore on the edge of the box, who was upended by Deeney.
Left back Hampson stepped up and fired a free kick over the wall and into the corner of the net, leaving Wycherley with absolutely no chance... Hancock put the game beyond all doubt two minutes from time".
On a day when Altrincham's first team won 3-1, so too did the Reserves, away at Billinge. They are top of the table with two games in hand on second-placed Middlewich Town. Altrincham FC Reserves' next game is at home to Denton Town, who are second from bottom.
Judy Henson, who many Altrincham fans will know thorugh her previous role in the Community Sports Hall at the J. Davidson Stadium, is now employed by the EvoStik League. She was recently at our neighbours Trafford FC as the
Sale & Altrincham Messenger
reports...
"Trafford manager Tom Baker was handed October's manager of the month award by Evo-Stik League officer Judy Henson, while football secretary and groundsman Graham Foxall, collected the Club of the Month prize to make it a double for the Shawe View side after a good run of form in the West Division".
In the Evostik West Division, our neighbours Trafford also faced Shropshire opposition in the form of an away match at Market Drayton Town. Trafford won 4-1 thanks to a hat-trick from Darius Palma and a penalty from Aaron Burns, all netted in the opening 38 minutes.
Radcliffe FC beat Chasetown 2-1 with ex-Alty trialist Elliot Rokka netting for the Greater Manchester side.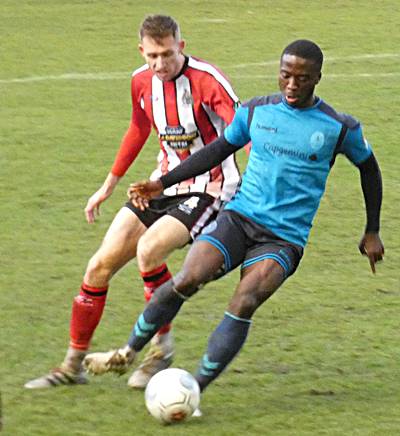 Right: James Jones in action against AFC Telford United.
Vanarama National League North
Att. 235 Alfreton Town 1 - 7 Spennymoor Town
Att. 895 Altrincham 3 - 1 AFC Telford United
Att. 588 Blyth Spartans 2 - 0 Ashton United
Att. 1143 Boston United 2 - 0 York City
Att. TBC Bradford (Park Avenue) 2 - 2 Southport
Att. 1064 Darlington 1 - 2 Nuneaton Borough
Att. 1645 FC United of Manchester 2 - 0 Curzon Ashton
Att. 1288 Kidderminster Harriers 2 - 0 Brackley Town
Att. 568 Leamington 1 - 0 Chorley
Att. 3714 Stockport County 1 - 1 Chester
Saturday 15 December 2018
The Buildbase FA Trophy First Round.
1 Southport or Chester v Solihull Moors
2 Lancaster City or Guiseley v Blyth Spartans
3 AFC Fylde v Stratford Town
4 Salford City v Gateshead
5 Chesterfield v Basford United
6 Wrexham v Boston United
7 Barrow v FC Halifax Town
8 Harrogate Town v York City
9 Leamington v Hartlepool United
10 Workington v Pickering Town or Ramsbottom United
11 Spennymoor Town v Stamford or Barwell
12 Altrincham v Stockport County
13 AFC Telford United v Farsley Celtic
Bradford PA
"were denied victory by a stunning strike from Southport's Bradley Bauress in a 2-2 draw at the Horsfall Stadium. The early stages yielded little in the way of entertainment as both sides wrestled with the conditions and struggled to find any rhythm.
However, the visitors pounced in the 13th minute to edge themselves ahead. Dean Winnard connected with Bradley Bauress's corner delivery and directed his header past a helpless Steven Drench.
The goal rallied Bradford, who struck back through Conor Branson just four minutes later... The hosts took the lead in the 74th minute through stand-in skipper Oli Johnson, who raced away from Richards and steered past Hanford from the left-hand side of the box.
The Sandgrounders took just three minutes to produce a response and did so in sensational fashion. A stunning long-range strike from Bauress levelled proceedings after nestling in the bottom corner".
From the other side, Southport relate that "Southport extended their unbeaten run to ten games with a point at leaders Bradford (Park Avenue)...
'I asked questions of the players before the game and I said I would learn more about them today,' said manager Liam Watson. 'It was down to the lads to roll up their sleeves on a horrible day in difficult conditions and that's what they did. That really makes me proud and it shows that there is a lot of potential in the squad. A cup run brings finances and that gives us the chance to strengthen the squad'...
It was a tight game for the most part with little between the teams".
According to the Chester Standard "A fourth goal in two games by Chester's new goalscoring hero Akwasi Asante ensured the spoils were shared in an entertaining Cheshire derby at Stockport's Edgeley Park.
Asante, who scored a hat-trick on debut last week against Darlington, followed up last week's heroics with another fine display with the Blues feeling they did more than enough to beat the Hatters following a barnstorming second half in which County keeper Ben Hinchcliffe denied Chester again and again after Sam Walker had converted a penalty for the hosts on the stroke of half time...
Jut as Chester looked to be gaining control of the game their momentum was halted half way through the first half when centre back Daniel Livesey limped off and with no defender on the bench had to be replaced by striker Deane Smalley. Despite his height, Smalley immediately looked ill at ease...
Chester settled and with Asante's touch and strength causing untold problems for the Hatters' back four it was hardly a surprise that the big Dutchman was central to the breakthrough as he brought down the ball in the box and with a stunning piece of skill turned and shot with Ben Hinchcliffe making a good save. From the resulting corner the ever industrious Craig Mahon swung in a dangerous ball which flashed across the six yard box, evading Hinchliffe's grasp before finding Asante at the far post who side footed home.
Despite taking what was on balance a deserved lead, Chester looked shaky at the back and vulnerable to Stockport's pace on the break with the unfortunate Smalley sticking out like a sore thumb in the makeshift defence.
A minute before half time the Blues finally paid for Livesey's absence when a free kick from the left by Scott Duxbury was allowed to bounce in the area where it struck Smalley on the arm leaving referee Adam Herczeg little choice but to point to the spot from which Walker made no mistake with the resulting penalty.
With the game evenly poised at half time what followed was disappointing as a series of niggly fouls broke up the play and a lack of entertainment starved the sizeable crowd of 3,000+."
However, Cheshire Live adds that "Chester FC joint-manager Bernard Morley believed his and Anthony Johnson's side 'were robbed' after they were denied three points at Stockport County... [A] dubious penalty was awarded to Stockport on the stroke of half time after substitute Deane Smalley, on in place of the injured Danny Livesey, was deemed to handle the ball by referee Adam Herczog.
But Morley was far from impressed with the performance of Herczog in the 1-1 draw and his decision to award the penalty and then wave away shouts for a similar handball for the opposition late in the game...
'I've got to choose my words wisely here. I feel like we were robbed today,' said Morley. 'I've been managing for 10 years and it's not often that I've said that, but it was a game of two halves. I felt the decision in the first half it was, from where I was stood, diabolical. Equally in the second half, he's had the chance to, if you want to call it even it up, with what I believe is a stonewall penalty. I think he's controlled it with his arm but he's not given it.
'We made two fouls in the game and he's booked two of our players and they've made 15 or 16 fouls and he's not booked a single one. I need to go back to the drawing board and see what the rules are, but I'm really frustrated and all I can say is we've been robbed today.'
Livesey hobbled off with a calf injury on 22 minutes and with no defensive cover on the bench the Blues bosses looked to Smalley, a striker, to pay alongside Steve Howson at the heart of the back four. Morley said 'You can never legislate for what happened to Danny today. It was a gamble putting Deane in there, we all know that, a centre forward who's not really had many minutes, but we believe in him.
'He's experienced and he's played at a good level. We asked him just to do the easy things right and, to be fair, he tried to be a little bit clever as soon as [he] came on and got caught, but from that he grew into the game and I think he finished the game really strong. His experience is valuable and I'm disappointed for the boys. I thought in terms of application, heart, desire and determination, they ticked every box today and 100% deserved the three points.'"
---
---
The following pages, which initially replicate those pages with the same web addresses which formed part of the official Club website, will be re-branded from 2018 as part of this new unofficial Alty Files site.
A/Z Site Index to The Alty Files at www.altrinchamfc.co.uk
---