VANARAMA SPONSOR'S PAGE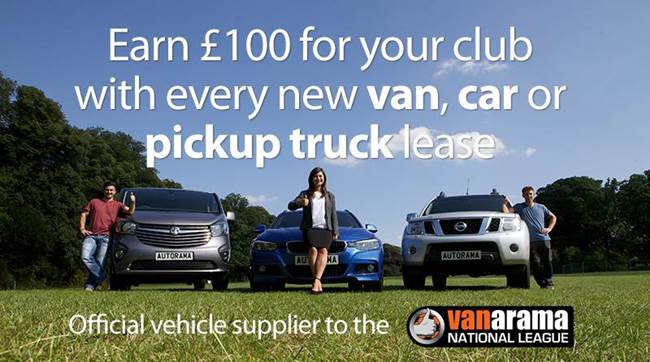 The UK's Number 1 New Van Supplier
Great deals on brand new vans, cars and pickup trucks from your league sponsors
National League sponsors Vanarama are famous for great deals on vans. As the UK's number one new van supplier we have some of the cheapest deals available and by using Vanarama for your next van you will earn your club £100 for every vehicle leased. In addition to the £100 for your club we'll reward you with a Vanarama Reward MasterCard pre-loaded with £30 credit for you to spend anywhere in the high street or online. To view our full range of new vans and pickup trucks visit www.vanarama.co.uk
WE'RE COMPETITIVE FOR CAR LEASING AS WELL
Because of our buying power for commercial vehicles we're able to bring you fantastic deals on a brand new car for personal or business use with Vanarama Cars. Have a browse through our 100s of cars available at www.vanarama.co.uk/car-leasing . Our handy car finder makes easy work of finding you the right car at the right price to suit your budget.
Don't forget, whether you lease a new van, car or pickup truck from Vanarama we'll give your club £100 to invest back into grass roots football AND we'll reward you as well!
WHY CHOOSE VANARAMA FOR YOUR NEXT NEW VEHICLE?
We are the official vehicle leasing partner of The National League. As big investors in grass roots football we thrive off supporting teams like yours. Feeding investment back into the game is a big part of our strategy, the club affiliate scheme is a great way for us to honour our pledge of investing money into the grass roots of the beautiful game we all love.
---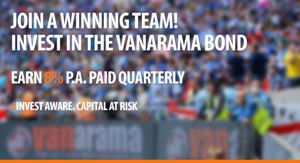 The National League is not licensed to advise or make recommendations on investments, and in this instance acts merely as a distributor on our Sponsor's behalf. The Competition is, though, pleased to confirm Vanarama is fully licensed by the FCA and the Bond has successfully passed extensive due diligence by CrowCube, the Company operating the Bond.
---