Altrincham FC Youth Team
Match Reports
ALTRINCHAM FC YOUTH (2) 5 MORECAMBE YOUTH (2) 3
NWYA Premier Division match
played on Sunday, 11 September, 2011
at Clay Lane, Timperley, 2.30pm
---
LINE-UPS
ALTRINCHAM FC YOUTH (Red & white striped shirts, black shorts, red socks): 1. Adam REID, 2. Matt FEARON (capt), 4. Nathan GRAY, 5. Joe COOMBS, 3. Sam GRIMSHAW; 7. Liam RUTLEDGE, 8. Ryan BARRY, 6. Oliver RILEY, 11. Declan BARRY; 9. Jack MARTINY-SCHOFIELD, 17. Derryn OFORI. Subs: 12. Alan TANSINDA, 14. Redmond McGUIRE, 15. Jack SHAW, 16. Josh PALMER, GK. Cody WHARTON.
MORECAMBE FC YOUTH: J.Cookson, R.Walker, M.Knipe, K.Ledson, L.Selby, K.Sloan, E.Gate, L.Wainright, J.Riley, S.Wearing, K.Britton. Subs used - R.Hunter, C.Suthers, L.Cutts; not used L.Pybis.
---
REPORT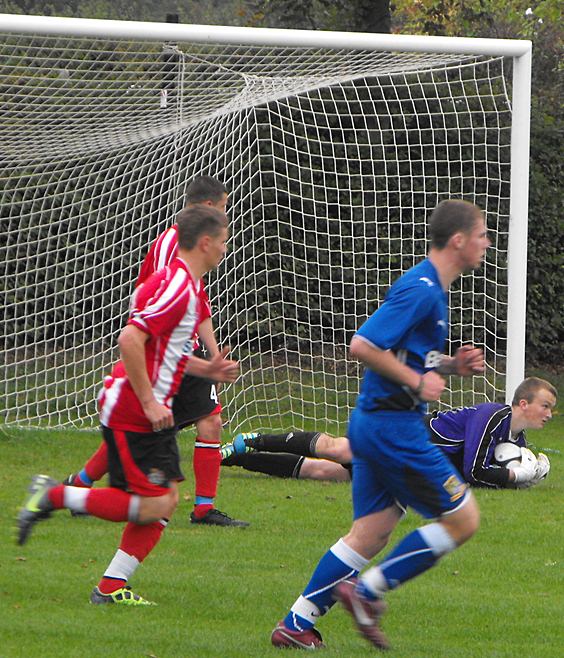 Right: Adam Reid makes a save against Morecambe.
With striker Duncan Watmore sidelined by his facial cut sustained in midweek at Nantwich and, also, without Hamilton, Cottrill and Barnabas through injury, Altrincham got off to a slow start. Indeed, manager George Heslop pulled no punches, telling his team that they had "started sloppily". But, after Reid had saved a sixth-minute shot, Alty began to settle, with six goal attempts in the following fifteen minutes.
So, Alty were on top by midway through the half, at which point they won a corner. But, against the run of play, Morecambe took the lead when the Alty corner routine broke down and Morecambe counter-attacked to gain themselves a corner, on their left (23 mins). The corner was not cleared and came to the visitors' number 10, who swept the ball into the net to give them the lead. The goal lifted the Shrimps, who now won two more corners and went close to adding to their tally through their no.6. But, then, Alty scored - also against the run of the play.
The Alty goal came when Ofori was fouled on the left, some 35 or 40 yards out. A Morecambe defender headed the freekick away, only to see the ball drop invitingly for Declan Barry who advanced in the left of the box to drive the ball into the net (30 mins). Next, Matt Fearon got in a good cross before Riley showed determination to chase down the goalkeeper only to see his clearance rebound off him safely for a goalkick (35 mins).
After 38 minutes Ryan Barry's well-taken freekick forced a good save but Alty then went ahead as Fearon received a short freekick from Riley. The Alty captain's kick from near the right touchline,about 40 yards out, saw the ball sail over the keeper and drop into the far corner of his net to make it 2-1 (39 mins). Fearon then made an excellent tackle to stop a Morecambe counter attack.
Adam Reid was then called into action to make a smart save from a Morecambe bicycle kick, as half time approached. Morecambe now made a change, when their no.12 replaced their injured captain (no.3). The trainer had treated the captain, off the pitch, and then tried to get him back on, having not seen that their bench had already made a substitution on the far side of the pitch. Neither the trainer nor captain looked very happy about the situation when they realised what had happened (42 mins).
As the first half ended, Riley was booked, presumably for a verbal offence and, in the aftermath, the visitors' no.11 was allowed to advance up the middle and score an excellent goal with a rising shot into the top corner of the Alty net (45+2 mins).
---
Half-Time: ALTRINCHAM FC YOUTH 2 MORECAMBE YOUTH 2
---
---
Alty started the second half well with Martiny-Schofield getting in an early shot (49 mins). Then Riley fed Grimshaw and, from 25 yards, the left back hit an unstoppable shot past the keeper to restore Alty's lead (52 mins). A minute later it was 4-2 to Alty as Riley also scored a well struck goal from outside the box.
After 56 minutes Ofori gave way to McGuire up front for Altrincham, who enjoyed the better of things till the hour mark. Morecambe then won three corners and, from the last, Reid made a save. Now Shaw replaced Rutledge for the hosts (66 mins). Two minutes later it became 5-2 as Riley fed Martiny-Schofield, who sidefooted a shot home after turning well on receiving the ball (68 mins).
Riley then forced a save before Morecambe made a double swap with numbers 14 and 15 replacing 6 and 7. The Morecambe no.4 was now booked for a foul on Declan Barry. Alty later brought on Josh Palmer for Ryan Barry (77 mins).
Morecambe were perked up by their substitutions and finished the game strongly. Four minutes from the end of normal time, their no.14 drifted across the box and was tripped by Gray. The Morecambe no.8 drove the resulting penalty past Reid to make it 5-3 (87 mins). With the game deep into added time, Alty conceded a freekick but, before it could be taken, referee Martin Howe summoned Oliver Riley and showed him a second yellow, presumably again for dissent, and the inevitable red card quickly followed (90+2 mins).
Soon afterwards, the game ended with Altrincham once more having come from behind in a high-scoring game.
Full-Time: ALTRINCHAM FC YOUTH 5 MORECAMBE YOUTH 3
---