ALTRINCHAM FC YOUTH TEAM NEWS


Above: Altrincham FC Youth after their win at Workington, October 2015.
SK KITS have kindly sponsored and supplied the Youth Team's kit.
---
---
Altrincham's Youth side is managed for 2016-17 by Paul Fay; the coach is Adam Nuttall. The team plays in the North West Youth Alliance (Under-18s) Premier Division.
Altrincham FC Youth play their league and league cup games at Hale Country Club & Spa, Clay Lane, Timperley, adjacent to Bowdon RUFC, WA15 7AF.
---
FA Youth Cup games are played at Moss Lane. Altrincham & District FA games are usually held at Trafford FC, Shawe View, Flixton.
North West Youth Alliance League
---
25 September 2016 Alty Youth drew 3-3 at Morecambe on Sunday.
---
23 September 2016 Altrincham FC Youth have been drawn away, for the second successive round, in the FA Youth Cup, Second Qualifying Round. They will travel to Haig Avenue to play Southport in week commencing 3 October 2016.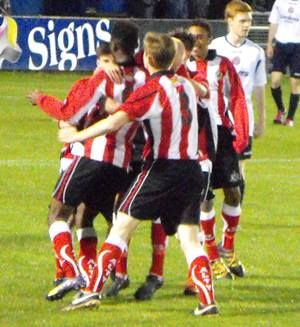 Altrincham FC Youth travelled to Rivacre Park on Thursday evening to play Vauxhall Motors in the FA Youth Cup. They started brightly and were 3-0 up inside a quarter of an hour, thanks to a hat-trick from Ricardo Pembele. But a defensive mistake allowed the Motormen to score and, after that it was more of a contest. At times the match boiled over with both sides ending with nine men; both of Altrincham's dismissals being for retaliation.

Altrincham got their fourth in the ninetieth minute when the Vauxhall keeper and a defender made a hash of things, leaving Henry with an open goal and he scored from the edge of the box.

Match report here.

Right: Ricardo Pembele is congratulated on the opening goal.
---
22 September 2016 Altrincham FC Youth travel to Rivacre Park, CH66 1NJ, to play Vauxhall Motors in the FA Youth Cup tonight, kick off is at 7.30pm. Admission will be £3 or £1 for concessionaries.
---
13 September 2016 Altrincham's FA Youth Cup tie against Vauxhall Motors has been arranged for Thursday, 22 September at 7.30pm at the Motormen's home ground of Rivacre Park. Admission will be £3 or £1 for concessionaries.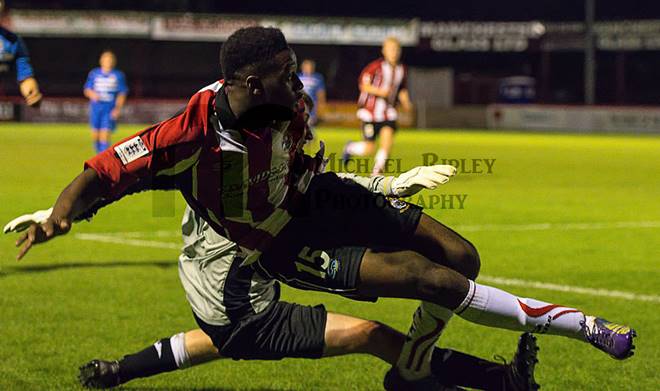 Mike Ripley has excellent images from last Friday's FA Youth Cup win over Stockport County. Above, we see Ricardo Pembele netting the equalizing goal. More of Mike's images from the match can be viewed here.
---
11 September 2016

Above: Alty meet the officials and opposition before kick off.
Altrincham FC Youth beat Stockport County 3-2 on Friday evening in the FA Youth Cup thanks to a winning goal in the fifth minute of added time from captain Thabari Jambaya. Altrincham had the better of the first half and deservedly led 1-0 at the interval through a 29th minute goal by Jordan Henry.
With County first-team manager Jim Gannon effectively taking charge of the Hatters' technical area for the second half, the visitors upped their game and equalised through substitute Robinson ten minutes after the break. When the same player netted again in the 77th minute it looked to be over for Altrincham.
But, in the 80th minute, Ricardo Pembele got the better of County keeper Gorst who had attempted to dribble clear outside his penalty area and the Alty sub netted with a fine shot from an acute angle. Alty were then reduced to ten men as they lost Milne to injury and two other players also went down with cramp before resuming.
Despite completing the last seven minutes of normal time, plus a similar period of added time, with ten men (only eight of whom were fully mobile), Alty snatched their dramatic winner to earn a trip to Vauxhall Motors in the First Round, which is to be played in the week commencing Monday, September 19th.
Match report here.
---
4 September 2016 Altrincham's Qualifying Round match in the FA Youth Cup at home to Stockport County will take place on Friday, 9th September at the J. Davidson Stadium at 7.45pm. From the Robins' Review:

"The Board would like to announce that George Heslop has been made Honorary President of the Youth Team in recognition of many years of service to the Club.

George first started watching Altrincham in 1948 and has been involved in many roles, including being a gateman in his early years, Matchday Secretary, Company Secretary and has been Altrincham's most successful manager of the Youth team for over twenty years, winning many trophies and titles in this time.

There have been many players who have progressed through the Altrincham Youth set-up and played for our first team, including Lewis Chalmers, Kieran and Kelvin Lusgden, Ben Deegan, Sam Heathcote and Duncan Watmore, who now plays in the Premier League for Sunderland. There are many other ex-Altrincham Youth team players, too many to name, playing non-League football.

Many thanks on behalf of the Board, Neil Faulkner".
---
22 August 2016 A report on Altrincham Youth's narrow defeat at home to Ashton Athletic is here.

Other results in the NWYA Premier Division were
Chester 3 Chorley 0
Morecambe 4 Warrington Town 5
Skelmersdale United 2 Curzon Ashton 3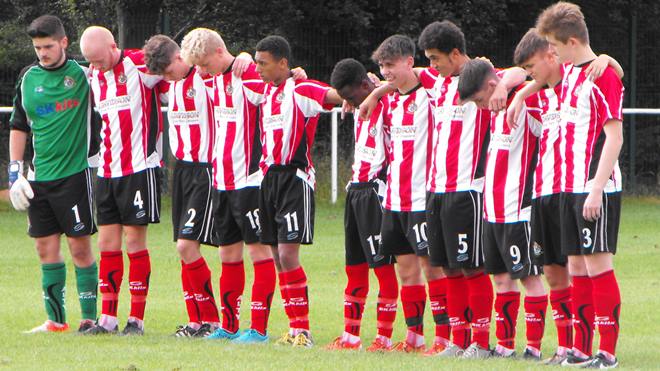 Above: Altrincham FC Youth team observe a minute's silence before the game on Sunday.
On Sunday afternoon, Altrincham FC lost their opening league match, 0-1 at home to Ashton Athletic. An 87th minute goal won the game for the visitors but, earlier in the second half, Alty had a penalty saved.
Report to follow.
---
24 July 2016 Adam Nuttall writes that "The Foyle Cup trophy is on the next flight back to Manchester as Altrincham FC U19s last night beat local side Foyle Harps 2-1 in another closely fought game at Ardmore FC in Derry.

Harry Dulson got up highest to nod home the opener, a fine reward for a superb tournament from the centre-half, and Thabani Jambaya added another to his collection for the trip, midway through the second half.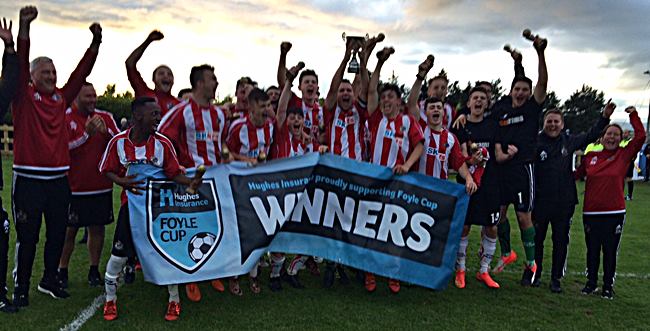 The home side threw everything at the Altrincham defence an, despite some more great saves, Christian Evans was finally beaten when a wonde-strike crashed in, off the cross bar, with 15 minutes remaining!
Foyle Harps now had the bit between their teeth and a few Altrincham hearts were in mouths when a late chance bounced down off the bar onto the line but was cleared. Finally, the final whistle blew and the Altrincham players were joined by their under-13 counterparts for celebrations that went on all the way back to the hotel! What a fantastic trip!"
From Northern Ireland's Newsletter, "The Hughes Insurance Foyle Cup Under=19 final had everything in a pulsating showpiece at Ardmore on Friday night as local side Foyle Harps fell to Altrincham FC.
In a tense final it was the English side who prevailed with a 2-1 victory to claim the silverware... [A] corner saw Altrincham centre back Harry Dulson head goalwards with play waved on at first. After consulting his line official, the referee awarded a goal claiming the ball had crossed the line.
Ten minutes into the second period, Harps conceded again. Tricky Altrincham winger Thambani Jambaya neatly tucked the ball inside the post from 16 yards... A constant barrage of attacks from the local side saw them pull a goal back when Caolan Kearney's deft chip from 20 yards out deceived the keeper and crept under the crossbar.
Minutes later Harps went down to 10 men with Odhran Scarlett sent off for abusive language... The red and white of Altrincham ran out 2-1 winners and collected the Hughes Insurance Under 19 Foyle Cup at Ardmore from Mr. Don Brennan, Area Manager, Hughes Insurance Northern Ireland."
Above and below, are images from Adam Nuttall showing the celebrations.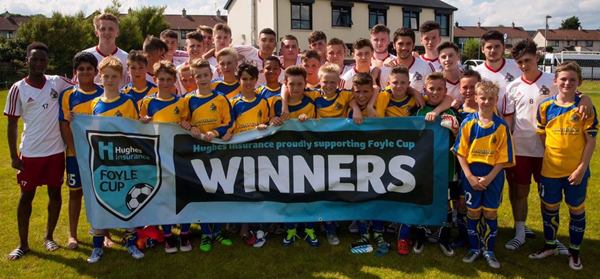 ---
23 July 2016 Adam Nuttall, coach with the Altrincham FC Youth and Juniors' teams competing in the Foyle Cup in Northern Ireland, writes "Last night (Thursday) the Altrincham FC U19 side maintained their 100% record with a nail biting 4-3 win over Scottish side Partick Thistle. A difficult opening ten minutes was navigated thanks to some top-drawer goalkeeping from Christian Evans before Thabani Jambaya countered and with his first touch of the game finished expertly to give Altrincham a lead against the run of play.

Partick were soon level, but Altrincham's quick counter attacking saw them add to the score sheet with Jambaya adding a second and skipper Dominic Newton breaking away to add a third before half time.

The Scottish side came at Altrincham hard but Evans's defence stood strong. Eventually, a twenty-yard free kick skidded off a wet surface and the lead was pegged back to 3-2. The goal of the game then came from substitute Aaron Clayton, who collected a loose clearance from the Partick goalkeeper, took one touch and left the keeper stranded from fully forty yards! 4-2 Alty!

With twenty minutes left on the clock, the Altrincham side were bolstered by strong performances by Jordan Henry and Isaac Graham, off the bench,to help take pressure off the defence. A late Partick goal meant a nervy final five minutes but Altrincham held on to book their place in Friday's Foyle Cup Final versus local side Foyle Harps at Ardmore, kick off 7pm.

The U13s continued their action packed week with a great team performance against Strabane. Tom J's dipping free kick and great saves from goalie Ben were the big highlights!
---
21 July 2016 Adam Nuttall, Altrincham FC youth team coach on their summer participation in the Foyle Cup in Northern Ireland, has provided an update on the competition.

"Last night (Wednesday) the Youth Team won their third game in a row, to top the group with nine points, with a hard-fought win over the hometown side, Kildrum Tigers. Dominic O'Gara won and scored a penalty to equalise before slotting away the winner. Tonight (Thursday) we face Scottish side Partick Thistle in a semi-final of the Foyle Cup at Kings Lane, Ballykelly in the Limavady area. Kick off 7pm.

The U13s have been drawn to play Strabane Athletic once more in the Foyle Vase semi-final following Tuesday's game in the group stages. Everyone is working hard, especially our physio Aine!"
---
20 July 2016 Paul Fay confirms that for 2016-17 he will manage "The U18 youth side [and that it] will continue to operate as Altrincham AFC in the Premier Division of the NWYA League. The Altrincham Youth U17 side will continue in the NWYA First Division with Sara Newton as manager.

In addition, there are several Altrincham Juniors' sides playing in the Timperley and District Leagues in the U16, U17 and U18 age groups".

Currently Paul is in Ireland with Altrincham under-18 and under-13 teams. He tells us that "The older team beat Institute in their first group game on Monday night, 4-0. Declan Lewis scored a hat trick and Declan McGloin got the fourth goal, while Christian Evans saved a first-minute penalty.

The U13s put up a great team performance against a strong Sion Swifts side. They are enjoying the sunshine and have just outsung all the other teams on the opening ceremony parade!"
---
8 July 2016 In the FA Youth Cup Preliminary Round draw, Altrincham FC Youth have been drawn at home to Stockport County in the week commencing 5 September, 2016.
---
26 May 2016 Altrincham FC's Junior and Youth Football Development Team "is delighted to announce the youth team trials for Altrincham Football Club 2016/17 season. We are looking for players born between 31 August 1998 and 30 August 2001. Trials will be held on Sunday 12th June 2016.

Please register your interest by e-mail with the following information:
Name
Date of birth
Position
Previous experience
We will advise you on what time to attend. Please do NOT just arrive. We look forward to hearing from you". A 2-6 home defeat to Curzon Ashton and a home win walkover awarded to Alty against West Didsbury and Chorlton left Altrincham in fifth place in the NWYA Premier Division at the end of the 2016-17 season.
---
---