ALTRINCHAM FC YOUTH TEAM NEWS


Above: Altrincham FC Youth after their win at Workington, October 2015.
SK KITS have kindly sponsored and supplied the Youth Team's kit.
---
---
Altrincham's Youth side is managed for 2016-17 by Paul Fay. The team plays in the North West Youth Alliance (Under-18s) Premier Division.
Altrincham FC Youth play their league and league cup games at Hale Country Club & Spa, Clay Lane, Timperley, adjacent to Bowdon RUFC, WA15 7AF.
---
FA Youth Cup games are played at Moss Lane. Altrincham & District FA games are usually held at Trafford FC, Shawe View, Flixton.
North West Youth Alliance League
---
24 July 2016 Adam Nuttall writes that "The Foyle Cup trophy is on the next flight back to Manchester as Altrincham FC U19s last night beat local side Foyle Harps 2-1 in another closely fought game at Ardmore FC in Derry.

Harry Dulson got up highest to nod home the opener, a fine reward for a superb tournament from the centre-half, and Thabani Jambaya added another to his collection for the trip, midway through the second half.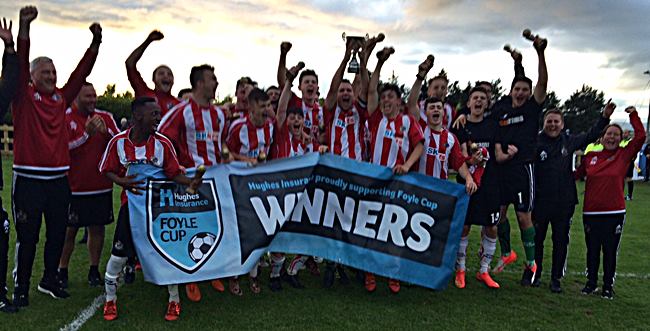 The home side threw everything at the Altrincham defence an, despite some more great saves, Christian Evans was finally beaten when a wonde-strike crashed in, off the cross bar, with 15 minutes remaining!
Foyle Harps now had the bit between their teeth and a few Altrincham hearts were in mouths when a late chance bounced down off the bar onto the line but was cleared. Finally, the final whistle blew and the Altrincham players were joined by their under-13 counterparts for celebrations that went on all the way back to the hotel! What a fantastic trip!"
From Northern Ireland's Newsletter, "The Hughes Insurance Foyle Cup Under=19 final had everything in a pulsating showpiece at Ardmore on Friday night as local side Foyle Harps fell to Altrincham FC.
In a tense final it was the English side who prevailed with a 2-1 victory to claim the silverware... [A] corner saw Altrincham centre back Harry Dulson head goalwards with play waved on at first. After consulting his line official, the referee awarded a goal claiming the ball had crossed the line.
Ten minutes into the second period, Harps conceded again. Tricky Altrincham winger Thambani Jambaya neatly tucked the ball inside the post from 16 yards... A constant barrage of attacks from the local side saw them pull a goal back when Caolan Kearney's deft chip from 20 yards out deceived the keeper and crept under the crossbar.
Minutes later Harps went down to 10 men with Odhran Scarlett sent off for abusive language... The red and white of Altrincham ran out 2-1 winners and collected the Hughes Insurance Under 19 Foyle Cup at Ardmore from Mr. Don Brennan, Area Manager, Hughes Insurance Northern Ireland."
Above and below, are images from Adam Nuttall showing the celebrations.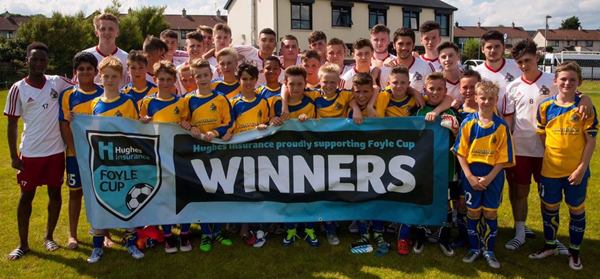 ---
23 July 2016 Adam Nuttall, coach with the Altrincham FC Youth and Juniors' teams competing in the Foyle Cup in Northern Ireland, writes "Last night (Thursday) the Altrincham FC U19 side maintained their 100% record with a nail biting 4-3 win over Scottish side Partick Thistle. A difficult opening ten minutes was navigated thanks to some top-drawer goalkeeping from Christian Evans before Thabani Jambaya countered and with his first touch of the game finished expertly to give Altrincham a lead against the run of play.

Partick were soon level, but Altrincham's quick counter attacking saw them add to the score sheet with Jambaya adding a second and skipper Dominic Newton breaking away to add a third before half time.

The Scottish side came at Altrincham hard but Evans's defence stood strong. Eventually, a twenty-yard free kick skidded off a wet surface and the lead was pegged back to 3-2. The goal of the game then came from substitute Aaron Clayton, who collected a loose clearance from the Partick goalkeeper, took one touch and left the keeper stranded from fully forty yards! 4-2 Alty!

With twenty minutes left on the clock, the Altrincham side were bolstered by strong performances by Jordan Henry and Isaac Graham, off the bench,to help take pressure off the defence. A late Partick goal meant a nervy final five minutes but Altrincham held on to book their place in Friday's Foyle Cup Final versus local side Foyle Harps at Ardmore, kick off 7pm.

The U13s continued their action packed week with a great team performance against Strabane. Tom J's dipping free kick and great saves from goalie Ben were the big highlights!
---
21 July 2016 Adam Nuttall, Altrincham FC youth team coach on their summer participation in the Foyle Cup in Northern Ireland, has provided an update on the competition.

"Last night (Wednesday) the Youth Team won their third game in a row, to top the group with nine points, with a hard-fought win over the hometown side, Kildrum Tigers. Dominic O'Gara won and scored a penalty to equalise before slotting away the winner. Tonight (Thursday) we face Scottish side Partick Thistle in a semi-final of the Foyle Cup at Kings Lane, Ballykelly in the Limavady area. Kick off 7pm.

The U13s have been drawn to play Strabane Athletic once more in the Foyle Vase semi-final following Tuesday's game in the group stages. Everyone is working hard, especially our physio Aine!"
---
20 July 2016 Paul Fay confirms that for 2016-17 he will manage "The U18 youth side [and that it] will continue to operate as Altrincham AFC in the Premier Division of the NWYA League. The Altrincham Youth U17 side will continue in the NWYA First Division with Sara Newton as manager.

In addition, there are several Altrincham Juniors' sides playing in the Timperley and District Leagues in the U16, U17 and U18 age groups".

Currently Paul is in Ireland with Altrincham under-18 and under-13 teams. He tells us that "The older team beat Institute in their first group game on Monday night, 4-0. Declan Lewis scored a hat trick and Declan McGloin got the fourth goal, while Christian Evans saved a first-minute penalty.

The U13s put up a great team performance against a strong Sion Swifts side. They are enjoying the sunshine and have just outsung all the other teams on the opening ceremony parade!"
---
8 July 2016 In the FA Youth Cup Preliminary Round draw, Altrincham FC Youth have been drawn at home to Stockport County in the week commencing 5 September, 2016.
---
26 May 2016 Altrincham FC's Junior and Youth Football Development Team "is delighted to announce the youth team trials for Altrincham Football Club 2016/17 season. We are looking for players born between 31 August 1998 and 30 August 2001. Trials will be held on Sunday 12th June 2016.

Please register your interest by e-mail with the following information:
Name
Date of birth
Position
Previous experience
We will advise you on what time to attend. Please do NOT just arrive. We look forward to hearing from you". A 2-6 home defeat to Curzon Ashton and a home win walkover awarded to Alty against West Didsbury and Chorlton left Altrincham in fifth place in the NWYA Premier Division at the end of the 2016-17 season.
---
10 May 2016 The Chester Chronicle states that "chester FC Youth have been crowned North West Youth Alliance (NWYA) Premier Division champions. The young Blues pipped Ashton Athletic to the prize after goals from Coery Scarisbrick and Nathan Brown ensured a 2-1 success at reigning champions Altrincham on Thursday.

The triumph at Alty was made all the more sweet after the Blues were forced to watch on last season as Altrincham won the title, but they were able to reverse the roles this time around.

Youth team manager Calum McIntyre told ChesterFC.com, 'Champions, and what a way to do it! Altrincham made it really difficult for us but we've done enough to get over the line'...

Manchester United star Marcus Rashford was an interested onlooker from the sidelines, with McIntyre hoping his young charges made an impression on the United ace... The Blues were, though, stymied in their attempts to make it back-to-back trophy successes after they were beaten 3-1 by AFC Fylde in the NWYA Premier Division Cup final at West Didsbury & Chorlton."
---
6 May 2016 On Thursday, Alty Youth lost 1-2 at home to champions elect Chester FC.
---
3 May 2016 Altrincham Youth's scheduled match against AFC Fylde did not take place and Fylde have been awarded a walkover. The two sides met in the reverse fixture last night (Tuesday). And Fylde won 4-1.

Meanwhile, the Chester Chronicle reports that "Chester FC Youth could be just one win away from securing the North West Youth Alliance Premier Division title. The young Blues will be crowned champions if they win at Altrincham on Thursday and second placed Ashton Athletic fail to beat Curzon Ashton.

Calum McIntyre's side were forced to watch on last season as Altrincham pipped them to the title but they have the chance to right that wrong [sic] this week. Thursday marks the start of a busy fortnight for the Blues, who will be going for glory on three fronts, with a NWYA Premier Division Cup final against AFC Fylde on Sunday and a NWYA Open Cup final at home to Ashton Athletic on Sunday, May 15 (2.30pm) at the Lookers Vauxhall Stadium.

'It could be a really, really big night for us,' said McIntyre, whose side won 6-0 at home to Salford on Sunday... Altrincham are obviously the reigning champions so it would be an even bigger bonus to go and win the league at their place. We obviously missed out last season on the final day with a really young squad, it is pretty much the same group of players and they are chomping at the bit to put that right.

'We have never even got a point at Altrincham in the league, as things seem to go against us there, so we're going to need to be at our best to get the job done'".
---
21 April 2016 Any players seeking a trial for next season for the Altrincham FC under-17s or under-18s are invited to send their background and contact details to the Club by e-mail. On Thursday evening, Altrincham FC Youth beat Skelmersdale Unitd 2-1 at home in the NWYA Premier League.
---
20 April 2016 Altrincham FC YOuth's match last Sunday at home to Skelmesrdale United was postponed and will now be played this Thursday (venue to be confirmed) at 6.30pm.
---
27 March 2016 According to FA, Alty Youth's next fixture is on Sunday, 3 April at home to Skelmersdale United Youth.
---
13 March 2016 The youth team lost their league match in the NWYA Premier, 3-0 at West Didsbury & Chorlton. They remain second but Chester are now nine points ahead of them.
---
6 March 2016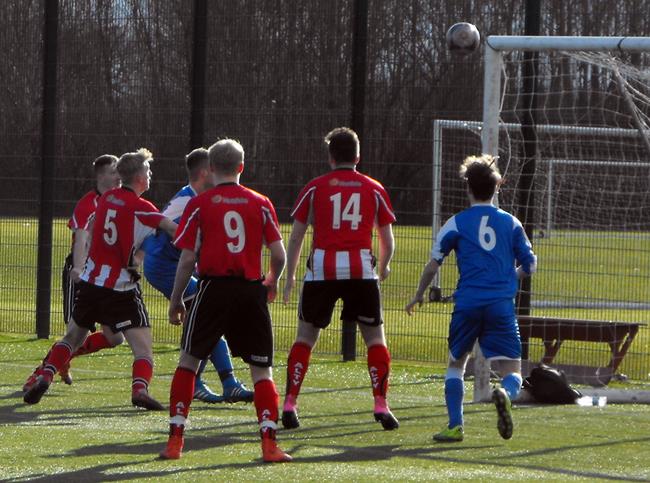 Above: Alty Youth go close in the second half against Skelmersdale United.
Altrincham FC Youth went down 2-3 in the Neil Thomason Cup at home to Skelmersdale United in a match played on the 3G pitch at Partington Sports Village. There is a match report here.
In the NWYA league Chester beat Morecambe 3-1 to extend their lead over Alty to six points. The league table is here.
The next fixture in the league is on Sunday, 13th March away to West Didsbury & Chorlton.
---
3 March 2016 Sunday's Altrincham FC Youth match at home to Skelmersdale United has been moved to Partington Sports Village and, being a cup match, will kick off at 2pm.
---
30 January 2016 Sunday's Alty Youth cup game against AFC Fylde is to be played on the 3G pitch at PartingtonSports Village, k.o. 1.30pm.
---
5 January 2015 On Sunday, Chester FC "moved to the top of the North West Youth Alliance Premier Division after a resounding 3-0 victory over league leaders Altrincham. Reigning Champions Altrincham were undone by three second half goals from the Young Blues after a goalless first half in a thrilling encounter.

Coery Scarisbrick, Matthew Waters and Joe Savin scored the decisive goals for the hosts who lead the division on goal difference with a game in hand over Altrincham... Altrincham had chances of their own, James Jones twice blocking after the Blues failed to keep possession in their own half after a string of Alty set pieces...

It was to be from a set piece that the Blues edged in front. Nathan Brown's inswinging corner was met by the head of Coery Scarisbrick, the captain heading into the ground as the ball bounced into the roof of the net to spark celebrations amongst the Blue shirts...

The visitors were reduced to ten men around the hour mark, Altrincham's cautioned number 6 was dismissed for foul and abusive language after a foul on the left touchline. The numerical advantage gave the Seals the opportunity to dominate possession and a well worked move from the left appeared to be coming to nothing before left back Matthew Waters shifted inside to curl the ball deliciously into the top corner of the net to double Chester's advantage.

With little over ten minutes remaining, Joe Savin put the game beyond all reasonable doubt, again Nathan Brown's corner providing the assist as Savin sidefooted the ball high into the net via the underside of the crossbar...

Youth Team Manager Calum McIntyre said, 'Altrincham are obviously the team to beat this season given they won this division last year but we were first class this afternoon. To score three goals against the team at the top of the league is really pleasing but we are far more pleased with today's clean sheet. We were rarely troubled and I thought we defended very well all round the pitch'".
---
11 December 2015 Altrincham FC Youth's home game against Prescot Cables, this Sunday (13th), has been moved to Partington Sports Village as the ground at Clay Lane (Hale Spa and Country Club) is unfit. Kick off is at 2pm. Last time out, on Sunday 6 December, Alty Youth won impressively, 6-2, away to Salford City.
---
5 November 2015 Altrincham were knocked out of the FA Youth Cup on Wednesday night at the J. Davidson Stadium, losing 0-2 to Rochdale. The visitors deserved their win but they needed 63 minutes before they broke through. The opening goal came when a 'Dale corner was cleared out to the Rochdale player who took it and his resulting cross was converted from close range by Gillam. The same player took advantage of a slack Alty pass across the front of the home penalty area to net the second goal in the 86th minute.

Match report here.
---
3 November 2015 Come along to the J Davidson Stadium this Wednesday (4th) to support the Altrincham FC Youth (under-18) team as they take on Rochdale in the FA Youth Cup First Round Proper (7.45pm). Entrance is just £3 (£2 for concessionaries).

It is the team's first home match in the competition after successive, excellent away wins against FC United of Manchester, Workington and Newcastle Benfield.

Also tickets for the first-team's FA Cup match versus Barnsley will be on sale from 7pm at Wednesday's Youth Cup game and also at half time and full time.
---
28 October 2015 Manager George Heslop has provided a brief report on SUnday's Open Cup win over Barnton here. Altrincham's next FA Youth Cup opponents Rochdale report that their "Under 18 side extended their unbeaten league run to three on Saturday following a 1-1 draw with Walsall at Radcliffe Borough.

Brandon Smalley opened the scoring for Dale on the stroke of half-time, but the Saddlers converted a 74th minute penalty to grab a share of the points.

Dale XI: Dyche, Mata, Kisimba, Coyne, Schorah, Lenehan, Berry, Smalley, Stewart, Pratt, Gillam. Subs: Price, Evans, Chea, Piggot, Hollins".
---
26 October 2015 The FA Youth Cup First Round Proper tie between Altrincham and Rochdale, at the J. Davidson Stadium, will take place on Wednesday, 4th November at 7.45pm. Admission charges will be £3 for adults and £2 for concessionaries. The winners, on 4 November, of the Altrincham v Rochdale tie in the FA Youth Cup will travel to either Northampton Town or Notts County in the Second Round after the FA announced that "The FA Youth Cup second round proper draw was made at Wembley Stadium connected by EE on Friday morning...

All ties in this round must be played by Saturday 21 November 2015
1 Lincoln City or Port Vale v Wigan Athletic or York City
2 Ilkeston or Burton Albion v Shrewsbury Town or AFC Telford United
3 Romulus or Stourbridge or Chesterfield v Sheffield United or Bradford City
4 Accrington Stanley or Basford United v Hartlepool United or Fleetwood Town
5 Oldham Athletic or Chester v North Ferriby United or Morecambe
6 Walsall or Coventry City v Blackpool or Crewe Alexandra
7 Scunthorpe United or Wrexham v AFC Fylde or Bury
8 Northampton Town or Notts County v Altrincham or Rochdale
9 Carlisle United or Tranmere Rovers v Doncaster Rovers
10 Mansfield Town or Cambridge City v Dereham Town or Peterborough United
11 AFC Wimbledon or Woking v Gillingham or Ebbsfleet United
12 Bournemouth or Exeter City v Oxford United or Kidlington
13 Cheltenham Town or Swindon Town v Boreham Wood or Barnet
14 Cambridge United or Hayes & Yeading United v Aveley or Stevenage
15 AFC Hornchurch or Leyton Orient v Luton Town or Colchester United
16 Yeovil Town or Forest Green Rovers or Hungerford Town v Metropolitan Police or Dulwich Hamlet
17 Biggleswade Town or Enfield Town v Sutton United or Worthing
18 Sholing or Newport County v Barton Rovers or Southend United
9 Millwall or Dover Athletic v Woodbridge Town or Dagenham & Redbridge
20 Gloucester City or Cirencester Town or Bristol Rovers v Plymouth Argyle or Portsmouth
---
24 October 2015 There is a match report from Thursday night's Newcastle Benfield v Altrincham match in the FA Youth Cup here.

Courtesy of Brian Flynn, the Radio Robins commentary from the match can be heard again...

Images from the game are on Facebook.
---
23 October 2015 Altrincham advanced to the next round of the FA Youth Cup, at home to Rochdale, with a narrow win at a windy Newcastle Benfield. Alty started well but it was a 14th minute own goal which gave them the lead, following a cross from the right by Leather.

Early in the second half Leather got to the left byline, beat a defender and drove home an angled shot across the keeper to make it 2-0 (47 mins). But five minutes from the end of normal time, the otherwise dependable Jones misjudged a through ball and left it to run towards goakeeper Havern. The keeper blocked Walker's effort but Blackett was on hand to drive the loose ball into the net.

Two minutes later, when Fisher's challenge left substitute Gladstone on the ground, Alty were relieved to see no penalty awarded and they hung on through three minutes of added time to secure a 2-1 win.

Report to follow.
---
18 October 2015

Above: Rhain Davis converts his penalty expertly.
Altrincham FC Youth went to the top of the NWYA Premier Division on Sunday afternoon with a 4-2 win over Morecambe. Chester FC lost 1-0 at Prescot Cables enabling Alty to leapfrog them to the top of the table.
A match report is here
Alty are away to Newcastle Benfield on Thursday evening, 7.30pm, in the FA Youth Cup with the prize for the winners being a home tie against Rochdale.
Next Sunday, Alty are at home to Barnton Youth in the NWYA Open Cup k.o. 2pm.
---
14 October 2015 Altrincham FC's 3rd Qualifying Round match away to Newcastle Benfield will take place on Thursday, 22nd October at 7.30pm.
---
13 October 2015 Altrincham FC Youth will meet Newcastle Benfield in the next round of the FA Youth Cup. From Tyneside, Gateshead report that "Gateshead U18 coach John Gamble was left hugely disappointed as his side suffered a 6-0 defeat at the hands of Newcastle Benfield in the Second Qualifying Round of the FA Youth Cup.

Benfield's Paul Blackett struck four in the rout, with Billy Walker and Ethan Tait also on target for the Walkergate-based outfit. The young Tynesiders found themselves a goal down just seconds into the clash at the International Stadium, with a 4-0 half-time deficit leaving them with a mountain to climb after the break...

Benfield now progress to play Altrincham in the competition's final qualifying stage, with a home tie against League One outfit Rochdale the prize for the victors.

Gamble was left to rue his side's nightmarish start in front of 177-strong crowd, but paid tribute to the visitors' all-round display. He said, 'I'm bitterly disappointed for the lads... They didn't show anything near what they're capable of. They seemed to freeze on the night, and they never recovered from conceding in the opening minute...

'We made some poor defensive mistakes, and didn't create chances at the other end... I have to say all the best to Benfield, because they were better than us in every department. And it's hard for me to say that. The hardest thing for me to say, though, is that I cannot take any positives whatsoever from the game'".
---
12 October 2015 Altrincham will be away to Newcastle Benfield in the 3rd QR of the FA Youth Cup after they trounced Gateshead, away at the International Stadium, 6-0 tonight. The date of the fixture is to be determined. Altrincham returned to league action on Sunday with a 7-1 win, away at Skelmersdale United. Manager George Heslop has kindly provided a Match report.
---
11 October 2015 On Monday night Altrincham should learn who will be their opponents in the FA Youth Cup 3QR. Gateshead entertain Newcastle Benfield with the victors hosting Alty in w/c 17 October. Gateshead have an under-19 team which competes against Altrincham's Football Careers, Scholarship & Education Programme team in the The Football Conference Youth Alliance but a number of that squad are ineligible for the FA Youth Cup as "The Football Association Youth Challenge Cup is an English football competition run by The Football Association for under–18 sides. Only those players between the age of 15 and 18 on 31 August of the current season are eligible to take part".

Match report here.

A recording of the Radio Robins commentary from the FA Youth Cup, 2nd Round Qualifying tie at Workington has been made available:

Brian Flynn writes, "I'm afraid the microphone was switched off for the first 8 minutes of the second half".

The Altrincham supporters who made the trip to Workington may be interested to know that Friday's West Cumbria News & Star reported that Workington's first team manager, Derek Townsley, told the paper that "his depleted squad represents ample opportunity for youngsters to force their way into his thinking. He said 'Liam Studholme (no.8 against Alty Youth) comes into the group; he's one that we know is doing well'".
---
10 October 2015 When Altrincham travel to either Gateshead or Newcastle Benfield for the Third Qualifying Round of the FA Youth Cup, at stake will be a First Round Proper tie at home to Rochdale. A strong second-half performance from Altrincham FC Youth earned them a 4-2 win at Workington on Thursday night.

The hosts took the lead against the run of play when centre-back Ellis Short headed home at the back post after a corner had been only half cleared. It remained 1-0 until the 68th minute when a Jude Oyibo advance into the box ended with a handball decision against a Workington player. Rhain Davis converted the resulting penalty to level the scores.

Two goals in a minute by Ashley Leather gave Alty the upper hand, both resulting from balls up the middle. So by the 79th minute, Alty led 3-1. Substitute Dominic O'Gara scored a fourth, again from a ball up the middle, in the 85th minute.

In added time Workington were awarded a penalty after goalkeeper Havern came out to get a freekick and Hebson scored from the spot to make the final score 4-2 to Altrincham.

Match report here.

Altrincham now have another away tie at either Gateshead or Newcastle Benfield who meet on Monday night.
---
8 October 2015 Altrincham FC Youth are away at Workington on Thursday night (7.30pm). A match report will appear on the website and Brian Flynn advises that "Radio Robins, sponsored by Ashley Mowers Garden Machinery, is providing full live commentary of the FA Youth Cup, Second Round Qualifying game at Borough Park on Thursday. The commentary team is Ian Wilkinson and Brian Flynn. Coverage starts at 7.25pm with the game kicking off at 7.30pm and you can listen to Radio Robins on the internet here.

Workington say to their fans "Come and support Reds' talented youngsters and help them cause a cup upset [in the] FA Youth Cup... Admission: Adult - £3, Junior - £1"

The winners of Thursday's FA Youth Cup 2QR clash between Workington and Altrincham meet the winners of the Gateshead v Newcastle Benfield tie in the next round. However, Gateshead announced on Wednesday that "Tonight's FA Youth Cup Second Qualifying Round tie between Gateshead and Newcastle Benfield has been postponed because of a waterlogged pitch at the International Stadium." It will now be played on Monday 12 October 2015
---
5 October 2015 Alty Youth are away at Workington in the FA Youth Cup on Thursday night, k.o. 7.30pm.

On Sunday, Alty won 2-1 away in the league at Morecambe. The league table is here.
---
27 September 2015 Alty Youth were not in action this Sunday. the FA records the other results in the NWYA Premier on Sunday. Altrincham have dropped to fifth but have two games in hand on some of the other teams.
HYDE FC 1 - 3 CHESTER YOUTH
PRESCOT CABLES 4 - 1 MORECAMBE
SALFORD CITY 0 - 4 CURZON ASHTON
WARRINGTON TOWN YOUTH 4 - 1 SKELMERSDALE UNITED YOUTH
Alty's next game is away to Morecambe (4th October).
---
25 September 2015 As previously reported, Altrincham FC travel to Workington in the Second Qualifying Round of the FA Youth Cup. The date for that tie has now been fixed as Thursday, 8 October at 7.30pm. The winners of that tie have an away game, two weeks later (w/c 19 October), in the Third Qualifying Round at either Gateshead or Newcastle Benfield.

Alty Youth's scheduled league game this Sunday against AFC Fylde has been postponed because of the opposition's involvement in a cup competition which takes precedence.
---
23 September 2015 Following Wednesday's tie between the youth teams of Hebburn Town and Workington, Altrincham youth will be travelling to Cumbria in the Second Qualifying Round in the FA Youth Cup. The Reds beat Hebburn 13-0 and will now host Altrincham on a date to be determined during the week commencing Monday 6 October 2014. Alex Sarwar writes that "Altrincham Youth Team manager George Heslop had plenty of reasons to celebrate as the final whistle blew at Broadhurst Park on Monday night.
His side had turned around a 1-0 deficit to FC United of Manchester at half time, to go on and win their FA Youth Cup 1st Qualifying Round tie 3-2 following a thrilling second half fightback.
Heslop spoke about how a frank talk with his players at half time led to a brilliant second half showing:
'In the first half certain sections of the squad weren't performing to the level that I know they are capable of performing. We had a talk with them at half time and everything we said to them they did in the second half, so they can take all the credit. They reacted the proper way and gave it everything they had. We knew how dangerous FCUM are after watching them against Southport in the previous round. The players didn't deliver our instructions properly in the first half. But they more than made up for it in the second half and I was delighted with their attitude!'
Heslop reserved praise for Dominic Newton after his stunning individual effort to bring the game to 1-1 and his cross, which led to an own goal that ultimately decided the match:
'He is a quality player! He knows what I think about him. Sometimes he doesn't match his individual quality with the same effort. But when he does, he could go a long way because he's such a clever player. He needs to learn to do the hard work required on a consistent basis, but tonight he did that and if he keeps it up on a regular basis then people will take note of him.'
Winger Jude Oyibo scored the second Alty goal of the night. His second half performance, along with the Robins' defence holding firm towards the end of the game also drew credit from Heslop. 'In the second half Jude went hunting for the ball rather than waiting for it, like he did in the first half, and got his reward. It was a great finish and he caused havoc in that second period.
'The defenders all lifted each other towards the end as they tired and pushed themselves to the final whistle. Our goalkeeper (Daniel Havern) made a quality save right at the end of normal time and he was thrilled when I told him what a great save it was at full time. It was a vital stop as I didn't fancy the idea of extra time!'"
Altrincham Youth will now travel to either Hebburn Town or Workington in the Second Qualifying Round of the FA Youth Cup".
You can listen to the Radio Robins' match commentary here.
---
21 September 2015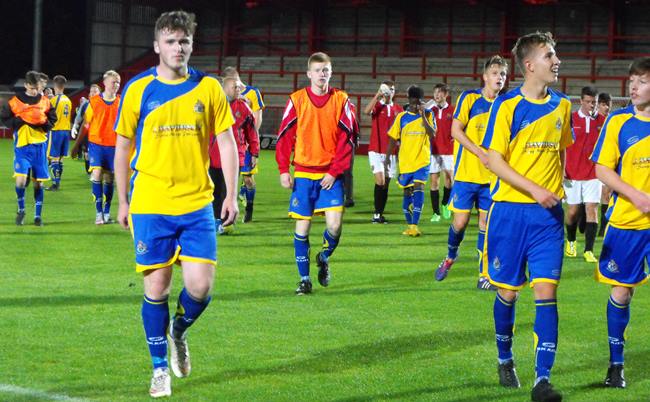 Alty leave the pitch at the end of the game.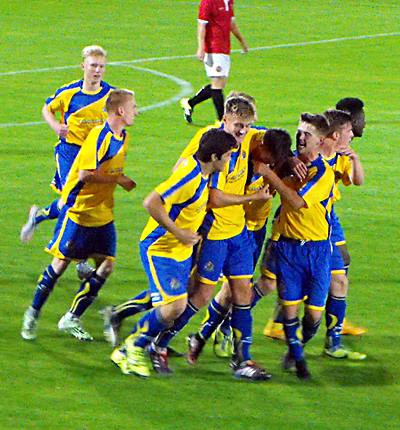 Altrincham FC Youth beat FC United of Manchester Youth 3-2, away, in the FA Youth Cup on Monday night. In a very entertaining game, Alty fell behind when they conceded a penalty which Tinning converted (17 mins). But two goals in three minutes around the hour mark put Alty ahead. Firstly, Dominic Newton scored from left of goal following a freekick. Then, from the impressive Knowles's knock down, Oyibo made it 2-1 (63 mins). With Alty on top, United levelled when substitute Ward scored with his first kick after coming on (74 mins). But an own goal by another FCUM substitute, Shawcross, from a Newton cross settled the outcome in the 79th minute.
Alty are away again in the next round, to either Workington or Hebburn.
Match report here
Right: Alty celebrate their opening goal.
---
20 September 2015 Brian Flynn advises that "Radio Robins, sponsored by Ashley Mowers Garden Machinery, is providing full live commentary of the FA Youth Cup, First Round Qualifying game at Broadhurst Park on Monday. The commentary team is Paul Salt and Alex Sarwar with match summaries from John Edwards. Coverage starts at 7.40pm with the game kicking off at 7.45pm and you can listen to Radio Robins on the internet here". For details of the match see below.
---
15 September 2015 FC United say that "The FA Youth Challenge Cup 1st Qualifying Round match against Altrincham Youth has been confirmed for Monday 21st September 2015, kick off 7.45pm. Admission will be by cash payment only at the turnstile (season tickets CANNOT be used for this match).
£5 Adults
£3 Concessions (Over 60s, students with a valid NUS card)
£1 Under 18s
The function room bar will be open before the match, at half time and after the match with full facilities; alcoholic refreshments, teas and coffees, soft drinks and hot food. On sale will be a chicken curry and a vegetarian curry option from Kabana, as last week against Southport Youth."
---
13 September 2015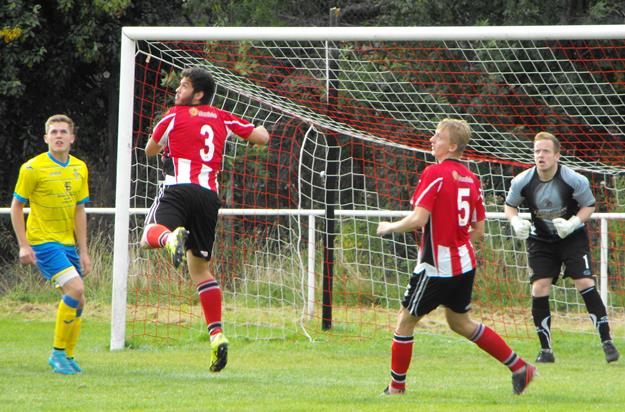 Above: Alty Youth's Callum Fisher (3) clears as Harry Dulson (5) and keeper Daniel Havern look on.
Altrincham FC Youth surrendered three points on Sunday as they lost 1-3 at home to Ashton Athletic, who have now gone to the top of the table. There is a report here. Other results today were..
PRESCOT CABLES 1 - 1 SKELMERSDALE UNITED YOUTH
WEST DIDSBURY & CHORLTON 2 - 0 CURZON ASHTON
---
6 September 2015 Altrincham Youth won 5-0, away, against Hyde FC on Sunday afternoon. There is a match report here. The FA has the NWYA Premier Division results and table. Leaders Chester beat Curzon Ashton 3-2. The next game for Alty Youth is at home to Ashton Athletic next Sunday at Partington Sports Village (2.30pm). In the FA Youth Cup on Wednesday 9 September, in the Preliminary Round Southport are scheduled to host FCUM Youth at 7pm. The winners play Altrincham in the next round. However, FC United report that "FC United's FA Youth Cup Preliminary Round tie away at Southport on Wednesday 9 September 2015 has been switched to a home tie and will now take place at Broadhurst Park on 9 September with a 7.45pm kick off. The match, which will take place on the main pitch at the ground, has been switched following a request from Southport. They are having floodlight work undertaken on their Haig Avenue ground which won't be completed in time for them to host the match.

This is only the second time that the youth team has competed in the FA Youth Cup and this match will be our first ever home tie in the competition... The match offers a great chance to see the progress of the FC United Youth team and manager Rhodri Giggs is keen for FC supporters to turn up in numbers to support his side. 'The FA Youth Cup is the premier cup competition for youth teams and we're really looking forward to taking part this year, even more so now that our opening match will be played in front of our own supporters on the Broadhurst Park pitch...

Admission details for the match are as follows: -
Adults: £5
Concessions £3
Under 18s £1
Admission to the match is by cash payment and you are reminded that season tickets cannot be used for this game."
---
4 September 2015 Altrincham FC are pleased to announce that Altrincham FC Youth midfielder Rhain Davis has signed National League forms for the Club. Rhain, who was born in Brisbane, Australia, will be eighteen years old in a few weeks' time. He has been allocated squad number 24 after impressing in several pre-season games for Altrincham.
---
30 August 2015 Without eight of their squad, Altrincham Youth nevertheless secured a narrow win over Warrington Town, at Partington, on Sunday afternoon. In a match which was increasingly bad tempered as refereeing decisions were questioned, a 73rd minute winner was scored by Ashley Leather from an excellent headed flick-on by substitute Dominic O'Gara. Match report here.
---
16 August 2015 Altrincham FC Youth came from behind to lead 2-1 in the closing stages of Sunday's opening match of the season, at home to Salford City. But having been reduced to ten-men they conceded an injury time leveller to draw 2-2.

Match report here.

Other results in the NWYA Premier Division were:
AFC Fylde 1 - 1 Chester FC
Ashton A. 3 - 2 W. Didsbury & Chorlton
Warrington T. 2 - 1 Prescot C.
Curzon Ashton 2 - 2 Skelmersdale U.
Morecambe 7-1 Hyde FC
There has been a late change of venue for Altrincham FC Youth (under-18) home games. For the first six weeks of the season, home games will be played at Partington Sports Village, Chapel Lane, Partington M31 4ES and NOT at Hale Country Club and Spa on Clay Lane. This is because the Country Club are holding outdoor events which would conflict with the football. So, today's match, at home to Salford City will be played at Partington (k.o. 2.30pm).
---
10 July 2015 The FA now has this season's NWYA Premier Division league fixtures. The first fixtures for Altrincham FC under-18s are:
16/08/15 @ 14:30 ALTRINCHAM FC v SALFORD CITY at HALE COUNTRY CLUB & SPA
23/08/15 @ 14:30 PRESCOT CABLES v ALTRINCHAM FC at SUTTON SPORTS ACADEMY
30/08/15 @ 14:30 ALTRINCHAM FC v WARRINGTON TOWN YOUTH at HALE COUNTRY CLUB & SPA
Cup draws, with unspecified dates, as yet are:
ALTRINCHAM FC v SKELMERSDALE UNITED YOUTH at HALE COUNTRY CLUB & SPA - NEIL THOMASON CUP (PREMIER DIVISION)2015-16
ALTRINCHAM FC v BARNTON YOUTH at HALE COUNTRY CLUB & SPA - OPEN CUP
SALFORD CITY v ALTRINCHAM YOUTH (U-17) at ECCLES SIXTH FORM CENTRE - OPEN CUP
The dates for the Cheshire County FA District Youth Cup are
Sunday 06th/ 27th September 2015
Sunday 11th / 25th October 2015
Sunday 8th November 2015
Final, March / April 2016, Provisional
---
3 July 2015 The draws for the early rounds of the FA Youth Cup have been made. In the First Round Qualifying, Altrincham are away to either Southport or FC United of Manchester in the week commencing 21 September 2015.
---
---