ALTRINCHAM FC EVENTS
OPTIONAL DROPDOWN MENU - HERE
---
CLUB AND SOCIAL EVENTS
Altrincham FC depends greatly on support for its off-the-field events and activities. So do please support as many of the following events as you can - more details and, where appropriate, tickets, are available from the Club by phone (0161 928-1045) or
e-mail
.
---
Press and Media Officer, John Edwards, writes, "Altrincham director Neil Faulkner has announced a major coup for the club after securing the services of World Cup winner Ossie Ardiles and another former Tottenham midfielder Mickey Hazard for a sporting dinner at The J.Davidson Stadium.
Ardiles, who inspired Argentina to World Cup glory in 1978 before going head-to-head with John King in a memorable midfield duel against Alty at White Hart Lane the following year, will be the star attraction at what promises to be an unforgettable evening in the Community Sports Hall on Friday, March 16.
With plans in place to include King and his fellow Alty Cup heroes on the guest list, and places already available at £35 each, club officials are hopeful anyone still searching for the perfect Christmas gift will feel they need look no further.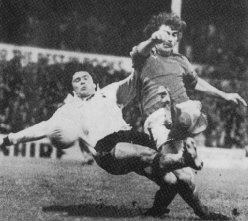 Right: Alty goalscorer Jeff Johnson in the game at Spurs in 1979.
Explaining how an exchange of tweets with Hazard helped set up an event that should be awash with nostalgia, Neil said, 'I wanted to arrange a dinner that would do justice to the Tottenham-Altrincham history, after we played them three times in the FA Cup, and I just thought who better than Ossie Ardiles, famed as a World Cup winner and, as far as Alty fans are concerned, those battles with John King?
'I set about trying to get hold of Ossie without much success, but I did notice he and Mickey were doing a lot of sporting dinners. I knew Mickey was on Twitter, so I tweeted him, and, to my delight, he tweeted back immediately, saying let's go for it.
'I couldn't believe how quickly he responded, and it went on from there pretty rapidly. I just thought it was worth a punt, and I'm delighted it has paid off.
'From the feedback I've had, I get the impression Ossie is up for it just as much as Mickey and, it's going to be a bit special having them both in the same room together. Will Ossie remember him? How could he ever forget him! He'll probably bring a pair of shin pads with him! [John King has confirmed his attendance at the dinner.]
'The idea is to fill a table with Alty players from that era, and we will be contacting them, starting with Kingy, to see if they can make it. It is fantastic news for the club, a real coup, to have a World Cup winner and another exceptionally-skilful midfielder in Mickey Hazard, who won two FA Cups with Tottenham.
'We're hoping the Community Sports Hall will be packed, and there's every reason for believing it will be, because five tables are already spoken for, and we haven't even started advertising it yet. It's eight to a table, and it would be fantastic if we could get close to the near-200 people we had for the Roy Keane evening, which was a phenomenal success and the best turn-out we've had so far.
'We are taking bookings now, so anyone interested in reserving their place, and I can't think of a better Christmas present for any Alty fan, can contact the club on 0161 928 1045 or by e-mail.
Footnote: Altrincham's three games against Spurs were:
1979 3rd round: v Tottenham Hotspur Away 1-1 att. 31,081, Alty scorer Jeff Johnson.
1979 3rd round replay: v Tottenham Hotspur Home (Maine Road) 0-3 att.27,878
1995 3rd round: v Tottenham Hotspur Away 0-3 att. 25,057
The following press comments on the original tie were printed in the match programme for the replay at Maine Road...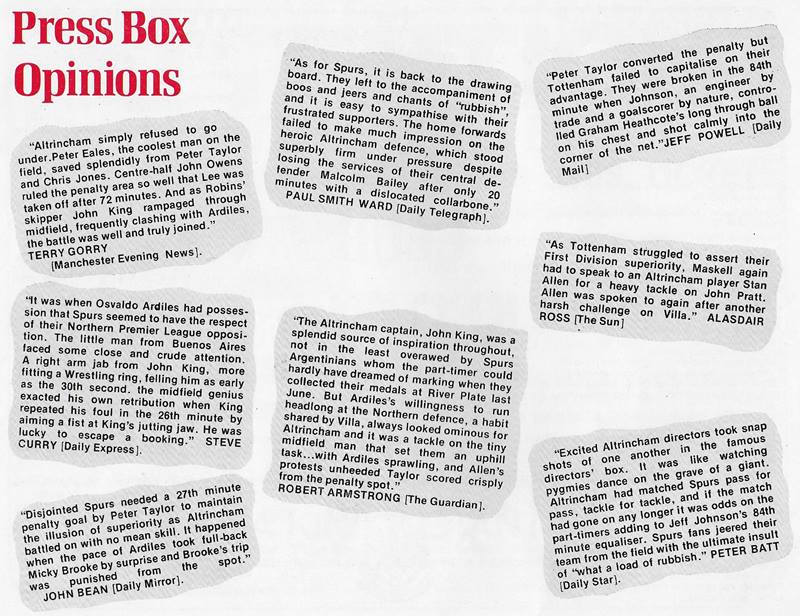 MONTHLY DRAW
Full details of the Monthly Draw scheme are
here
. Members are entered into a monthly draw in which you can win £500.
HELPING ALTY
How You can Help
ALL CHANGE FOR ALTY
Grahame Rowley writes:
"We have available for collection 'All Change for Alty' money boxes. This scheme was started last year for fans to collect small change and was a great success raising in excess of £1000. Seventy five boxes were distributed last year and this year we aim to distribute in excess of 100. Please consider taking one home – it's a great way to help fundraising with very little effort. Your support would be much appreciated".
GOAL SPONSORSHIP
TASC's Steve Foster writes,
Steve Foster writes: "TASC are running the Goal Sponsorship scheme again for this season.
TASC therefore invite you to join the scheme in any form you wish. We are happy to have any arrangement, whether to sponsor an amount for every goal the team score, every clean sheet the team have, every goal an individual player scores, or even every penalty that Stuart Coburn or James Coates makes.
As last season, we will be updating you during the season of how much your sponsorship has cost you and we propose that the money should, as before be paid in a couple of instalments. The names of the goal sponsors and the amount that they have sponsored will be published in the programme.
If you are interested in sponsorship for this season, please send me an e-mail, call the club (0161 928-1045), or speak to me at any game.
Steve Foster".
---